Your online reputation is how others see you when they look for you online. And online reputation management is the act of proactively managing what they learn about your business online — usually through Google, social media channels like Facebook or hundreds of the other review sites on the Internet.
It's important to keep tabs on what people are saying about you online, learn from them and then take actions to improve. Here are the seven ways an online reputation management tool can help your business.
Target the sites where your customers are
You need to be where your customers are talking about you. Is it Google, Facebook or another more industry-specific site? While it is important to track the review giants, don't forget the 'not so famous' sites, where you may find more qualified leads.
For example, let's say a customer searches for "lawyers near me" on Google. High up the results will be attorney specific review sites like Avvo. Or a search for "doctors in Boston" will bring up healthcare review sites like ZocDoc, HealthGrades, Vitals, and RateMDs.
Unfortunately, it's tough to keep track of the hundreds of such review sites on the Internet. Luckily, with review monitoring, you can impress all of your potential customers, no matter where they discover you.
Turn your customers into your marketing engine by requesting reviews
92% of customers agree that online reviews influence their buying decisions. That means your ability to get new reviews can either make or break your business. That makes it imperative for businesses to encourage consumers to write reviews for them online.
The easier you make it for customers to write a review, the more reviews your business will get.
One of the most important factors in getting new reviews is timing. Your review requests should go out soon after the customer's interaction with your business, which is when you are still fresh on their minds.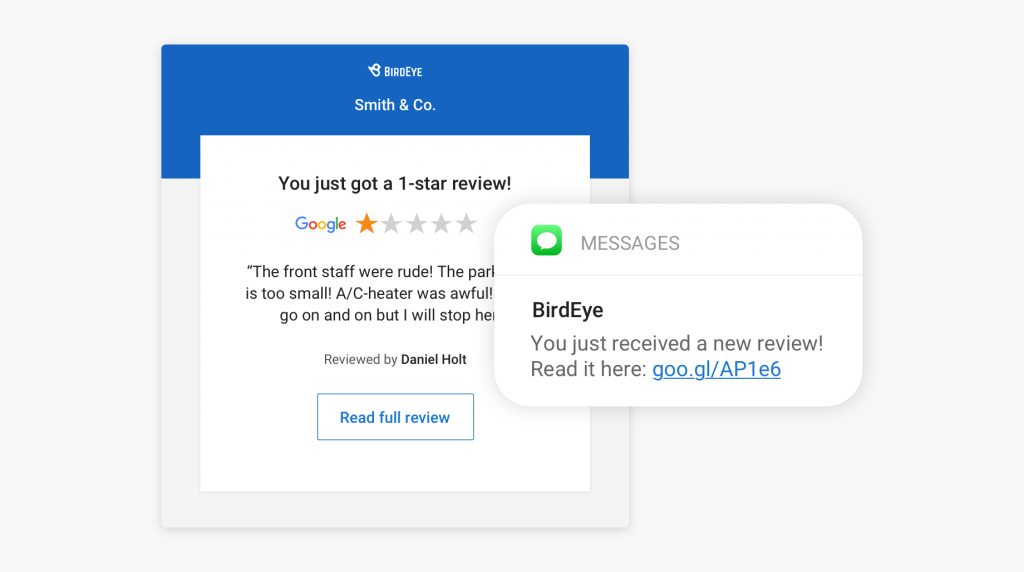 Turn Angry Customers into Happy Ones
Eventually, you're going to get a negative review. Even the best businesses get a few. The first step is to take a deep breath. Next, provide a polite response that seeks to find and resolve the problem the customer experienced. Quick and decisive action can turn an angry customer into a happy one.
When responding to negative reviews, keep in mind the following:
Don't react; respond — Fight the impulse to be angry and defensive. Don't forget your responses are public. Take this as an opportunity to show how much you care about each and every customer.
Propose a solution — "I'm sorry" is not enough. Show that you are taking the necessary steps to improve.
Follow-up in private — Refer the client to a relevant employee for an in-depth conversation. This shows that you are taking extra time to make the client satisfied.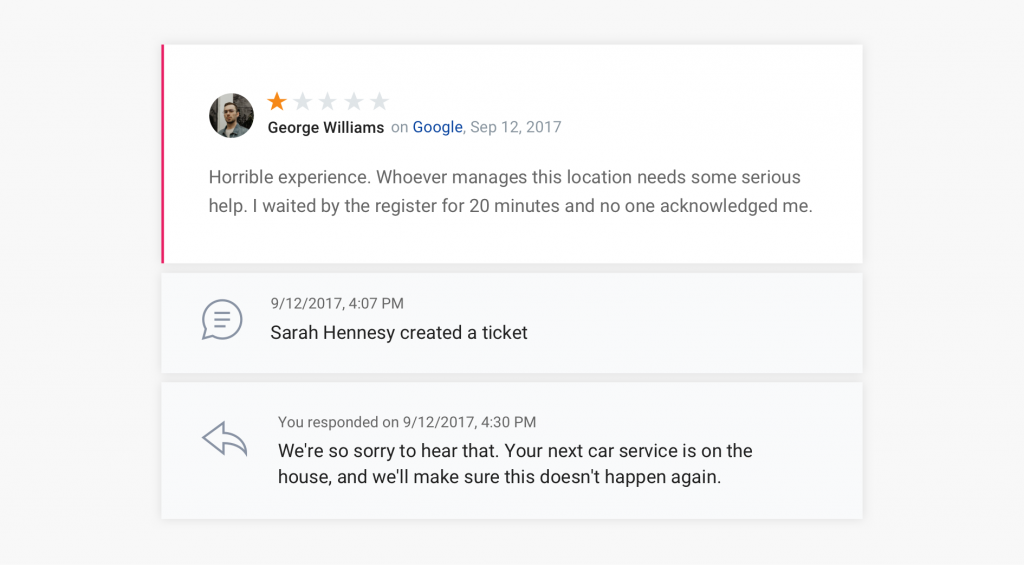 Thank Your Happy Customers
Thank your happy customers for their feedback and show that you genuinely care about their satisfaction. This not only shows them that you care about their business but makes prospective customers think "Hey, they have great personable customer care."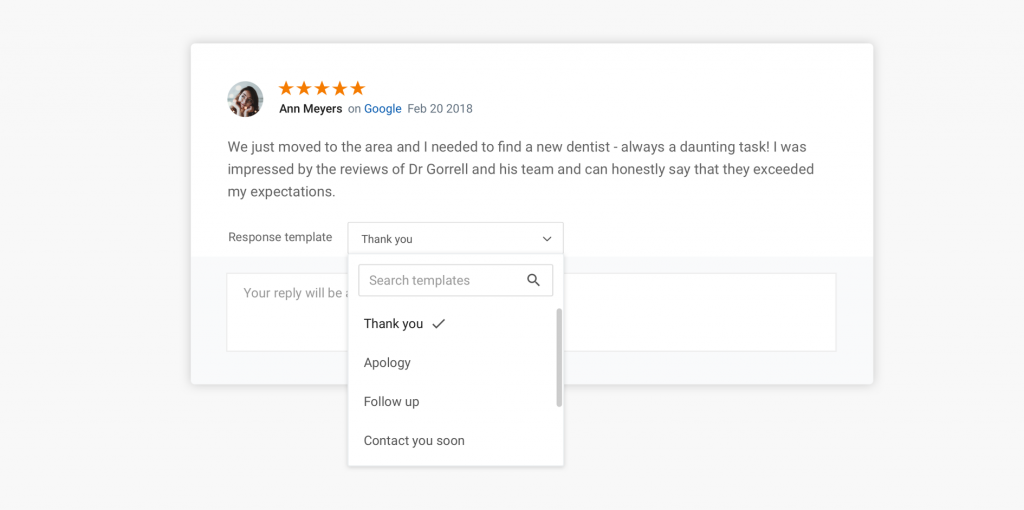 Share Your Reviews Across Social Media
With each new review, your customers are creating fresh, user-generated content for your business. All your efforts in getting these new reviews will be wasted if your future customers do not even see the best ones.
You don't have to go through and look at every single review posted about your business. An online reputation management tool can auto-share 5-star reviews, so all your followers can see the authentic opinions of your customers. Potential customers will see how other definitive proof of your business' excellence.

Keep track of the competition
Of course, it's also important to know what your competitors' customers are saying as well. By tracking the customer sentiment of your competitors, you can get a better idea of areas where your business needs to improve.
With accurate competitive insights, you can see how well you're performing relative to businesses in the area. You'll know exactly what competitors' customers like and dislike about their services.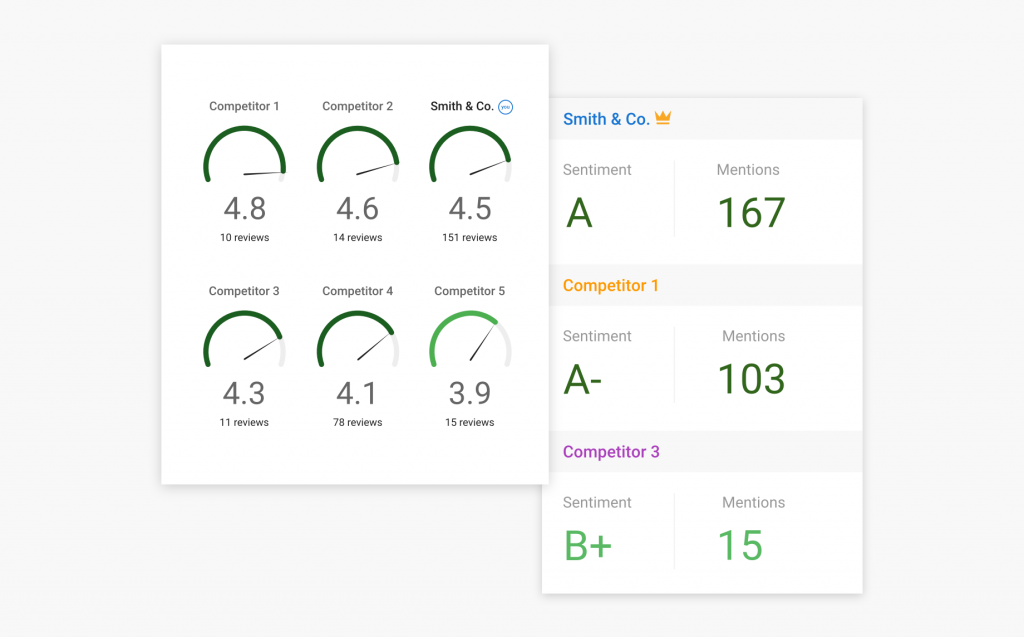 Use social listening
Review sites aren't the only place where customers are talking about your business. There are millions of conversations taking place on social media every day.
A customer might complain about your business on Twitter. If you catch this, you might be able to provide a quick response and change the customer's perception of your business.
Social listening takes this to the next level by collecting information across all of your social media channels like Facebook, Twitter, and Instagram. It finds trends after monitoring mentions of your business and related topics. This way you also get to respond to every customer mention in a timely manner.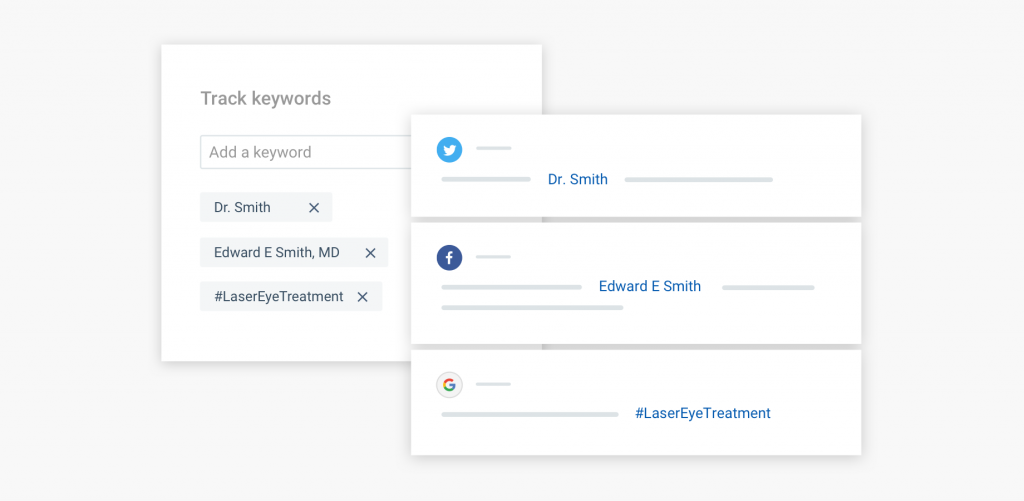 Following the above 7 steps will not only help businesses improve their online reputation but also help them with the resources to stay on top of search results. Businesses can get new reviews, keep track of competitors' reviews, and share reviews on social media.
With the help of an online reputation management tool like BirdEye, businesses leverage the internet and the power of social media to spread review conversations, in turn making it easy for them to show the quality of their services and hence acquire new customers.
Get started with a free trial today.