How to ask your customers for Google Business Reviews
Online reviews are the most powerful marketing content: 88% of customers consult reviews before making a purchase decision, and 84% trust reviews as much as personal recommendations (BrightLocal). Reviews determine whether a customer chooses your business over a competitor. Google dominates the online search environment, making Google reviews critical to an overall SEO strategy. Learn how to get more Google reviews from your customers without violating any of Google's guidelines.

What is Google My Business and why is it important?
Google My Business is a platform that lets companies manage the information that shows up beside their business listings in maps and search -- all from one place. When customers search for a local business online, Google shows them a group of businesses that best fits their query. The businesses that appear at the top of results make up the "local pack", and these stand the best chance of being selected, as only 2% of customers venture past the first page of search results (Google). How do they decide on a business? By looking at the information displayed alongside each business: address, phone number, and most importantly, reviews. Not only do reviews improve your click-through rate (CTR), they also help you rank in the local pack to begin with.
It's important to get reviews on a variety of sites, but since most search traffic comes from Google, directing your efforts here will definitely pay off. First you'll need to claim and verify your business on Google My Business if you haven't already (it's super easy, learn how to do it here). After you've setup your business, you're ready to start collecting reviews.
The impact of star ratings
Reviews help your SEO because they're an indicator of the quality of your business, and Google only wants to show its users the best businesses. Learn more about how Google search works here. Companies with lots of great reviews get featured in the Knowledge Graph when users search for the company by name. The Knowledge Graph displays reviews from all third-party review sites, not just Google. The Knowledge Graph looks like this: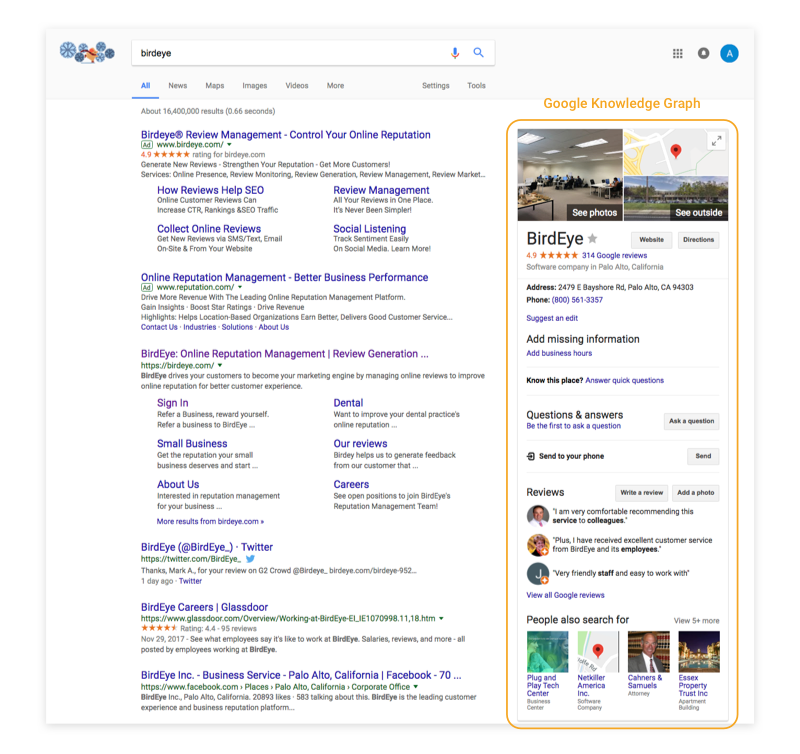 With enough reviews, you can enable rich snippets -- these are star ratings from all your reviews that appear beside your business listing in organic search results, helping you stand out on page 1 of Search Engine Results Pages (SERPs) and increasing your CTR by as much as 20%.
Even your GoogleAds can benefit from lots of Google reviews with Google Seller Ratings; this AdWords extension displays star ratings from all your reviews across the web beneath your Google ads so customers trust your business above the rest.
Learn more about Google Seller Ratings here.
How to ask for reviews on Google My Business
Reviews are only helpful if they're authentic. That means real opinions from real customers about real experiences. The problem is, customers often don't go out of their way to post a review even for their favorite businesses. When you're in need of more Google reviews, taking a shortcut might sound tempting. However, these "shortcuts" will only hurt you in the long-run. Paying for Google reviews in any way is a bad idea, whether this means having employees write reviews under fake names, asking friends and family to review you, or offering money or discounts to customers in exchange for a positive review.
All of these practices are not only frowned upon; they violate most review sites' policies, not to mention the reviews you'd receive from these approaches would likely come across as artificial to prospective customers browsing your page. Fake reviews don't convince anyone to trust your business -- in fact, they accomplish the opposite. The good news is there are other ways you can get more reviews.
Great customer experiences are the first step. Next you need to engage with your customers in real-time and ask for feedback. (Important note: your customers need a Google account in order to leave a review. Most people have one already, but if not they'll have to create one before reviewing your business.)
Here are some steps to make the process of getting new Google reviews easier and more effective:
Ask at the right time
Timing is everything. In some cases, asking too soon can come across as annoying, especially if the customer hasn't had enough time to form an opinion about your product or service. Asking too late, on the other hand, can render your business irrelevant, resulting in your message being ignored or overlooked entirely. This doesn't mean you have to set timers every time a customer leaves your store. There are tools available to make the process easy for you. For example, BirdEye lets you automatically send review request messages at critical touchpoints, whether it's seconds, hours, days, or months after a transaction. This way, whether you run a coffee shop or a legal practice, you can reach each customers at the optimal moment when your business is still fresh in their mind -- without doing any extra work.
Make it super easy
In today's always-on, digitally interconnected world, we expect to get exactly what we want without trying too hard. Need a ride somewhere? Tap, tap, done. Need to pay someone back? Tap, done. The same goes for reviews: the more steps involved in leaving a review, the less likely customers are to go through with it. Rather than hoping your customers care enough to search for your business, open your Google profile, and find the "Write a Review" button, find a software to speed up the process. BirdEye, for example, uses app deep-linking route customers directly to your Google My Business page in one click. This makes writing a review even easier than not writing one -- especially when the customer is happy with their experience and likes your business.
Here's how to do this manually:
1. Do a Google search for your company.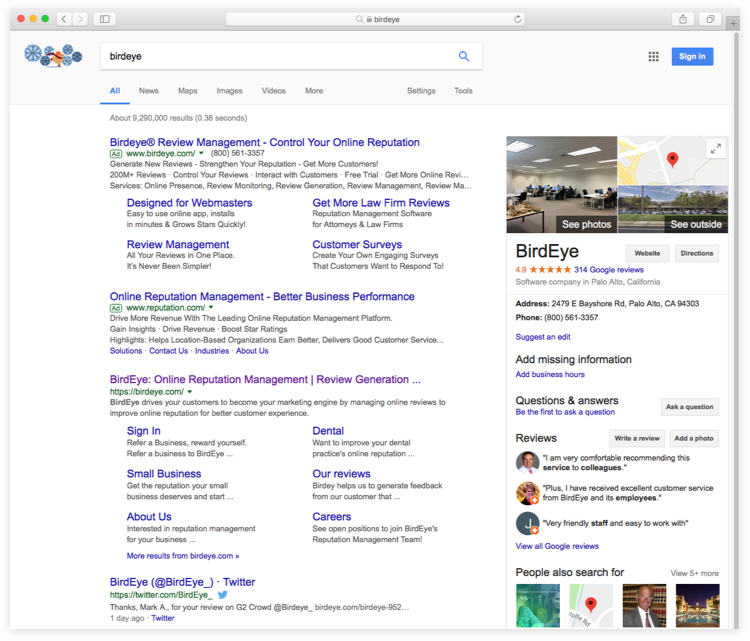 2. Click on the "Write a Review" button that appears in the Knowledge Graph.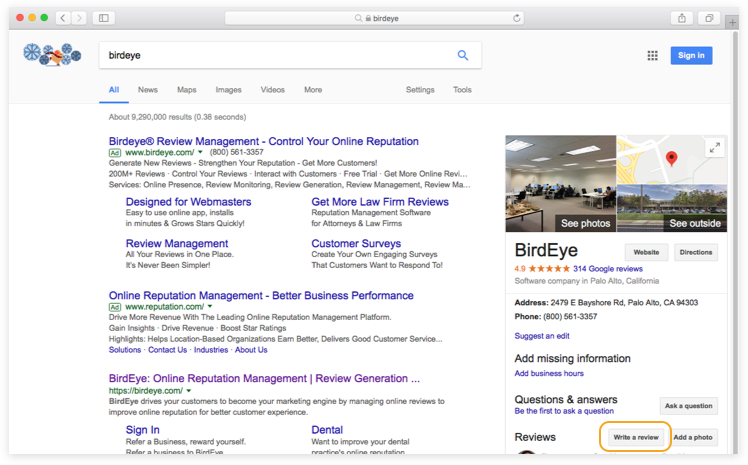 3. A Google review box will pop up. Copy the URL from the address bar.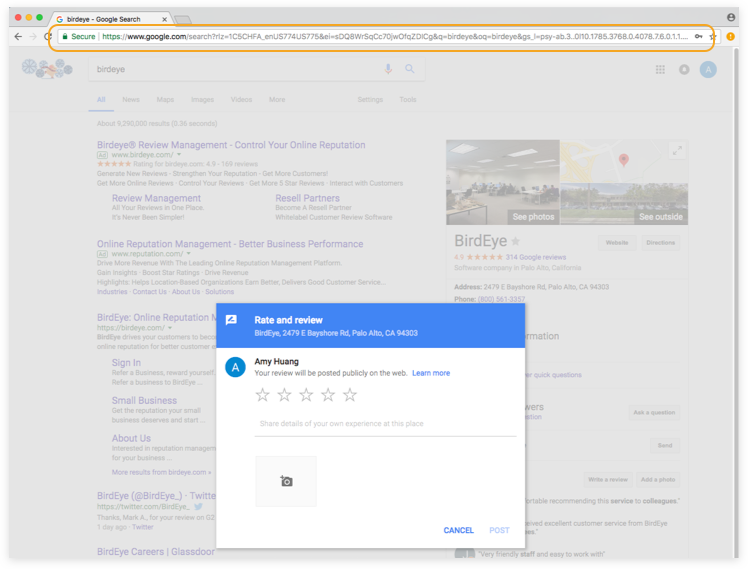 4. Shorten the Google review URL.
You'll notice your review URL is quite long. If you're sending SMS messages, you have a 160-character limit, so you'll need to make that link shorter if you want to include anything else in your message (which you do). There are lots of free tools to shorten URLs, but our favorite is Google URL Shortener. Just paste your review link into the text box and you'll get a shorter, more user-friendly version like [https://goo.gl/Z7cSgU].
5. Paste shortened URL into review requests.
Add this clean little URL to your emails and SMS messages to send customers directly to your Google My Business profile where they can leave a review.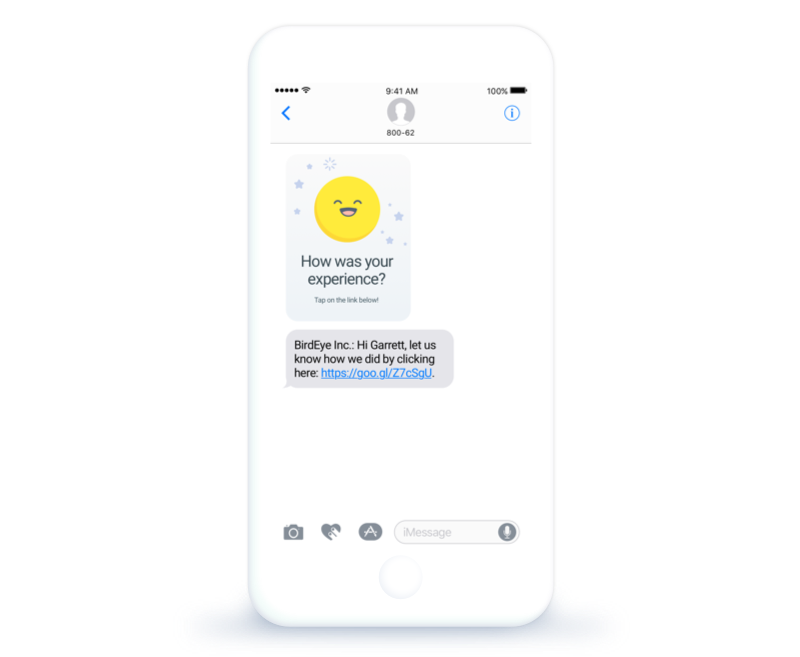 Again, BirdEye takes care of this process for you and not just for Google reviews, but also any other third-party sites you want new reviews on. Check out a live demo to see how it works.
Meet your customers where they are
You know your customers better than anyone -- are they more likely to respond to an email or a text? If you aren't sure, simply A/B test to find out. Most of the time, SMS requests yield much higher conversion rates since customers are near their phones or already on them most of the time, and texts have a 98% open rate (Business2Community).
Things to keep in mind when collecting Google reviews:
Too many new reviews posted all at once raise a red flag for Google, and can result in all the reviews being removed. Avoid blasting your entire customer list with review requests. Instead, use a platform like BirdEye to setup intelligent drip campaigns that give you a steady flow of new reviews across a longer period of time.

If you want to share your best reviews to other places on the web like your company website or social media channels, don't simply copy and paste the review text. Google considers this duplicate content, and it can move your business down in search results and hide even the original review from the public. Instead, share the review by embedding it; this is a more technical process that BirdEye does for you automatically. Learn more about best practices for review marketing here.

Google reviews are extremely important, but you shouldn't restrict your focus to Google alone. An important factor in Google's search ranking algorithm is "review distribution": the variety of sites on which you have reviews. Customers also trust a business more if it has great reviews on more than one site. A good way to find out which sites you should prioritize is by doing a local search for your industry and seeing what comes up. For example, a search for "realtor near me" might display results for Realtor.com and Zillow, while a search for "doctor near me" might show Vitals and RateMDs. Since your customers will see these same results when conducting this local search, make sure your business has a strong presence here as well.
Conclusion
If you want more customers, you need more local search traffic to your business. If you want more local search traffic, you need more reviews. When embarking on your review generation journey, remember that getting new reviews is just the first step. As new reviews start pouring in, you need a strategy in place to manage and respond to them in a timely manner so you can not only get new customers, but retain the ones you already have.
Download ebook: The ultimate guide to online reviews