What is reputation management?
While many people are aware of the importance of reputation management, many don't know what it actually is. Is it a form of public relations? Is it social media monitoring? Is it search engine optimization? And what about online reviews? The answer is all of the above. Reputation management was originally a public relations term, but since the advent of the internet and social media, search results have become a core component of both an individual and a group's reputation. Online reputation management, or ORM, is specifically focused on search engine results for products and services.
The digital evolution has also brought about the rise of reputation management companies that help people and businesses maintain a positive image online through Search Engine Optimization (SEO), social media and online review strategies. A clear understanding of reputation management is beneficial to companies of all sizes across all industries.

For example, consider the cases of these highly competitive industries, where standing out in local search is imperative to business growth:
Doctors need to build patient trust "72% of consumers ranked provider reputation and personal experience as the top drivers of provider choice" (PwC Health Research Institute)
Dentists need to prove their credibility "70% of patients say online reviews influence their choice of dentist" (Dentistry IQ)
Lawyers need social proof of their expertise "96% of people seeking legal advice use a search engine" (Google)
Realtors need to demonstrate a proven track record of success "92% of homebuyers begin their search online" (HouseHunt)
A new digital landscape
The internet has drastically changed just in the last few years. Until recently, communication between businesses and consumers was very one-sided. Customers could not freely share their opinions with online audiences; the only mass messaging was performed by businesses in the form of advertisements. Today's customers are no longer a silent, passive audience. Review sites and social media networks have given everyone a voice, and user-generated content is now one of the most influential information sources. Customers, prospects, and media outlets are posting, commenting, and tweeting about their experiences with businesses, and these online conversations can make or break a brand.
Reputation management and transparency
Maintaining an open line of communication with customers is more important than ever for modern businesses, but this is easier said than done. What exactly does it mean to be a transparent business?
Establishing a 1-to-1 communication channel with your customer base

Asking for feedback from every customer

Addressing negative feedback rather than ignoring it or trying to hide it

Interacting with customers on social media
To be successful, these all need to be done consistently and thoughtfully. Transparency is a continuous process of learning and improving, turning negative feedback into constructive conversations that build trust and win loyal customers.
The wrong kind of transparency can backfire. For example, responding rudely to a customer complaint is about as bad as ignoring the complaint: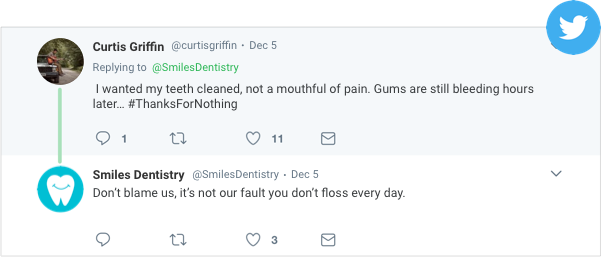 Even when a customer is out of line, the best thing to do is take the high road and craft a careful response to keep the situation calm and controlled. The business should have said something like "good response".
What if your product or service elicits lots of complaints?

What if your employees don't know how to handle all these complaints?

What if your customers tell other customers not to do business with you?

What if your competitors notice this and seize the opportunity?
These are the type of questions you should be asking and preparing answers to. This way, as you drive efforts to become more transparent, you have a plan in place to withstand any problems that may arise as a result of these efforts.
Social media monitoring

Proactively track what people are saying about you so you can respond when necessary. This means monitoring conversations in real-time rather than waiting until you hear about a crisis and scrambling to react. How are you supposed to keep an eye on all your social profiles at the same time, at all times? You don't have to -- there are tools available to help. Social media monitoring tools let you track all the hashtags and keywords you find important across all your social channels, and the best ones even let you respond directly to any comment from one dashboard.
Examples of reputation management strategies:
Optimizing valuable content for search engines, such as company-published whitepapers, ebooks, and positive customer reviews

Publishing original content to company website and social media channels

Getting mentions and inbound links from third-party sites with high authority on Google

Removing customer reviews and social media comments containing spam and slander

Responding to both positive and negative customer reviews in a timely manner

Submitting press releases to authoritative third-party sources for widespread distribution
The tactics above are intended to diminish the damage of negative content by promoting positive content on a regular basis.
The impact of negative reviews
Negative reviews, when left unacknowledged, can wreck a reputation.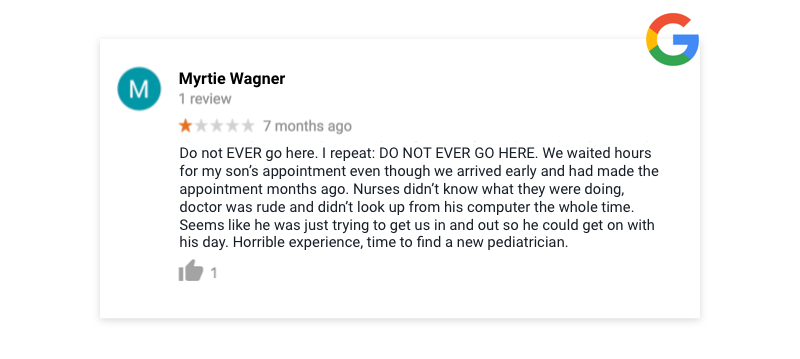 Not only does a neglected negative review mean you most likely lost a customer -- it reflects poorly on your business from the perspective of others reading the review, costing you even more customers. More importantly, if the cause of the reviewer's dissatisfaction was your business fault and you do nothing to improve, the incident will likely happen again, leading to more negative reviews, lower star ratings, and fewer new customers.
If you have a few negative reviews, you'd probably like to just get rid of them completely. However, it's important to understand that reputation management is NOT censorship or removal of negative information. To reiterate, reputation management is a set of practices aimed to outshine the negative with the positive and make continual improvements.
When it's time to lay down the law
Writing a bad review is perfectly legal, although businesses would prefer otherwise. However, certain types of negative reviews might contain illegal content, such as:
False claims aimed to tarnish your reputation rather than provide helpful feedback
Spammy, irrelevant content

Offensive language, hate speech, profanity
Review sites will help you remove these reviews if they violate their Terms and Conditions.
The majority of the time, however, negative reviews are just negative feedback. You can minimize their damage by following some simple online reputation management best practices.
12 online reputation management best practices
1. Earn respect. Earning customers trust and respect is difficult and takes time, but it's the most important part of your online reputation.
2. Demonstrate bold transparency. Take noteworthy action to prove to your customers you hear them.
3. Monitor the conversation. Monitoring conversations online can help you solve problems to retain customers, and also get new customers by demonstrating exemplary customer service.

4. Respond promptly and thoughtfully. If you're tackling a relatively complex issue, you should pacify the unhappy customers in the meantime with a quick, simple reply like "We're aware of this problem and we'll get back to you as soon as we can". After you've resolved the problem, follow up with more information and make sure the customer is satisfied.
5. Put yourself in the shoes of your detractors. Why are some of your customers unhappy? What could have made their experience with your business more pleasant? Try your best to salvage these at-risk customers, but if they can't be swayed back in favor of you, be sure to avoid the same mistakes for future customers.
6. Act on criticism. Whatever you do, do not ignore negative feedback or bad publicity. This will not make it go away; it will cause rumors to spread and make your business look unprofessional. Instead, share your opinion on the situation and if necessary, accept responsibility for any role you may have played in the issue.
7. Pay constant attention to your Google page 1. First, you need to earn a spot here. Observe who's already on page 1 and what differs about their website pages compared to yours. Use these findings to work your way to the top. Then every day after that, you need to ensure you stay there (Hint: all the reputation management tactics on this list will help you achieve this). Learn more about how Google search works.
8. Consistently get new reviews. Reviews not only boost your search engine ranking, they also give you valuable insight into what you can improve to boost customer satisfaction. The more reviews you collect, and the more you act on that feedback, the higher your star ratings will become. High star ratings mean higher click-throughs, conversions, and customers. Read more about how customer reviews help SEO.
9. Promote your best reviews across the web. Authentic voices of happy customers are the most powerful marketing content. Maximize the power of positive reviews by sharing them to your website, social channels, and search engines to reach a wider audience and provide social proof of your business quality. There are tools available that let you do this automatically.
10. Fight back against spam and slander. Keep your online reputation squeaky clean by ensuring your review site profiles and social media channels aren't cluttered with offensive content. You can do this by manually monitoring and reporting violations to site admins, or with a review generation tool that takes care of this for you.
11. Acknowledge and learn from your mistakes. Own up to problems you are responsible for, and make improvements so they don't happen again.

12. Know when to get help from an expert. Sometimes this is the best route when more technical or multi-faceted fixes are required.
Reputation management is one of the most important competitive advantages in today's highly competitive market. Companies face constant scrutiny from not only customers but the business community, regulators and corporate governance executives. Reputation management helps businesses not only withstand this rigorous scrutiny, but also reach their branding and communication objectives, increase profits and expand market share.