Today, Instagram has over a billion monthly users – which means that 1 in 8 people on the entire planet use Instagram. Furthermore, 83% of them use the Instagram app to discover new products and services. That means Instagram is often the average consumer's entry point to your business, making Instagram direct message marketing a powerful channel for attracting and retaining customers.
While using Instagram Stories, regularly posting, and responding to comments on your Instagram account are all important for engagement, direct messaging offers a unique opportunity for generating leads and delighting customers. That's why Birdeye now enables businesses to manage Instagram Direct Messages (DMs) with Birdeye Messaging. In this post, you'll learn how to effectively manage Instagram DMs to generate more leads and retain more customers.
Why Instagram direct message marketing is important for business success
Given that so many Instagram users discover brands on the platform, you need to be able to effectively and efficiently connect with them on their entry point to your business. It's no different from your website where you likely provide Webchat as a way to connect with website visitors directly.
Consumers value Webchat because it offers them instant responses, and the same is true for Instagram's Direct Messaging. 75% of consumers prefer to engage with brands using instant messaging channels for exactly that reason.
Your business needs to be equipped to deliver high-quality experiences. However, you're likely already managing emails, phone calls, text messages, Webchat, and messages on other sites like Facebook, Google, and Twitter, along with a plethora of other communication channels, making it difficult to consistently deliver quality experiences. Yet, 75% of consumers expect a consistent experience across every channel they choose to engage – Instagram included.
Failing to meet their expectations will send them to a competitor that can. So how can you effectively manage Instagram messages? Here are some essential best practices you need to know.
1. Respond to inquiries quickly
Consumers favor messaging because it offers instant responses, and 40% of consumers expect to receive a response within an hour of messaging your business. If you miss the mark, you'll very quickly lose a potential lead. Your team needs to be equipped to quickly respond to Instagram DMs in order to deliver quality service that will convert leads.
However, messaging on the Instagram app isn't easy when your team is already managing multiple inboxes and messaging platforms. Constantly jumping between inboxes and accounts can cause important conversations with qualified leads to fall through the cracks. Fortunately, there's a better way.
Pro Tip: Centralize all customer messages from every channel in one inbox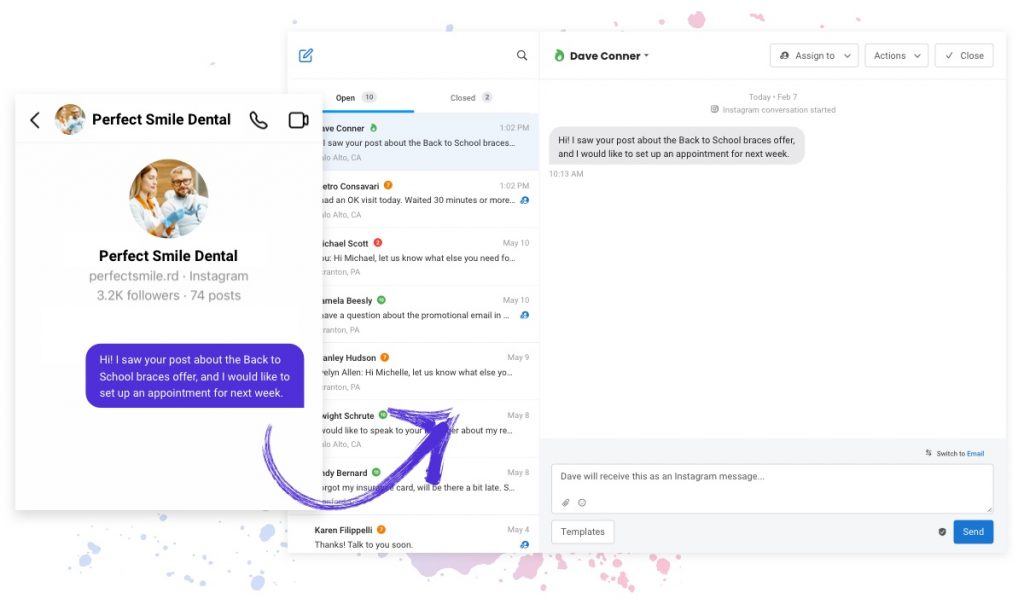 Engage leads, answer questions and grow your business through social media, using one inbox for all your customer messages. Think about how many minutes or even hours your team wastes every day jumping from one inbox to the next. Managing messages on each of these channels consumes time and resources.
With text messaging software, your team won't need to keep dozens of tabs open to keep up. Instead, all messages from your Instagram account, Facebook, email, text, Webchat, Google Business Profile, etc. are all in one place. Your team can access messages more easily and respond to potential leads quickly, providing consumers with fast and convenient service resulting in more leads and happy customers.
Check out our article on 4 tips for building a customer community through Instagram.
2. Seamless team collaboration for every message
76% of consumers hate having to repeat themselves when engaging with different people from your business. Your team needs to be able to seamlessly collaborate inter-departmentally. Tools that allow your customer-facing staff to leave internal notes within customer messages that are only visible to other teammates will put them in a prime position to deliver quality service.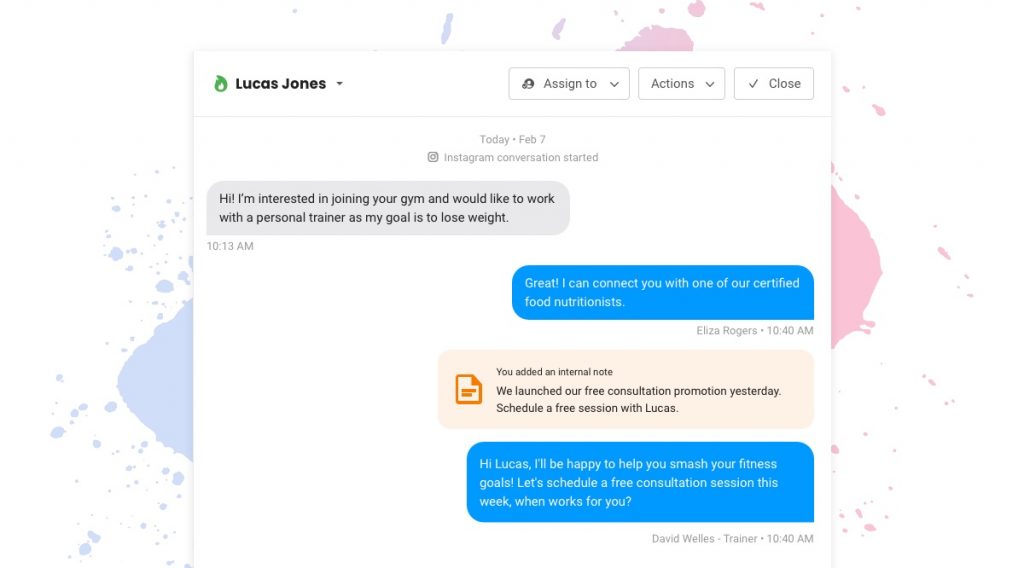 73% of consumers prefer businesses that personalize experiences. Leveraging technology that fosters collaboration allows your team to have a deeper understanding of every conversation and enables them to deliver efficient personalized service throughout the buyer journey.
3. Use templates for common inquiries
Oftentimes Instagram users message for common inquiries about business hours, facility amenities, product availability, etc. Consider using customized messaging templates to save time when responding to these types of questions.
A template is just a script within your software for dealing with common customer questions and situations. For example, you can create a template for questions about holiday business hours.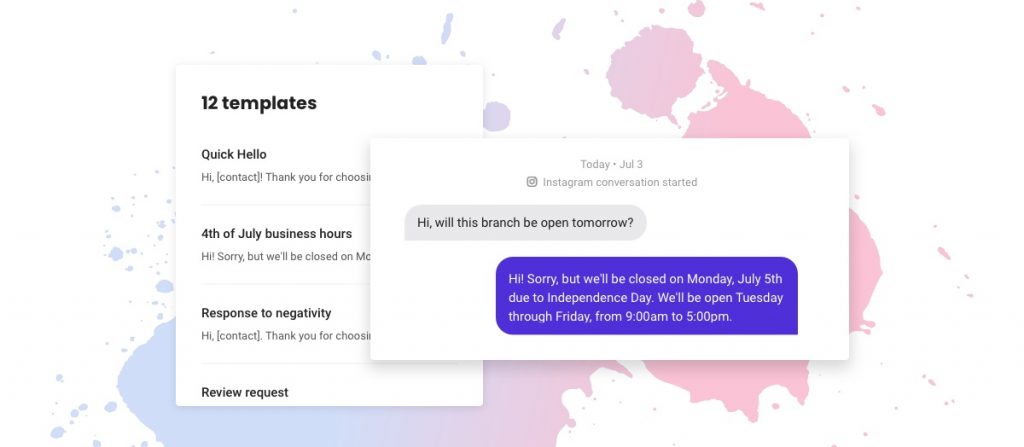 Having an archive of these templates readily available will help your team save time when engaging with your audience on Instagram. Furthermore, you can continuously create customized templates to meet the needs of your evolving business.
Generate more leads and delight more customers on Instagram with Birdeye Messaging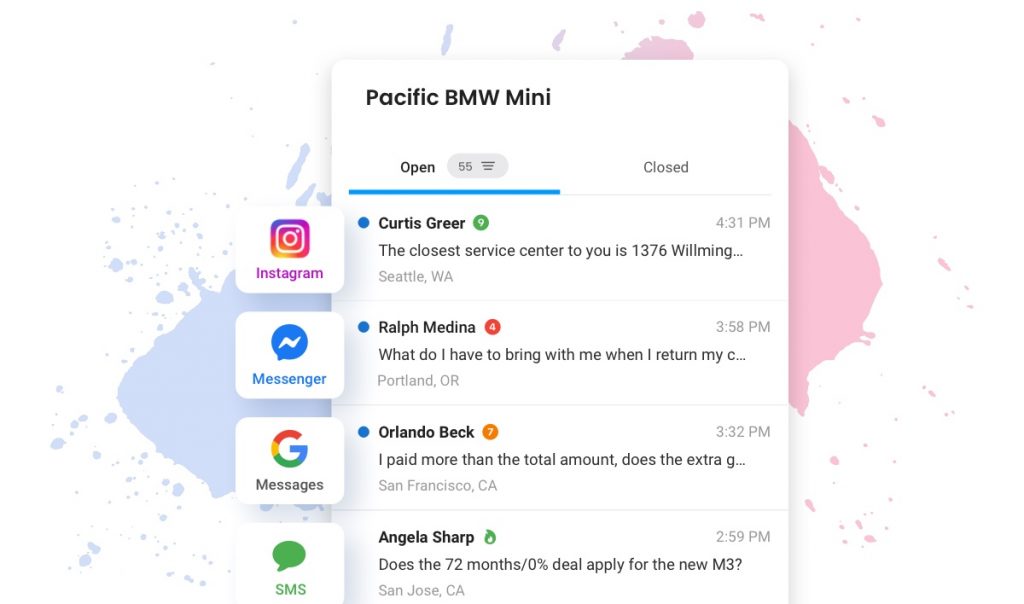 Birdeye's all-in-one platform gives you everything you need to make Instagram direct message marketing easy, personalized, and a high-performing source for attracting and retaining customers. With Birdeye, you can centralize communication channels, foster team collaboration, save time with templates, and much more.

Originally published