Mass Texting Service
Text more customers. Drive more revenue.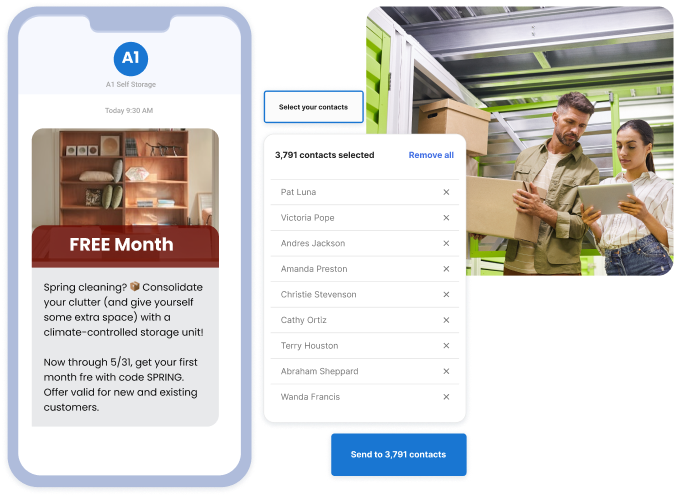 Create, send, and respond to texts from a single inbox
Effective
Increase conversion rates by sending messages that boast a 99% open rate.
Scalable
Send automated, personalized, and time-saving texts at scale.
All–in-one
Request reviews, referrals, and surveys via text – all from one intuitive dashboard.
Mass Texting
Promote sales and engage customers
Text sent. Growth delivered. Send discounts, updates, and other promotions via text to keep your customers in the loop.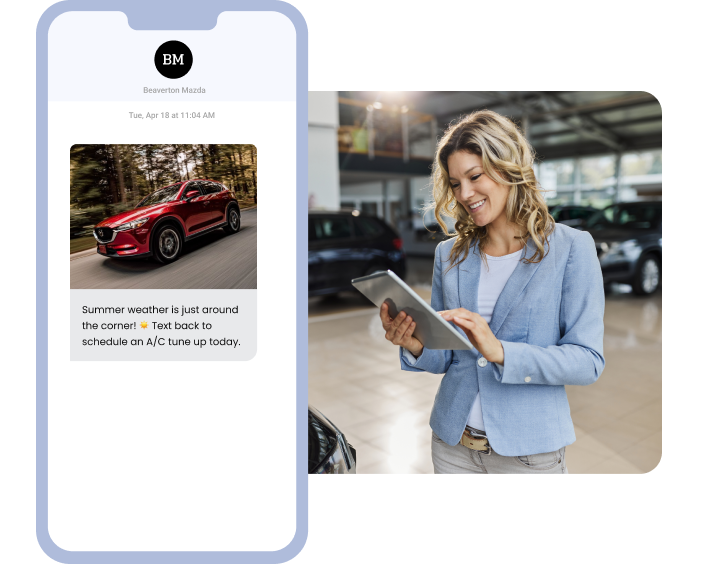 Two-way Texting
Keep an open dialogue
Re-engage contacts that don't respond to calls or emails and have 1:1 conversations with those who do.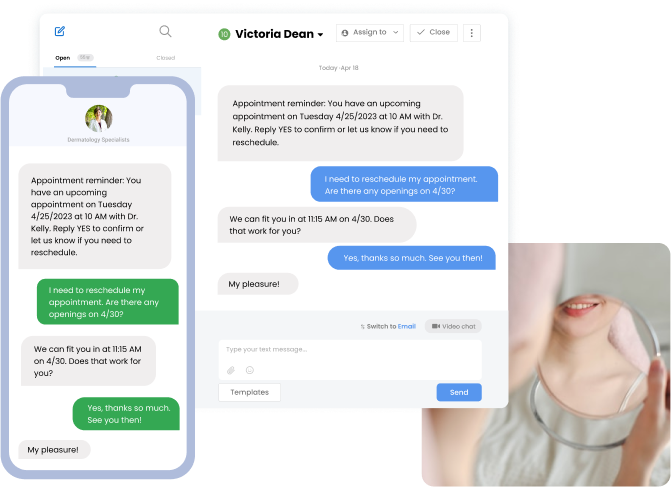 Landline Texting
Remain recognizable
Don't be mistaken as spam. Send and receive text messages using your official business phone number.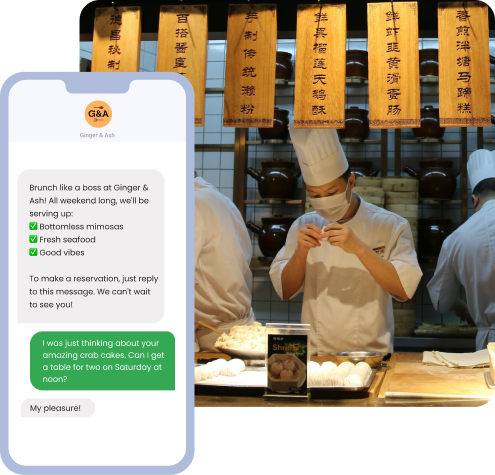 MMS Texting
Improve engagement with images
A picture is worth a thousand characters. Enrich your texts and boost engagement by including images, emojis, GIFs, or PDFs.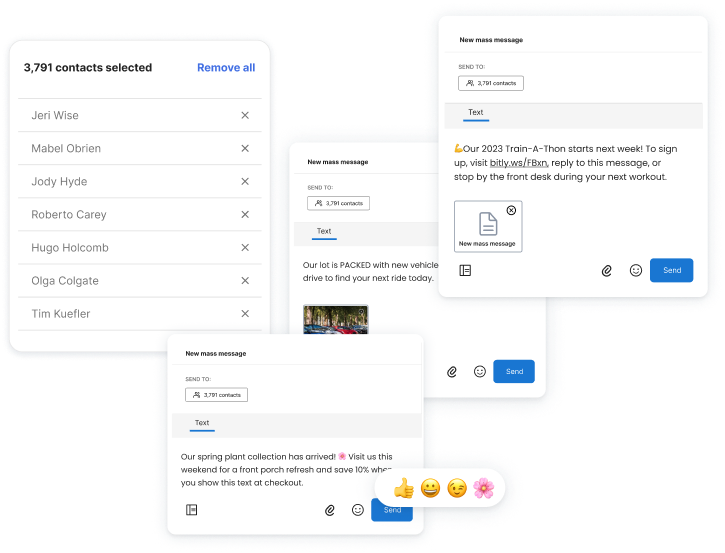 Text Campaigns
Request reviews and referrals
Ask customers for feedback anywhere, anytime with custom campaigns to solicit feedback, reviews, and referrals.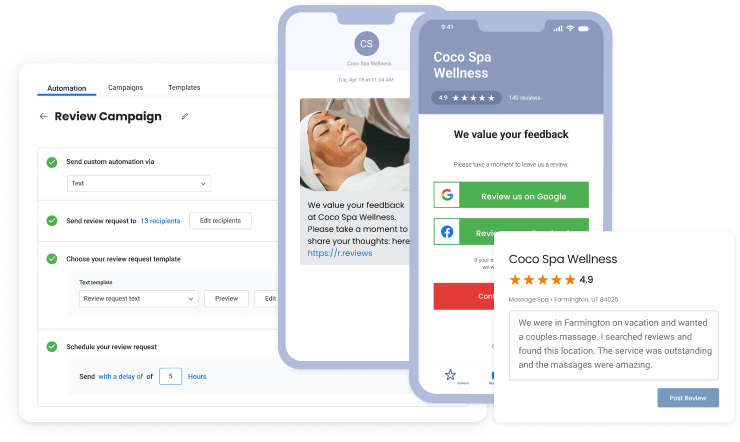 Automations
Engage customers at every stage
Put your text marketing on autopilot with automated messages based on various triggers.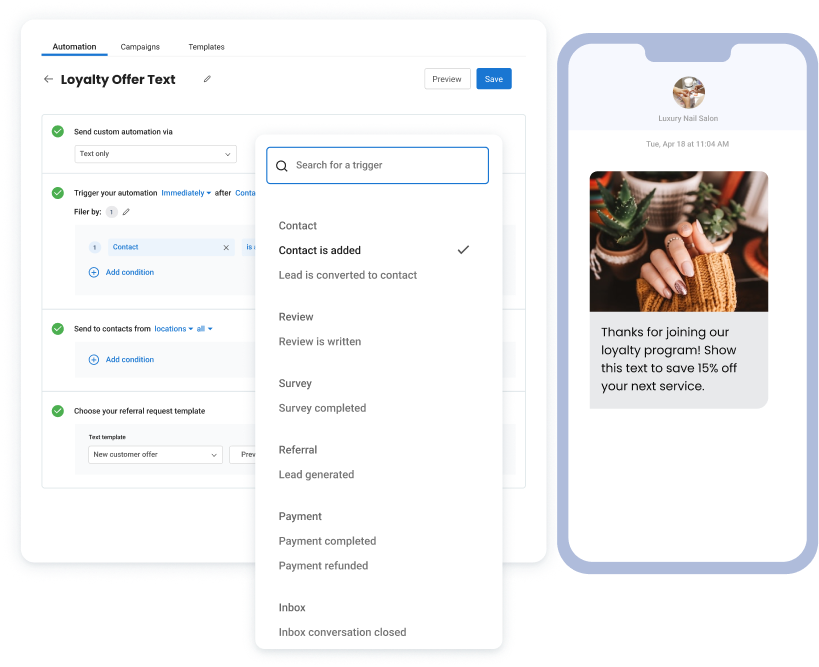 Personalization
Send personalized promotions
Segment your audience by location, products purchased, and other criteria – then tailor your texts to boost response rates.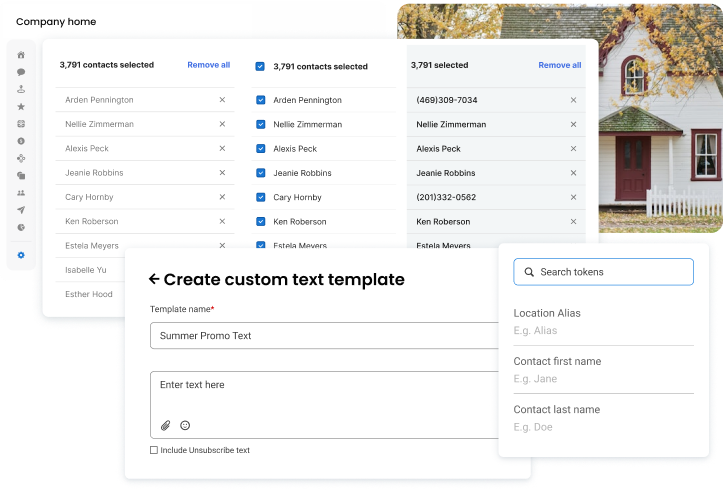 Templates
Save time with templates
Use tailor-made templates to announce new products, promote events, share special offers, and more.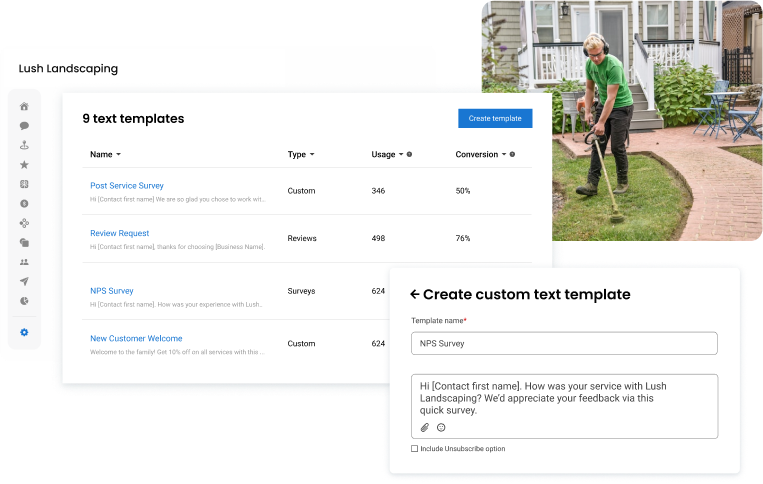 Compliance
Comply with federal regulations
Meet texting best practices and minimize disruption to customers by sending campaigns only during business hours and with frequency limits.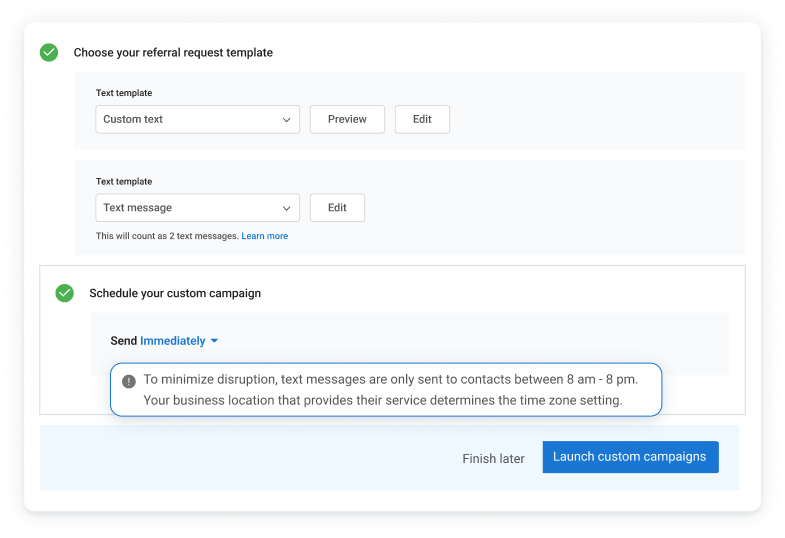 Unified Inbox
Read and respond from one inbox
Keep text, social media, webchat, and Google conversations all in one inbox – then assign messages to team members who can follow up.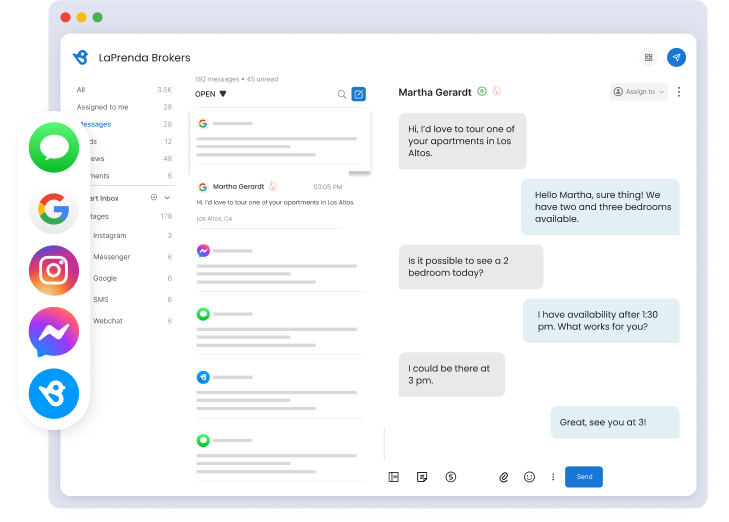 Mobile App
Respond to texts on the go
Manage your entire SMS marketing and two-way conversations anytime, anywhere from the Birdeye Mobile App.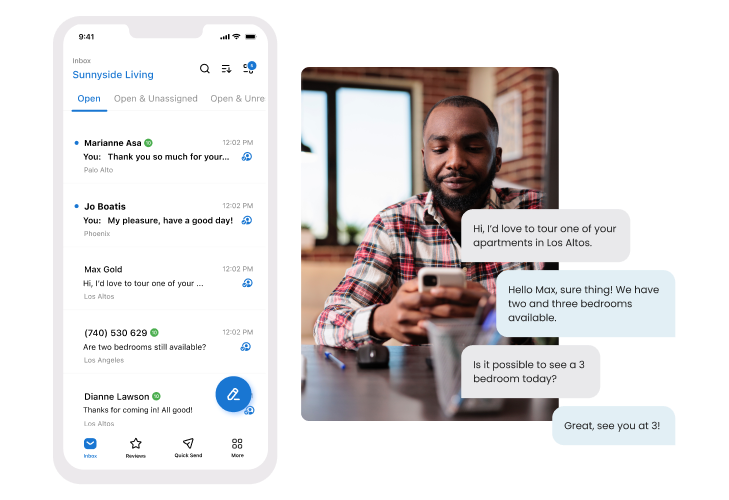 Reporting
Analyze text campaign data
Collect real-time data on deliveries and clicks. Track the number of campaigns by month, quarter, year, and campaign type.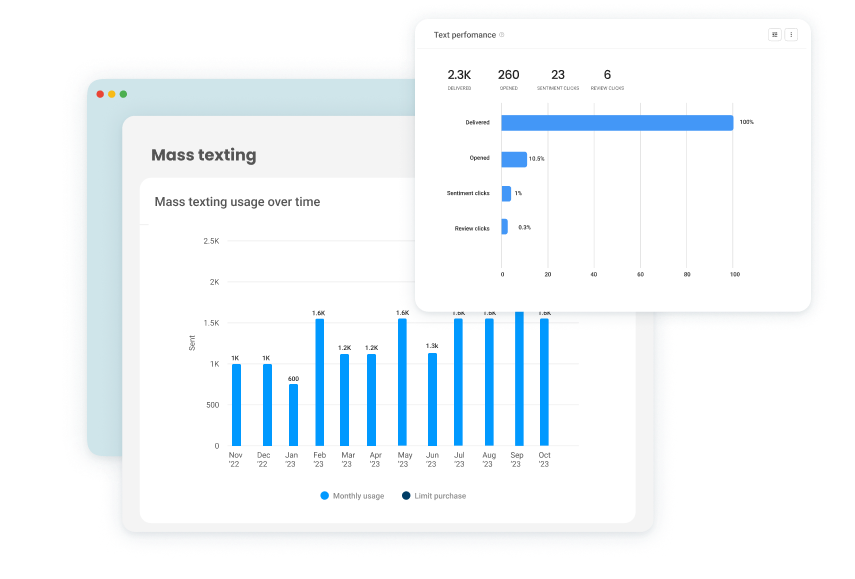 Integrations
Use the apps you love
Import contacts from your CRM and sync customer data with Birdeye's 3,000+ integrations. Track lead behavior to send smarter messages that turn prospects into customers.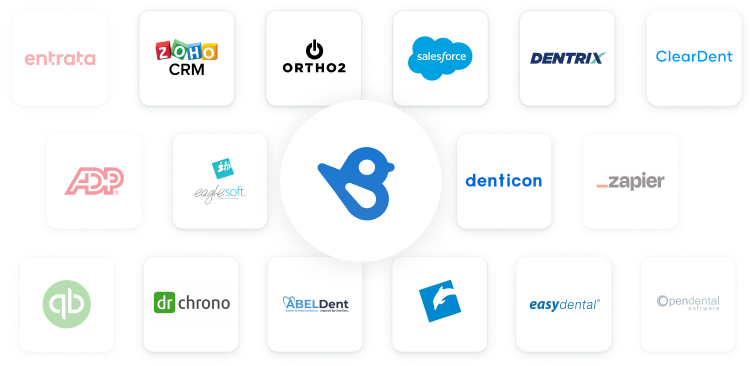 Birdeye outranks the competition
Based on 7,000+ reviews on

Birdeye customers get results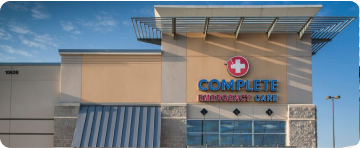 It's so easy to create any message at any time. We immediately see people open and respond to the message! We have great responses and the patients appreciate the information and updates!
Kelly Palms
Director of Business Development at Complete Emergency Care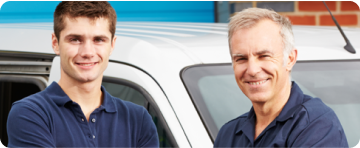 Birdeye is a platform that allows easy access between us and the customers. I don't have to individually text someone on a cell phone. I can also easily create and manage contacts on the platform. This saves me so much time.
Anntrese Huss
Operations Manager, The Gutter Guys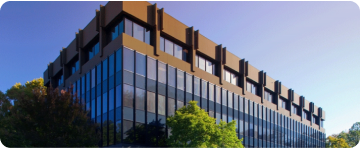 I would definitely recommend Birdeye as a student communication solution. User-friendly, easy to use, puts you in front of the customer, and gives you control!
Charlene Talbot
Executive Director, New Horizons Learning Center
Meet the all-in-one platform to drive customer acquisition and retention
Drive traffic
Put your business at the top of search with a stellar online reputation and local SEO.
Connect & convert
Message customers from anywhere, stand out on social, and collect payments faster.
Raise the bar
Create exceptional experiences that boost brand loyalty and set you apart from the competition.
Products that pair with Mass Texting
Birdeye is the only comprehensive platform for customer experience to offer a range of products that scale with your business.
Messaging
Chat, text, DM, and manage customer conversations from one inbox.
Webchat
Engage visitors the moment they reach your site to grow sales and delight customers.
Reviews
Generate, monitor, manage, and share reviews across 200+ sites.
Start growing with Birdeye today
Frequently Asked Questions
What are the benefits of mass texting or business text messaging?

Click to open
Mass texting, also known as business text messaging or SMS marketing, is an effective and affordable way to reach consumers through their preferred channel - text messaging. With mass texting campaigns, you can deliver timely, relevant messages to customers' mobile phones which increases engagement and loyalty.
What are the capabilities of Birdeye Mass Texting?

Click to open
Birdeye Mass Texting is an affordable and easy way to send text messages to thousands of customers in one go. Birdeye Mass Texting lets you:
Send SMS and MMs text messaging campaigns from your business landline
Text 1:1 with contacts and respond to text replies from a centralized inbox
Trigger text messaging campaigns based on customer behavior
Personalize text messages
Create text message templates
Comply with TCPA industry regulations
What triggers can I use to automate my text messages?

Click to open
You can set up automatic texts for when:
A new contact is added
A lead is converted
A review is written
A survey is completed
A referral is made, and more
What kinds of reporting capabilities does Birdeye Mass Texting offer?

Click to open
You can view real-time data on deliveries and clicks across all your mass text campaigns. You can also track the number of campaigns and text messages you have sent monthly, quarterly, and annually
Can I purchase Birdeye Mass Texting as a stand alone product?

Click to open
No, Birdeye Mass Texting is only available as an add-on product in addition to one of our standard pricing packages.
What is the difference between an SMS and MMS text message?

Click to open
There are two types of text messages used for communications. An SMS text is a text-only message that is limited to 160 characters and is typically used for basic text communications. If you try to send an SMS text message longer than 160 characters, it will be broken into multiple smaller messages but most modern phones will display it as a single large text.An MMS text is any text message that includes multimedia content such as emojis, images, GIFs, audio or video clips, website links, or PDFs. An MMS text can also include up to to 1,600 characters of text and 500 KB of data.
When should I send an SMS versus an MMS text message?

Click to open
Because an SMS text is short and sweet, it is ideal for quick informative messages such as appointment reminders and payment receipts.An MMS text is ideal for promotional content and messages where an image or multimedia file can help boost engagement and response rates.
How much does it cost to send an SMS vs an MMS text?

Click to open
It costs 1 credit to send an SMS text and 3 credits to send an MMS text.
Does Birdeye comply with Text Marketing regulations?

Click to open
Yes. In line with the Telephone Consumer Protection Act (TCPA), text messages from Birdeye go out only between 8 am to 8 pm and customers can opt-out by replying with 'STOP' to any text. To minimize disruption, you can set frequency limits. Birdeye does not currently offer opt-in opportunities, but must emphasize to customers that all contacts should be opted-in via compliant methods.
Does Birdeye append opt-out language to mass text messages?

Click to open
No, you will need to add opt-out language to each mass text to stay compliant with TCPA regulations. 'Reply STOP to opt out' would be the appropriate language to use.