Have you ever searched online for a local business and chosen one without considering its star rating or how many reviews the business has? The answer is likely no, and you're not alone – According to a study on how many customers read reviews, 95% of customers read reviews before making a purchase. As consumers, we search online for reviews to choose which business provides the best products, services, and experience. From the business perspective, review management is an important piece of an overall marketing strategy.
Our own research about turning happy customers into revenue found that Marketers list online search and reading reviews as their top source for attracting new customers, with 34% stating it's the #1 way that new customers find them. Needless to say, reviews are necessary to maintain a brand's image, which directly affects sales. In this post, we'll walk through the fundamentals of effective review management.
Getting started with review management
Online review management – defined
Effortlessly Manage and Respond to Customer Reviews with Birdeye Review Management
Want to see the impact of Birdeye on your business? Watch the Free Demo Now.
The importance of online reviews and online reputation management for local businesses
Customers consider genuine, unfiltered experiences shared by existing and past customers online more trustworthy than biased information provided by the business itself. Due to their popularity with consumers, they are essential for attracting new customers. All businesses regardless of industry and size should practice review management.
Review management strategy
Building a comprehensive review management strategy can make all the difference in your business's success. Your review management strategy may differ based on your business needs, but some key best practices include monitoring reviews, responding to customer reviews, and promoting your reviews:
Review monitoring: Practicing review monitoring helps you keep track of your reviews, whether they come from your own Google Business Profile or from any of the numerous review sites online.
Review response: Responding to customer reviews has become essential as most customers expect their reviews to be acknowledged. We'll take a deep dive into how and when to respond to reviews in this article.
Promoting reviews: If you want more reviews, you have to actively seek them out from your customers. Promoting reviews works by requesting reviews from all of your customers so that you can get more and better reviews without waiting for them to come to you.
What are the benefits of review management?
1. Resolve customer complaints and improve reputation
Review management allows you to monitor and understand what customers are saying about your business online and step in to rectify experiences when necessary. Consumers that read reviews will see that you actively take notice of what is being said, care about their experiences, and will appreciate that you take the time to make things right. This is important because consumers read replies to reviews.
Analyzing reviews left by your customers, helps you to understand overall customer sentiment about your business. Customers often give insightful feedback on their experience with your business when writing reviews, which informs what your customers truly want. Leveraging this information, you can identify how to improve the customer experience and efficiently resolve the issues that consumers faced.
2. Rank better in search results
Additionally, given that 9 out of 10 people read reviews before visiting a business or making a purchase, neglecting the sites where people write reviews about your business can negatively affect your customer acquisition and your search engine rankings.
Consumers trust reviews more than your marketing messages, and so does Google. Google's algorithm measures how trustworthy your company is by "reading" what customers are saying about it. When a customer gives your company a review, whether positive or negative, it informs Google how well you're serving your customers. Also responding to one star reviews or negative reviews constructively, you can show Google that you are actively engaging with customer feedback and working to improve. The more recent, positive reviews your company has, the more likely Google will view your brand as a trustworthy resource and boost your search ranking for relevant keywords. 
3. Save time by managing reviews in a single dashboard
Customers write reviews across a wide range of sites, ranging from general sites such as Google and Facebook to industry-specific websites such as Zocdoc and OpenTable. Leveraging a review management software helps businesses save time by allowing them to manage reviews across all of these sites in a single dashboard. This saves time spent manually sifting through and responding to reviews on each site.
4. Boost your marketing with UGC
Lastly, actively managing your reviews allows you to find positive reviews and testimonials to use as user-generated content (UGC) in your marketing strategy. In fact, most consumers say UGC holds more influence over their buying decisions than promotional emails and even search engine results.
What are important review sites?
To start implementing a review management strategy, you need to identify the review sites that you want to focus on. You should perform an audit of each review site you can think of that may be relevant for your business and explore how many reviews are left there. When checking these sites you should look for how many reviews your business currently gets on a given site, and how well your niche is represented there.
Keep in mind that some review sites are geared towards specific industries. Restaurant review sites include TripAdvisor and OpenTable. Google Business Profile is important across industries but is particularly important for smaller, local businesses. Healthcare review sites include Zocdoc, WebMD, Google, and Facebook. Houzz, Thumbtack, and Homestars are examples of Home Services and Contractor review sites.
Even if you're not actively managing your presence on these sites, people will leave reviews regardless. That's why it's important to identify which sites matter most for your business and proactively manage and respond to the reviews you receive.
Why do you need to monitor your reviews?
Once you've established the review sites that matter to your business, it's important that you monitor the reviews that are coming from those sites, and anywhere else online. Monitoring reviews is important because it gives you the ability to act accordingly when you get a positive or negative review.
Customers want to know that their voices are heard. When they leave a positive review, they appreciate a quick acknowledgment of the time they took to leave the review – a simple "thank you" will suffice. When a customer leaves a negative review, they want to know you care enough to resolve the issue they experienced. When you're monitoring your reviews, you can quickly respond and take care of the issue and turn around a potential negative review down the road. Let's take a look at a couple of scenarios like these and how to respond to them.
Reputation management scenarios
Let's look at a positive review, a negative review, and a fake review and how to deal with them:
Scenario #1
"This was my first time visiting your restaurant and I can't tell you how much of a great experience I had. The waitstaff was so polite and quick to take my order, and the food was absolutely delicious. I will absolutely be coming back and recommending this place to my friends."
Positive reviews like this are what we all want to see, but you shouldn't just be glad you got it and move on. A quick and easy response thanking the customer for coming to your business and taking the time to leave a review can make them feel valued and more likely to come back and talk about your business.
Scenario #2
"I booked a room at this hotel weeks ago, but when I arrived, they said they didn't have anything in their system. The only room left was much more expensive than the one I booked and the staff wouldn't do anything to meet me in the middle of the price. Very disappointed."
In a circumstance like this, the best practice is to quickly respond and try to resolve the issue in an apologetic manner. Maybe that means a partial refund to match the price of the original room they booked or some other kind of compensation. It's always important to direct this conversation offline so that you're not putting an argument on display for other customers.
Scenario #3
"This is the WORST DEALERSHIP I've ever been to! I tried to buy a new car, but their salesman, Mark, was so rude. He completely ignored me and walked away. A COMPLETE SCAM!"
Now, it may be hard at first to recognize whether or not this review is fake, but there may be some indicators that it's a fake review. Let's say, in this instance, you don't have a salesman at your dealership named Mark. In that case, your best practice is to flag the review and report it to whatever site the review is on to be removed. The site will then review it, and delete the review if they find it to be fake.
Why should you reply to online reviews?
Responding to reviews helps build trust and repeat business for your brand. It doesn't matter if a review is positive or negative, it's best practice to always respond. They're a critical component of forging connections with your customers.
Plan for common feedback you might get from reviews in advance so that your team will be prepared to consistently stay on message and brand tone. You should have a library of ready-made, appropriate responses to recurring feedback received in reviews. During your audit, you'll likely see some recurring themes that should be logged.
Replying to reviews not only shows customers and prospects you care about their experience, but it can also lead to unhappy customers changing their opinion of your business. According to a report, 30% of consumers admit to reversing negative reviews once their concern has been responded to. Given that reviews can make or break any business responding to reviews can go a long way in boosting customer acquisition and retention.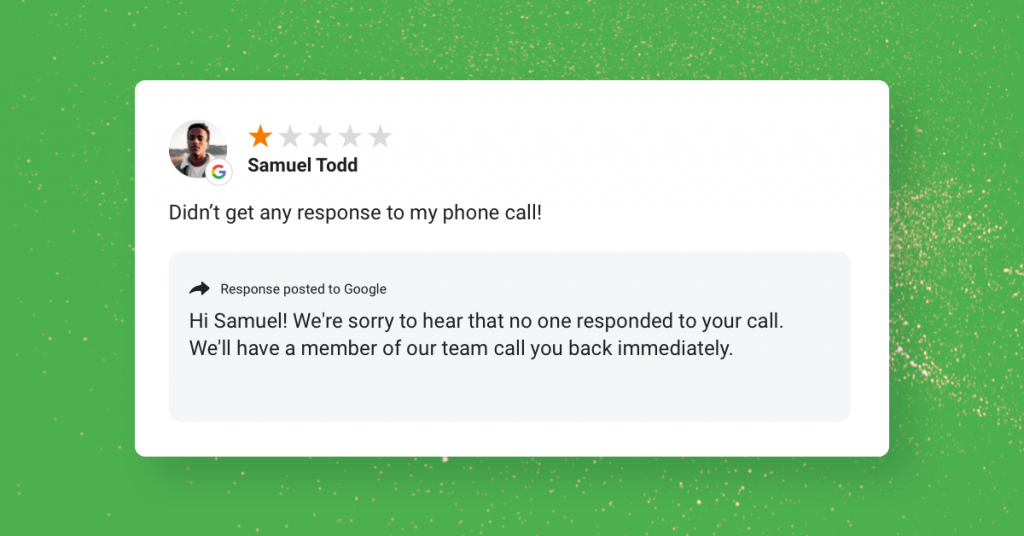 How to respond to customer reviews?
Here are a few tips to help you leave effective responses to bad reviews and limit the damage they can cause to your brand.
Be polite
While it's easy to take a bad review personally, remember that potential customers are reading reviews to understand the kind of service that you'll provide. That means it's important to stay professional in any circumstance.
Be timely
Aim to respond to a negative review within 24 hours. Waiting too long can mean that the customer's opinion of your brand is solidified and can no longer be changed.
Take the discussion offline
When responding to a bad review, provide an email address or phone number where the customer can get in touch with you. Otherwise, you run the risk of having a protracted back-and-forth in public.
Outline how you are improving the experience
If the customer mentioned a specific experience issue in their review, be sure to detail the steps your team is taking to fix the issue. This will show potential customers that you are actively making an effort to listen to feedback and improve customer experience.
Collect reviews from all your customers
Unfortunately, the customers who are most likely to leave reviews on their own are those who feel that they've had negative experiences. To get more balanced feedback, it's important to solicit reviews from your entire customer base through direct email and text requests.
This may sound like a lot to manage – monitoring and responding to reviews across multiple sites, analyzing reviews for feedback, promoting reviews across channels, etc. Fortunately, businesses can easily do all of this and more by leveraging review management software.
What are the features of review management software?
Having software that streamlines review management can ensure that you're constantly aware of customer sentiment for your company's services and products. You can immediately pinpoint areas of improvement and address urgent issues to avoid losing customers. This encourages responsiveness and proactivity on your side, which can build trust between you and your customers.
When leveraging review software it's important to know what features you'll need to effectively manage online reviews.
Review monitoring tools
As a consumer, you know there are many places to read reviews: general sites such as Google, Facebook, or industry-specific sites such as FindLaw, Zocdoc, and DealerRater, etc. With so many review sites, manually monitoring reviews across each site is a tall order for even the most robust teams.
Centralize reviews into one dashboard
Review management software gathers your business reviews every day from 150+ review sites. It then aggregates all of your reviews—from Google, to Facebook, to user-generated sites may have never even heard of—into one, easy-to-view dashboard.
Easily organize reviews from multiple sites
Additionally, review management software easily organizes your reviews into custom feeds with powerful filters for specific regions, locations, products, ratings, sources, and employees so you can quickly access the reviews you're looking for.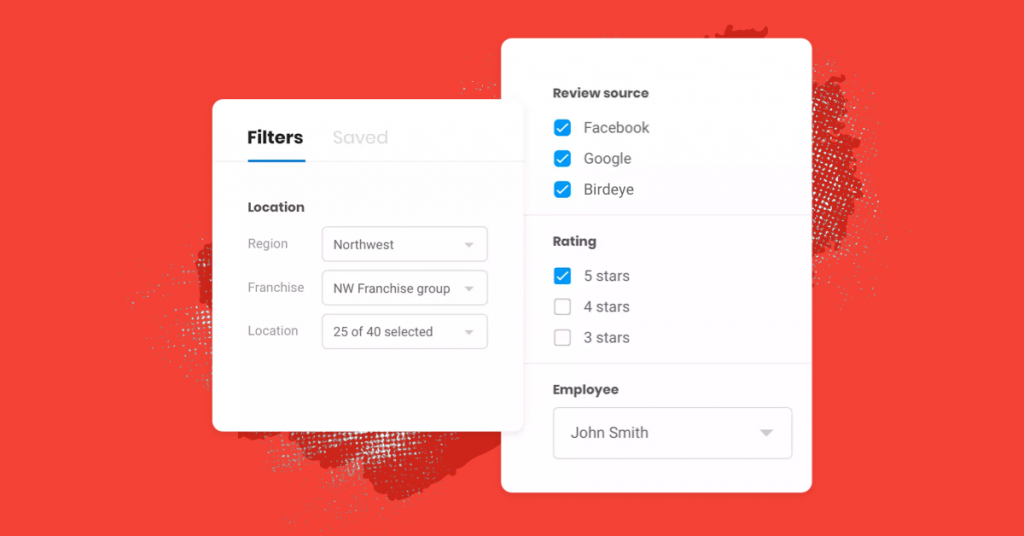 Gain actionable insights
The icing on the cake? You'll be able to get truly actionable insights from customer reviews in seconds. Improve your business reputation by identifying trends and digging deeper into customer sentiment.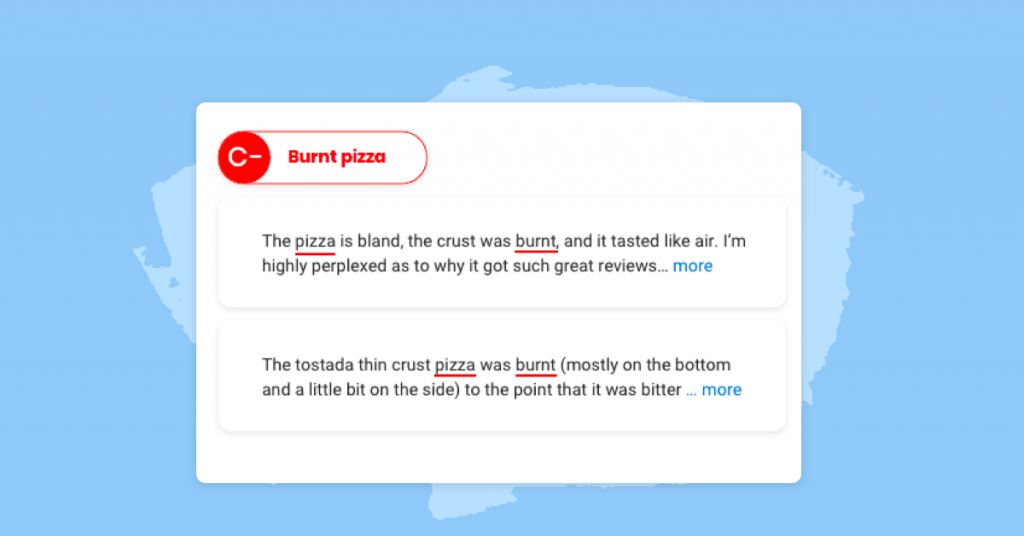 Review monitoring is a key feature of any review management software as it centralizes all of your customer reviews into one dashboard. This streamlines the entire process, making it far easier to resolve customer issues quickly, identify customer trends, and improve customer experience.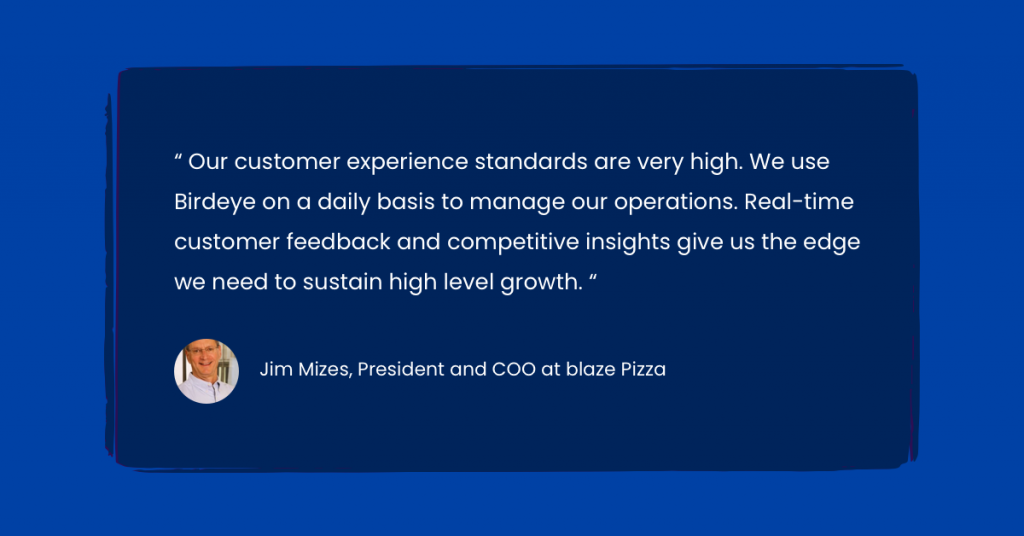 Review management
Responding to customer reviews not only tells the reviewer that you care, but it helps businesses attract more customers and increases revenue. According to a report on reviews statistics, when a business replies to at least 25% of their online customer reviews, on average, they earn 35% more revenue.
Yet despite the significant benefits responding to reviews provides businesses, Birdeye's 2021 State of Online Reviews report revealed that only 28% of reviews are responded to. Review management software helps businesses make it effortless to respond to reviews at scale across multiple sites.
Get alerts for new reviews
You can set up alerts every time a new review is posted about your business on any review site. Centralizing your reviews through technology empowers your team to quickly respond directly to every review from one dashboard and acknowledge issues right away.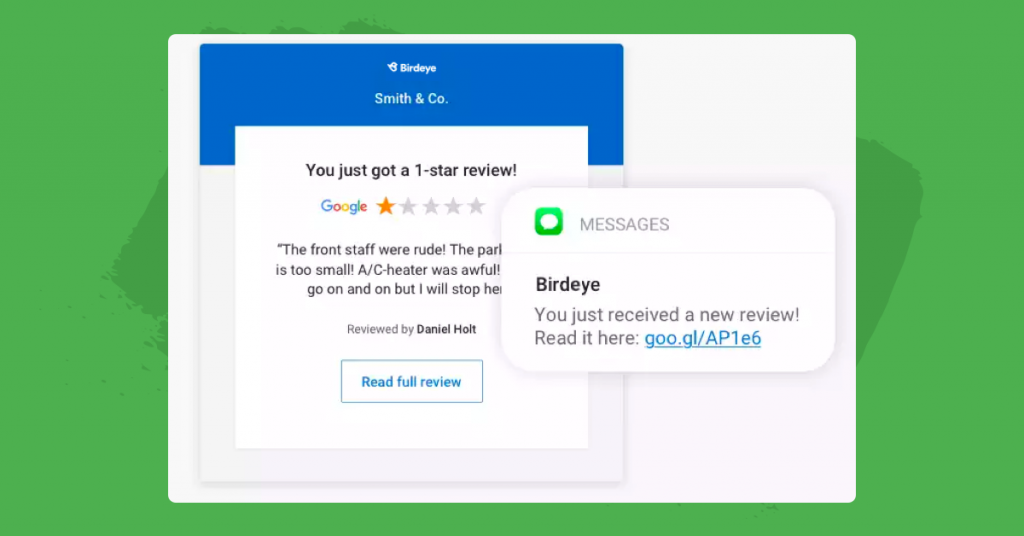 Quickly resolve negative reviews with ticketing
If/when you get an alert for a not-so-stellar review, the right platform automatically converts bad reviews into service tickets (or manually if you choose to), ensuring your customer's concern doesn't go unattended.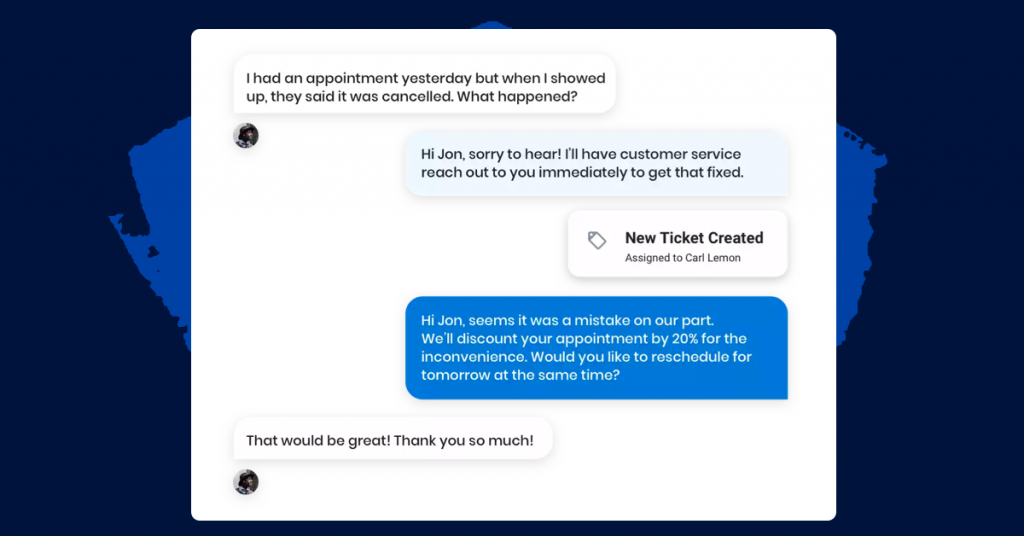 Save time with automated response templates
You can also use review response templates that let you customize a template for your responses as well as set up automatic review responses.
Effective review management requires being able to quickly respond to customer feedback and address issues efficiently. The combination of these features will put your team in a prime position to easily respond to reviews at scale and save time so they can focus on driving growth.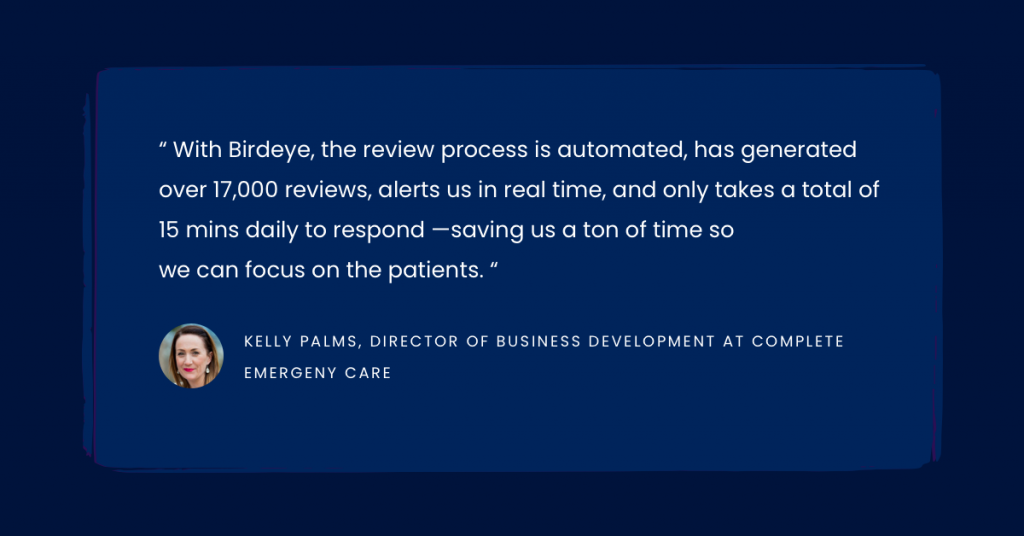 Review marketing
There's a reason so many consumers read reviews before choosing a business. It provides valuable User Generated Content (UGC) needed by those looking to finalize purchase decisions based on the experiences of previous customers. Positive reviews can be used as free yet powerful marketing assets to validate your marketing messages and campaigns.
However, manually sifting through reviews across multiple sites to identify and log the best ones, and then promoting them on your website and social media is time-consuming. Review management software makes it easy to promote your reviews across multiple channels in a few simple clicks. With Birdeye you can automate your review generation process, making it easier for customers to share their reviews and feedback.
Automatically share your reviews
Easily set custom rules and logic to share your reviews from 150+ review sites to Facebook, Twitter, and LinkedIn without lifting a finger.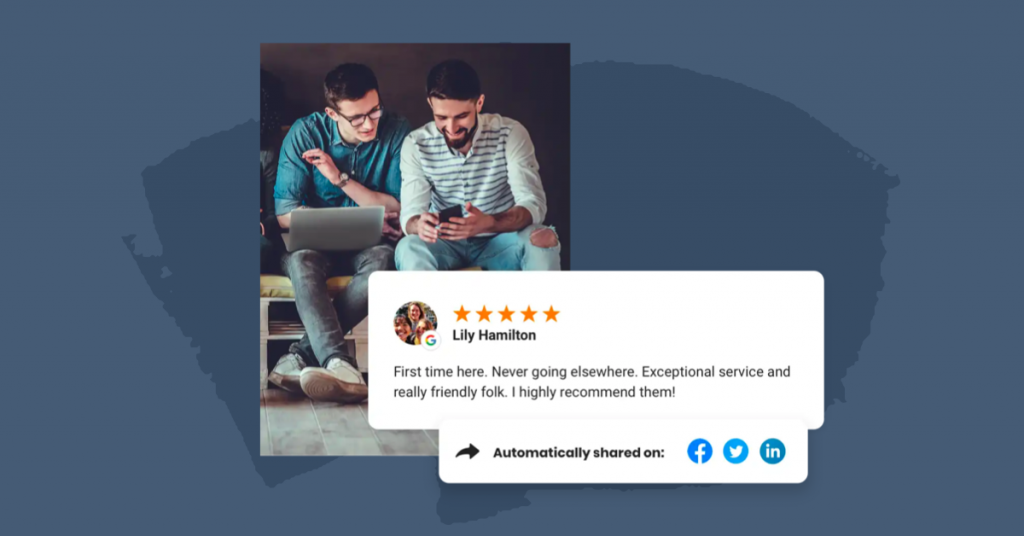 Display all your reviews on your website
Use your reviews & testimonials to convert your prospective customers into buyers. Using Birdeye's review widget (iFrame or API), you can incorporate all your reviews and ratings on your website.
Boost conversion on organic search results
Birdeye embeds rich snippet data from all your reviews so that your star ratings will appear in search results. This boosts Google ranking and makes your business stand out from the crowd with social proof that you're the best in town.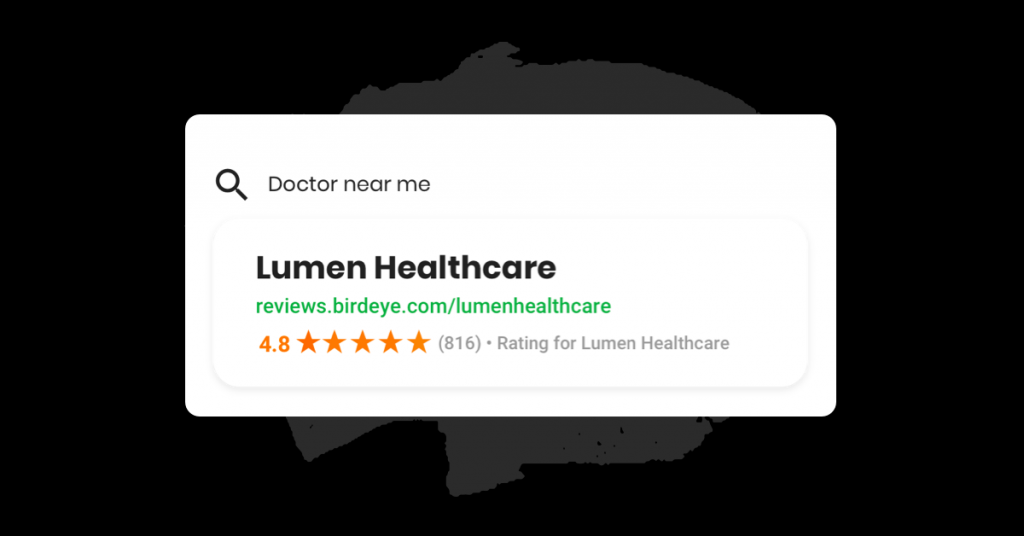 With Birdeye review marketing tools, you'll be able to turn your happy customers into a well-oiled marketing engine. Strengthen SEO, SEM, and social media marketing initiatives by using the voices of your customers as your new content to attract new customers.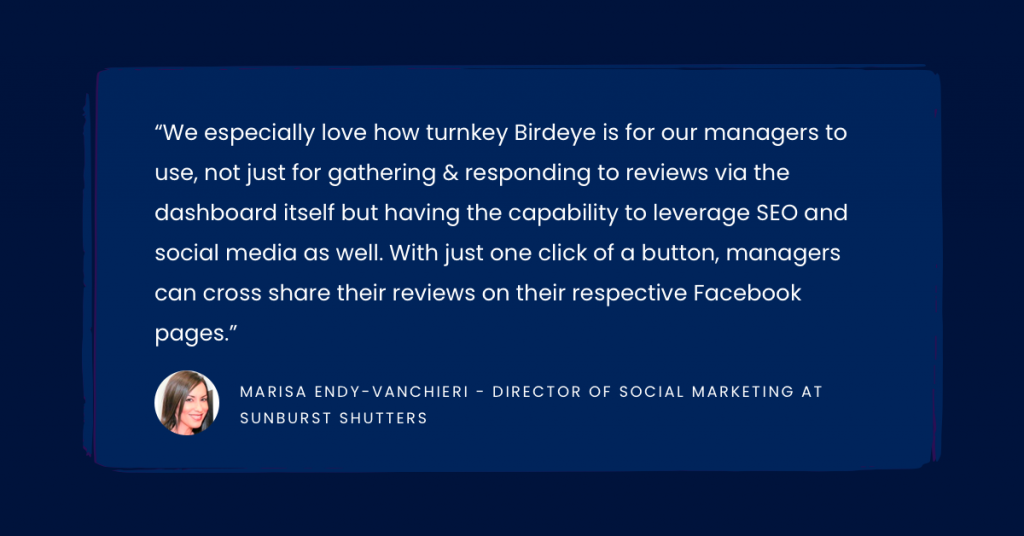 Frequently asked questions about review management
What is a review management system?
A review management system helps businesses collect, manage and respond to reviews online to help them build a positive reputation and help grow their business online.
Can companies delete Google reviews?
While a business itself can't delete a Google review from its profile, the review can be flagged and reported to Google. If they find it to be fake, or inappropriate, they can remove the review.
Why are reviews so important?
Customers use online reviews to make decisions about their purchases more than ever before. The more and better reviews your business has, the more likely a customer will be willing to choose your business when buying a product.
What is the best review management software?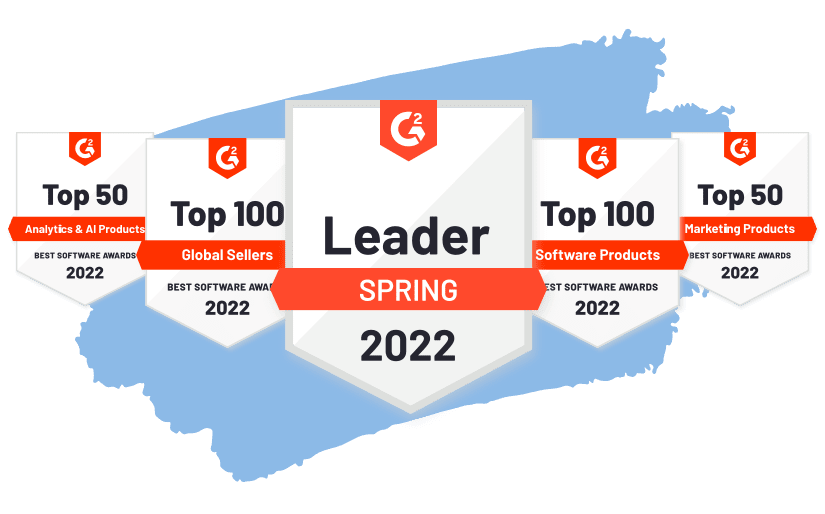 Birdeye is the best and most awarded review management software on the market. We have the tools you need to be successful in every stage of the review process. Whether you need help with getting new reviews or managing reviews Birdeye has you covered. Our streamlined and simplified review process will help your business deliver a fantastic customer experience and grow like never before. Click on the banner below to watch a demo.
Originally published