Ticketing software for local businesses
Streamline support with smart ticketing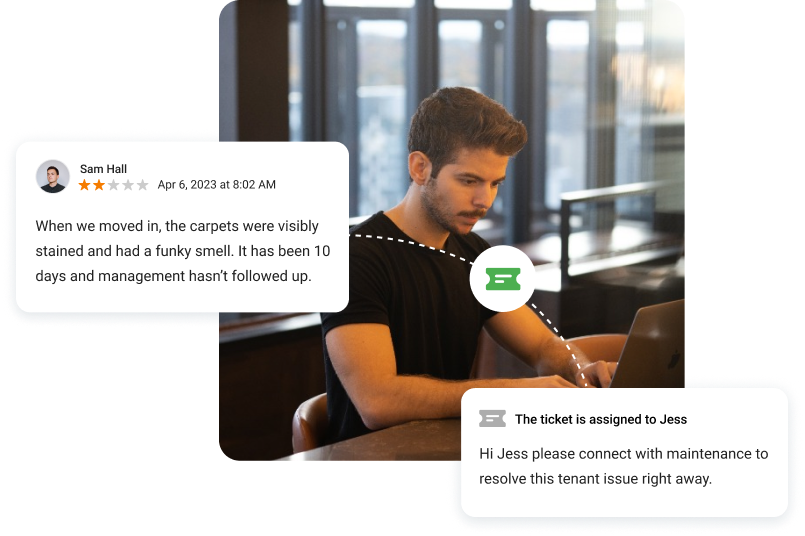 Customer support made effortless
Auto-create tickets
Address issues proactively to improve customer satisfaction and reduce churn.
Resolve issues fast
Address customer issues faster and create visibility across your organization.
Stay informed
Get real time alerts and track tickets from start to finish all in one place.
Auto-ticketing
Save time ticketing
Create ticketing rules and custom criteria like review rating or keywords, and our automated ticketing process will do the rest.
Ticket Management
Streamline your support
Assign tickets to the right team member in seconds and reduce confusion with smart filtering to keep important tickets front and center.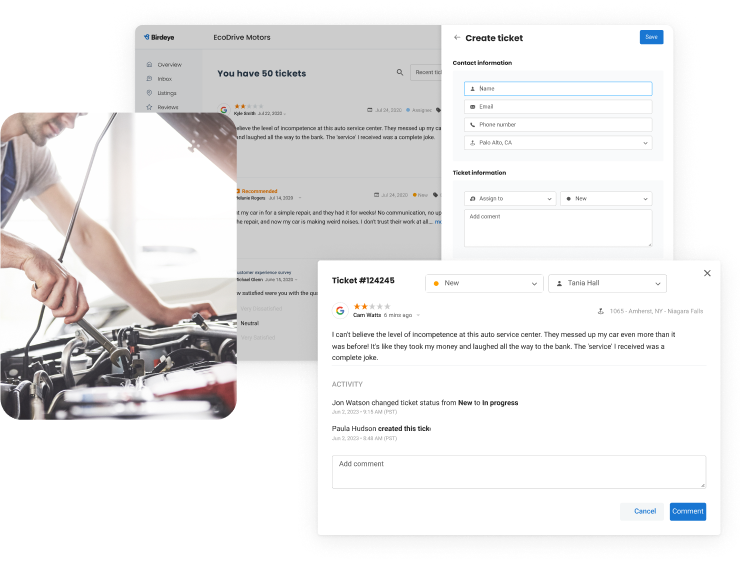 Ticket Tracking
Reduce issue resolution time
Track response rate and resolution time. Monitor tickets by user, location, and status. And do it all through a single dashboard.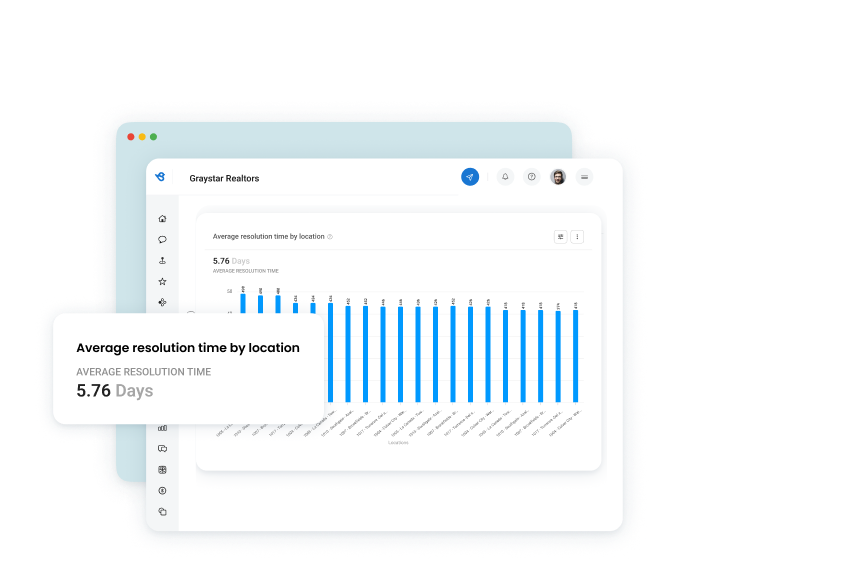 Custom Views
Filter tickets your way
Use filters to create custom ticket views based on location, status, owner, and time period. Easily navigate and prioritize tickets across your organization.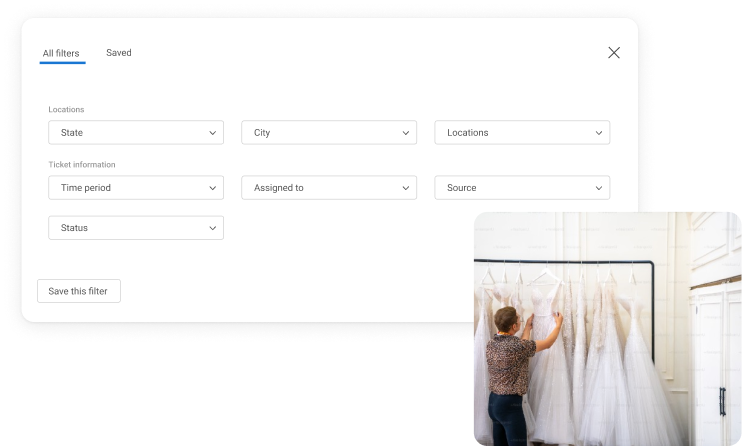 Real-time Updates
Receive instant alerts and updates
Birdeye automatically notifies specific employees or locations via email or SMS whenever a new ticket is assigned and any time a status changes.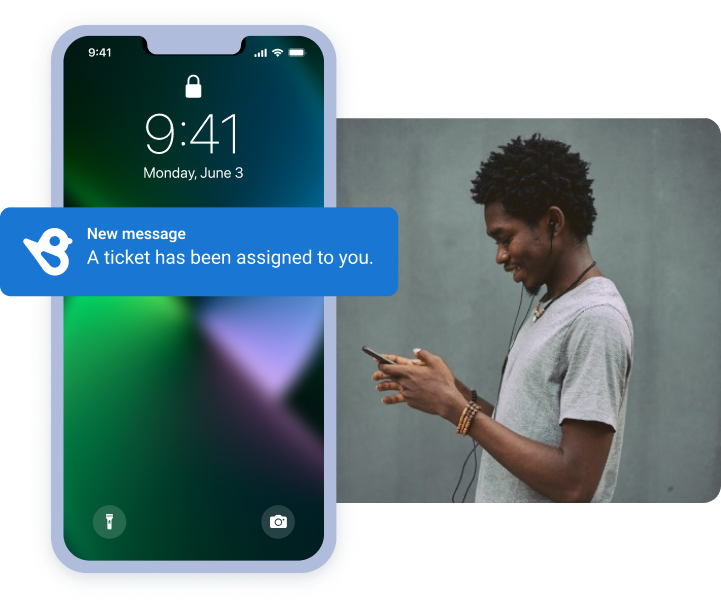 Birdeye outranks the competition
Based on 7,000+ reviews on

Birdeye customers get results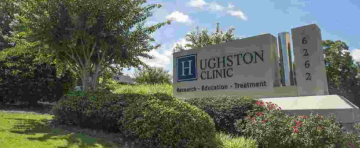 The need to monitor our online reputation has been growing at record speed each year. We want to protect the reputation of our physicians and locations; therefore, we need to be aware of any problem in a timely manner. Birdeye allows us to do both.
Kathleen Gibson
System Marketing Director, Hughston Clinic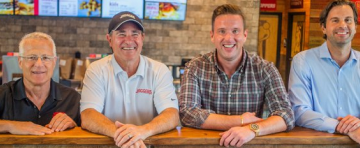 In the weeks following Covid, we saw an immediate 60% decline in sales. By quickly making changes and understanding what our guests wanted, we are now seeing a 10% same-store sales growth, which has helped us to weather the pandemic. Leveraging our guest experiences has helped us to grow, even during very difficult times.
Amy Dickey
Director of Marketing, Saxton Group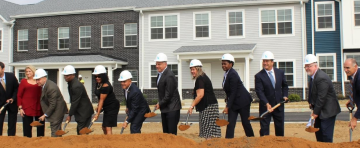 The ticketing system is amazing, and it has helped us increase our customer experience in just less than a year of being with Birdeye. We have also increased our online reputation by about two points, which has been amazing
Brandon Hegland
VP of Marketing, The Michaels Organization
Products that pair with Ticketing
Birdeye is the only comprehensive platform for customer experience to offer a range of products that scale with your business.
Reviews
Automatically request customer reviews and amplify them where they matter most.
Social
Manage social media posting, monitoring, and reporting across locations.
Surveys
Easily gather customer feedback to improve customer experience.
Meet the all-in-one platform to drive customer acquisition and retention
Drive traffic
Put your business at the top of search with a stellar online reputation and local SEO.
Connect & convert
Message customers from anywhere, stand out on social, and collect payments faster.
Raise the bar
Create exceptional experiences that boost brand loyalty and set you apart from the competition.
Start growing with Birdeye today
Frequently Asked Questions
What is Birdeye Ticketing?

Click to open
Birdeye ticketing is a ticketing software which helps businesses address customer issues proactively thereby improving customer satisfaction and reducing churn.
How does Birdeye Ticketing work?

Click to open
Through Birdeye Ticketing, you can proactively create customer support tickets right from your customer interactions such as reviews, social mentions, and survey responses. Not only does it facilitate ticket creation, but also automatically assigns it to designated employees for faster resolution. This helps you solve issues before they escalate.
How do Birdeye customers use ticketing?

Click to open
Birdeye customers use Ticketing to solve their customer support problems systematically. They use Ticketing to automatically create tickets based on custom criteria, assign these tickets to the right employees, track and monitor open tickets and ensure they get resolved on time.
What kind of reporting is available with ticketing?

Click to open
Birdeye Ticketing offers various reports such as – average resolution time, average resolution time by location, ticket Count By Owner and ticket Count By Status, among others.
How much does Birdeye Ticketing cost?

Click to open
Birdeye offers plans that are customized for your business based on the number of locations you operate and the solutions that you need. Take a look at our pricing page for more details.
Does Birdeye Ticketing software integrate with other platforms?

Click to open
Yes, Birdeye Ticketing integrates seamlessly with other platforms such as Salesforce or Zendesk so you can manage all your support tickets from all channels in one place.