Rank higher and attract more customers with Listings
Best in class
Build attractive and complete business listings on Google, Facebook, and 60+ sites.
Effortless
Update all your listings with ease and message customers in a single click all from one dashboard.
All-in-one
Get the tools you need to build your reputation, grow revenue, and create exceptional customer experiences in a single platform.
Business Listings
Be found everywhere people search
Create and manage accurate business listings and an online presence across hundreds of sites and online directories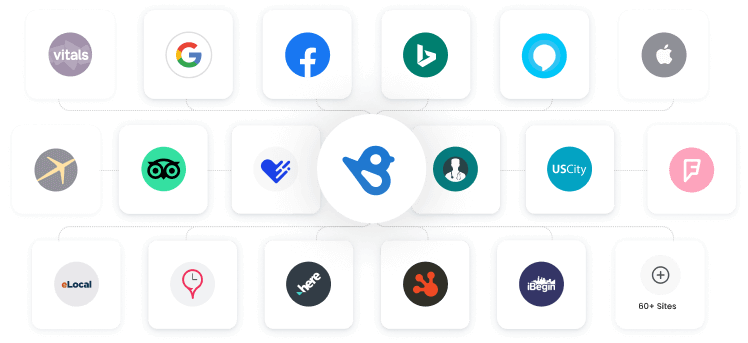 Listings Scan Tool
Find errors in your online listings
Find out how accurate your business listings are across Google, Facebook, Bing, and 50+ sites that matter to your customers and to search engines.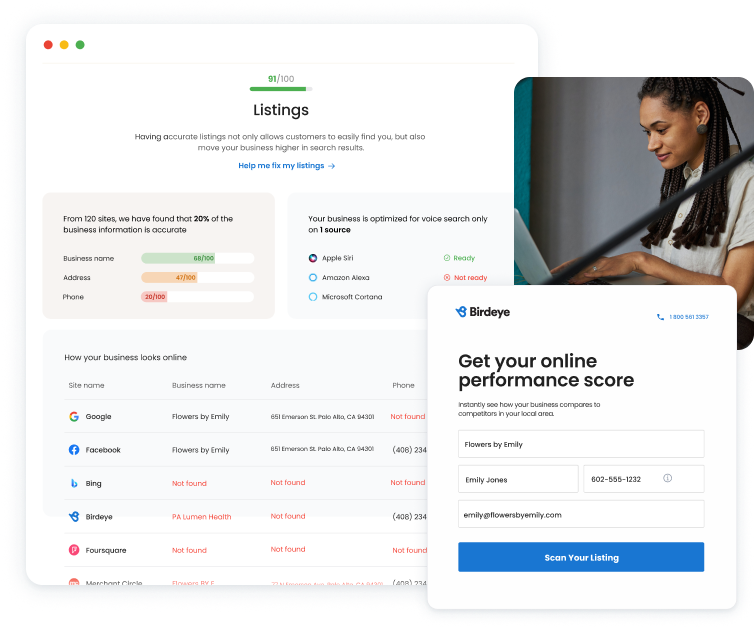 Listings Management Tool
Manage all your listing details in one place
Effortlessly manage, update, and publish vital business info like address, hours, and services from a centralized dashboard.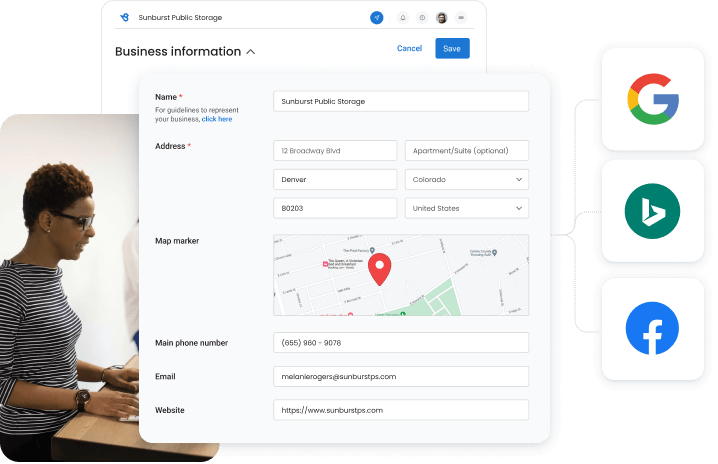 Google Business Profile
Optimize your Google Business Profile
Build accurate and attractive Google Business Profiles for all your locations. Feature your reviews and engage visitors with relevant offers and updates using Google Posts.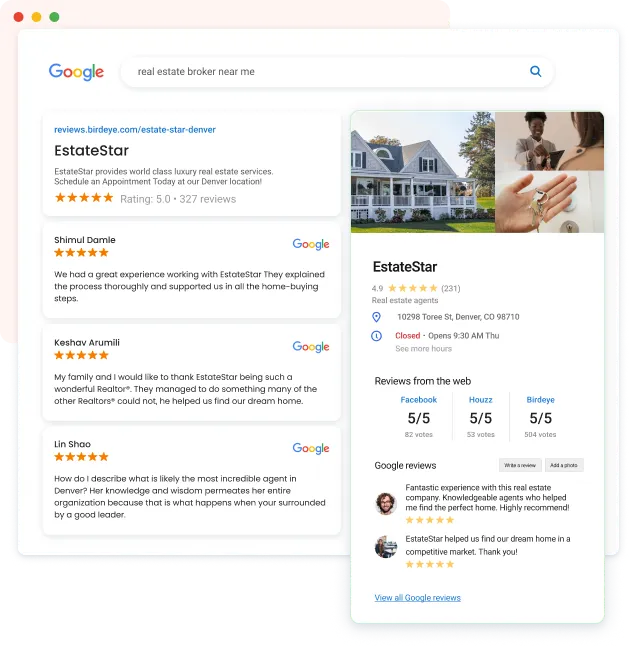 Auto-generated business descriptions
Use AI to write SEO-friendly descriptions
Improve your SEO ranking and attract more customers with AI-generated business descriptions tailored to Google's algorithm.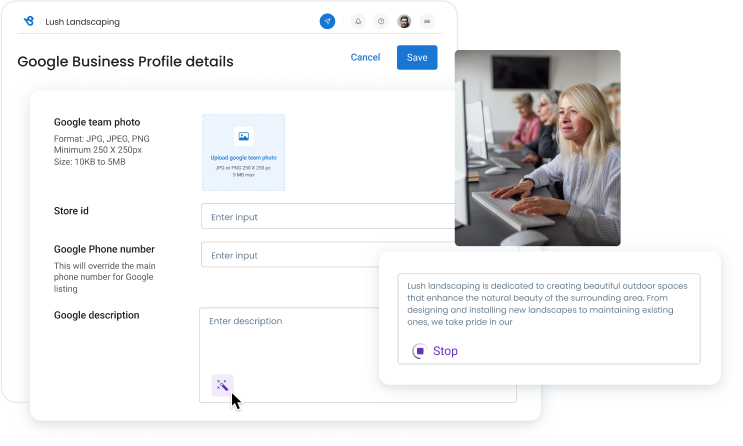 Local Listings Analytics
Track and optimize performance
Access a complete library of reports with key metrics on listing performance — like site traffic, call volume, and keyword ranking, and address red flags in real-time.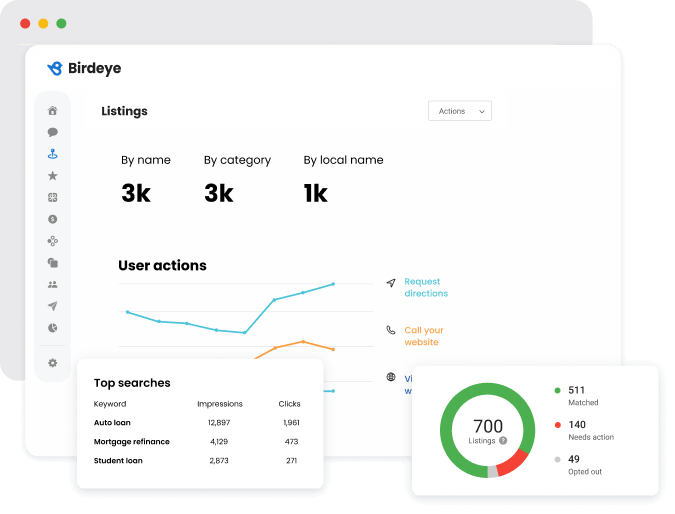 Birdeye outranks the competition
Based on 7,000+ reviews on

Birdeye customers get results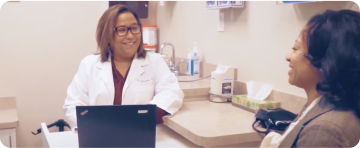 Birdeye brings the cacophony of 50+ location directory listing and reputation management down to a harmonious blend through a single, intuitive platform. Birdeye's solution has given me the perspective I need to effectively manage our expansive footprint.
Ken Norquist
Axia Women's Health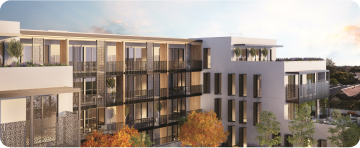 Birdeye saves us a lot of time, provides consistency, and streamlines our process so we can make data-driven decisions.
Andre Gerasimov
Moss and Company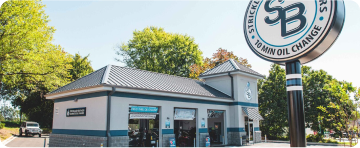 Our biggest challenge as a franchise business with locations all over the United States is ensuring a solid online presence. We've been able to do this through Birdeye.
Carmen Garcia
Strickland Brothers 10 Minute Oil Change
Meet the all-in-one platform to drive customer acquisition and retention
Drive traffic
Put your business at the top of search with a stellar online reputation and local SEO.
Connect & convert
Message customers from anywhere, stand out on social, and collect payments faster.
Raise the bar
Create exceptional experiences that boost brand loyalty and set you apart from the competition.
Products that pair well with Listings
Birdeye is the only comprehensive platform for customer experience to offer a range of products that scale with your business.
Reviews
Generate, monitor, and manage reviews across 200+ sites.
Social
Manage posts, reputation, and reporting across all locations and accounts.
Insights
Use AI to turn customer feedback into business critical insights.
Start growing with Birdeye today
See why more than 100,000 local businesses choose Birdeye.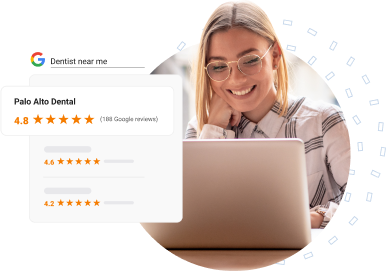 Frequently Asked Questions
What is local listings management software?

Click to open
There are hundreds of online directories that include information about your business, including store hours, phone numbers, addresses, menus, and more. These sites make it easier for your business to be found online and for potential customers to reach you.
Local listing management software, also known as business listing management software, provides a central hub for managing and updating your business information across online directories with ease.
Why is listings management important?

Click to open
Maintaining accurate, up-to-date, and consistent business information wherever your customers are likely to search for you is critical for getting found online, improving online visibility, and preventing customer service issues caused by incorrect information about business hours and service offerings. Listings management software also positively impacts your local SEO, helping you further to be found by your customers.
What happens if my listings aren't up to date?

Click to open
If your listings information, such as business name, address, or phone number, is incorrect on major directories such as Google, Facebook, or Bing, your potential customers will have a bad experience when they try to contact you. It will also hurt your local SEO, bringing down your Google rank and diverting business to your competitors.
Why do I need listings management software?

Click to open
Managing your business profile manually across hundreds of sites is cumbersome and error-prone. The problem is exacerbated if you have multiple locations to manage. A listings software makes it easy to manage online listings, ensures your business information across locations and sites is up to date, and helps you win more customers. Local listing management software also makes it easy to update information across directories in seconds should your business hours or service offerings change.
What are the capabilities within Birdeye Listings?

Click to open
Birdeye Listings lets you:
Scan major online directories across the web for errors
Build complete and attractive listings from one dashboard
Update and publish vital business info like address, hours, and services from a centralized dashboard
Get real-time reporting and insights on engaged leads and traffic
Convert leads with Google Messaging
What details can I update using Birdeye Listings?

Click to open
Apart from your name, address, and phone number, Birdeye allows you to update 60+ fields, helping you rank higher on Google and appear more attractive to customers. From one dashboard, you can update your business hours, photos, videos, COVID-19 updates, keywords, services offered, appointment links, social profiles, and more.
How can I measure the impact of listings management software?

Click to open
You can measure the impact of your business listings by tracking metrics such as the impressions and views on your profile, inbound interest in the form of calls or website visits, and the messages you receive from sites like Google and Facebook. Birdeye Listings comes with these reports out of the box, making it easy for you to track, optimize, and report your listings performance.
What is the difference between a data aggregator and a business directory?

Click to open
Data aggregators such as Foursquare partner with multiple business directories and push information on your behalf to these sites. However, no single aggregator can provide coverage for all the sites that matter to your business. To overcome this challenge, you need a listings management software that supports both aggregators and individual business directories, thereby increasing your reach.
How many sites can I manage my business listings on with Birdeye?

Click to open
Birdeye Listings helps you manage your online presence and make sure your business information is accurate on over 100 sites across multiple industries and countries. These sites include Google, Facebook, Bing, Nextdoor, Healthgrades, Avvo, and TripAdvisor. Check out the complete list of sites that Birdeye Listings supports here.
Can I update all of my listings at once with Birdeye?

Click to open
Yes, you can. Birdeye pushes your business details to over 100 sites automatically from a centralized business profile. Once you update your business details within Birdeye, your details will reflect on Google, Facebook, and Bing in real-time and on other sites within 3-5 days.
Does Birdeye help me improve my search engine ranking?

Click to open
Yes, it does. When it comes to Google's local SEO algorithm, nearly 60% of your ranking is determined by your Google Business Profile, listings, and reviews. Birdeye helps you manage these easily and helps you conquer local SEO and rank higher. Check out this on-demand webinar to learn more about Google's local search algorithm and how Birdeye can help you stay ahead of the curve.