Local listings are the key to getting new business. Managing your local business listings ensures that your data is accurate across the web. 
Looking for a quick answer? Business listing management involves creating and maintaining accurate online profiles for businesses. It ensures consistent platform information, enhancing visibility, credibility, and customer engagement.

Do you want to know each of them in detail? This guide will help you understand and implement a strong business profile that will get you more customers and a higher ranking on Google. 
What is local business listing management?
A local business listing is an online profile of your business with its name, address, phone number, and more. .
Consider local business listings as online directories to help your business be found.
Business listings management refers to maintaining and updating a company's online presence on various platforms, such as search engines, directories, and social media. It ensures the business's information is accurate and consistent across all these platforms.
For example, consider a local dentist clinic, "Dental's Delight." To effectively manage its business listings, Dental's Delight would:
Create and claim profiles on popular platforms like Google Business Profile, Facebook, and dental review sites. 
Ensure its business name, address, phone number (NAP), website, and hours of operation are consistent across all these platforms.
Regularly update its listings to reflect changes, such as new menu items, special promotions, or holiday hours.
Monitor and respond to customer reviews and inquiries on these platforms to engage with customers and maintain a positive online reputation.
By actively managing its business listings, Dental's Delight will improve its online visibility, attract more customers, and provide accurate and up-to-date information to its target audience.
Show up Where Your Customers Search
Want to see the impact of Birdeye on your business? Watch the Free Demo Now.
What are the core components of local business listings management?
Regardless of the website, local listings comprise the same core data: NAP. This stands for your business's name, address, and phone number. In addition to NAP, your business listings can also include:
Website URL
Hours of operation
Your business category (The category your business falls into should complete the statement, "This business is a…". For example, if you were a local auto repair shop, your category would be automotive.
Pictures or videos of your business
A short description of your business
Accepted methods of payment
These core components will help customers easily connect with your business once they find you through an online search.
What is the difference between local listing and business listing?
Local listing and business listing are related terms in the context of online marketing and directory services, but they have distinct meanings:
Local Listing:
Definition: A local listing refers to an online listing or profile of a business or service that is specifically associated with a particular geographical location. It provides essential information about a business's physical presence in a specific area.
Focus: The primary focus of a local listing is to help potential customers find and contact a business's physical location, such as a store, office, or restaurant.
Information about: Local listings typically include details like the business's name, address, phone number (NAP), hours of operation, website link, and directions to the physical location.
Use case: Local listings are crucial for businesses that have a physical storefront and want to attract customers who are searching for products or services in their local area. They are particularly relevant for businesses like retail stores, restaurants, salons, and medical practices.
Business Listing:
Definition: A business listing is a broader term encompassing all online profiles and directories where a business can create a presence. It includes local listings and other online platforms where businesses can provide information about their products, services, and operations.
Focus: Business listings can be local, regional, or global, and they aim to present a comprehensive overview of a business's offerings and attributes.
Information about: In addition to local details, a business listing may include a wide range of information, such as a description of the business, customer reviews, photos, links to social media profiles, and more.
Use case: Business listings serve multiple purposes. They help businesses establish an online presence, improve search engine visibility, and provide potential customers with a detailed understanding of what the business offers. 
Business listings are relevant for various businesses, both local and online.
Why is local business listing management important?
Local business listing management is essential in helping your business be found online. When a customer is looking for a new business, Google is often their first stop. 
Having multiple listings that are consistent across different sites helps Google know that your business information is trustworthy. If your business cannot be discovered through a simple Google search, chances are you are not being discovered at all.
1. Increased visibility on SERPs
When searching online, listings on popular platforms like Google My Business and Facebook make it easier for potential customers to discover local businesses.
Example: A traveler searching for "orthopedics near me" on Google will see all that is listed in the search results, helping them quickly choose the most nearby and helpful option.
2. Accurate information to customers
Consistent and up-to-date business information, including name, address, phone number, and hours of operation, helps customers trust that the business is legitimate and open.
Example: If customers see different addresses for the same store on various platforms, they may become skeptical and choose a competitor with consistent information.
3. Favorable customer reviews
Listings often include customer reviews and ratings, allowing potential customers to gauge the quality of a business's products or services before making a decision.
Example: A person looking for a new hair salon can read reviews on Google Business Profile to find one with positive feedback and skilled stylists.
4. Better accessibility
Mobile users frequently rely on location-based searches, meaning accurate listings enable businesses to appear in these searches, increasing foot traffic.
Example: A smartphone user searching for "pharmacies near me" will find nearby pharmacies listed, making it convenient for them to visit one.
5. Better online reputation management
Efficient online reputation management is when businesses respond to reviews, both positive and negative, to engage with customers and demonstrate their commitment to customer satisfaction.
Example: A hotel that promptly addresses a negative review about a room issue can show potential guests that they take guest feedback seriously and aim to resolve problems.
6. Get ranked higher on Google
Local business listings contribute to a business's search engine optimization (SEO) efforts, helping it rank higher in local search results.
Example: A boutique clothing store optimizing its Google Business Profile can appear higher in local search results, attracting more local shoppers.
7. Map and navigation integration
Listings are often integrated with mapping and navigation apps, making it easy for customers to get directions to the business.
Example: A traveler using Apple Maps can tap on a listed restaurant to get directions, simplifying finding the location.
What are the challenges in business listing management?
Ranking on Google is becoming increasingly difficult. In the past fifteen years, we've seen a huge shift from customers searching on desktop to searching on mobile.
This smaller screen size displays fewer results per page than a traditional search on a computer would. On desktop, customers usually see ten results on the first page, but on mobile, customers usually don't get past the first three. With the increasing prominence of mobile searches, earning that top spot is more important than ever.
For businesses to have an edge in this new search environment, they need to ensure they're doing everything they can to be found by customers. The more consistent your listings, the better your chance of customers discovering you on mobile, desktop, and voice search (think smart speakers, phones, and cars equipped with Apple's Siri, Amazon's Alexa, Microsoft's Cortana, or Google's AI assistant).
What are the benefits of local business listing management?
Local business listings are a reliable source of information for your customers. They serve as an online business directory, helping consumers find the business that will fit their needs. However, local business listings have other benefits as well.
When your business is listed across the web, it is easier for your customers to find your information. This guarantees a great customer experience from the get-go.
Better local targeting and advertising 
Attracting nearby customers actively seeking local services with keywords like "near me," "near to me," and getting featured in Google's Local Pack.
Cost-effective marketing and geo-tagging
This helps businesses reach specific geographical locations whenever customers search for them.
Outperforming competitors 
Gain a competitive advantage over competitors with incomplete or outdated listings.
Goes without saying that the higher and greater your reviews, the better your chances of being chosen.
Ease of discovery on a global scale
Make it easy for customers to find and contact your business. A well-maintained business listing attracts tourists and travelers searching for local services.
If your business is already a customer favorite, you can also attract collaboration opportunities to strengthen ties with local businesses and organizations.
Are business listings free?
It depends. While some listing sites have paid options, many popular ones are free. Google, Facebook, and Bing are all free to list your business. Depending on your industry, it may be wise to also pay for listings on industry-specific websites. Some examples include:
Trulia – This real estate website connects real estate agents and brokers to home buyers and sellers through their online business directory list. 
If you are a real estate professional, you can pay for Trulia Pro and get your properties listed. Because this website features many interested buyers and sellers, it can be worth the investment.
Autotrader – If you are an automotive dealership, consider listing your business on Autotrader. This listing will connect you to many motivated buyers, making it a worthwhile investment. 
The cost varies to become an Autotrader dealership, but you can complete this form to see if it's a good fit for your business.
Better Business Bureau – Founded in 1912, the BBB is a credible, esteemed source. Your business can become accredited by the BBB if you meet their standards and pay a small fee to support BBB's accreditation review. BBB will monitor your business to make sure it continues to live up to BBB's code of ethics. 
Having BBB accreditation can assure potential customers that your business is trustworthy. Take a look to see if getting a BBB accreditation is right for you.
5 Ways to effectively manage your local business listings
Now that you know the value of local business listings, learn how to leverage this data to your business's greatest advantage.
1. Claiming your local business listings
You might wonder how websites got your business's information if you didn't post it yourself. Google creates profiles for existing businesses. If you see that Google has made a profile for your business, all you'll have to do is claim it!
If you see a listing on another site, chances are it was collected by a data aggregator or added by a user. 
Right now, there are four data aggregators that compile and distribute this information to listing sites: Infogroup, Acxiom, Neustar/Localeze, and Factual. These data aggregators get information by looking at offline and online resources.

Because of this, there is a possibility that your business is already featured on various listing sites. Do an online scan of your business, and see what is and isn't currently listed and where.
Be sure to claim the new business listings you discover.
Once you have ownership of your business listings you can control your NAP data and make sure that your operating information is up to date across all of your listings.
2. Get listed on the local search ecosystem
Why is it important for you to claim your business listings? If you have inaccurate information on the web, it can easily spread like a virus across multiple sites through data aggregators. Incorrect listings confuse customers, hurt your SEO, and ultimately cost you business.
When it comes to NAP, it's crucial that your data be:
Current
Complete
Consistent
If your NAP is outdated, customers get the wrong information when they search for your business online. This could lead to a customer contacting the wrong location or calling the wrong business number.
If your NAP is inconsistent, it will confuse your customers, as they will be unsure which information they should trust. The chances that the customer would research to identify the correct information are slim when the option of going to a competitor is so much easier.
In both circumstances, you will start your interaction with your customer on the wrong foot. To build a better customer experience, it is crucial that your NAP is current, complete, and consistent.

Furthermore, incorrect listings negatively impact your SEO because it confuse Google about which source to trust. When there is conflicting data about your NAP, Google cannot decipher which data is correct. Your NAP must be consistent across all your business listings for Google to know what information to promote.
Don't let inconsistent or out-of-date data negatively impact your business. Learn how to manage your local listings to take control of your online presence.
How do I update my business listings?
Step 1 - Audit your business information online.  
Step 2 - Fix any incorrect NAP data.
Step 3 - Track your listings periodically. 

3. Audit your business information online
An audit helps you see how consistent your business listings are across the web. It also helps you see if there are duplicate Google Business Profile listings or duplicate listings on other sites.
But how can you possibly find all of your local business listings? Here are a few free business listing management tools to audit your listings.
This helps you identify issues and see what changes you should make to help customers get the necessary information.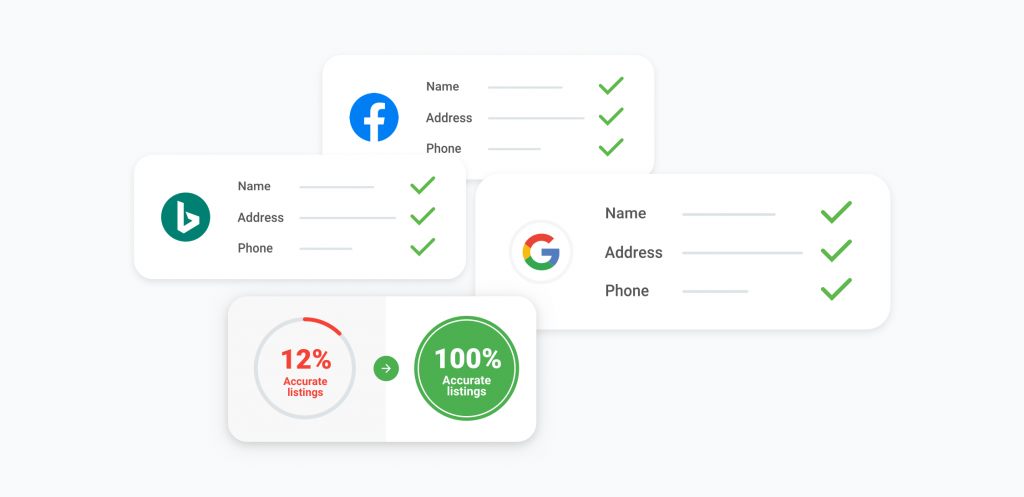 4. Optimize content with AI to impress local SEO
After you conduct your audit, update any inconsistencies with your listings. Google makes it fairly easy to update your Google business listing. How easy this job is for the rest of your listings depends on the number of listings you have.
Write compelling and informative descriptions of your business.
Add high-quality images and videos that showcase your products, services, and ambiance.
Incorporate relevant keywords and location-based phrases in your business descriptions.
Did you know: You can use Birdeye's AI-powered Listing management to boost SEO with AI-generated business descriptions for your Google Business Profile?
It's that easy!
5. Monitor your listings
Just because you've corrected your listings once does not mean you are finished. New business listings are added daily, and if your business ever changes addresses, phone numbers, website, or operating hours, it's imperative that this information be updated quickly across all listings.
Consistently track your listings to know your NAP data is correct across the web.
A few other ways to excel at business listing management are:
Encourage customers to leave reviews and ratings
Regularly monitor customer reviews and ratings on various platforms.
Respond promptly to both positive and negative reviews to engage with customers and address concerns.
Can I do my own local business listing management?
While you technically can manage your own business listings, there are a few things to consider before you do so.
The pros? Managing your business listings is free, giving you complete control over them.
The cons? Managing your own listings takes time. Lots and lots of time. Perhaps you don't have an overwhelming amount of listings now, but as your business grows, so will your listings.
If you want to keep up with this growth, it's important to have a long-term solution for your online business listing management. This is why it's important to have a business listing management service.
Birdeye takes this administrative task off your plate so you can run your business.
Learn more about Birdeye pricing per your requirements and how we can effectively manage your entire local business listing.
Top 3 best local listing management platform for business you can't ignore
Though there are many business listing sites, some websites' listings are more important than others: 
1. Google Business Profile (formerly Google My Business)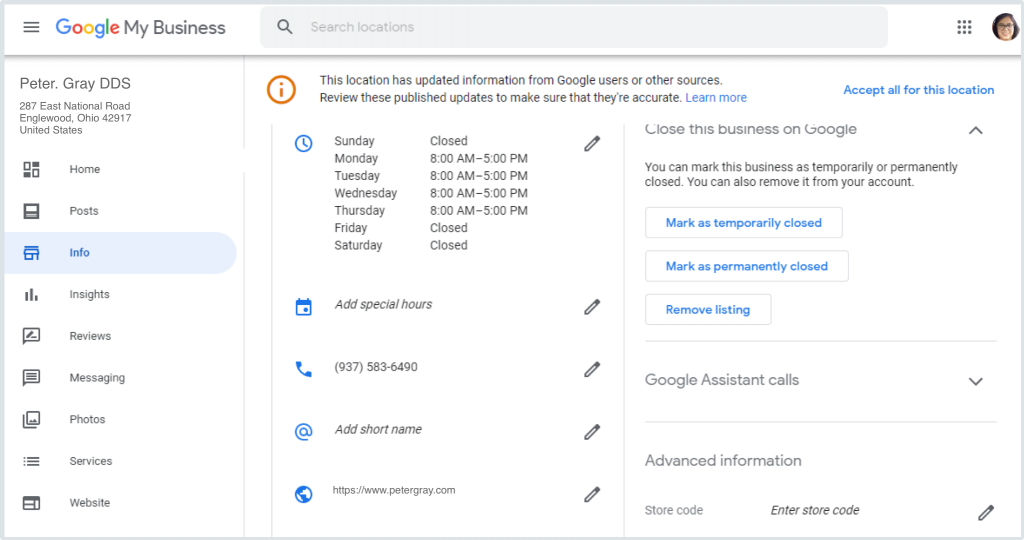 Because you want your business to be discoverable across Google platforms, creating a Google Business Profile is important. This profile:
Gives you a Google Maps business listing, which is beneficial when people search for places to go within Google Maps.
Boosts your search engine ranking to help you rank higher in local searches. This free resource is one of your business's most valuable assets.
2. Facebook
You can create a free business page on Facebook and have access to over 2.6 billion active users. Facebook can access their users' location and demographics, so your business will pop up for relevant searches.
You can also include a description of your business on your Facebook business page, pictures, and a link to your website.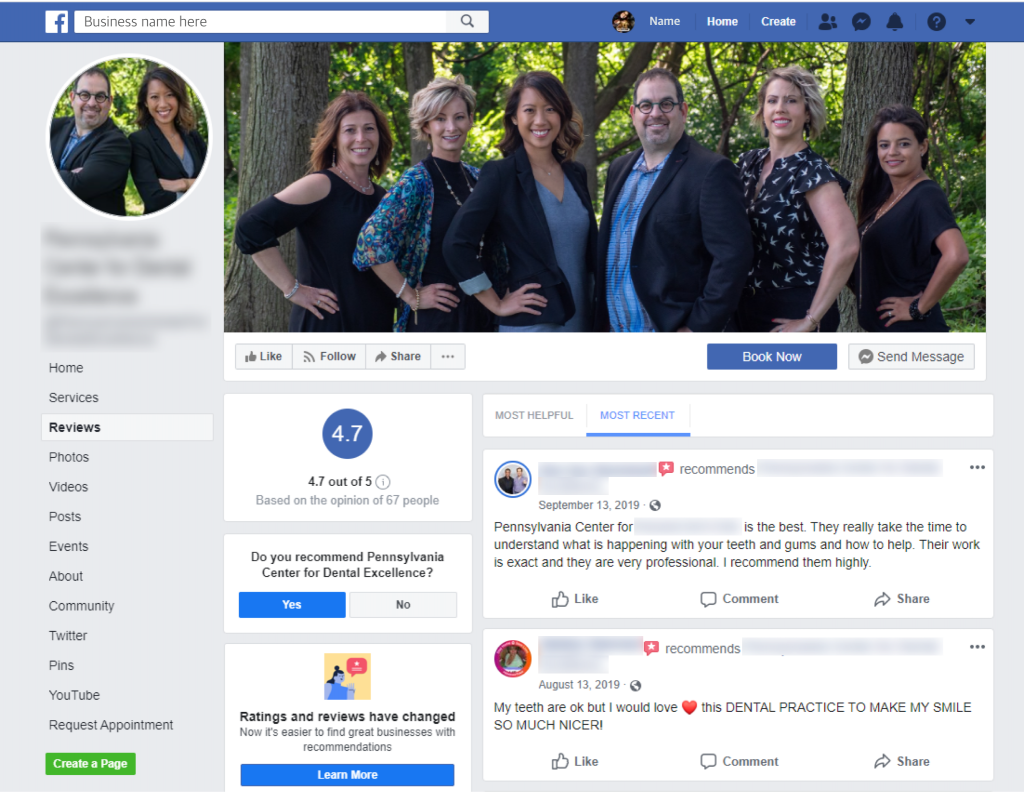 3. Apple Maps
There are millions of iOS users who all have Apple Maps as their default navigation system. When a potential customer searches relevant keywords in Apple Maps, you want to ensure your business is found.
Please read our guide on how to add a business to Apple Maps to make use of this opportunity.
How do business listing management tools help?
Save time and money by avoiding the hassle of signing into multiple accounts or hiring staff to manage all your listings.
Offer features like tracking and reporting so you can monitor your listings and ensure they perform well. 
With so many options available, choosing the right business listing management tool can be challenging. However, taking the time to research and find the right tool for your business will certainly improve your local SEO.
4 Key elements your business listing management tool needs
The right business listing management software should have the following qualities:
An automatic listings finder.
The ability to identify NAP inconsistencies.
Update all listings with the click of a button.
Scan your listings and identify inconsistencies on an ongoing basis.
While these are the basic qualities your software should have, many business listing management platforms, especially Birdeye, offer more features to provide you with local SEO solutions, including:
Review management. Be notified of each new review, respond within the dashboard, and even automate the review request process.
Analytics. These insights help you understand your customer feedback and keep an eye on the competition so your business can get ahead.
SEO and online reputation management are two tools that work together to help your business be found and chosen by customers.
Consider Birdeye and its advanced AI capabilities to make the most of your business listing management. 
Frequently asked questions about local business listing
Are local citations and business citations the same thing as business listings?
Yes, local citations, business citations, and business listings are all different ways of referring to the same thing. All three phrases are used to describe a business's online NAP data.
What if I do not have any business listings?
If you don't have business listings, start by making a free Google business listing. Having a profile on Google Business Profile gives you control of how your business appears in Google Search and Google Maps.
What is local business listing management?
Business listing management optimizes your company's online presence across various platforms and directories. It involves updating information like your business name, address, phone number, and website to ensure accuracy and consistency, which helps improve your online visibility and reputation.
How to do listing management?
To perform listing management, start by claiming your business on popular platforms like Google Business Profile, industry-specific review sites, and social media. Alternatively, you can also use Birdeye's Listing platform to regularly update your business details, respond to reviews, and ensure consistency across all listings.
What should be included in a business listing?
A comprehensive business listing should include:

1 – Accurate business name, address, and phone number (NAP)
2- Website URL
3 -Business hours
4- Description of products/services
5- High-quality photos
6- Customer reviews and ratings
7 – Social media links
8 – Special promotions or offers (if applicable)
Local business listing management made easy with Birdeye
With Birdeye, you scan your business listings with a button. If your NAP data changes at any point (for example, your office moved to a new location or your business description has changed), all you need to do is update it in your Birdeye dashboard, and we will make sure those changes are reflected across the web.
Control your online reputation by fixing and managing your local business listings today.

Originally published