Customer Referral Programs Software
Referral marketing made easy for everyone
Let your customers refer their family and friends.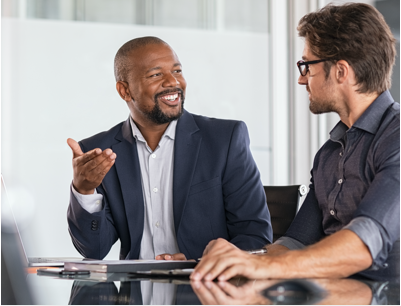 Share the love, refer our business to your friends!
Share the love and introduce us to your family, friends and colleagues!
Have your customers do your marketing for you
Create custom referral and loyalty programs to turn your happiest customers into your newest stream of revenue. With custom referral campaigns, they'll sing praises about the experience you provide across multiple channels, creating powerful word of mouth that brings their friends, family, and colleagues to your business.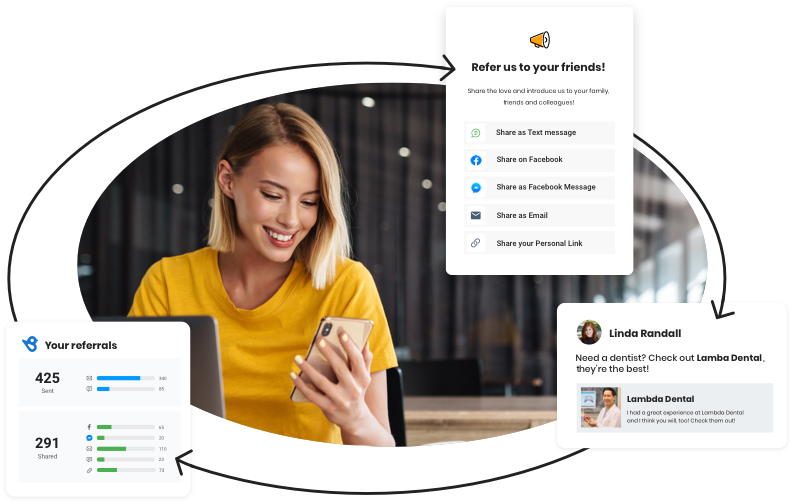 QUICK SEND
An easier way to refer
Send your happy customers a referral request with a referral code in just a couple of clicks.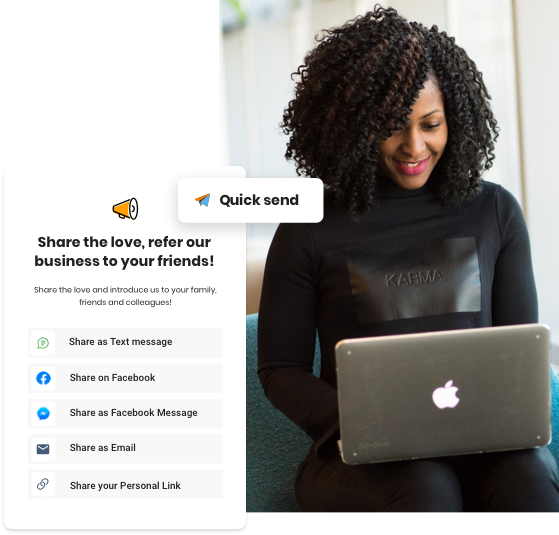 EMAIL, TEXT & FACEBOOK
Get new referrals without the hassle
Customers can refer your business on social media, or directly with their family and friends through email and messaging apps.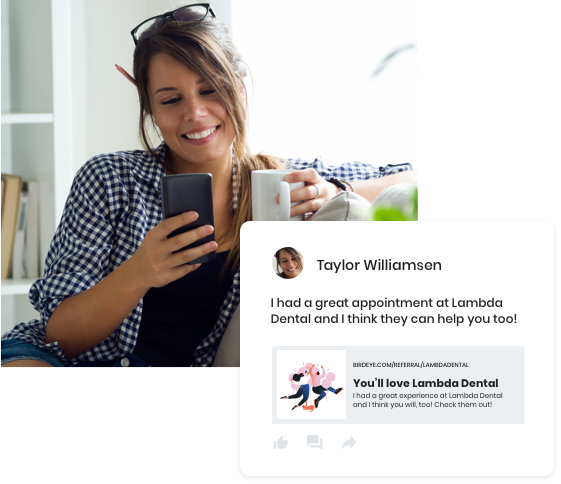 AUTOMATION
Put your referral program on autopilot
Completely automate your referral campaigns and get new leads on autopilot.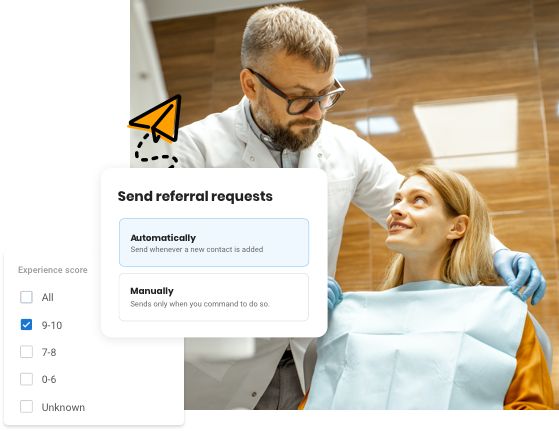 "Birdeye automates the process of asking clients to recommend us via SMS and email, helping us continuously grow our number of patients."
Dr. Adam Thorne
Harley Street Dental Studio

BRANDED EXPERIENCE
Stay true to your brand
Beautifully designed referral emails and landing pages with complete customization.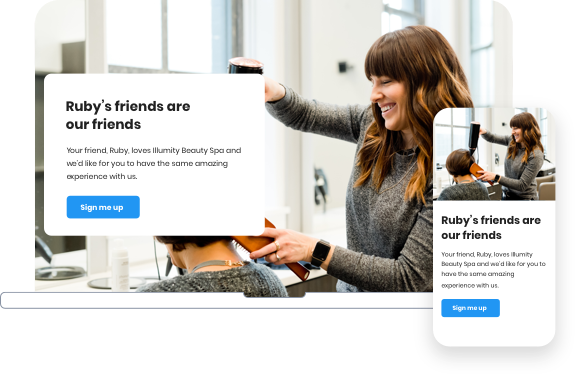 REWARDS
It's a win-win-win
Run multiple reward strategies and track conversions to optimize for best results.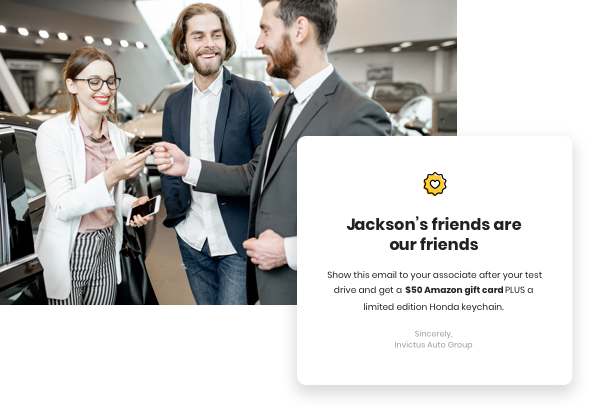 Your business wins when your customers do your marketing for you
4x
more likely to buy
83% of consumers trust referrals from people they know and are more likely to buy when referred by a friend.
16%
higher lifetime value
Referred customers are more loyal and spend 13.2% more than non-referred customers.
37%
higher retention rate
Customers who are referred churn less often and are 4-5x more likely to refer new customers.
ENGAGE AND CONVERT
Be fast and friendly
Get notified as soon as you get a new referral and engage them immediately from the Birdeye Inbox.
STAY CONNECTED
Referral communication made simple
Thank customers who've referred you to others and send welcome messages to your new referrals, all in one place. Our powerful Inbox makes it possible in just a couple of clicks.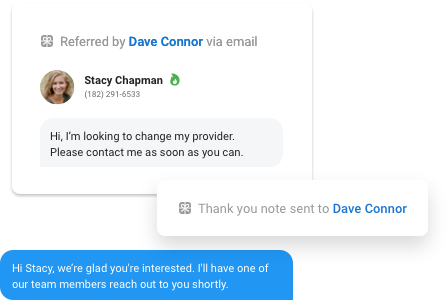 "83% of consumers trust recommendations from people they know."
REPORTING
From share to sale
Track all referrals in one place and understand what works best for you - from shares, to clicks and leads.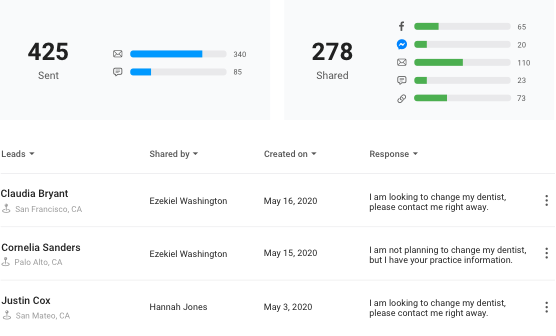 Powerful alone. Unstoppable together.
Birdeye is the only comprehensive platform for customer experience that offers a range of products that scale with your business. Check out our other products that work well with Referrals.
Messaging
The all-in-one messaging platform to run your business
Reviews
Get more reviews and boost customer happiness.
Common questions when considering Birdeye referrals
What does Birdeye Referrals do?
Birdeye Referrals turns your happy customers into your most powerful marketing tool. This automated referral software makes it easy to create, send, scale and track offective referral marketing campaigns via text and email.
What's the difference between a loyalty program and a referral program?
Referral programs reward customers for referring their friends and family to a business. They work well in almost all business cases, but are especially effective for infrequent or one-time purchases like healthcare or real estate. Meanwhile, loyalty programs incentivize customers to make repeat purchases and work best for retail stores and restaurants.
When should you ask a customer for a referral?
Identifying the magic moment is tricky, but here are some scenarios that we've seen work:
A patient loaves positive review after a dental procedure
A customer has just bought a car and is feeling great
2-4 weeks after your client has moved into their new house
How do I measure the effectiveness of my referral program?
You should measure the effectiveness of your referral campaign across its lifecycle in order to minimize leakages at every stage:
Revenue generated from the referral program
Number of referral leads received
Number of referral messages shared by your customers
Number of referral requests sent to customers
Why do I need referral software?
Physical referrals aren't scalable or trackable-just think about all the unredeemed referral coupons stuck under car seats or washed with the laundry. Referral software lets you send personalized referral requests to happy customers and experiment with incentives. You can track and maximize SUCCESS with end-to-end campaign reporting.
How can I ensure that only my happy customers get referral requests?
You can easily pair Birdeye Referrals with Birdeye Reviews, your CRM or NPS software to send automated referral requests to only your happiest customers. Birdeye offers out-of-the-box integrations to 3,000+ apps such as Salesforce, Hubspot, and more.
How do I choose the right referral incentives?
While it depends on your unique business goals, here are some best practices:
Reward both referrers and their friends
Cash rewards are easy, scalable, and universally loved
Tie it back to your business. For example:

A dental practice can offer teeth hitening services
A real estate firm can offer a finder's fee
What are the main capabilities within Birdeye Referrals?
Birdeye Referrals lets you:
Automate referral marketing by integrating with your CRM
Get referrals via text, email, social website, or on your mobile app
Test and optimize campaign messaging and incentives
Track and maximize results at every stage of your referral campaign