Customer referral software
Get more leads with automated referral campaigns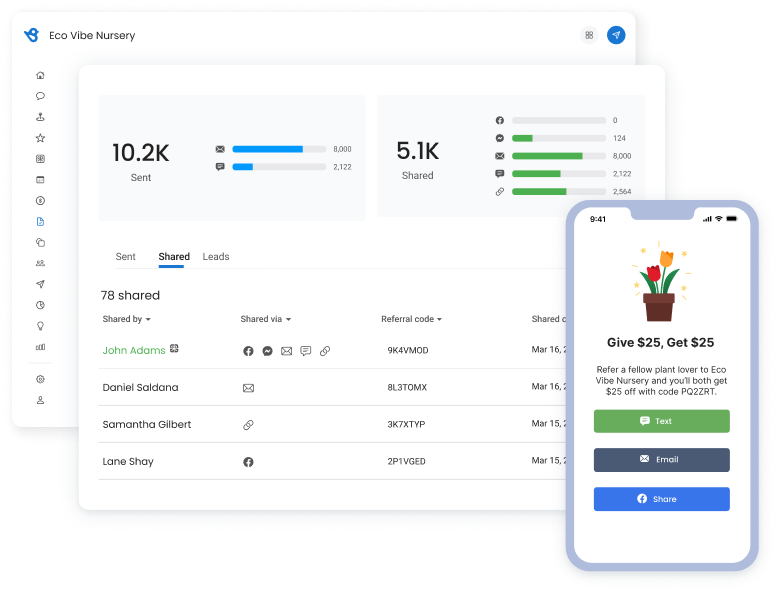 Automate. Send. Measure. All from one platform.
Powerful
Increase response rates, track campaigns, and optimize your strategy from an intuitive dashboard.
Effortless
Save time and energy with automated referral campaigns and trigger-based requests.
Complete
Keep new customers coming back with an all-in-one platform built to enhance customer experience.
Referral Campaigns
Create automated referral campaigns
Set up rules and behavioral triggers to auto-send referral requests after a new review or payment. Or take control with 1:1 or bulk requests with our easy-to-use campaign manager.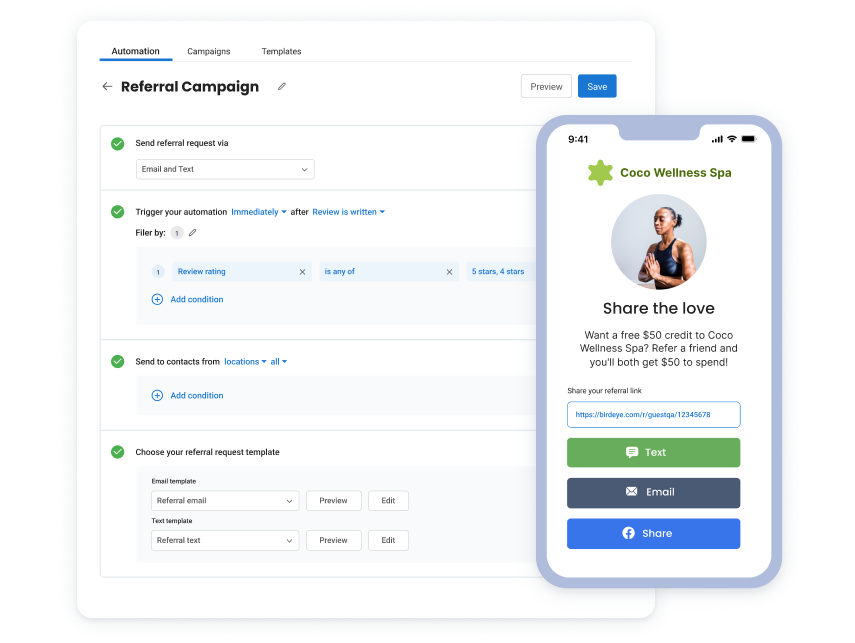 Referral Templates
Save time with templates
Easily customize your referral templates — from messaging and design, to forms and rewards — for high-converting requests that reflect your brand.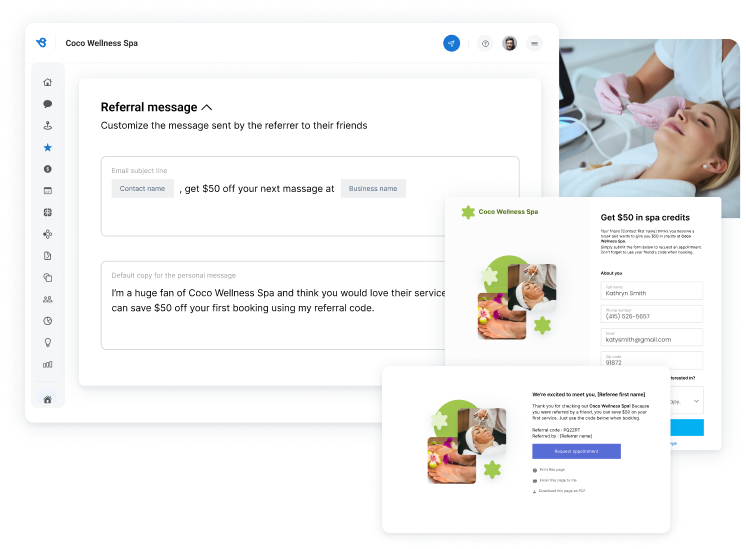 Referral Rewards
Add referral incentives for higher response rates
Boost response rates. Collect more leads. Use reward strategies like cash discounts, gifts, and coupons to maximize referral conversion.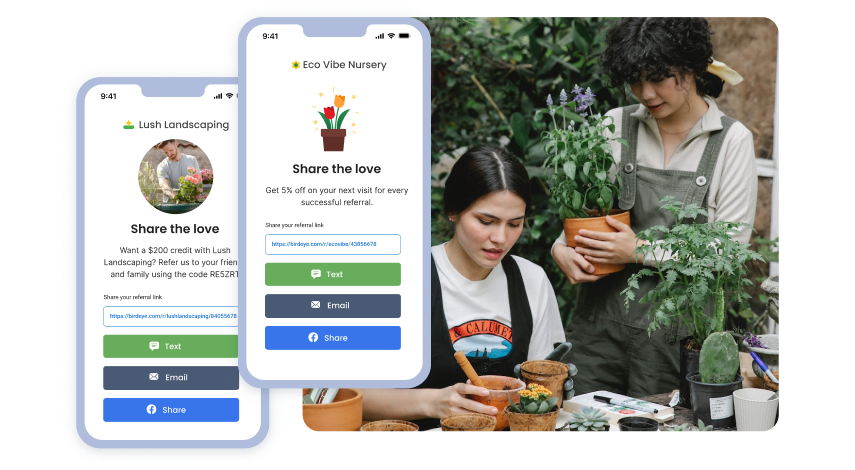 Referral Sources
Collect referrals on any channel
Make the referral experience easy on your customers. With requests capabilities across email, text, and social, how they share is up to them.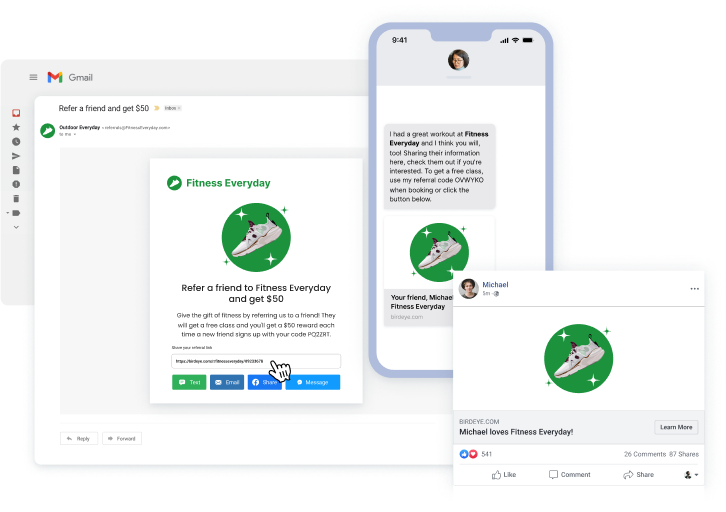 Messaging
Engage and convert referral leads
Live notifications give you the ability to connect with new leads quickly — answering questions, scheduling appointments, and converting them into customers.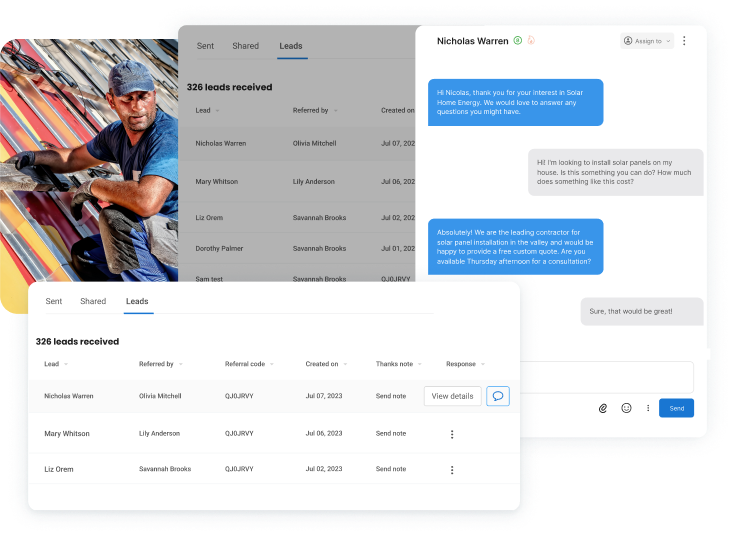 Referral Reports
Measure referral success
Easily track the number of referral requests sent, shared, and new leads received from a single dashboard.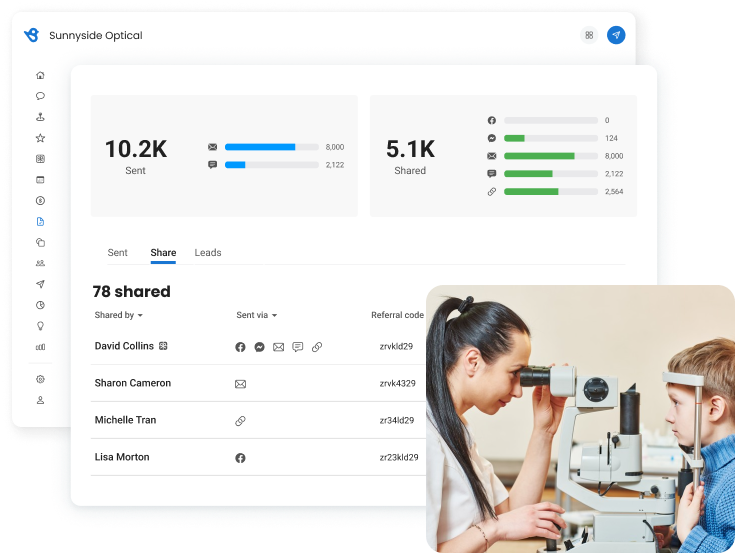 Integrations
Use the apps you love
Pair Referrals with over 3,000 CRMs and PMSs like Salesforce, Hubspot, Quickbooks, Dentrix, and more to nurture leads and track conversions and revenue.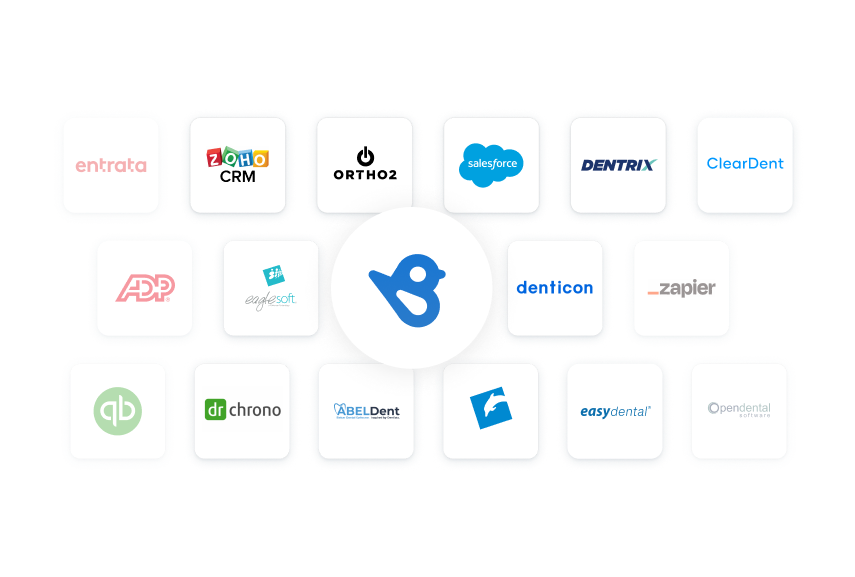 Birdeye outranks the competition
Based on 7,000+ reviews on

Birdeye customers get results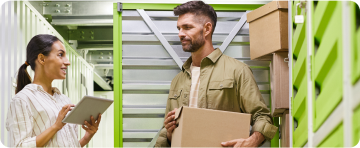 In our business, self-storage, referrals are really important. Not every self-storage facility is run well. So when someone is looking for a facility to store their belongings, it can be really helpful to the customer if someone they know had a good experience with us.
Brandon Wipperfurth
Director of Marketing Superior Storage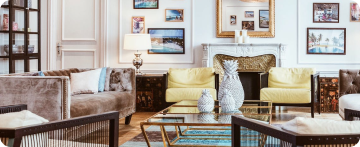 We're getting so many leads that our teams need to be focusing on following up. Birdeye makes it easy for them.
Jeremy Belland
Website Developer Exclusive Furniture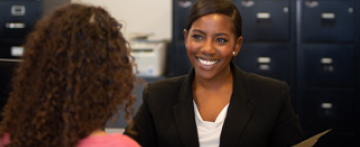 Birdeye equipped us with a scalable solution to enhance our customer experience by incentivizing their loyalty to our brands.
Brittany Douglas
Senior Marketing Operations Manager at TMX, Finance Family of Companies
Meet the all-in-one platform to drive customer acquisition and retention
Drive traffic
Put your business at the top of search with a stellar online reputation and local SEO.
Connect & convert
Message customers from anywhere, stand out on social, and collect payments faster.
Raise the bar
Create exceptional experiences that boost brand loyalty and set you apart from the competition.
Products that pair well with Referrals
Birdeye is the only comprehensive platform for customer experience to offer a range of products that scale with your business.
Reviews
Automatically request customer reviews and amplify them where they matter most.
Listings
Build a powerful online presence and boost your search ranking
Social
Manage posts, reputation, and reporting across all locations and accounts.
Start growing with Birdeye today
Frequently Asked Questions
What is referral marketing?

Click to open
Referrals are leads that a business gets from its existing customers. Referral marketing is the process that streamlines the process of soliciting, converting, and measuring the success of a business's word of mouth campaigns.
Why is it important for a business to have a referral program?

Click to open
Referral leads are extremely valuable for a business. Referred leads convert more than other leads and spend more than normal walk-in leads. However, it is difficult for businesses to track and maximize their referral programs as they usually rely on word of mouth. A referral program helps businesses gain visibility into their word-of-mouth programs and maximize revenue from referrals.
Why do I need referral software?

Click to open
Physical referrals aren't scalable or trackable-just think about all the unredeemed referral coupons stuck under car seats or washed with the laundry. Referral software lets you send personalized referral requests to happy customers and experiment with incentives. You can track and maximize SUCCESS with end-to-end campaign reporting.
What does Birdeye Referrals do?

Click to open
Birdeye Referrals turns your happy customers into your most powerful marketing tool. This automated referral software makes it easy to create, send, scale and track effective referral marketing campaigns via text and email.
What's the difference between a loyalty program and a referral program?

Click to open
Referral programs reward customers for referring their friends and family to a business. They work well in almost all business cases, but are especially effective for infrequent or one-time purchases like healthcare or real estate. Meanwhile, loyalty programs incentivize customers to make repeat purchases and work best for retail stores and restaurants.
When should you ask a customer for a referral?

Click to open
Identifying the magic moment is tricky, but here are some scenarios that we've seen work:
A patient loaves positive review after a dental procedure
A customer has just bought a car and is feeling great
2-4 weeks after your client has moved into their new house
How do I measure the effectiveness of my referral program?

Click to open
You should measure the effectiveness of your referral campaign across its life cycle in order to minimize leakages at every stage:
Revenue generated from the referral program
Number of referral leads received
Number of referral messages shared by your customers
Number of referral requests sent to customers
How can I ensure that only my happy customers get referral requests?

Click to open
You can easily pair Birdeye Referrals with Birdeye Reviews, your CRM or NPS software to send automated referral requests to only your happiest customers. Birdeye offers out-of-the-box integrations to 3,000+ apps such as Salesforce, Hubspot, and more.
How do I choose the right referral incentives?

Click to open
While it depends on your unique business goals, here are some best practices:
Reward both referrers and their friends
Cash rewards are easy, scalable, and universally loved
Tie it back to your business. For example:

A dental practice can offer teeth whitening services
A real estate firm can offer a finder's fee
What are the main capabilities within Birdeye Referrals?

Click to open
Birdeye Referrals lets you:
Automate referral marketing by integrating with your CRM
Get referrals via text, email, social website, or on your mobile app
Test and optimize campaign messaging and incentives
Track and maximize results at every stage of your referral campaign