In almost every aspect of our daily lives, we turn to reviews to validate quality – movie reviews, job candidate references, music album reviews, product ratings, and the list goes on. Businesses are no exception. In fact, research published by Fan & Fuel found that a whopping 97% of consumers say that customer reviews factor into their buying decisions. When it comes to content created by brands, people tend to take what they read or hear with a grain of salt. They know that businesses only share positive messages about their products and services while excluding any weaknesses or problems.
However, when consumers see their peers praise a business, they trust its authenticity, and it provides social proof. The reason is simple, other people like them are boosting your brand image even when they don't have a stake in your business. This is why it's essential to generate reviews regularly to accelerate growth and use a tool for online review management.
Due to how much consumers value reviews during the purchasing process, getting reviews needs to be an active part of your marketing activities. However, despite the importance of reviews for growth, many businesses fail to ask customers for them.
Win More Customers with Birdeye Review Generation
Want to see the impact of Birdeye on your business? Watch the Free Demo Now.
In Birdeye's 2021 State of Online Reviews, we found that businesses in several industries don't regularly request reviews. One contributing factor to why businesses don't regularly ask for reviews is that manually asking each customer for a review can be time-consuming and difficult. In this guide, we'll highlight how to quickly and effortlessly get way more reviews for your business. But first, let's answer some common questions about generating reviews.
Frequently asked questions about how to generate reviews
What is social proof?
Social proof in a marketing context is evidence that other people have purchased and found value in a product or service offered by a business. When people shop, they look for reviews, recommendations, and ways that others have used a product to learn what their experience was like before making their decision.
What is review generation?
Review generation is the process of getting online reviews from your customers on relevant business listing review sites. Such sites include Google and Facebook, along with industry-specific ones such as OpenTable. Review generation is part of online reputation management which plays a significant role in customer acquisition and retention.

What are the benefits of generating reviews?
Online reviews from customers have created a new layer in marketing that bridges the gap between word-of-mouth and a viral form of feedback that can influence consumers' opinions. No matter what industry you're in, potential new customers and shoppers use reviews as a primary factor in determining where to take their business. The more positive reviews your business has, the more likely you are to attract more customers.


The benefits of regularly generating reviews
1. Reviews increase sales
Positive or negative, in both cases, reviews help businesses to bring about healthy changes, attract customers, boost conversion rates, promote their brand, and take an extra leap to grow sales of products and/or services. According to a study on how reviews impact sales, on average, reviews produce an 18% uplift in sales.
2. Compete with customer experience to save margins
Reviews level the playing field for businesses, no matter your size or budget. Having a high volume of recent positive reviews allows you to stand shoulder-to-shoulder with more established competition and potentially gain a positive niche in people's estimation and expectations. Simply put, which company would you rather buy from, one with 500 3-star reviews or one with 250 5-star reviews? Chances are you'd go with the latter. Positive reviews do your marketing for you.
3. Customers do your marketing for you
Positive online business reviews are far more effective at attracting customers than a marketing campaign. They provide valuable social proof that helps to attract customers long after the online review has been posted. They provide a constant positive image to potential customers and create a continual brand awareness that benefits the business in the short and the long term.
4. Reviews build customer loyalty
Consumers that take the time to leave a positive online review for your business have had a great experience and are, therefore, far more likely to remain loyal. Even if a customer leaves a negative review, you can still build loyalty by responding to their review and addressing the issue. Seven out of 10 consumers changed their opinion about a brand after the company replied to a review.
5. Reviews increase your search ranking
Reviews are a top 3 ranking factor when it comes to local search results. Generating reviews gives search engines the ability to identify patterns and attributes about your business over time. When star ratings are consistently high, it signals to Google that your business delivers a positive experience. When the reviews are on highly relevant review sites that consumers frequent, they will also be considered more trustworthy, and Google will prioritize your business in search results.
Additionally, when reviews contain comments that praise the products and/or services that you're trying to rank for, this will also increase your relevance to search engines and help to bump up your rankings.
How to get more reviews?
Many businesses struggle with generating reviews simply because they don't ask for them or don't make it a consistent part of their marketing. Furthermore, many find it awkward and/or uncomfortable to ask for reviews, and don't want to put their customers in a position where they might feel the same.
The key is embedding review generation into your marketing and making it quick, easy, and painless for you and your customers. You can achieve this by leveraging review generation software that automates the entire process. Get more reviews from your customers via email, SMS, and kiosks at your location, on your website, and on your social channels.
1. Make the process as easy as possible
At the end of the day, customers are doing you a favor when they leave a review online. They are taking time out of their busy schedule in order to help your business's reputation. Because of this, make sure the review process is as straightforward as possible. Include the appropriate link within the review request so that your customers don't need to do anything more than click and respond.
2. Ask for reviews on the sites your audience frequents
As we mentioned earlier, it's important to get reviews on the sites consumers frequent when looking for reviews in your niche. Consumers have a plethora of options when it comes to review sites. Therefore, you should choose review generation software that integrates with hundreds of review sites, making it easy to get new reviews on any site your customers are searching, along with your company website and social media.
3. Create personalized workflows
Request reviews at scale with automation. Easily build intelligent and personalized campaigns to maximize conversions from your review requests. Send requests instantly or easily set up and launch a drip campaign.
4. Customize your review requests
Don't lose the human touch when requesting reviews at scale, ask for a review with customizable templates. Personalize requests with your branding and messaging. Choose from several formats to ensure you get the most actionable responses and increase customer reviews.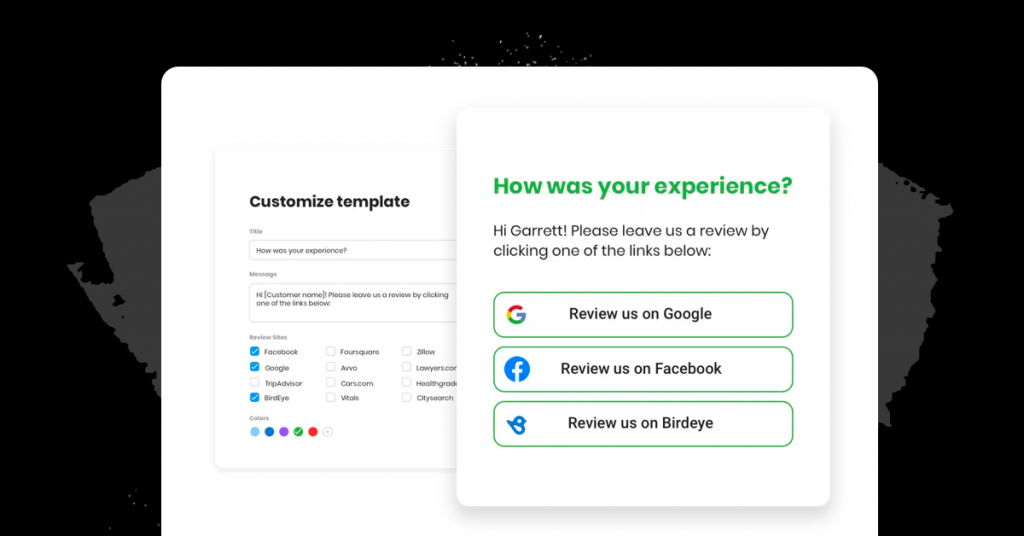 5. Connect your apps and automate the process
The right review generation software should integrate with your existing CRM so you can sync your existing customer database and start sending automated review requests right away.
6. Send review requests on multiple channels – not just email
You'll see the best results when you send a review request to your customers via text and email. Chances are that you have a lot of happy customers out there. The only problem is that most of them don't want to take the time to find your profile on different review sites.
Of course, customers will be more than happy to leave reviews if you make the process simple. Turn text conversations into conversions. Leverage business text messaging software to connect with new leads and customers via text, Google, Facebook, and Instagram in one unified inbox to seamlessly request reviews in ongoing conversations.
Review request templates you can use today
Asking for feedback doesn't need to be complicated. Your customers don't like reading long texts or emails more than you do. When sending review requests, keep them short, simple, and to the point.
Here are a few templates that you can use to request your customers' feedback: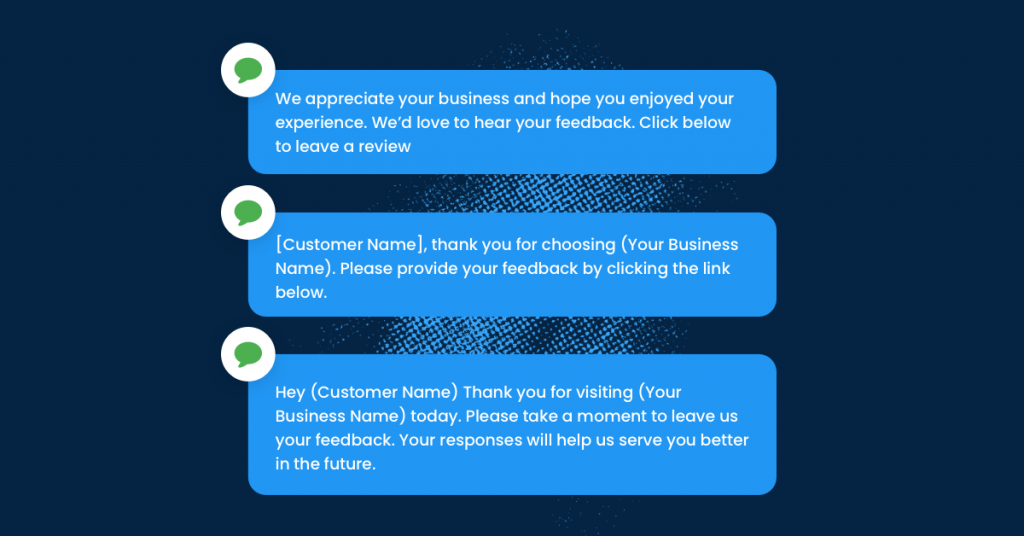 What to avoid when generating reviews?
1. Waiting too long to request a review
It's important to send your review requests on the same day as a sale or customer interaction. The more time you wait, the less likely it is that a customer will remember the details of their experience or even bother to write a review.
While customers may be more than happy to leave a great review after a delicious meal at a fancy restaurant, chances are that their memory of the experience will fade. After a month, they might not be willing to leave a review at all.
2. Focusing on the wrong review websites
A common mistake businesses make is prioritizing the wrong review websites. In Birdeye's 2021 State of Online Reviews, we saw this across multiple industries. For example, businesses in the restaurant industry almost equally split their review requests between Google (45%) and Facebook (43%) in comparison to vertical-specific sites such as OpenTable (1%).
While Google is the most popular site for customers to write reviews for restaurants (59%), a significant portion of reviews are written on other sites (20%). This reflects that people are writing reviews on industry-specific sites. For restaurants seeking to increase their review request conversions, there's a clear opportunity to ask for more reviews on niche sites. This applies to most industries. Businesses often get caught up solely focusing on the popular general sites while missing the opportunity to boost conversions by considering relevant niche sites.
3. Not requesting reviews from all your customers
It may be tempting to only send review requests to customers that you have a great relationship with and are sure will leave a positive review. However, this is a bad idea. If you're being selective like this, chances are that you're missing out on sending review requests to customers who could also give a positive review but just aren't as engaged or vocal about how much they enjoy their experience.
Also, even if you get a few negative reviews, you can seize the opportunity to address them and change those negative reviews into positive ones. This will not only help to drive loyalty but will also show prospective customers that you actively listen to your customers and care about their experience.
4. Buying reviews
The consequences of buying online reviews far outweigh any short-term benefits you might gain. Buying reviews is against Google's terms of service. Earning positive reviews has short-term and long-term benefits. By simply automating your review requests, you can quickly get more reviews, easily identify areas of the customer experience that can be improved, and build consumer trust for your star rating. The fact is most consumers don't trust perfect 5-star ratings.
Birdeye: The best review generation software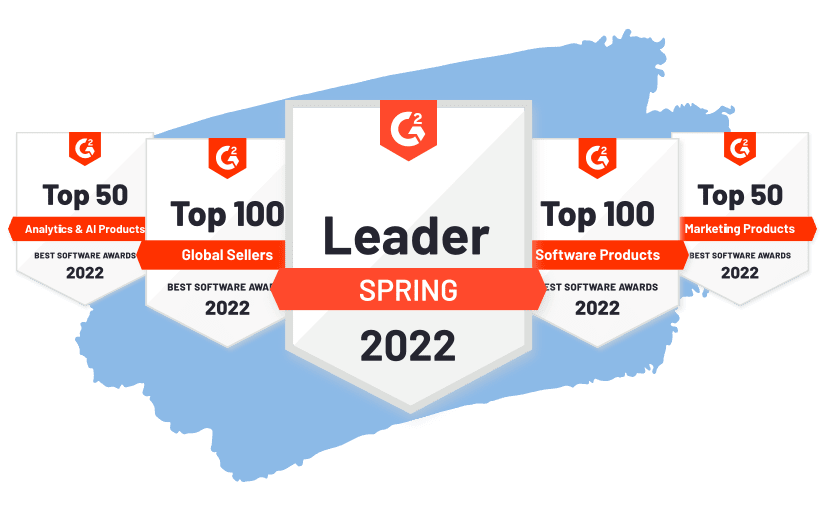 Birdeye helps over 100,000 businesses generate reviews with a powerful suite of solutions. Whether you need help getting new reviews, managing reviews, or monitoring reviews, Birdeye has you covered. Our streamlined and simplified review process will help your business deliver a fantastic customer experience and grow like never before. For more information, click on the banner below to watch a demo.
Originally published