The communication between business and customer is described as customer interactions. Every year, customer interactions involve more channels and higher customer expectations. While it can be tough to manage every customer inquiry, businesses can deliver a great customer experience with the right strategy and the right tools. In this comprehensive guide, you'll learn how to create rewarding customer interactions and experiences. Let's talk about what you need to know and how to drive growth with customer messaging.
Frequently asked questions about customer messaging
What is customer messaging?
Customer messaging is a form of text-based communication on channels such as SMS and webchat. These channels have become the leading choice for how customers prefer to communicate with the companies they do business with. It is also referred to as instant messaging, direct messaging, live chat, webchat, and texting.

What is messaging in customer service?
Messaging in customer service is the support your business provides to prospects and customers via text-based messaging. This can include SMS, chat, instant messaging, social media messaging, and more. There's no face-to-face interaction or verbal communication, all interactions take place across channels that offer text-based messaging.
Why are customer interactions key to your business?
Great experiences are built at every step of the customer journey. Effectively delivering quality experiences requires engaging with customers on their preferred channel, and 74% of consumers prefer messaging with businesses. Let's take a look at some key moments in the customer journey where they have the opportunity to message a business at various touchpoints.
Desire – A desire for something that a person may not have typically translates into a 'need'. In order to fulfill this need, customers start looking for options that may satisfy this need. For example, if someone needs a dentist, they will search for 'dental practice near me.' This is the first step in a customer's buying journey. At this exploratory stage, people are seeking answers to questions about product features, pricing, warranties, delivery times, etc. Websites and business listings usually answer most of these questions. However, it's important to have messaging in place so consumers can easily connect with a rep if they have difficulty finding information on these channels.
Decide – Once customers complete their due diligence and compare all the options, a decision to buy or subscribe is made. At this stage, the customer is invested and is looking keenly at the interactions during the fulfillment stage. The customer needs to be reassured that his/her decision was correct. Was the staff reassuring, courteous, and helpful? Was the customer kept appropriately informed throughout the process? Were their questions answered promptly? The quality of these interactions will decide the positive or negative experience that they walk away with. That's why it's important that businesses provide messaging so customers can get in contact with them quickly and conveniently – no matter what channel they choose to engage on.
Delight – After the purchase, the customer gets to interact with the product/service. Apart from the experience with the purchase, customers continue to have opportunities to have continuous interactions with the company. When will my policy expire? How do I order an additional jar with the blender? I accidentally ordered two pairs of shoes in the same color. How can I exchange? How your team addresses these post-purchase customer interactions will determine customer delight and loyalty. Businesses can do this by sending customer surveys via messaging after different interactions. Each time your business messages a customer, you want to provide a great experience to establish a connection and build a meaningful long-term relationship.
Customer interactions and customer experience
The expectations that the customers have with a brand are continuously changing. They now demand more attention, seek more professionalism, and expect speed and convenience at all times. With the bar being continuously raised, businesses can no longer take customers for granted. They need to provide a great experience at each customer touchpoint to retain their business. With the ever-growing competition, customers are more than happy to make a switch if their expectations are not met.
How businesses interact with their customers and prospects holds the key to providing a better customer experience. Here are some logical outcomes of having quality customer interactions:
Build customer loyalty – Customers want to know that the business appreciates them. Their queries are answered promptly regardless of what channel they use to interact. The business proactively reaches out to ensure customer happiness. For example, a veterinary clinic sends a follow-up text a couple of days after an appointment enquiring if the health issues of the pet are resolved.
Repeat business – When a customer is made to feel important, they reward the business with their loyalty and even repeat business. Repeat business not only helps you grow your revenue but also opens the doors for upsell or cross-sell.
Revenue growth – 83% of consumers are willing to refer after a positive experience. And 84% of consumers trust the recommendations of others over other forms of marketing. Referrals from happy customers go a long way in boosting your revenue.
Customer interaction channels
Customer interaction channels are all the ways in which your customers can reach your business. These channels are environments where customer touchpoints occur – and hence the opportunity to create stellar customer experiences. Customers have a plethora of channels they can choose to engage with businesses. However, consumers prefer certain channels over others, which makes it important to ensure you are there to support them on their preferred channel. Studies show that 68% of consumers prefer messaging with businesses making it an integral part of customer interaction management. Here are some of the most common messaging channels.
1. Text messaging (SMS)
Text messaging is a great way for businesses to market and cut through the noise. While emails can easily get buried in someone's inbox, customers almost always see their text messages. Even better? Texts have a 98% open rate. Utilizing mass text messaging is a great way to send updates to all of your customers quickly. You can also use your business's landline number to text your customers so that they know that your texts are not spam.
2. Webchat
Webchat is one of the easiest ways for customers to contact you. While on the site, customers will see a chat widget at the bottom corner of the screen, where they can easily type in their name, number, and question. Webchat is efficient for customers, and it can even generate leads 24/7 for your business.
3. Social media messaging
Although social media was initially used primarily for personal use and to maintain personal interactions, they have now become a valuable tool for customer interactions and to build a community around brands. For example, more than 20 billion messages are exchanged between businesses and users monthly on Facebook Messenger alone.
4. Email
Emails are great for exchanging transactional information like order confirmations, newsletters, and customer communication surveys. They provide the same assurance that physical invoices and mailers provided in yesteryears.
5. Video chat
Physical meetings and appointments aren't always possible or can be inconvenient for businesses and their customers. Yet the "personal touch" of video chat is truly the next best thing to being there in person. It's often a great way to conduct virtual visits, consultations, inspections, or tours with prospects and customers. Sometimes this is a scheduled video meeting, and other times it can be an impromptu video call that starts instantly on a smartphone, laptop, or tablet, turning what was once a physical meeting into a virtual engagement.
Inefficient customer interaction channels
A few decades back, it was normal to make a trip to stand in line at a service counter just to ask a question or have an issue resolved. Fast forward a few years, a phone call made this task much easier and faster.
Today phone calls are on their way to becoming obsolete. Here are some reasons why:
They're inconvenient – When customers call businesses, they need to take a pause from what they are doing and dedicate time to make the call. The experience may be less than perfect if they have to wait in a phone queue to speak to a live person. Oftentimes this wait may be long and the call may get disconnected causing further customer frustration and a bad customer experience.
Drains resources – If a business relies on phones for managing its connection with customers, they need to make sure that there is enough staff to man the phones. Unlike messaging channels, the agents on the call can only attend to one customer at a time. No multitasking.
Difficult to track – An important key to effectively connecting with customers is maintaining a communication log. This log helps to learn about all the prior customer interactions so that customers can get a personalized experience. It is difficult to keep track of interactions over the phone unless the agents document the conversations manually which is time-consuming and inefficient.
What about email?
Emails still have their place in customer communication, but they are just not an efficient tool for everyday customer interactions. They are great tools to provide documentary evidence like invoices or announcement emails. But when it comes to customer-to-company communications, they are neither efficient nor able to provide a good customer experience. Here are some reasons.
Low open rate – Traditionally emails have an open rate of 40 to 60%. What this means is that the other 60 to 40% of emails are not even opened. There are a lot of missed communications. In contrast, texts have a 98% open rate making them a more reliable channel.
Response takes time – The average response time for an email is 16.83 hours. Now let's assume you ask a question and you get a response after 16+ business hours and then you have a follow-up question. Now you have to wait another 16 hours or so to get an answer to that question. How inconvenient. Compare this with texts that are opened within 90 seconds and Webchat where questions are answered in near real-time.
Risk of looking unprofessional – Not everyone in the organization may have an impeccable flair for writing or presenting answers in a clear and concise manner. Emails are an accepted form of formal communication and any deviation from a perfect response can seem unprofessional. Compare this with texts where the agent can even sign off with a smiling emoji after a great conversation and it will be acceptable.
Modern customer messaging tools for the new-age customer
To win in this new world, businesses need modern messaging tools to acquire, engage and retain customers. Today's consumers actively seek out messaging channels to deliver the level of real-time results and engagement they expect. Convenience and instant gratification are now the cornerstones of digital experience. Take for example smartphones – it is impossible to deny that smartphones have entirely altered online engagement.
Here are some key modern customer messaging tools to engage and delight the new-age customer.
1. Webchat
The tiny but powerful website widget on your website allows you to engage with visitors immediately. For customers, it means access to customer support in real-time. For other visitors, it means getting their questions answered quickly to aid their research to help them make faster decisions. Different types of webchat options in the market include:
2. Live chat
When it comes to convenience, nothing can beat the experience of getting questions answered quickly via a live chat. The website visitor gets answers to their questions while they are on the business website. You can continue doing what you are doing (drafting a business proposal, answering your emails in a loud office, or enjoying some family time) and still continue to chat with the business.
3. Chatbots
These AI-driven minions help you answer standard questions from your website visitors like– 'What are your hours?' and 'Where are you located.' This helps website visitors get answers to their questions instantly and frees up your support team to answer other pressing, more complex customer queries.
4. Text-based webchat
Let's say a question comes in from a website visitor after business hours and is something that your chatbot is not trained yet to answer, text-based webchat comes in really handy. You can respond to your website visitor via text messages later when you are back in the office or even from your mobile app during your commute home.
Webchat ensures that you do not miss a single message and gives you the opportunity to respond to your website visitors wherever they are. An ideal scenario involves all these variants working together to provide your customers and prospects with a great experience.
Most popular messaging options today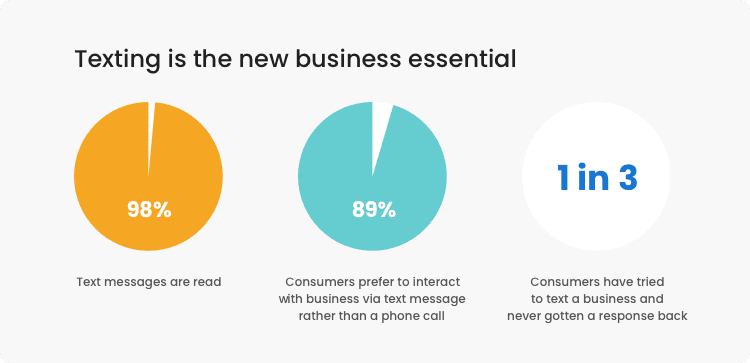 With convenience, accessibility, and functionality in mind, mobile is the channel of choice across all industries. People are using messaging to not only stay connected with friends and family but also with businesses.
Here are some of the most popular messaging options:
1. Text messaging (SMS)
While 89% of consumers would like to use messaging to communicate with businesses, only 48% are equipped to connect with customers through messaging. Interestingly, 53% of people are more likely to shop with a business they can message directly. Texts are a great way to stay connected with customers even when you or they are on the go. Convenience and speed make text messaging a preferred channel for today's customers.
2. Landline texting
Your website, appointment cards, invoices, and newsletter – all have your business phone number. Chances are that your customers also have this number stored in their phone contact list. When you use your landline to text your customers, it takes suspicion out of the equation. Your customers know that the message is from you. Communication is seamless.
3. Mass texting
Marketing emails have a way of getting buried in inboxes or removed as spam and telemarketers are generally hated. Mass texts help to circumvent both these issues and help deliver a better response rate. They also come in super handy if you want to make a general announcement to your customers. Mass texts are therefore a great new-age marketing and customer engagement tool.
4. Google's click to message
A Google My Business profile is an indispensable channel for lead generation as consumers use it to get contact information for your business. Consumers plan ahead about when and where to shop, and a whopping 75% of consumers prefer messaging a business instead of calling.
Google's click-to-message makes it easy for customers to get in touch with your business via messaging from mobile entry points like Google Maps and Search.
5. Instagram Direct Messaging (DMs)
Studies show that 83% of Instagram users discover new products and services on the app. That means Instagram is often the average consumer's entry point to your business, making Instagram messaging a powerful channel for attracting and retaining customers who have questions about your business offerings.
6. Facebook Messenger
People increasingly prefer to message businesses. According to a Facebook study, people who message businesses increasingly say messaging is the best way to engage with a business. This is not surprising. Facebook has over 2.4 billion users and out of this, at least 1 billion people use Messenger each month. As they are already on Facebook and using messenger regularly, it is convenient for them to use this channel to connect with businesses.
Messaging is convenient, quick, and efficient. This makes it an ideal customer interaction channel for today's digital consumers. Once you have decided on all the customer interaction channels you want to manage, it may be an overwhelming exercise to manage them individually. Then there is the problem of being able to monitor their performances in one place. This is why it makes sense to invest in a customer messaging platform that makes the process easy to implement and monitor.
Messaging delights customers with speed and convenience
Messaging is convenient, quick, and efficient. This makes it an ideal customer interaction channel for today's digital consumers.
Once you have decided on all the customer interaction channels you want to manage, it may be an overwhelming exercise to manage them individually. Then there is the problem of being able to monitor their performances in one place. This is why it makes sense to invest in a customer interaction management platform that makes the process easy to implement and monitor.
How customers feel about a company is dependent on the sum total of all the interactions they have with the business. Did the company meet my expectations each time I contacted them? Did I get the same level of attention and help irrespective of how I reached them — messenger, chat, text, etc?
How to develop a successful communication strategy
Businesses should put a customer communication strategy in place as a start. This would determine how employees communicate with customers regardless of the channel. But before that can be done, some research needs to be done. You need to:
1. Understand your audience
It all starts with an understanding of the characteristics, pain points, and interests of your customers. This forms the basis for some ground rules like – how many times is it okay to communicate with them? The tone of voice is business-like or more personal. What type of communication would they like to receive and not.
2. Set your objectives
What are you hoping to accomplish in your business's communications?
Is there something you have been unhappy with that you want to improve? Figure out clear objectives to make your strategy focused.
3. Be clear about metrics and goals
How will you know if your communication strategy was effective? Can you set benchmarks and goals along the way to help your business achieve success? By asking yourselves these questions, you will have a better handle on what "success" means and what your goals are.
Create a communications guide to set a standard that employees at all levels can refer to. A communication strategy also ensures quality assurance to improve customer relations at every level.
Tips for effective customer communication
Each interaction is unique, however, there are some practical tips that can help you make your customer interactions effective.
Speak in a conversational tone – When talking to customers, whether it's online or in person, be sure to communicate in a relaxed tone. For a customer to feel heard and understood they need to feel like they are talking to a "real person," and not something that looks like an automated answer.
Remain calm – If a customer interaction is turning sour, do your best to keep a level head. The calmer you approach the situation, the more likely the customer is to listen. Then together, you can both reach a solution to the problem.
Listen – Customers feel valued when they are heard. Even if a customer is saying something negative, do your best to let them know that you hear their concern and that you want to help. By showing customers that you're listening to them, you will make them feel valued, whether they have a complaint or praise.
Make yourself accessible – When it comes to customer interactions, your customers want two things: a reliable way to reach you, and prompt response times. Maximize your company's accessibility. Stick to communicating with customers in the communication channel with which they contacted you (unless they state otherwise), and make sure that your response times are quick.
Practice patience and a good attitude – Remember, your behavior is a reflection of your company. If you do your best to be patient and understanding with your customers, you are much more likely to have successful customer interactions.
Encourage dialogue – It's important that your customers know you want to hear from them. Having an open line of communication will keep your company in the know of what you're doing right, and where you need to improve.
Barriers to communication with examples
In order to have successful customer interactions, we need to know the classic communication barriers and ways in which employees can address them. Here is a list of the most important ones:
Inattention to customer concerns – It isn't enough to just listen to customer concerns, you must also respond to them. When a customer has taken a natural pause, be sure to indicate that you are still listening. Then, when a customer has finished talking, ask clarifying questions and repeat back to them what you understood from the conversation.
Employees changing – If customers have trouble reaching the same agent, it can be very irritating for them to keep re-explaining their situation to each new employee. To avoid having customers start from square 1, do your best to have one employee help a customer so no information is lost in the shuffle. If this is not possible, make sure you have a system in place to help provide personalized service at each customer interaction.
Accessibility – Does your website have chat? Are you there for them in case they reach you through Facebook messenger? Are they able to text you their questions? All of these can cause accessibility issues for your customers. When a customer has a concern, they should be able to easily contact you. Make sure you have all the right tools and trained people to address this.
All these barriers can easily be addressed with a reliable customer messaging platform. Before we talk about what an ideal customer messaging platform should have, let's look at all the channels that customers use to get in touch with a company.
What to look for in a customer messaging platform
Today's customer is digital and uses digital channels – web, mobile, and social – to consume content, engage with brands, and complete a transaction. Done properly, these channels can foster long-lasting and profitable relationships. The right customer messaging platform should meet all of your needs to manage the expectations of your customers and then some! Here are some must-haves:
Webchat – It's great when you have the resources to manage incoming communication. All your website visitors have to do is type in their questions and they get an answer immediately on the website itself from a live agent. This is great for questions that require a timely and subjective answer.
Chatbot – This is a perfect option for questions that can be preloaded and answered automatically. Questions like — what's your address? What are your working hours? Are you open? — can be answered by a chatbot while you attend to other customers or tasks.
Business texting from your website – With Webchat, you can make sure that all the questions/queries are stored in your Inbox and you can respond to them when you are again able to. These replies go straight to the customer's mobile phone as texts, which helps you retain your leads.
Text messaging – Today, it is up to the business to meet the customer where they are. Make sure your customer messaging software has this ability.
Landline texting – Your customer messaging platform should also help you enable your landline phones to send and receive texts.
Mass Texting Text messages are the most personal way to reach out to customers. Having this ability will help you send bulk messages to customers and also use it for marketing.
Apart from these, let's next look at other features that can powerpack your customer messaging program.
Features that can powerpack your customer messaging program
When looking at customer messaging platforms, you'll want to make sure that these features are also included in the tech stack, so your business will have the ability to do the following:
1. Message your audience directly on Google
The overwhelming impact that Google has made on how your customers search, select and buy can't be overstated. Your customer messaging platform should have a direct integration with your Google My Business profile to help you manage customer messages.
2. Convert more leads with Instagram messaging
While using Instagram Stories, regularly posting, and responding to comments on your Instagram account are all important for engagement, direct messaging offers a unique opportunity for generating leads and delighting customers.
3. Stay connected with Facebook Messenger
Almost everyone is on Facebook, and that includes your customers. When looking for a customer messaging platform, look for one that can integrate with Facebook Messenger.
4. View all customer messages in one inbox
When your employees are sorting through Google messages, texts, and chat — it can get overwhelming. Your software should include a centralized inbox, where you can bring all conversations together to manage and respond to all messages from multiple channels in one place.
5. Create templates
Using a customer messaging platform, you should be able to create message templates that reflect the tone and voice of your business. No matter who is communicating with the customer, the voice of the business will remain consistent.
6. Use attachments
You shouldn't need to struggle to describe something to your customer, or suffer because your customer can't describe an issue to you. Look for a business texting software that supports sending attachments.
7. Access all your contacts
When a new lead reaches out to you, the right customer messaging platform should automatically save that contact in your database. The platform should also have the ability to differentiate between new leads and current customers. By doing so, you can make sure that every communication is relevant and adds value.
8. Internal notes
Want to cut down on loss of information because of changing employees? Your customer management system should have one inbox where everyone can work together, collaborate, and be on the same page to ensure success. This way, there will be more accountability and collaboration between your team as well.
9. Get notifications on the go
Apart from getting notified by email and SMS text messaging, the right customer interaction platform should have the option to enable desktop notifications so that you are notified of every incoming query. This way you never miss another message, whether you are at your desk, out to lunch, or taking a walk.
What you gain with a customer messaging management system
With an effective customer messaging platform, your business gains many valuable assets including:
Increased automation – Through templates, customer messaging management systems create well-designed, highly personalized communications, without taking up too much of your time. You don't need to sacrifice personalization for automation. The right customer interaction software will help you create personal touches, without draining your resources.
Better up-selling and cross-selling opportunities – Integration of enterprise data into transactional communications helps create responsive and agile marketing for better up-selling and cross-selling opportunities. As you communicate with your customers better, you will start to understand them better.
Fantastic QA of customer communications – When all of your customer messages are in one place, it is easier to monitor the quality of your communication across all channels. This increased visibility and control over your communications will help strengthen your business where necessary and help your business operate profitably.
Use customer messaging to drive growth – Using all of the features discussed — chat, mass texting, Google messaging, Instagram DMs, Facebook Messenger, a centralized inbox, easy contact management, etc.— you can create a flawless communication strategy for your business. This will also ensure that you deliver an exceptional customer experience every single time. Create your communication strategy and find the right text messaging software for your business, today!
Ready to meet your customers on their preferred channel? Click the banner below to learn why over 100,000 businesses use Birdeye's customer messaging software to centralize every customer interaction and deliver better business outcomes.

Originally published