Reviews Management Software
Stop losing sleep over one-star reviews.
Be the obvious choice for people who find you online. Stand out on the sites that matter by easily collecting hundreds of customer reviews.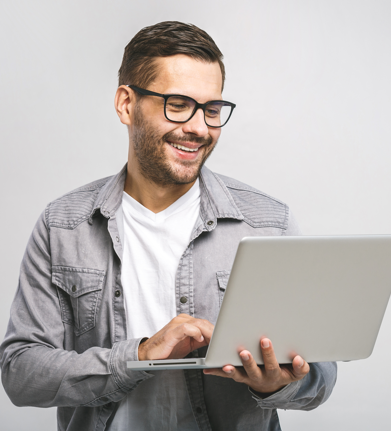 Jackson Pearson
Turn customer reviews into your competitive edge
Get new reviews, manage them and promote them across the web for 1, 10 or 10,000 locations. All from one dashboard.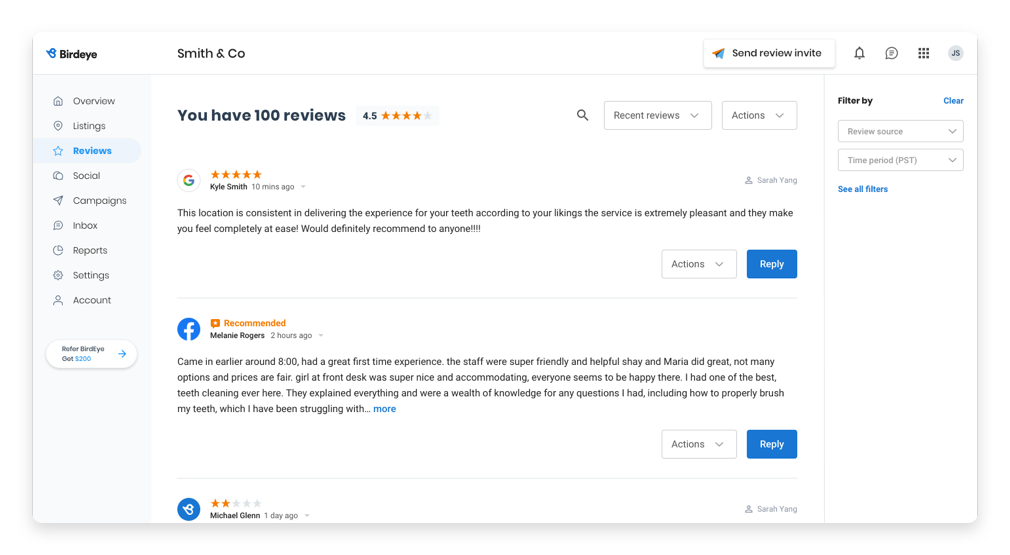 Google Direct Reviews
The power of Google behind every review
Get more customer reviews on Google by leveraging Birdeye's direct integration with Google's private API.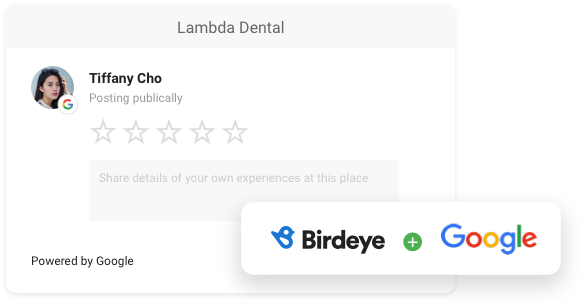 "Customers are vetting us before they walk in the door. We have a heavy focus on brand reputation. Our partnership with Birdeye allows us increase our reviews across 300 locations and respond in real time to the customers. We're able to use the feedback to create action behind the customer's voice."
Holly Carroll, Customer Service & Contact Center Operations at David's Bridal

"Switching to Birdeye has made a big difference. The reporting and insights give us the data we need for actionable insights into our various locations. Our review count increased by 40% almost instantly upon implementing Birdeye."
Rob Loveless, Digital Marketing Specialist at National Storage Affiliates

"Without Birdeye, online reputation management had been too time-consuming. Birdeye has provided us a service that has saved us hours of searching and managing this on our own. They have also helped us boost our number of reviews from 60 to over 8,000 in the past year."
Kathleen Gibson, System Marketing Director at Hughston Clinic

"Customers read reviews to help them make informed, educated decisions, and reviews help us build trust. In one year of using Birdeye's platform, we saw a 380% increase in the number of reviews our loan officers were getting."
Lisa Fenske, Senior Vice President of Marketing and Communications at Waterstone Mortgage

Review Generation
Get more customer reviews automatically
Collecting new reviews has never been easier. Birdeye sends customers to top review sites to share their feedback.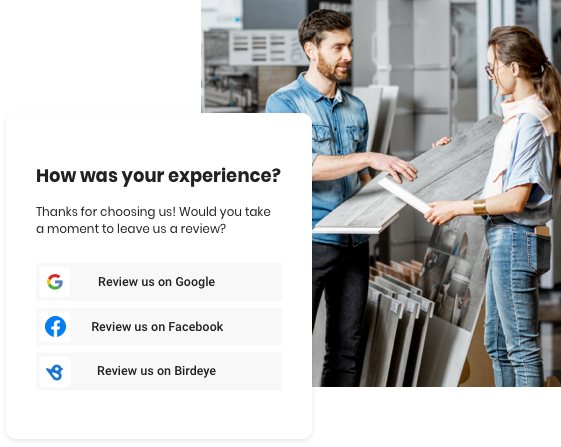 Review Monitoring
Monitor all your reviews in one place
Access all your customer reviews, for every location, from every source, in one dashboard.
Review Management
Online reputation management made easy
Take control of your brand and solve customer issues by managing all your reviews in one place.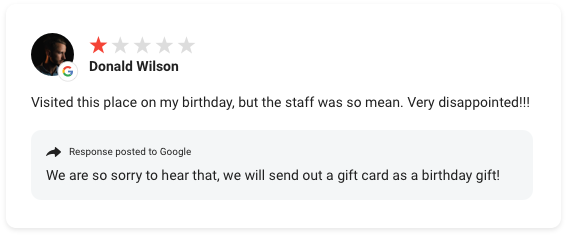 Review Marketing
Use word of mouth to get new customers
Let your customers do the talking to increase trust, social proof, and sales.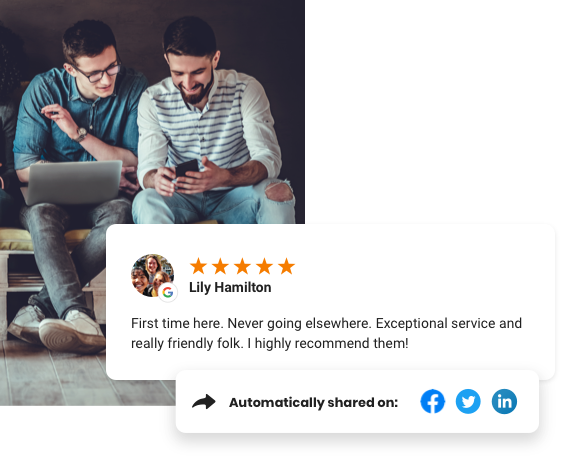 Powerful alone. Unstoppable together.
Birdeye is the only comprehensive platform for customer experience that offers a range of products that scale with your business. Check out our other products that work well with Reviews.
Messaging
The all-in-one messaging platform to run your business
Surveys
Capture real-time feedback and understand your customers with simple and effective surveys.
Birdeye results
Sunlight Financial
Finance | New York, NY
Effective and achieves our corporate objective for online brand improvement. Improved brand maintenance and better control of our online brand. This also allows us an opportunity to engage with customers at critical milestones in our process to determine any complaints or issues. I appreciate the User interface and the amount of information that is on the dashboard. The aggregation of the reviews and cleaning up our online presence has been very helpful.
Brian Von Bergen, Head of OperationsSunlight Financial
6
Reviews
3,489
Reviews
Bass & Hall Dental Implant and Periodontal Partners LLP
Dental | Plano, TX
So Easy and Great! Has increased our number of reviews by 98% and love the positive feedback! Love the regular emails after each review is submitted!
Cindy Johnson, Marketing ManagerBass & Hall Dental Implant and Periodontal Partners LLP
2
Reviews
589
Reviews
Ruth E. Bailey D.D.S.
Dental | Knoxville, TN
I've spent a lot of money over the years trying to boost my online ranking. BirdEye has been the single most effective thing I have implemented. It is so easy to use for us and our patients!
Dr. Ruth Bailey, DDSRuth E. Bailey D.D.S.
2
Reviews
455
Reviews
Jackson Creek Dental Group
Dental | Jackson, CA
Grew our reviews fast and effectively! Love BirdEye! So happy we picked them!!
John Williamson, Marketing ManagerJackson Creek Dental Group
6
Reviews
590
Reviews
Structured Foundation Repairs Inc
Home Services | Euless, TX
BirdEye is a game changer!! We had been in business for about 15 years when we started using BirdEye. We had hard copies of reviews but mainly had a few select people hitting review sites to complain. Our reputation was not accurately reflected online. When we started using BirdEye we immediately started see all of our positive reviews being posted online. We could also have the opportunity to fix problems with unhappy customers before they became a problem. I couldn't be happier with this product! So Easy to Use! Immediate Results! Quality Control at its finest!
Heidi Morrison, Operations ManagerStructured Foundation Repairs Inc
9
Reviews
1,177
Reviews
Wilkinson Bradley W DDS
Dental | Memphis, TN
This is the easiest method of building strength online and gaining new business. The cost is unreal for the result. The single best move since we created our website 17 years ago. We have a new business stream from online presences we are seeing in full motion now.
Dr. Bradley Wilkinson, DDSWilkinson Bradley W DDS
4
Reviews
324
Reviews
Mike Bachman Plumbing
Construction | Ogden, UT
We had a total of 75 online reviews over 10 years averaging a 3.5 rating over all platforms. We implemented Birdeye and saw immediate results. We have been working with them for nearly 2 years and have received an additional 600 reviews and brought our online rating to 4.7 across all platforms. We're showing up #1 on Google in our area now. People are calling us based on our reviews now!
Chad Roylance, VP OperationsMike Bachman Plumbing
31
Reviews
1,365
Reviews
Doctors Making Housecalls by Eventus WholeHealth
Healthcare | Chapel Hill, NC
We are very pleased with our arrangement with BirdEye. We're getting meaningful feedback, at a reasonable rate!
Alan Kronhaus, M.D.Doctors Making Housecalls by Eventus WholeHealth
9
Reviews
330
Reviews
Insulation Contractor - Energy Seal, Inc.
Arts & Entertainment | Jacksonville, FL
At Energy Seal, we are typically a one time business, spray house insulation, so we generally don't have repeat customers. We have one time customers. BirdEye helps us get new reviews from all our customers. These positive reviews help people choose us over our competitors. We were spending hundreds a day in paid advertising. The more reviews I have, the less money I have to spend on other options to do paid advertising. I was spending thousands a month on Google, whereas now people are choosing me because of reviews and not so much paid advertising efforts. People trust the reviews more than paid advertising.
Stan Nagel, PresidentInsulation Contractor - Energy Seal, Inc.
14
Reviews
447
Reviews
Hankey Law Office
Legal | Indianapolis, IN
Easy Peasy! We have dramatically increased the number of reviews our office gets. I love the monthly reports breaking it all done. Comes in very handy for our marketing meetings! It's an excellent marketing tool. Our reviews have increased by 200%!! The options we give our clients make it very easy for their use. At my end, its so easy to send a request. You can follow up anytime to see what's going on with the request. The dashboard is great - shows all of our information. We also get monthly updates letting us know our numbers. And it's very user friendly!
Carolyn Eck, Marketing CoordinatorHankey Law Office
29
Reviews
520
Reviews
Common questions when considering Birdeye Reviews
What does Birdeye Reviews do?
With Birdeye Reviews, your business can easily generate, manage, and amplify online reviews across Google, Facebook, BBB, and 200+ review sites. Getting new reviews helps you rank higher, boosts your online reputation, and attracts more customers to your business.
Why should my business respond to reviews?
Responding to reviews does more than build trust and show potential customers you care about their experience. It's an effective way to reverse negative customer sentiment and improve your overall rating.
Can Birdeye Reviews help me rank higher on Google?
Yes. Birdeye Reviews helps you create a steady stream of fresh reviews — helping you rank higher in Google Search and the local 3-pack. The more reviews you get, the better your rank.
Can I integrate Birdeye Reviews with my CRM?
You can and should! By integrating with over 3,000+ unique CRMs, PMSs, and other apps like Salesforce and Hubspot, you can automate your review requests and get time back to run your business.
How does Birdeye help me manage negative reviews?
We alert you the minute a negative review is posted so you can take swift action before the situation escalates. And in case of fake or slanderous reviews, you can flag them directly within Google and request its removal.
What are the main capabilities available in Birdeye Reviews?
Birdeye Reviews lets you:
Generate and manage reviews from 200+ review sites
Manage all customer communication from one inbox
Respond to reviews easily with templates and rules
Amplify reviews to your website, social, paid ads, and search
Track reviews, NPS, response times, and more from one dashboard