Get the Birdeye app and grow any time, anywhere
Grow on the go
Send review and payment requests in the field, respond to messages instantly, and keep up with your inbox — all in the palm of your hand.
Stay connected
Be there when your customers need you with Instant notifications make sure you never miss another lead, review, or message.
Collaborate better
Keep up with your teams through instant messaging and never miss a critical time-sensitive communication.
Inbox
Place every conversation at your fingertips
Your unified inbox keeps all conversations at your fingertips. From reviews and messages, to voicemails and beyond, keeping track of every customer touchpoint is a breeze with Birdeye mobile.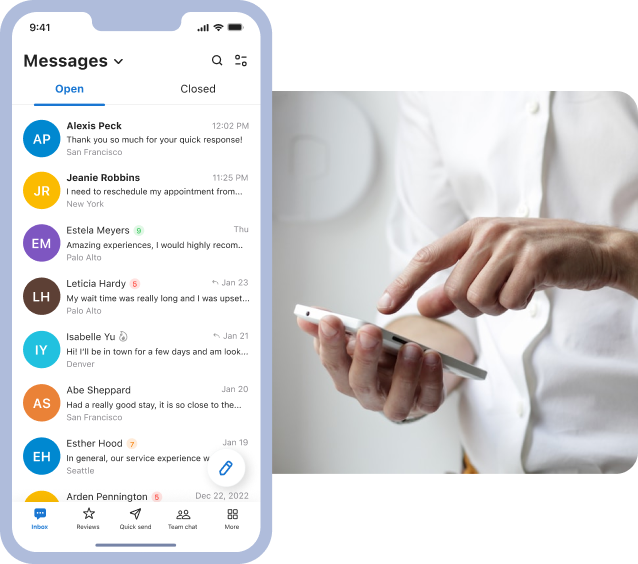 AI-powered
Save time with AI
Respond to reviews and messages using AI in seconds. Effortlessly change the tone of your response, make them shorter or longer, fix spelling and grammatical errors. Get AI-generated summaries of all your reviews and messages to see what matters and act on them on time.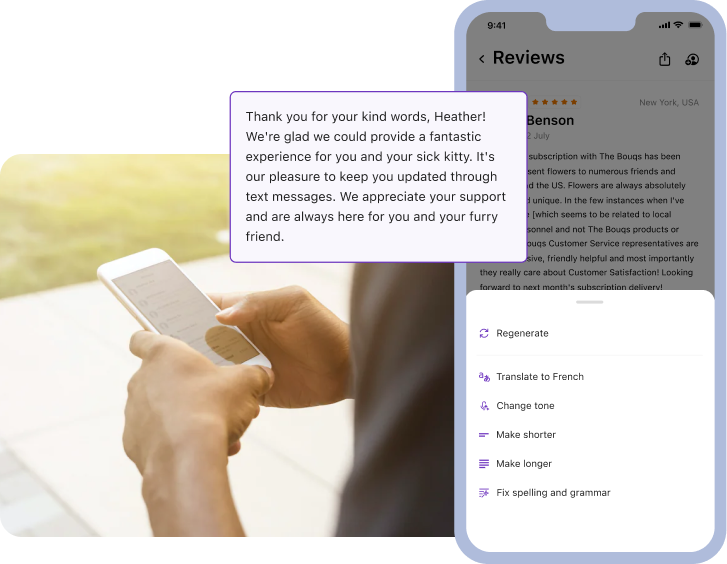 Team Chat
Stay connected to your teams
Collaborate and share time-sensitive updates   through instant messaging. Together, you can review invoices, approve payment requests, and more — all inside a single chat.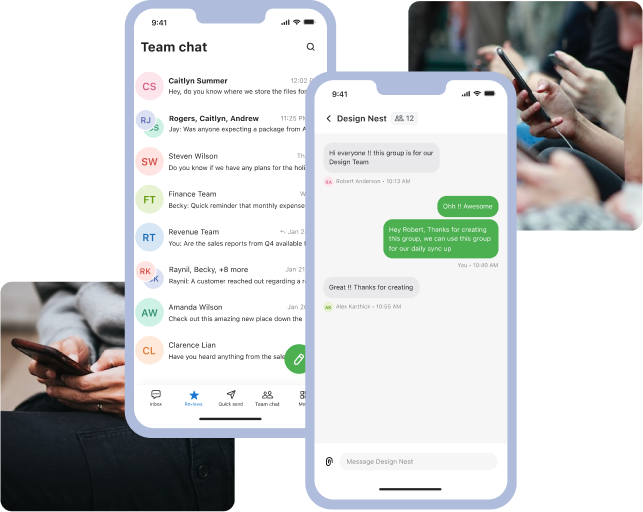 Review Management
Manage reviews faster
Send review requests to customers in the field and respond to new reviews instantly right from the palm of your hand. With the mobile app, you can even share your reviews on social channels directly from your device.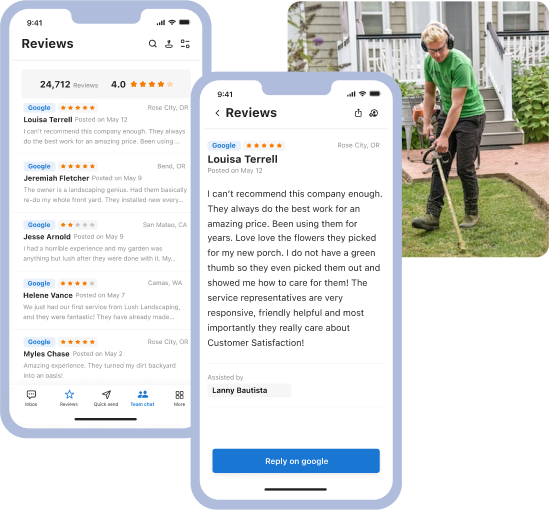 Personalized Notifications
Get real-time notifications
Customize your app to receive personalized notifications about things that matter most — from a negative review to support tickets, to new messages and payments.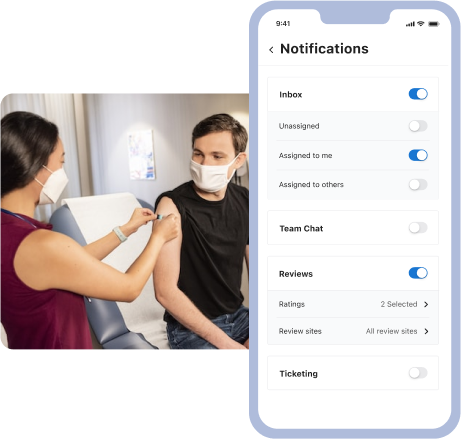 Payments
Settle up on site
Send quick payment requests to your customers through Birdeye mobile app right after the work or business transaction is complete and get paid on time.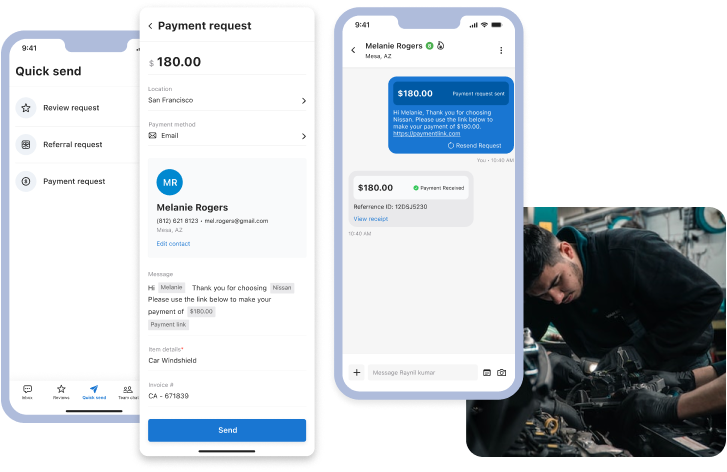 Birdeye outranks the competition
Based on 7,000+ reviews on

Birdeye customers get results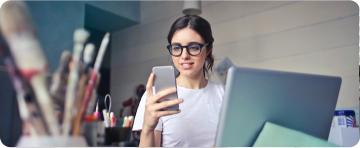 Love being able to connect with our customers while away from the computer.
Tom O'Neil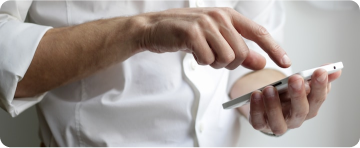 A great app for people on the go. It's easy to send review requests and send an invoice to your client.
Rogelio Rosales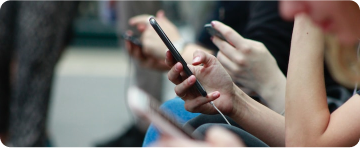 Love Birdeye mobile app. Use it frequently to read and respond to reviews, and manage the unified inbox. Awesome experience!
Jay Berguson
Meet the all-in-one platform to drive customer acquisition and retention
Drive traffic
Put your business at the top of search with a stellar online reputation and local SEO.
Connect & convert
Message customers from anywhere, stand out on social, and collect payments faster.
Raise the bar
Create exceptional experiences that boost brand loyalty and set you apart from the competition.
Products that pair with the Mobile App
Birdeye is the only comprehensive platform for customer experience to offer a range of products that scale with your business.
Messaging
Chat, text, DM, and manage customer conversations from one inbox.
Reviews
Generate, monitor, manage, and share reviews across 200+ sites.
Payments
Provide an effortless payment experience across text, scan, card readers, your website, and beyond.
Start growing with Birdeye today
Frequently Asked Questions
Is it free or paid?

Click to open
With your Birdeye subscription, the mobile App is totally free. We don't impose any additional charges for utilizing the mobile app.
Is it available for ios and android?

Click to open
Yes, Birdeye mobile application is available for both iOS and Android.
What features do we have on the mobile app?

Click to open
You can send review requests to your customers, respond to your reviews as soon as you receive them and promote them on social media – all from Birdeye mobile app. You can make payments using the mobile application. Additionally, you can converse with your customers and internal team members using the Birdeye mobile app.
Do we really need the Birdeye mobile app?

Click to open
Yes, if you want to accomplish things on the go. The mobile app allows you to easily manage certain time-sensitive things that can make a difference. You can respond to a negative review and a critical customer message from wherever you are – without going to your desk or going into the office.
Which devices are supported by the Birdeye mobile app?

Click to open
The Birdeye Mobile app is compatible with tablets and smartphones.
What is BirdAI?

Click to open
BirdAI is the AI and NLP engine that powers the Birdeye platform and offers local businesses all the AI tools needed to attract, convert, and delight customers. It helps them optimize their customer feedback management, enhance their customer interactions, increase productivity and drive better business outcomes.
Do I have to pay additionally for BirdAI features in Social?

Click to open
No, BirdAI is available at no additional cost.