When someone looks up your business online, you want them to see the best side of your business. The first online impression is significant as customers turn to Google search results to know more about a product or service.
But a positive first impression takes work. Sometimes, businesses need help showcasing themselves in the best light without the few negative reviews taking up all the space online.
Online reputation management can help you manage perceptions and stay on top of what's being written about your business.
This is the ultimate guide for businesses looking to overcome negative reviews and turn the tide on their online reputation.
Chapter 1: A beginner's guide to online reputation management
What is online reputation management
Online reputation management, or ORM, is the process of building, monitoring, and managing the perception of your brand on the Internet. How well you handle your online reputation decides what your customers see when they look for you across the various search channels. You want them to see you as trustworthy to bring their business to you.
Businesses must monitor all major channels such as Google, review management, social media platforms, and other media channels to manage their online reputation.
Online reputation management has two parts to it :
Proactive: Taking active and continuous steps to ensure your business has a positive online perception.
Reactive: Taking immediate responsive action when a negative comment, article, or mention goes online.
One negative review will not harm your business if you know how to handle it.
Factors that contribute to online reputation management
Everyone today has an opinion. But not every opinion matters. Often businesses spend all their time and resources only focusing on negative reviews, while the online reputation sphere is a little more than that.
The factors that contribute to a business's online reputation are :
Earned media: These are citations and mentions a business has earned through networking, PR (public relations) activities, and media coverage. Earned media includes newspaper articles, third-party review sites, social media mentions, and influencer marketing.
Owned media: These are brand stories and mentions on all channels owned by the business, including blogs, websites, social media, brand newsletters, and online magazines. Employee and user-generated content also fall under this category.
Paid media: These are citations and mentions a business pays to have. This includes online advertisements, affiliate marketing programs, social media advertisements, and other native advertisements.
Shared media: These are brand mentions where the media is shared between the brand and others. Co-branded campaigns, partnerships, and organic social media posts come under this category.
Value of brand reputation management
Brand reputation management is integral to your business's ability to instill trust in your customers and complete transactions. Studies show that customers now look up a brand online before purchasing. A positive brand reputation goes a long way in changing the tide toward your business.
Brand reputation management can :
Increase web traffic to your online stores – brands with positive reviews experiences a higher click-through rate
Reduce friction in the sales process – customers are more likely to trust you with a positive online reputation
Improve your advertising ROI
What does reputation management include?
Reputation management includes :
Constantly monitoring your brand mentions
Interacting with customers online
Creating content to improve brand perception
Running campaigns to boost a positive online presence
Securing partnerships to boost your online reputation
Reputation management services work on all these channels to ensure that you stay updated on your online reputation status and take action whenever necessary.
Online reputation management vs. SEO
To see your online reputation management efforts come to fruition, your owned media and shared media content must be optimized for search engines.
SEO forms a significant part of all online reputation management efforts. Search engine optimization (SEO) helps a brand boost its online presence, especially on Google.
We know customers turn to Google and social media to find products and services according to their requirements. When your ORM team works with the SEO team, you can ensure that you have control over the first few search results about your business.
More often than not, businesses do not rank high for branded keywords (business name and core products), and the traffic is diverted to third-party websites.
With a coordinated effort between the ORM team and the SEO team, you can ensure that customers looking for your core product/services or your business find your website easily.
Why is online reputation management important?
Staying on top of your online reputation can help you stay ahead of your competitors. Here are a few more benefits of online reputation management.
An excellent online reputation means more credibility with customers.
People want to do business with companies they trust. However, if a potential customer has never heard of you before, they don't know if they can trust you. That's where online reputation can help. You can build credibility with customers if you have many great reviews.
An excellent online reputation means more visibility on search.
Your customers aren't the only people who value your online reputation. A great online reputation means your business will rank higher in relevant search results. When customers or other outlets speak highly of you, this signals to search engines like Google that you are a relevant and authoritative brand in your domain. You are more likely to feature in "best <product> searches" because of this phenomenon.
A better online reputation means more revenue.
Studies show that a great online reputation means more money for your business. Customers buy from businesses they trust. A positive brand reputation results in higher link clicks on organic results and lower advertising investments. For example, studies show that customer reviews produce an 18% average increase in sales revenue. Featuring Google star ratings in Google ads also leads to an increase in ad clicks.
Chapter 2: How to get started with online reputation management
This section will discuss how businesses can work on their online reputation management and improve their brand perception.
Building an online reputation management strategy
A strategic approach to online reputation management helps businesses to understand what proactive steps they can take to mold their brand perception. It also ensures that they react professionally to negative reviews and comments without taking a firefighting approach to online reputation management.
An online reputation management strategy has the following components :
Monitor
Monitoring brand mentions is important to understand the online sentiment and can help you use the right approach to online reputation management. Businesses must monitor all significant channels, such as social media platforms (Facebook, Twitter, LinkedIn, and Instagram), industry-specific review and listing sites (such as Avvo and ZocDoc), and Google (search results and reviews).
It is also important that businesses keep all their listing information accurate and updated so that customers can find them easily.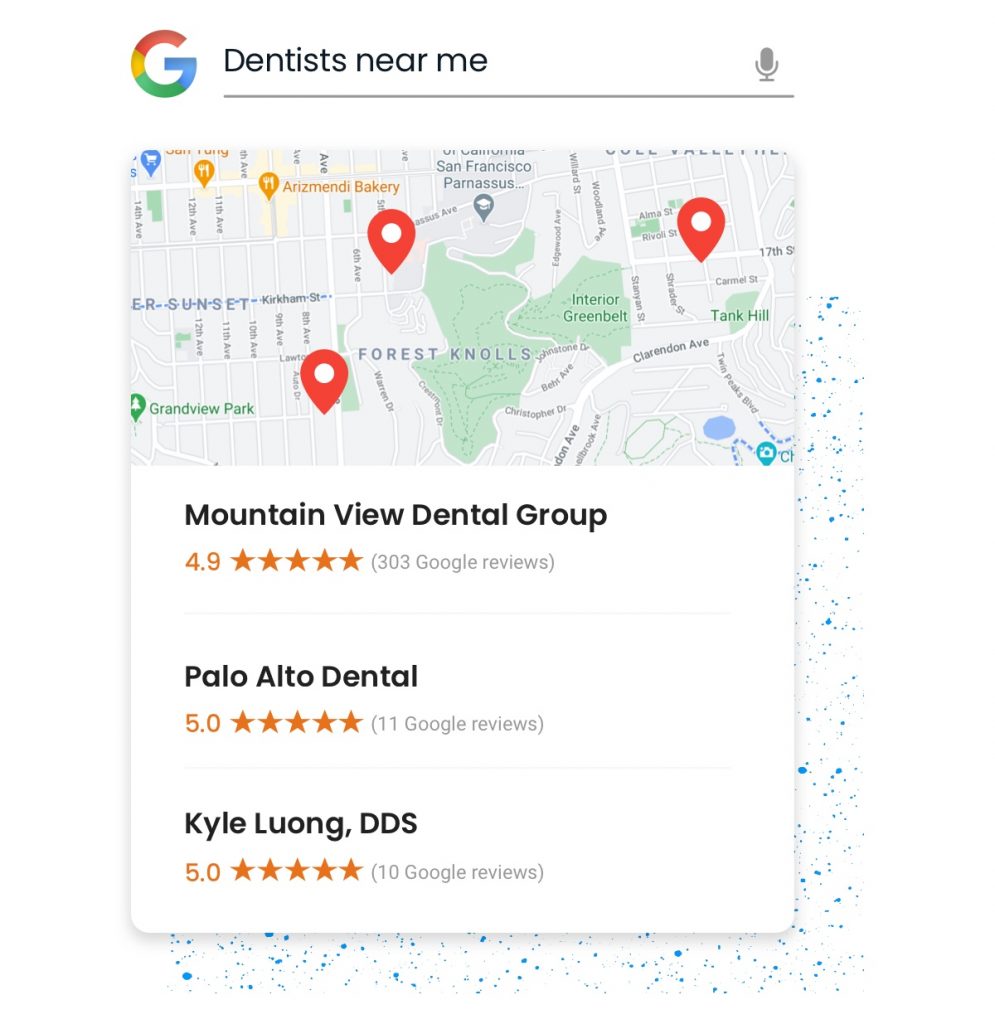 Collect
It is a widely accepted fact that unhappy customers usually take to the Internet to share their experiences. Happy customers believe in appreciating in person, which is excellent but unhelpful for your online reputation.
The best way to counter this is to request your happy customers to leave reviews on your website, third-party sites, Facebook, Twitter, and other active channels for your business. As part of the online reputation management strategy, businesses must also develop a review generation process to send periodic reminders to customers to leave reviews for them.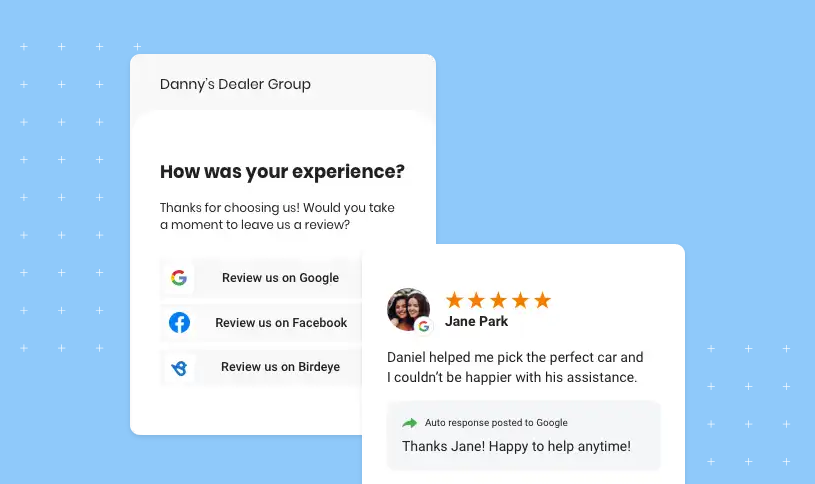 Manage
When your business has an active online presence on more than one channel, which it usually does, it can be challenging to keep track of all reviews and mentions. But your business must have a system to manage (monitor, respond, and raise tickets) every review for successful online reputation management.
Market
By building an efficient review generation and monitoring system, you now know what your happy customers are saying online about you. But keeping it to yourself will not help your online reputation. 
Leverage all positive reviews and mentions by marketing them across channels like your websites, social media handles, newsletters, and product marketing materials so that it reaches your current and potential customers.
Social media reputation management
The growing number of brand interactions on social media warrants a specialized approach to social media reputation management.
Managing your social media reputation has much in common with monitoring your reputation on review sites. Here are the top tips for managing your social media reputation.
Monitor mentions of your brand
You must stay on top of mentions of your business to know when customers talk about your brand positively or negatively. Use social listening tools and turn on notifications for your brand mentions across all social media platforms to avoid missing out on any conversation.
Respond to customer complaints
Get in touch immediately if a customer complains about your business. If you get to the bottom of the problem, the customer will likely be happy to update or delete their original comment. Also, make sure that you stay committed to a resolution and keep communication open so that other social media users can see your brand in action.
Encourage customers to post
Just as you should encourage customers to leave reviews, you should also encourage customers to share their experiences with your business on social media. It's an easy way to create more awareness for your brand. User-generated content is quite popular on social media, and resharing it can boost your online reputation.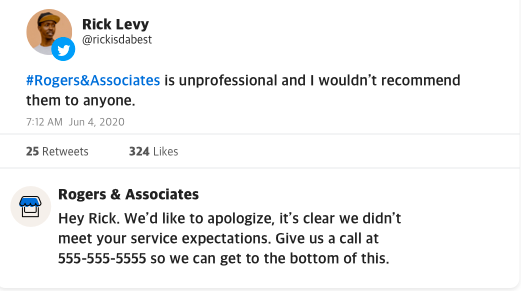 Work on public referrals
Happy customers bring more customers via referral. While most customers are happy to send a referral invite by private messages, you can also encourage them to take the social media route. Enable customers to share their referral codes and messages on social media platforms so that you can secure an easy positive mention in addition to other reviews and testimonials. Referrals are a stamp of approval and can go a long way to boost your social media reputation.
Get verified
A verified badge on social media platforms impacts your online reputation. Customers are more likely to trust your brand if it is certified authentic by the platforms. This also ensures that customers get all brand-related information from you to avoid misunderstandings.
Online review management for reputation management
While reputation management has gone beyond online reviews, managing them is still vital to strengthening your brand's online reputation. When a customer looks up information for your brand on the Internet, reviews are considered the most trustworthy source of information. What your existing and previous customers speak about you plays an essential role in shaping brand perception.
A few things a business can do to strengthen its online reputation via online review management are :
Encourage customers to leave reviews as soon as the transaction is completed so that the positive reviews outnumber the negative ones.
Monitor review channels such as Google reviews, Facebook reviews, and other industry-specific review sites
Respond to all positive and negative reviews promptly and professionally to show that the business monitors reviews.
Share positive reviews across marketing channels
Chapter 3: Online reputation management tools and strategies
You can manage your online reputation yourself. However, a good reputation management strategy requires a lot of time and energy to fix listings, request reviews, respond to reviews, keep track of competitor reviews, monitor social media, and generate positive PR content for your business.
If you are a multi-location business, these tasks have to be done for each location and each business vertical in some cases. And that can become overwhelming to handle every day as reputation management demands.
Investing in online reputation management software to automate these tasks can improve efficiency while freeing up more time to run your business.
Why do you need a reputation management company for your business
Customer feedback and business mentions are not confined to a few major sites on the Internet. It could be on any social media platform, personal blog, and review site possible. Reputation management companies like Birdeye can help you handle these with ease.
A few ways in which reputation management tools from Birdeye help businesses :
Review monitoring for online reputation management
Traditional customer online feedback still predominantly comes from reviews, even with the current higher social media usage. And there are 100+ review sites for each industry vertical beyond the popular ones like Google, Amazon, Trustpilot, etc.
Reputation management tools help you monitor your reviews on the websites you have a significant presence on so that you can stay up to date with the latest reviews. This also helps understand customer sentiment and respond to reviews at the earliest possible time.

Social monitoring for online reputation management
Social media has become a crucial meeting point for businesses and customers. These platforms help customers air their grievances, testimonials, recommendations, and opinions on your brand as well. The volume of conversations on these social media platforms is usually high, so using a tool to monitor social media mentions is very useful.
Social listening and monitoring help you understand where your customers are and where you should concentrate your resources to improve brand reputation on social media.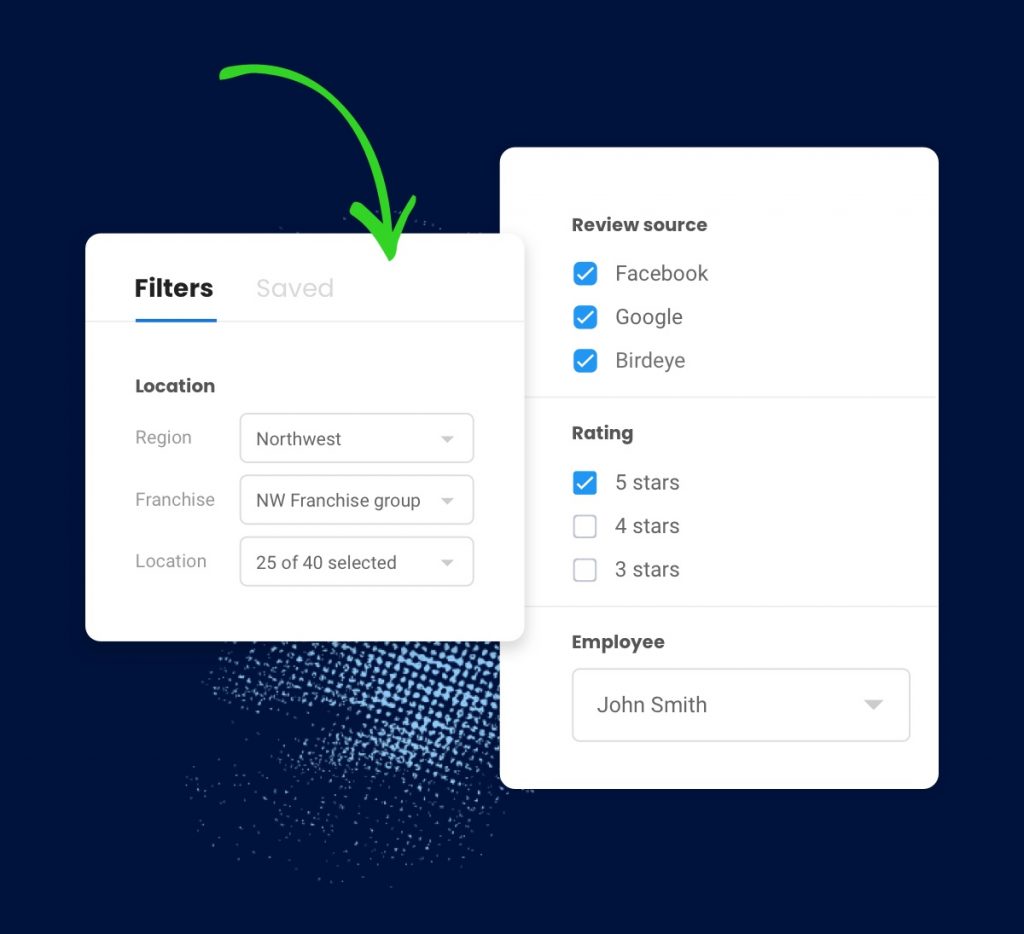 Review management for online reputation management
While review monitoring tools help you spot the latest reviews for your business across the Internet, you must manage them well to build your online reputation. Online review management means responding to positive and negative reviews, actioning on negative feedback, and analyzing them to make business decisions.
Birdeye's easy-to-use dashboard helps you track all your reviews, respond to them, and raise tickets to ensure your brand's online reputation stays positive.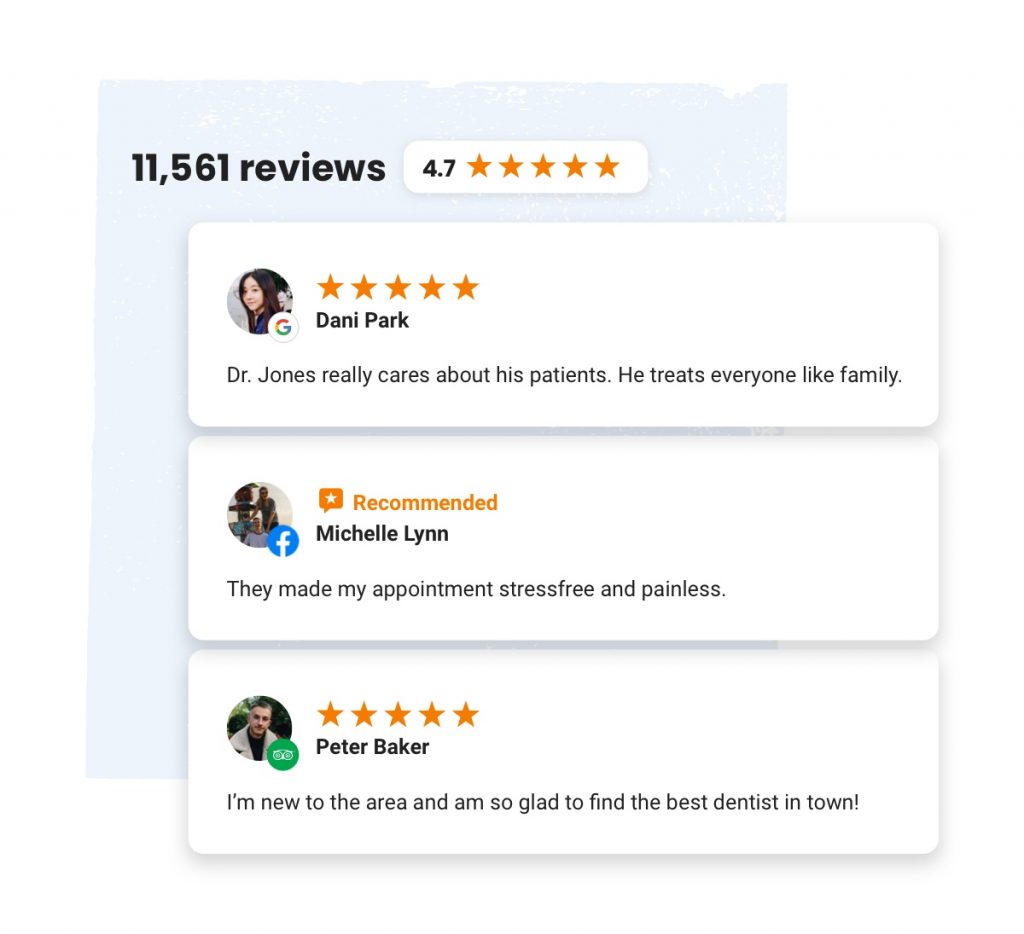 Review marketing for online reputation management
Positive reviews, mentions, and testimonials make up for great marketing material. You can increase customer trust in your brand and eliminate any doubt they may have about it by marketing online reviews.
Online reputation management (ORM) requires the brand to proactively share positive reviews, experiences, and updates about its brand to boost its credibility. With review marketing tools from Birdeye, you can share positive reviews across all marketing channels with a single click.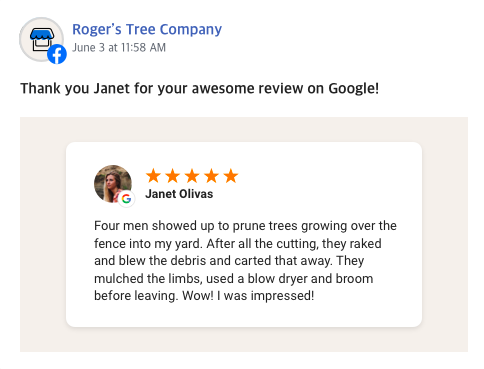 Birdeye allows you to automate review sharing to make things easier too.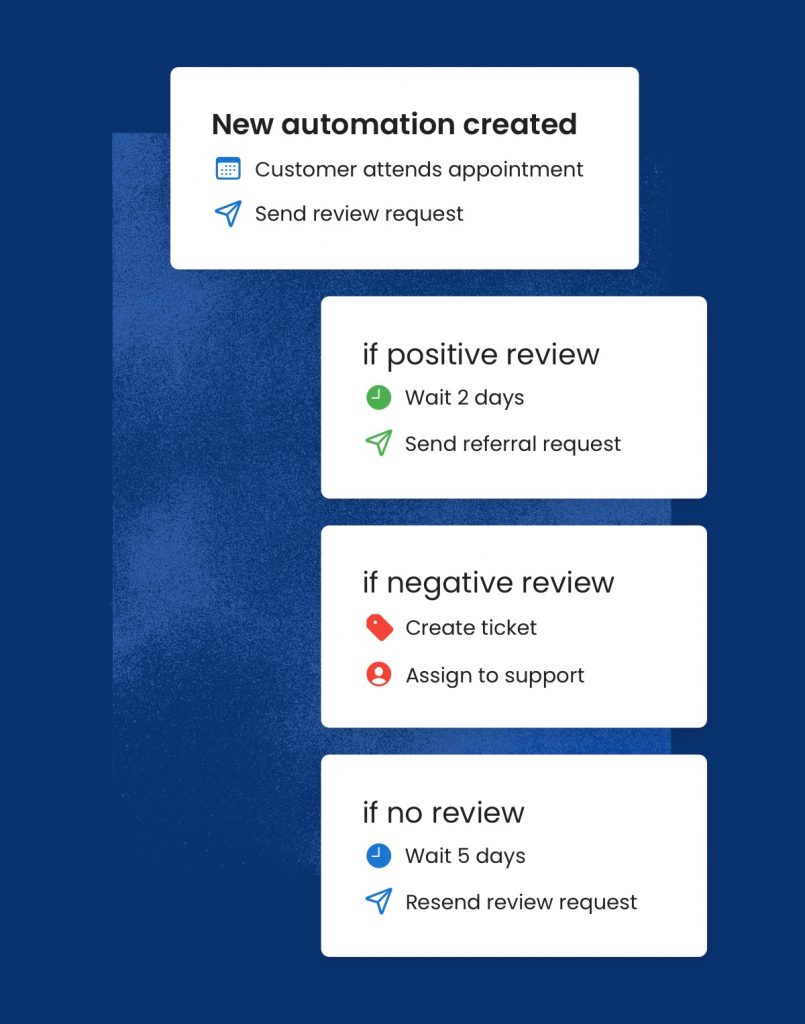 Reports for online reputation management
Online reputation management is a fast-paced arena and needs brands to stay on top of every review, mention, and feedback. Brands also need detailed reports and analytics to take proactive steps to improve their online reputation instead of being reactive alone.
Birdeye provides detailed insights on online customer sentiment for businesses to shape their business management strategies accordingly.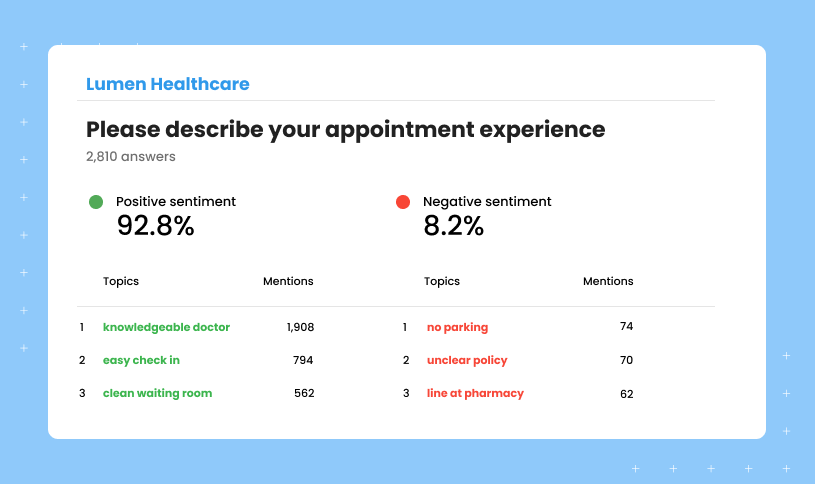 How to choose the best online reputation management tools
There are many online reputation management tools in the market with advantages and limitations. Here are a few things to check while choosing online reputation management (ORM) tools :
Your online reputation management tool must be easy to use and require minimal training for your staff. The easier the onboarding process is, the faster you can get to work.
Look for integration with your CRM, social media platforms, and review sites. Features like review generation, monitoring, and social listening can only work if the ORM tool can integrate with these platforms.
How easy is it to restrict user access to different designations in your business? You must be able to share edit access to a few, while the others can only access the reports. Reputation management handles sensitive information that needs restricted access.
Online reputation management needs robust reporting and detailed data to help you understand customer sentiment. Make sure that the ORM tool you choose generates reports across channels and helps you break down data by sentiment (positive and negative).
Businesses need online reputation management tools that can grow with them. Look for scalable solutions that can accommodate enterprise (large-scale multi-location businesses) requirements.
Online reputation management needs a quick reaction. Work with ORM tools that send you alerts and periodic summaries on the device of your choice.
Online reputation management cost
Investing in reputation management software is totally worth it. It's an easy and efficient way to rank in the top search results—increasing visibility and building credibility for your business while saving your team valuable time.
The price of reputation management software can vary based on the size of your business, the number of services you want to subscribe to, and the number of locations you have. Birdeye offers different plans for businesses with different goals.
We recommend that interested businesses speak with one of our reputation experts to understand better how your business can get the best results from online reputation management.
Chapter 4: Online reputation management examples
Want to know how businesses use reputation management to get results? Here are a couple of real-life examples.
Brockport Smiles online reputation management
Brockport Smiles is a dental practice based in Brockport, New York. Even though they were delivering a great patient experience, Brockport Smiles only had 3 reviews on Google. The practice decided to use Birdeye's software to collect more reviews.
With Birdeye, Brockport Smiles could send automatic review request texts to all patients. Birdeye integrated with the practice management system Brockport Smiles was already using, so the practice could send texts and emails to customers on the same day as their appointment.
The results speak for themselves. The practice now has more than 400 reviews on Google. Potential patients looking for a new dentist can find them in the top search results and see social proof assuring that Brockport Smiles stands ahead of the competition.
Accent Roofing online reputation management
Accent Roofing is a family-owned roofing business in the Atlanta area. While the company had a long record of satisfied customers, they faced a stigma against roofers in their area. Since their state did not require licensing for roofers to operate, Accent Roofing realized they needed to build credibility with potential customers.
The business turned to Birdeye to collect reviews from customers. Birdeye's review software made the process easy. All employees had to do was enter the customer's name and email or phone number at the end of the job to send a review request. With Birdeye's help, Accent Roofing now has more than 2,000 reviews.
Of course, Birdeye didn't just help Accent Roofing with collecting reviews. Monitoring reviews is now easier than ever. Employees can keep track of reviews posted across the Internet within the Birdeye dashboard.
Related: Want to see more reputation management examples? Check out these remarkable results that we've seen from businesses using Birdeye.
Frequently asked questions about online reputation management
What does a good online reputation look like?
A good online reputation for a business looks like positive reviews, social media mentions, a verified business website, and a high star rating on Google reviews when someone looks up a business online.
Do negative reviews hurt your online reputation?
Negative reviews do hurt a brand's online reputation, especially if they are higher in volume, not responded to, and are more recent than positive reviews.
Why do you need an online reputation management strategy?
Online reputation management strategy helps brands manage reputation by detailing the course of action for proactive and reactive brand interactions.
What are the 3 elements of measuring online reputation?
The three significant elements of measuring online reputation are online reviews, social media mentions, and competitor analysis. If they are highly positive, then you have a positive online reputation. 
What are the benefits of online reputation management services?
Brands can improve customer sentiment online, grow their business across more locations, and establish a stronger brand faster in the market by hiring online reputation management services.
How do I create a positive online reputation?
Businesses can create a positive online reputation by creating positive PR content for your company, requesting happy customers to post online reviews and by resharing the review across other marketing channels.
The best reputation management software
If you're looking for the best reputation management software, choose Birdeye, the most comprehensive solution on the market. G2 has named Birdeye the #1 online reputation management software for 15 consecutive quarters, among many other awards and recognitions.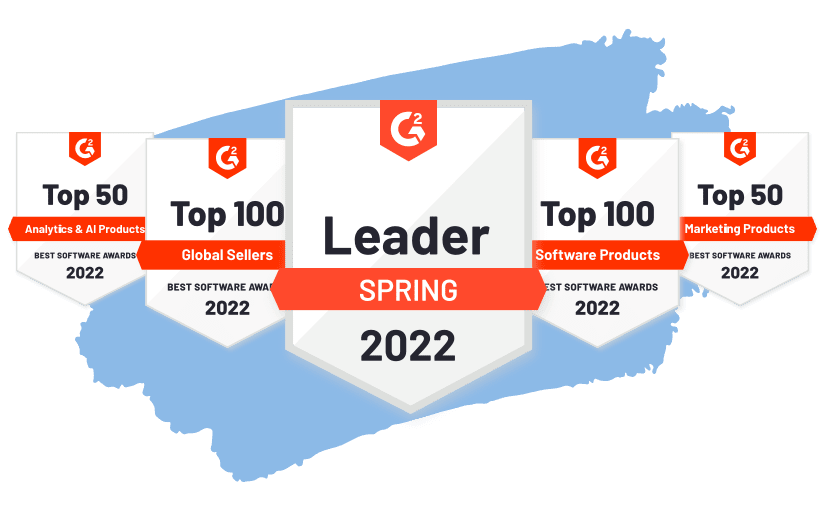 No other company on the market can compete with Birdeye's all-in-one platform. Only Birdeye allows businesses to send automatic review requests, respond to customer reviews, send surveys, get actionable insights, fix listings across the Internet, and easily connect with customers through web chat and text messaging.
Sign up for a free demo now.
Originally published