One of the most important responsibilities for any property manager is to effectively communicate with their residents in order to create a long-lasting relationship.
The concept of maintaining good communication with residents may seem simple enough to consistently execute. Yet when you're managing multiple properties in different locations with thousands of residents, consistency can be somewhat challenging, to say the least.
Don't worry though: we've got you covered. Whether it's maintenance issues, response times, or juggling communication across multiple channels, we'll break down some simple solutions you can easily implement to alleviate some of the challenges that occur with resident communication.
1. Timely responses to resident inquiries & requests
Residents can reach out to property managers for any number of reasons; maintenance requests, lease information, rental assistance, and the list goes on. What's more, when residents have a question or request, they expect a quick response.
Forrester Research found that 77% of customers say that valuing their time is the most important thing a company can do to provide them with good online customer service. A resident's expectations fuels the perception of their experience with your company. If you exceed expectations by responding quickly to their outreach, it reflects positively on your customer service and company as a whole. If you're slower than anticipated, you're creating a negative resident experience.
A common challenge with response times lies in the traditional channels for resident support, such as email and phone. Most residents, especially younger generations, don't want to engage with businesses over a phone call. Emails also often require a lengthy back and forth, which doesn't align with residents who are seeking real-time support. Fortunately, there is an easier way.
Expand your channels: Offer livechat and chatbot solutions
Instant messaging is a staple of modern communication, and companies are investing in livechat solutions because of it. Research from Accenture Digital found that 56% of companies say that chatbots are driving disruption in their industry. Furthermore, 79% of consumers prefer livechat because they offer instant responses, which is why livechat has the highest customer satisfaction rate over phone, email and other conventional channels.
The modern resident expects quick responses to their requests and inquiries. Meeting their expectations is paramount to your success because your competitors are just a Google search away.
Livechat simplifies resident communication and provides them with instant communication and access with your team. 

You may be wondering what happens if members of your team aren't able to respond immediately to a livechat message.
That's where chatbots come in. Chatbots can be programmed to provide automated responses to frequently asked questions specific to your company. This frees your team up to focus on more complex resident inquiries.
Consider introducing livechat into your omnichannel marketing strategy to help overcome the challenge of slow response times to resident inquiries and requests.
2. Managing multiple channels of communication
Property management companies tend to have a diverse range of residents from all walks of life – and from different generations. People tend to stick with what they know, which is why it shouldn't be a surprise that different generations have different preferences for their communication channels.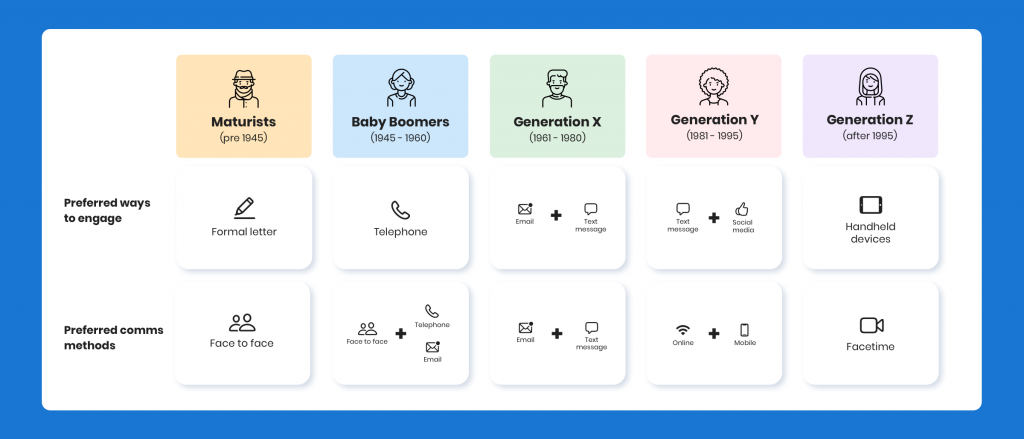 Baby Boomers – Born between 1946 and 1964 , Boomers still appreciate face-to-face meetings and telephone conversations, and while they do text, their digital channel of choice is email.
Generation X – Born between 1965 and 1980, this was the first generation to assimilate digital technology into their daily lives. Email became the main source of communication for this generation and remains their preferred channel, with text messaging being their second-most preferred channel.
Millennials – This is the generation born between 1981 and 1997. Millennials came of age with social media and relied on email for school, so it should come as no surprise that they generally don't make phone calls, as they're accustomed to more immediate forms of written communication such as instant messaging and texting.
Generation Z – Born post-2000, Generation Z is often referred to as "digital natives." They've grown up with smartphones and a plethora of channels at their fingertips. Due to this, they don't naturally gravitate toward traditional channels such as phone and email. They want responses via smart devices and prefer self-service, but also demand live agent contact.
Chances are that most if not all of these demographics make up your clientele. As we've outlined, they each have their unique preferences for communication, which leaves client-facing teams jumping across channels to keep up with resident requests and inquiries.
Trying to keep up with it all can cause some resident interactions to slip through the cracks. So what is the solution?
Centralize resident communication channels
When you look at the big picture, the evolution of technology has been the most significant influence on the unique communication preferences for each generation. This is why leveraging the right technology is the ideal solution to overcome the challenges that come with managing multi-channel resident communication.
All-in-one customer experience software can bring all resident conversations together from multiple channels into one unified inbox. Whether your residents connect with your company from Facebook Messenger, Webchat, texts or emails, your team can respond from one place.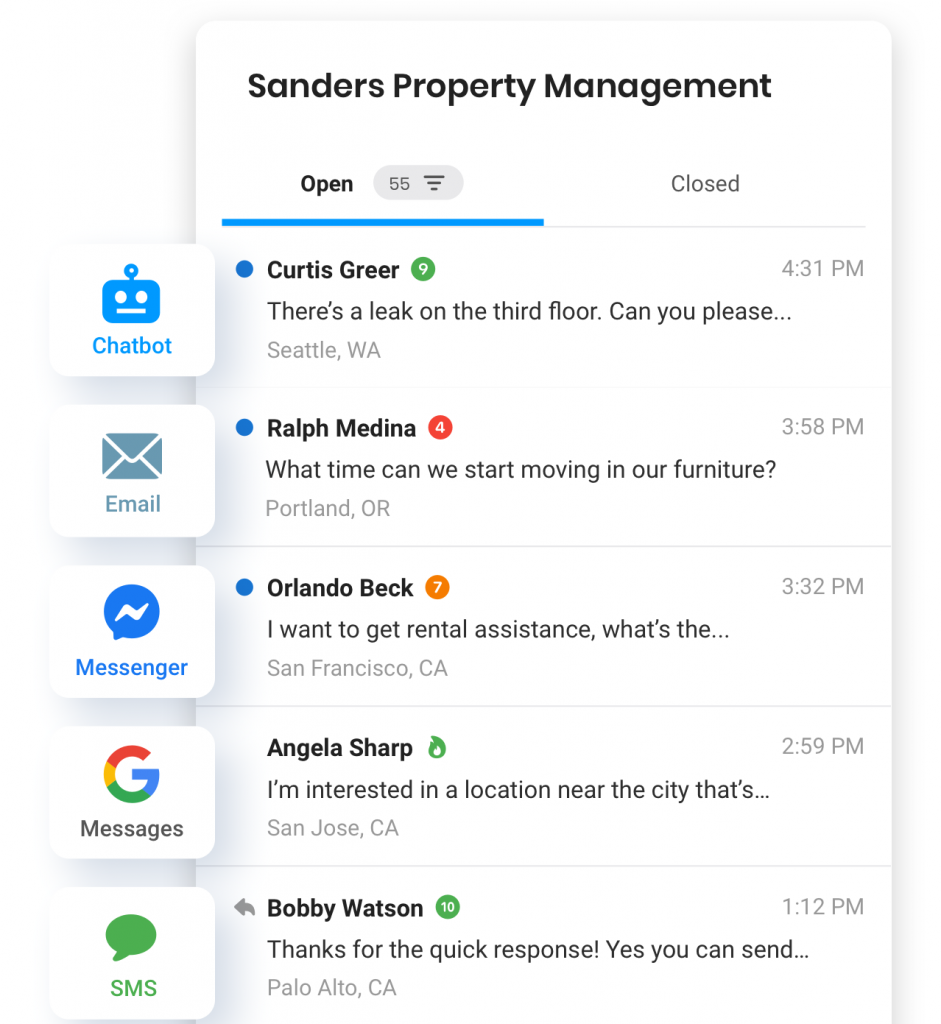 Residents want to interact with you on the channel they prefer, and it's on your company to provide support on the channel of their choice. Technology has evolved how residents communicate with each other and with the brands they engage with. Likewise, property management companies need to leverage technology to evolve how they communicate with residents at scale.
3. Responding to resident reviews at scale
Your team is committed to providing a safe and comfortable place for residents to call home. If you're not delivering, you risk high turnover, vacancies and even legal problems.
The only real way to know if you're succeeding or failing is to gather resident feedback. Sometimes they'll let you know right away if they're unhappy. Other times, they may let minor issues slide until one unresolved issue causes them to vent their frustration through an angry negative review.
Managing reviews for multiple properties can be daunting. Scouring through your reviews and taking the time to craft the perfect personalized response just isn't sustainable, especially with all the additional responsibilities a property management company has to juggle.
Fortunately, there are now tools property management companies can use to help respond to customer reviews at scale.
Automate responses to reviews
Responding to resident reviews will make them feel more valued and help boost retention. Consider that 41% of customers say that when brands reply to their online reviews, it makes them feel that the company cares about them. Additionally, 89% of consumers read replies to reviews, which gives them insight into how your company treats customers.
The right customer experience software platform should enable your team to set auto-response rules so you can focus on more complex reviews, while promptly responding to reviews that don't demand a personal response.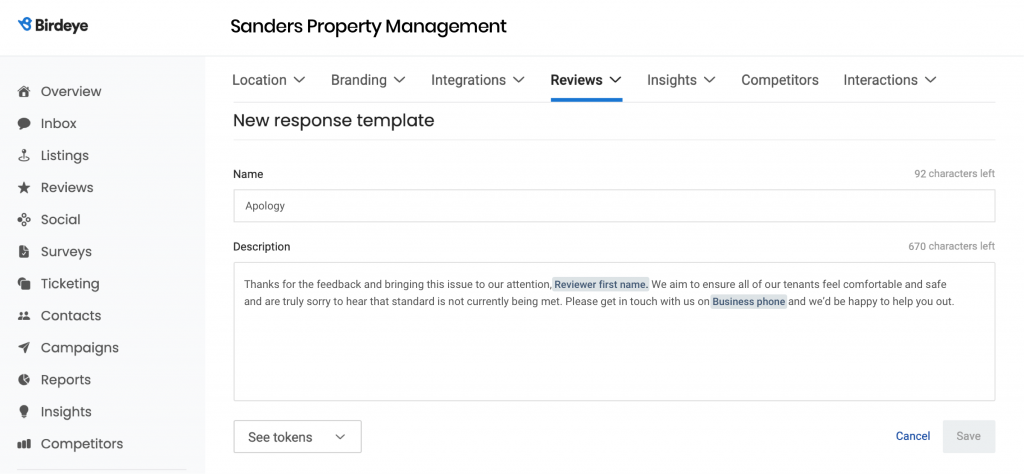 You can use a library of response templates, or create your own, so you have responses for your most common types of reviews. You can also set rules so that the same template is not used for consecutive reviews.
How Birdeye can help you overcome the challenges of resident communication
Birdeye's all-in-one platform provides a suite of solutions to handle all areas of resident feedback. With Birdeye, you can offer livechat and chatbot solutions, centralize resident communication channels, track reviews from more than 200 websites, and automate review responses. Our product is designed to help property management companies on every step of the journey, from reviews to revenue to referrals and back again.

Originally published