The customer journey has changed drastically over the past decade. These days, customers expect seamless experiences across digital touchpoints and instant responses to their messages. Despite these changes, many businesses maintain the same leadership structure they have had for decades.
Traditionally, CMOs were responsible for growing revenue and building brand awareness. Of course, paid marketing campaigns are no longer the best way to attract new customers. These days, the rise of the smartphone and social media means that customers are using the authentic experiences of other customers to inform their purchase decisions. The digital landscape requires a new position: Chief Experience Officer (CXO). A CXO dedicates their time to delivering fantastic experiences across physical and digital touchpoints and turning customers into brand evangelists.
We sat down with Brandon Dowdy-Ernst, CXO of Smile Workshop, to understand what exactly a Chief Experience Officer does and whether every company should have one. Here are the key highlights from the interview. 
Can you tell us a little bit about Smile Workshop?
Smile Workshop is a 14-location dental practice headquartered in Texas. We aim to deliver fantastic experiences to the families we serve by leveraging the latest advancements in dental technology.
Can you tell us a little bit about what a Chief Experience Officer does?
A Chief Experience Officer's job is to manage the customer journey or the patient journey from end to end.
To do this, we have to ask ourselves multiple questions such as: How are we reaching the patient? What does that experience look like when we finally do reach that patient, whether it's through Google search or Facebook advertising, or a combination of different channels? Then, what does that experience look like when that patient arrives at one of our locations for the first time? What happens during their experience there? What happens when they leave and what happens when they return?
A CXO is a much different role than the traditional Chief Marketing Officer. There's a much higher level of buy-in from CEOs and COOs, who are often averse to spending money on marketing. When you add experience to the equation, marketing spending becomes something much larger than just spending a dollar to make a dollar. Now, it's spending a dollar to make a customer for a lifetime.
Do you think more businesses should have a CXO?
Absolutely. I think every business should have a CXO. Nowadays, customer experiences are non-negotiable and prospects are making purchases based on what customers are writing on social media platforms and review sites. Not staying on top of customer experience means falling behind.
Can you talk about some of the steps that you've taken to improve the overall patient experience?
One of the most important priorities for us early on was collecting authentic patient reviews. We're sort of a medium-sized fish in the pond of dental, and we're often competing with practices with dozens of locations. Reviews help us stand out and build our brand, even though we might not have the same marketing resources as some of our competitors.
We also realized that to stand out, we needed to make it easy for patients to reach out to us. Dentistry tends to be a bit behind when it comes to technology because we need to take time and make sure that the software stack is HIPAA-compliant and protecting patient privacy.
To handle these needs, we decided to partner with Birdeye. So far, it's been going fantastic. We even decided to get rid of the sales CRM that we were using to track patients and use Birdeye instead. The Birdeye dashboard made it very easy for us to monitor reviews and maintain communication with patients and leads while staying HIPAA-compliant, and we didn't really need another system.
You mentioned that reviews help you attract potential patients. Can you give some more reasons why reviews are important?
There's a couple of additional reasons why reviews are beneficial. The first is that they're heavily weighted by Google's algorithm and they help our practice locations build authority on Google Search.
There's another big advantage: Sitting from my desk, I can monitor how each practice location is performing in terms of the number of reviews and overall star rating. If any individual location starts receiving negative reviews because of an experience issue, I can call up the location manager and find a solution. Operationally, it's like a command center — we're able to act swiftly when negative experiences come creeping in.
How are you ensuring that all your practices are collecting social proof from patients?
We send text and email review requests to all of our patients. This works because it simplifies the process. All patients have to do is click the link and leave a review.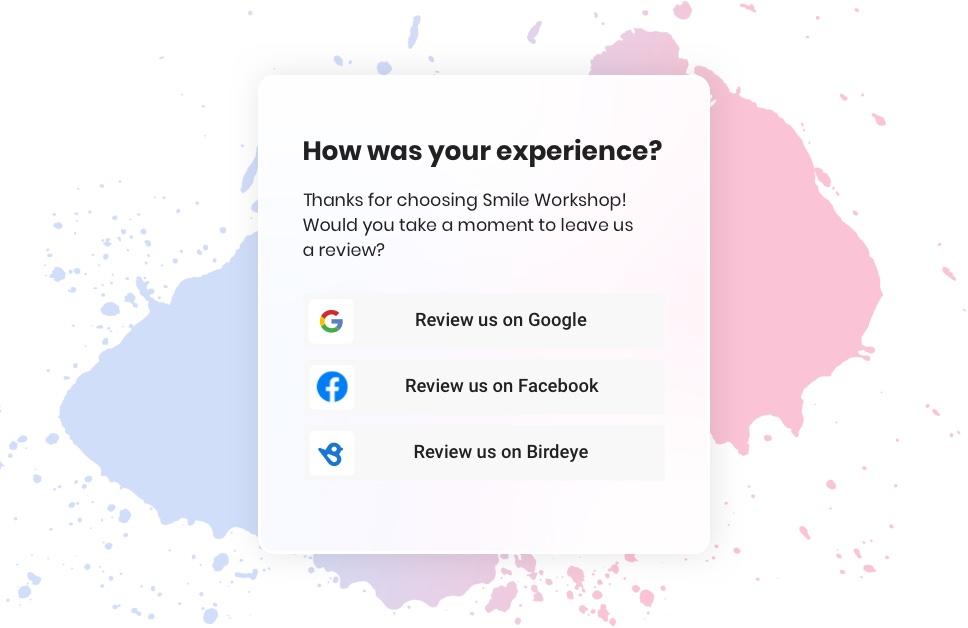 We've also set up a contest between different locations to see who can collect the most reviews. I can track who's in the lead by looking at the location-by-location breakdown on my Birdeye Review Report. Since we've gotten started with this, we've seen an exponential increase in our number of reviews.
Recently, we've gotten creative with some of our methods for collecting reviews. These days, everybody is getting used to using a QR code. We've often said if we're going to be high-touch then we need to be high-tech also. We decided to develop a QR code placard that we leave at checkout. This also leverages what's known as phygital in this new world of digital and physical that we're navigating. The QR code links directly to our Birdeye widget, where patients can leave a Facebook review, a Google review, or leave direct feedback.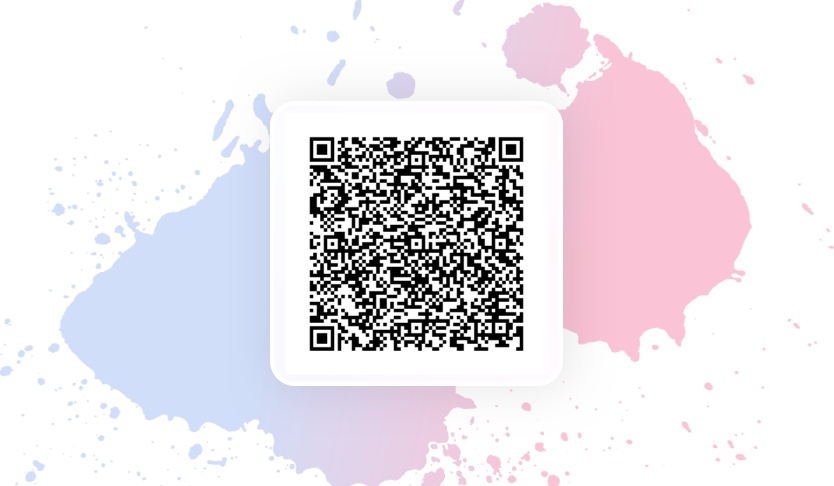 Can you tell us more about how you're using Live Chat to communicate with patients? What other methods of communication are you leveraging?
Our patient interactions are centralized at our patient contact center, which handles communications for each one of our fourteen locations.  This way, they're able to easily schedule a patient right from the website if they need to, or get the patients in contact with the location if they need to. 
Birdeye's Live Chat feature helped us because it enabled us to meet the patient where they're at. Now, patients can reach out to us via chat. If by chance the website visitor leaves the live chat, our team can reach out to them via text.
This text message capability is great because our team members are often busy handling communications from multiple patients at a time and can't always immediately respond to every chat message that comes in. If an employee isn't available, it's okay — they can text the patient a few minutes later. It's great because it helps us reduce friction and meet patients on the channel they prefer.
Get a comprehensive view of the customer journey today
Looking to get started delivering fantastic experiences across the customer journey? Try Birdeye. Smile Workshop and 100,000 other businesses use Birdeye's comprehensive Experience Marketing platform to collect reviews and referrals, connect with customers through website chat, send surveys at every touchpoint, and much more. There's no other product on the market that can handle all of your Experience Marketing needs in one easy-to-use platform.
Originally published