Google just rolled out dynamic email in Google mail. You can use 'AMP for Email' (Accelerated Mobile Pages) to send interactive, dynamic emails. This new feature is available now for all Gmail and G Suite business users by default.
Let's take a closer look at how Gmail's dynamic email functions, and why you should be excited about using it in the future – as an end-user as well as a business.
What's the functionality
As a Gmail user, you already know that if you want to take action in an email, there's usually a link that you click on, and it opens up a website in a new tab. From here on all your interactions take place in this new website tab.
However, with this new interactive feature, Gmail got more dynamic so that you can take action straight from within your inbox, like RSVP to an event, fill out a questionnaire, browse a catalog or respond to a comment.
Let's take resolving comments in Google Docs for example. When someone comments on a Google Docs document, a user can see those comments in a thread in Gmail, rather than receiving an alert in an individual email.
How companies are leveraging Dynamic Email
Some companies already using dynamic emails are Booking.com, Despegar, Doodle, Ecwid, Freshworks, Nexxt, OYO Rooms, Pinterest and redBus. These companies have started leveraging dynamic email to allow the interaction with calendars, pins, and reservations directly from within your Gmail inbox.
Let's look at some of these examples.
1. The service allows companies like Booking.com and OYO rooms to send an email about hotel bookings and rentals. Their users can navigate and view details about their lodging within the email itself rather than opening a new tab and searching.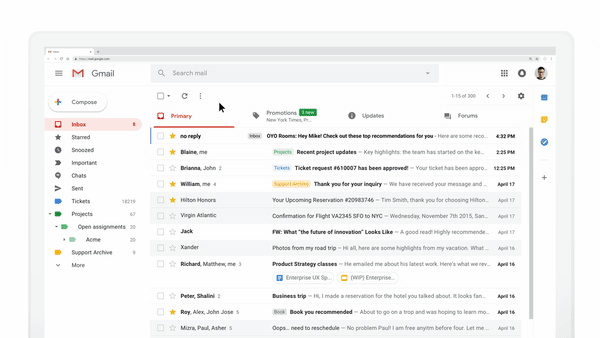 2. Next, social media giant Pinterest allows users to discover and save new ideas to boards from within Gmail.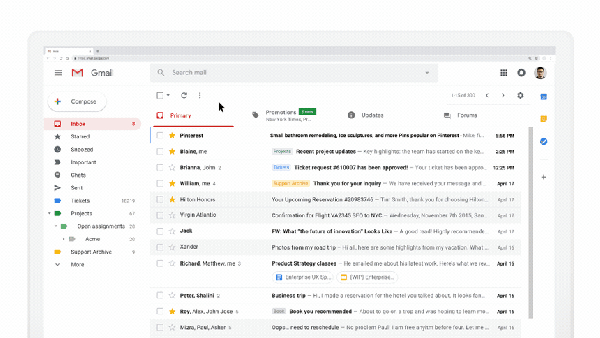 3. Doodle is using it to book appointments, take polls rather quicker without letting the user wander outside of the email.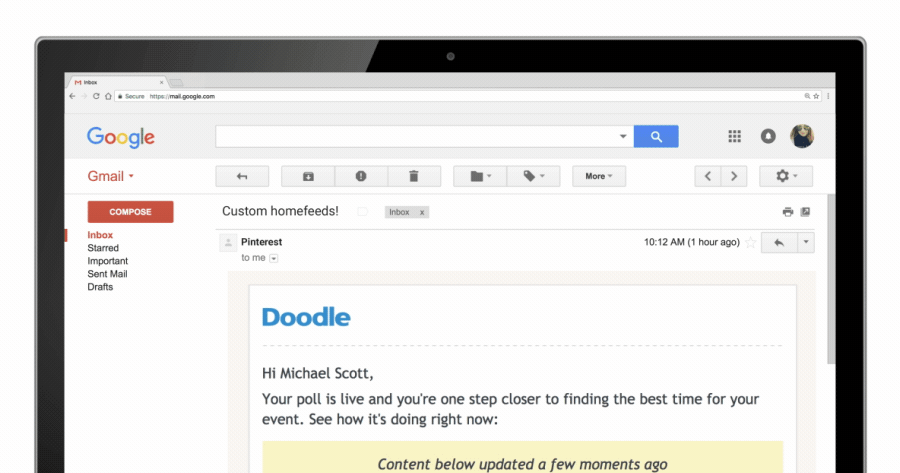 How to get started with Dynamic email
As of July 2nd, 2019 dynamic email has been activated by default for all Gmail and G Suite business user's inboxes. If you receive a dynamic email you will be able to use it's interactive functionalities right away.
It is easy to recognize these new emails. When you receive a dynamic email, a lightning bolt icon will show up next to the date the email was sent.
As an End User
If your admin has not disabled it, Gmail and G Suite users have already started to see dynamic emails from senders.
You can disable / enable dynamic email by following these steps:
1. Sign in to Gmail.
2. Click on the gear icon ⚙︎ in the top right, then click on "Settings".
3. Scroll to "Dynamic Email" and toggle to enable or disable this feature.



4. Click "Save Changes" at the bottom of the page.
As a Business
As a business, you can embed dynamic content into your messages using AMP. In order to do so, you will need to have your functional demo version submitted and approved by Google. Here's how to get started:
1. Ideate and build your first prototype
To get started with AMP for Email, you first need to build the emails to include AMP components. Visit the complete reference on the AMP Project developer site to build emails.
2. Test before you submit to Google
Before you send a AMP-powered dynamic email, you want to make sure its contents and behavior is verified.To test this, you can send messages to yourself. Visit Gmail's AMP for Email Playground to draft AMP emails where you can see a live preview, and have your emails sent to your own Gmail account for testing.
3. Register with Google
After the test is passed and you are ready to launch your dynamic emails to your users, you must register with Google. Make sure to follow the guidelines and requirements listed in the official documentation.
On a final note, Google has already made dynamic email available for Gmail and G Suite users on Chrome, Firefox, Opera, and Safari on desktop and promises to launch AMP for email on mobile soon.
Have you received any dynamic emails yet?

Originally published