Google marketing is essential to success in today's market – no matter the size of your business. However, creating a strong online presence can be a daunting task for some small business owners.
The good news is there are many resources available that can help you create a Google small business marketing strategy. In this article, we'll take a look at five of the most useful SEO tools small businesses should use when building their online presence – especially on Google.
Free Google marketing tools for small businesses
If you want to really get started marketing your small business, Google has you covered. Let's go over some of the best free tools you can use to market yourself effectively.
Google Business Profile (Formerly Google My Business)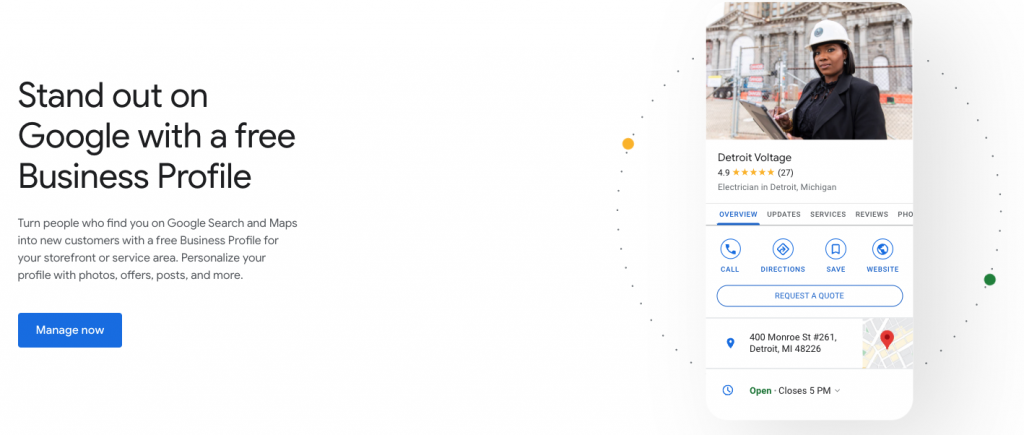 The tool you should look into is Google Business Profile – formerly Google My Business. Google Business Profile is a free service you can use to manage your digital presence on Google or Google Maps.
When you create a Google Business Profile, you can easily provide customers with all the information they need about your business. You can tell Google what you do, where you're located, and when you're open. You can then add even more information to boost your business's reputation, including reviews, pictures, and links to your social media profiles.
The more you communicate with your customers, the more they – and Google – will see you as a reputable, trustworthy business. Using a Google small business marketing tool like Google My Business can help you create a strong online presence and attract potential customers.
Google Ads (Formerly Google AdWords)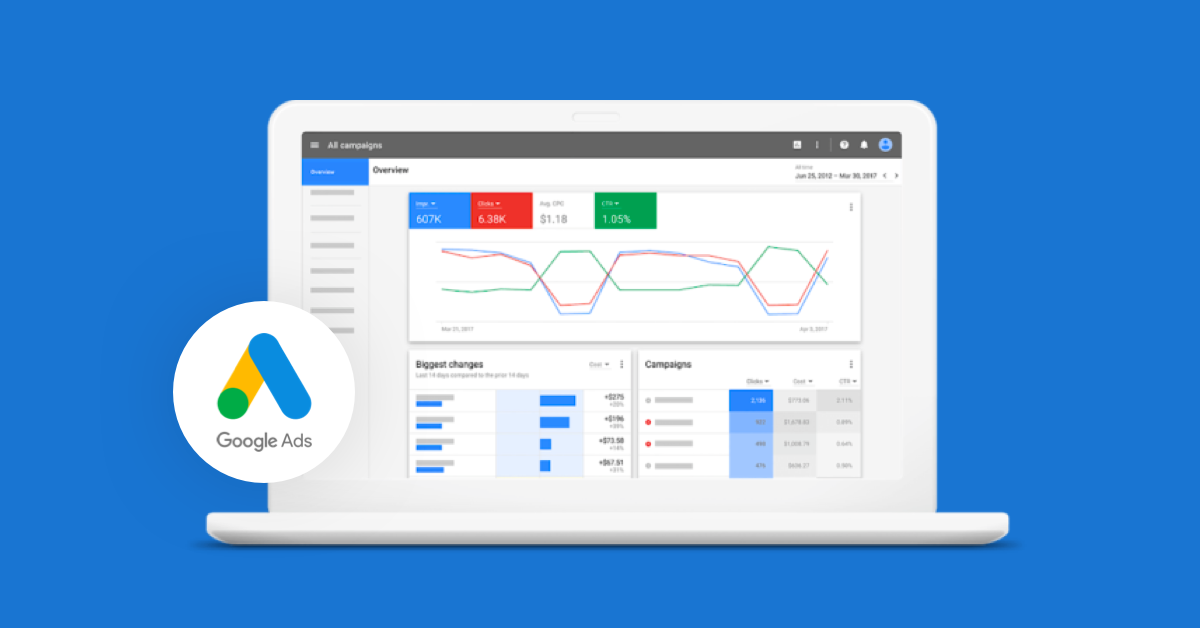 Once you've established an online presence, you need to promote your business. Google Ads – formerly Google AdWords –gives you an easy way to create ads for your specific campaigns. With Google Ads, you can simply decide what your ad will target, write some keyword-rich copy, pick a budget and choose a start and end date. Google Ads will use that information to generate tailored ads to promote your business.
The simple, step-by-step process for Google Ads:
Pick a goal:


Google Ads will let you choose what you intend to accomplish with the ads you create, including getting more site traffic, getting more phone calls, getting more in-store visitors, etc.

Choose your advertising range:


Whether you want to advertise locally, or to the whole world, Google Ads will let you choose the reach of your advertising.

Create your ad's message:


By adding a short and sweet written message, or by adding pictures, Google Ads will generate a quality ad promoting what you would like to display about your business.

Set your payment range:

You can set a monthly budget cap before promoting your ad and get estimated results of your budget.

Start promoting your business:


Once you've followed these steps, you can go live with your ads and start promoting your small business and building your online reputation.
Google Ads Keyword Planner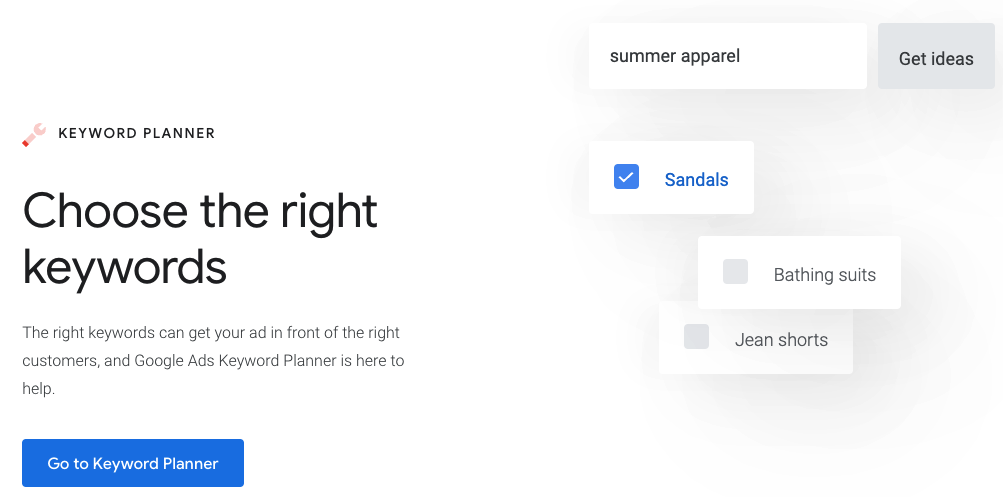 When you're creating your ad, you have to factor SEO in if you want your customers to see it. Google's Keyword Planner can help you find and use the best keywords in your ad to place it directly in front of your customers.
The keyword planner can give you plenty of keyword functionality like keyword research, recommended keywords, and bid estimates to help you plan your ad budget. Once you've established what keywords you want to use and what your budget is, you can put together your advertising plan, share it with your team, finalize it and launch it.
Google Trends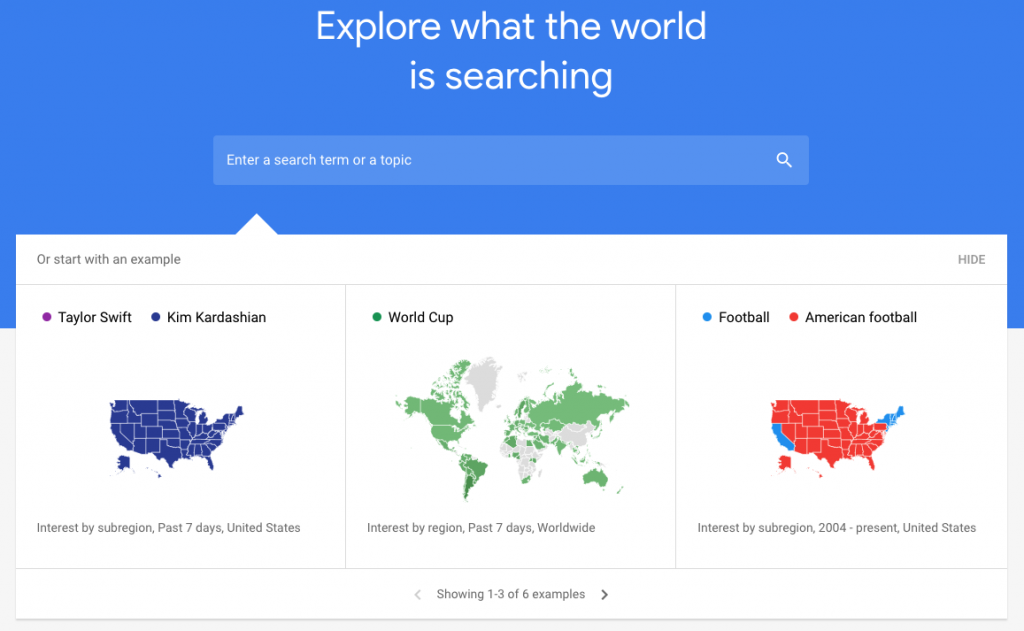 SEO often relies on keeping up with the latest trends. Google Trends is a tool that you can use to analyze the latest top trends in Google's search queries. By using Google Trends with keywords related to your industry, you can see what your leads are searching for to understand them better and tailor your marketing strategy directly to their current wants and needs.
You can search certain keywords and topics on their own, or you can search multiple topics at once to compare their search volume. You can use this feature to compare competitive businesses and products to make a more informed decision on your current business decision.
Google Analytics
Businesses of all sizes need to know how and why customers are visiting their websites. But Google Analytics is especially useful for Google small business marketing.
Google Analytics can tell you where your website is successful and where it needs improvement. The service can show you which pages get the most traffic, where customers click, how they navigate from page to page, how long they stay on a page, where your customers are located, and more.
All of this information is critical to optimizing your business's online reputation and helping you create a site that attracts more potential customers.
Google Search Console (formerly Google Webmasters)

If you want your website to rank on Google and keep your ranking, you have to know how your site is performing. Google Search Console measures important performance metrics and gives you actionable reports to improve your SEO strategy.
Some of the metrics that Google Search Console can provide you with are your site's impressions, Google search positions, and clicks. Knowing how you are performing in each of these metrics will help you to see where you are excelling, and where you could improve to rank higher in Google's search results.
Google Alerts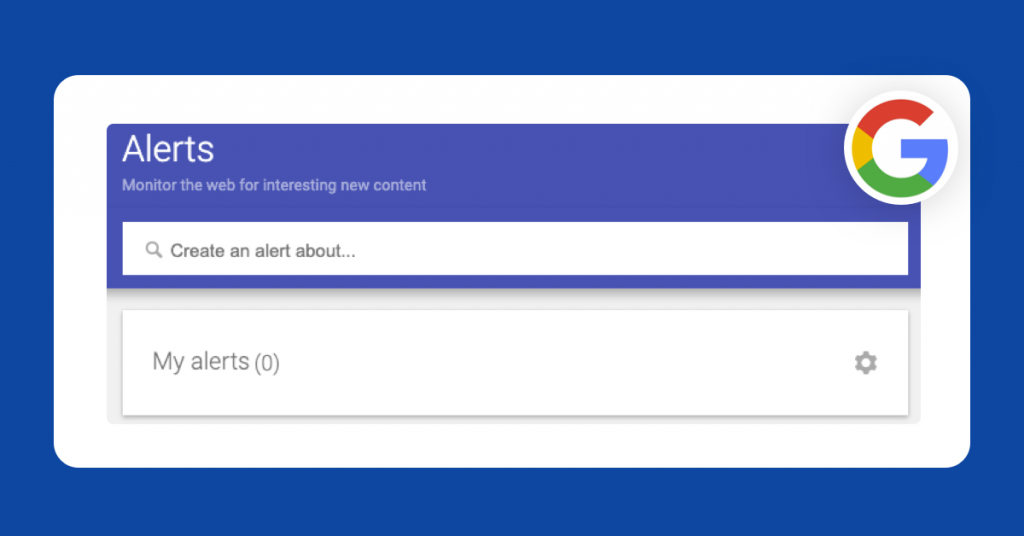 When you're building an online presence for your business, you'll also be building an SEO standing, so it's important to know where and when your business is being mentioned online. This is where Google Alerts can be of help
To use Google Alerts, type in your name, website, and any other information related to your business in the box at the top of the screen. Then, select how often you'll get notifications, which sites you'll see, where you want to see information from, and how many results you want to see. You'll then start receiving email alerts any time your business is mentioned online.
With Google Alerts, you can see where, when, and how your customers and other businesses are talking about you online. After that, you can choose to reach out to those customers or businesses to ask for reviews or backlinks to your website.
Google Data Studio
Knowing how your website is performing is only half the battle. Google Data Studio is a useful tool for taking the data that you need to know about your business and website and turning it into visual charts and tables to help your team collaborate on them.
Once you create actionable charts and graphs to illustrate the metrics of your business, you can work to make the necessary improvements to boost your ranking and get more sales.
Google Tag Manager
Web tags are important pieces of your website's code designed to help gather data or add functionality to a site. Google Tag Manager helps you manage all of your website's tags without having to dive directly into the code and change it manually.
Google Tag Manager has a free tag management solution and offers a more in-depth service with Tag Manager 360 that you can purchase with more available features. Whatever service you choose, Google Tag Manager can make your life a little easier without messing with code.
Google Marketing Platform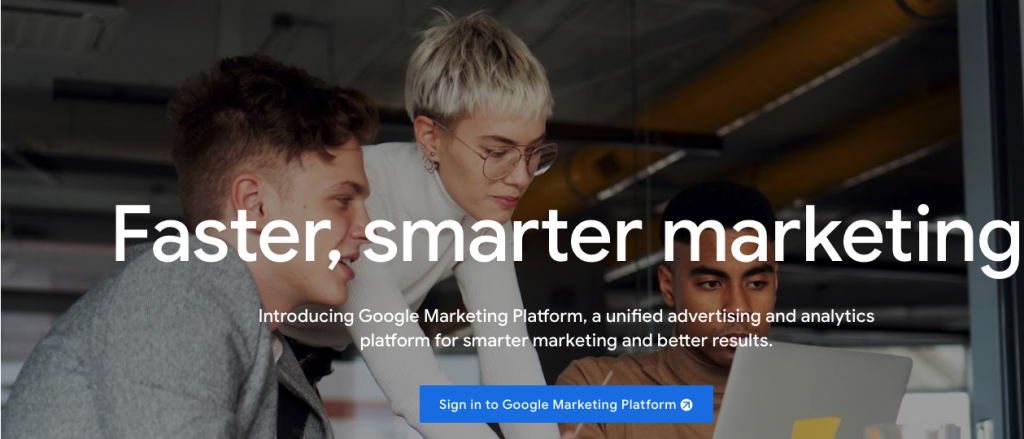 As your business grows online – even if you stick with one location – you'll want to know how your website is performing. Using Google Marketing Platform is a great way to handle all of your advertising and analytics in an easy-to-use platform. It gives you the tools to run tests on your site for user experience, generate useful reports on your metrics, and can give you important insights into what your customers are looking for.
Here are the best internal tools inside Google Marketing Platform:
Campaign Manager: Helps run your campaigns and measure their performance
Search Ads 360: Track campaigns across sites like Google Ads, Bing, Yahoo, etc.
Display & Video 360: Manage and display video campaigns
Analytics 360: Help you understand how customers interact with your website
Optimize 360: Create experiments to see what content works best on your site
All of these tools are increasingly useful as your site begins to gain more traction, get more visitors, and more attention.
FAQs about Google small business marketing tools
How do I promote my business on Google?
The most important thing you can do to promote your business on Google is to set up your Google Business Profile. Then, you can customize how your business shows up on Google Search and Google Maps and optimize your profile to rank higher on those platforms.
How do businesses use Google for marketing?
Businesses can use Google's tools to help market themselves effectively. For example, Google Business Profile helps businesses create a detailed online presence to build more customer awareness while Google Ads can pull in more traffic and leads through tailored ads to target customers.
How do you get listed on Google?
Once you've created your Google Business Profile, it will be listed on Google Search and Maps free of charge.
Get more Google reviews with Birdeye
Another important part of building a strong reputation with Google is getting reviews. The more Google reviews you have, the more customers will view your business as reputable, making your business more visible and attractive to customers on search. And no platform is as powerful or effective as Birdeye at helping your local business generate and manage reviews. Learn more here.

Originally published