According to research, approximately $150 billion in revenue is lost each year in the healthcare industry due to no-show appointments. To combat that, many medical practices are shifting to online scheduling software to help streamline their appointment process.
However, regulators require that all medical software be HIPAA compliant in order to protect patient information. Fortunately, there are a number of HIPAA compliant appointment scheduling software available. In this blog post, we'll explore what features good software should have as well as some of the top scheduling apps on the market.
What is HIPAA compliance?
HIPAA compliance refers to the rules and requirements under the U.S. Health Insurance Portability and Accountability Act (HIPAA). This requirement governs companies dealing with protected health information (PHI) and requires entities to have security measures in place to protect their patients' privacy.
Companies and institutions that provide treatment, payment, and other operations in the healthcare sector, including medical clinics and insurance companies, are subject to these HIPAA compliance requirements.
Other parties may also be governed by HIPAA compliance rules, including business associates who have access to patient and other health information, as well as subcontractors. If you're looking for better solutions with HIPAA compliant scheduling features for your office or practice, below are guidelines and software tools to consider.
Important HIPAA compliant scheduling software guidelines
Data encryption
HIPAA guidelines require that scheduling software tools must provide data encryption protocols to acceptable National Institute of Standards and Technology (NIST) measures, particularly when PHI moves beyond the organization's internal firewall servers. The reason is if a security breach occurs, the patient's personal data cannot be used or understood.
Access controls
Online scheduling software must have user access controls in place to ensure that only those authorized to access patient data can do so, whether in-person, remotely, or through the cloud. These requirements also extend to third-party access.
Audit trails
HIPAA-compliant scheduling software is also required to provide an audit trail that accurately records all changes made to patient health data. Patient scheduling software also needs to analyze the results of its audits and record any deficiencies the audit uncovers.
Secure messaging
HIPAA compliance entails that patient scheduling software must also offer secure messaging to enable communication between patients and relevant institutions. To comply with this, use appointment scheduling software that offers certain security features like encrypted communications. Or invest in software that sends notifications by email or text, neither of which includes PHI.
Data backup and recovery
HIPAA rules require that online scheduling apps must have data backups in place and recovery features to ensure that patient data is not permanently lost in the event of a system failure. As a general rule, HIPAA requires that businesses and organizations have contingency plans in place in times of emergency. Failing to do so means risking steep financial penalties.
Regular risk assessments
HIPAA compliant scheduling software should enable your organization to perform regular risk assessments of your scheduling software. This is to identify and counteract potential threats to your security. Conducting regular risk assessments will bring to your attention any likely or potential threats. Additionally, it can inform you of the consequences of such a breach.
Employee training
All staff members with access to HIPAA compliant scheduling software and, in turn, patient data are required by law to be trained periodically on HIPAA guidelines and the proper use of technology and security measures. This is not limited solely to say, doctors and nurses. It also extends to administrators and other personnel, too.
Best HIPAA compliant scheduling software
Now that we've covered the major important HIPAA compliant scheduling software guidelines above, it's time to examine the top nine appointment scheduling software out there. Ensure your institution or practice is compliant with its HIPAA requirements in 2023 when you implement any of these software solutions.
Birdeye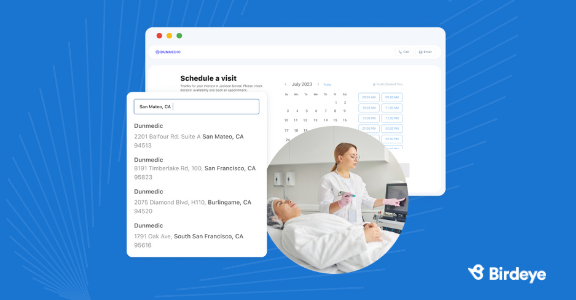 Birdeye Appointments gives healthcare businesses an easy way to manage online appointment scheduling, reminders, recall, and intake forms from one simple-to-use platform. Medical providers can also rest assured that patient data is secure with its HIPAA compliant features. With Birdeye, you can grow your practice, reduce no-shows, and streamline operations.
Kareo
Karero is an all-in-one electronic health record (EHR) practice management and patient engagement platform that includes HIPAA-compliant scheduling features. Kareo's online scheduling features include appointment management, medical billing, analytics, secure messaging, appointment reminders, and controls to protect patient data. It also includes tools to track your compliance. As Kareo has a per-claim billing practice, it typically suits smaller practitioners who manage less data.
SimplePractice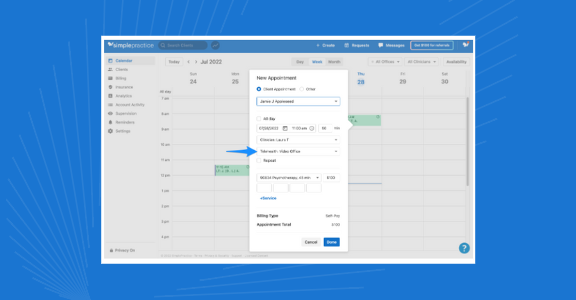 SimplePractice is a practice management platform that includes HIPAA compliant scheduling software features. It's an online scheduling tool primarily used by therapists, including behavioral therapists, typically who run a private practice.
This appointment scheduling tool includes secure messaging, online billing, customizable intake forms and templates, and can integrate with third-party calendars. It's designed to ensure maximum patient engagement.
TheraNest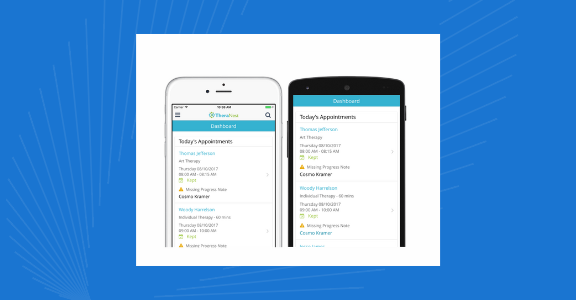 Similar to Kareo, TheraNest is another EHR and practice management platform inclusive of HIPAA compliant scheduling software features. TheraNest includes client reminders through the app or via email, group appointments, invoice management, and claims submissions. This appointment-scheduling software is suitable for individual practitioners as well as group practices, particularly in the mental health and social services fields.
Luminello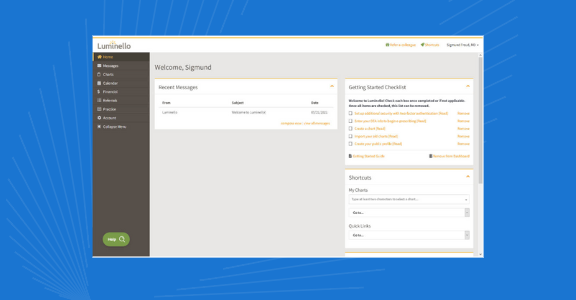 Luminello is a HIPAA compliant scheduling software system that includes scheduling features and provides secure video conferencing for telehealth sessions, ensuring patient engagement with the app. Through Luminello, clients can also interact directly with pharmacists and securely book appointments with limited effort.
Acuity Scheduling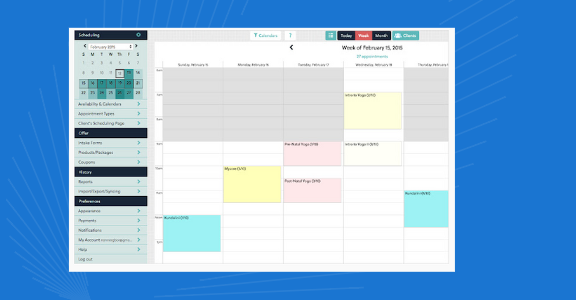 Acuity Scheduling is an online appointment scheduling software that specializes in healthcare businesses with multiple locations. It also allows you to store client information within the systems in a HIPAA-compliant manner. Its top features include secure messaging, appointment reminders, and its ability to sync with third-party calendars and over 500 applications.
Zoom for Healthcare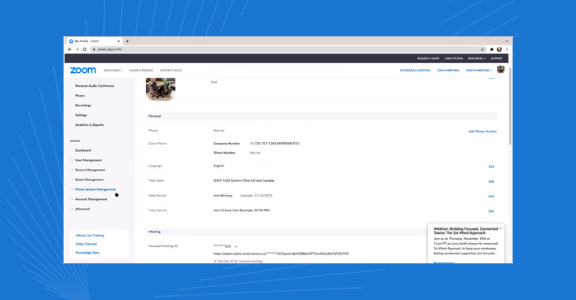 Zoom is a mainstream, popular video conferencing platform that also ensures HIPAA compliance. Its healthcare plan includes scheduling features, screen sharing, and recording capabilities that can be used for telehealth appointments. Zoom for Healthcare is the only major platform that provides access for multiple participants on a call. This also makes it an incredibly attractive option for healthcare teams who are required to collaborate or meet with patients' family members as part of their care plan.
Doxy.me
Doxy.me is a telemedicine patient scheduling software with full HIPAA compliance capabilities. It includes scheduling features, digital waiting rooms, patient queues, video conferencing, and live chat. Doxy.me is user-friendly for both healthcare providers as well as patients. Moreover, it's suitable for larger organizations to use as a solution.
CareCloud
CareCloud is a HIPAA compliant cloud-based EHR platform that offers patient appointment reminders, waitlists, and a mobile app for on-the-go scheduling. It's also a great solution for providing access to patient data. It uses industry-grade encryption products as well as a commercial-grade firewall to defend against potential breaches. It has a number of built-in security features, like automatic session lockouts, verification, and password complexity requirements.
FAQs about HIPAA compliant scheduling software
Does scheduling software need to be HIPAA compliant?
Yes, anyone who provides treatment, receives payment, and operates in the healthcare sector is required to comply with HIPAA. This includes scheduling software that has access to patient health information.
Can Calendly be HIPAA compliant?
No, Calendly is not currently HIPAA compliant. While Calendly takes steps to ensure security is maintained and data is encrypted, it's technically not to be used for collecting patient data.
Is Google Calendar HIPAA compliant?
Yes, according to Google, Google's services are HIPAA compliant, provided that users sign a Business Associate Agreement (BAA) with Google. Users who don't have one should not use Google's services in connection with protected health information.
Improve patient care with a HIPAA compliant scheduling software
For for medical organizations handling confidential PHI, privacy, and security are paramount and a legal obligation. Failure to abide by HIPAA's requirements could result in a severe financial penalty or worse. And choosing a scheduling software without HIPAA compliant assurances puts patient data and your practice at risk.
Stay compliant by choosing a HIPAA compliant scheduling software that complements your services. Select a solution that instills confidence and security in both your patients and staff, while ensuring compliance for your healthcare organization.

Originally published