"Be where your customers are" is more than just a basic principle of marketing. It is the foundation of effective marketing, delivering a quality customer experience, and establishing a competitive differentiator. 
Consumers have a wide array of channels to choose from when engaging with businesses. But, chat is one of the leading channels for attracting new customers. 69% of shoppers in the US demand chat features from a business.
However, this communication channel has a big issue: live chat is difficult to scale. When you reach a certain volume, one-to-one communication becomes too expensive. That's why more and more businesses are investing in chatbots – more than 80% of businesses plan to implement chatbots for converting leads this year.
Chatbots represent a huge opportunity for you to leapfrog your competitors, with minimal investment. They provide a conversational way for you to convert website traffic into sales-qualified leads while offering support 24/7.
What is chatbot
As we mentioned earlier, live chat can be extremely convenient, however, it can be difficult for businesses to have a live representative available around the clock. That's where a chatbot feature can come in handy.
A chatbot uses artificial intelligence and machine learning capabilities to answer common customer questions with predetermined answers. This means no live representative is needed.
With chatbots, customers can have online conversations just like they would if they were communicating with a real person.
You can automate chatbot responses to frequently asked questions, like:
Where are you located?
What are your business hours on the weekend?
And, do you accept all major credit cards?
With a chatbot, customers get quick answers to their questions – giving your staff more time for other business activities.
Benefits of a chatbot
If you've ever used a chatbot, you know it can be useful for things like customer service or getting quick answers to simple questions. But did you know that chatbots can also be used for more complex tasks? For instance, chatbots can be used to schedule appointments, make travel arrangements, or even purchase a product or service.
As artificial intelligence continues to evolve, so too do the possibilities for chatbots. In the future, we may see chatbots that are able to carry on full conversations and replicate the experience of talking to a human being. This will certainly be helpful for both businesses and their customers.
With a chatbot, you can also move the conversation to text and continue chatting anytime and anywhere. Here's how.
When a customer clicks the chat widget on your website, they'll be asked to submit their name, phone number, and question. With this information in hand, your business can follow up with the customer via text if the conversation needs to go offline. A "textable" chatbot also comes in handy if your business is dealing with technical issues, like spotty internet.
Effective chatbots
As we mentioned earlier, it's challenging to have a representative constantly available for live chat. This is where a chatbot can step right in. An effective chatbot will:
Answer promptly
Respond accurately
Provide basic customer service
Refer the customer to an agent if necessary
Answer promptly
When responses to a customer are delayed, your business is missing out on an opportunity.
If a customer asks a question and has to wait too long for an answer, they'll probably move on to another business ready to help them.
Also, keep in mind that a chatbot's response should be conversational – both in tone and timing.
Respond accurately
Your chatbot should always answer customer questions with relevant and accurate information.
You'll need to dedicate some time to write thoughtful, detailed answers to common customer questions. That way, your chatbot's pre-determined answers will always be correct and helpful.
For example, if a customer asks, "Where are you located?" – you'd expect the chatbot to respond with your address and phone number. But what if the customer asks that question in a different way like: "What is your address?" or, "Are you still located on Washington Road?"
If you don't plan ahead, the chatbot may deliver an unrelated answer that can frustrate the customer.
Basic customer service
There are some basic customer service questions that your chatbot can, and should, handle. Questions like:
"What services do you offer?"
"Do you accept checks?"
"What are your hours on the weekend?"
If your chatbot can answer these baseline questions, your customers will receive the information they need without the hassle of a phone call or email.
Refer the customer to an agent
Finally, make sure you have a backup plan in case a customer's question is too complicated for a chatbot to understand. You'll want to redirect the customer to either a livechat representative or business text.

8 best practices for converting leads with chatbots
Now, let's dive into some best practices that you can start using today to convert more leads with chatbots.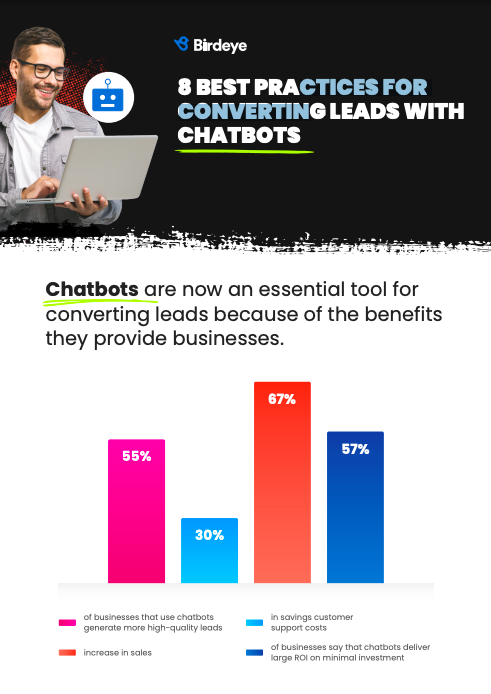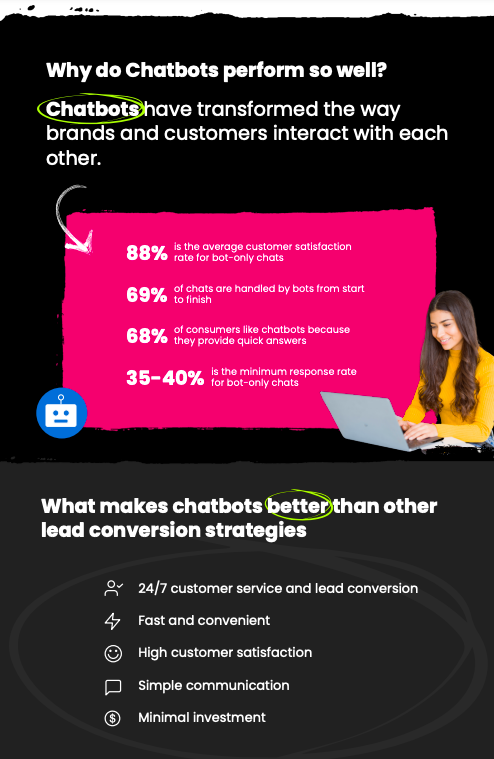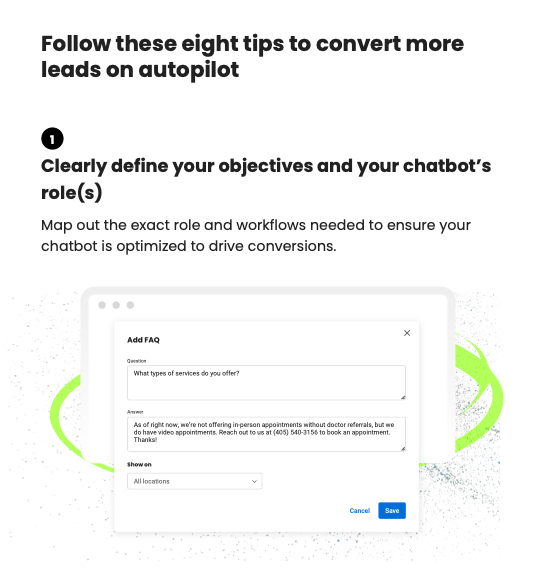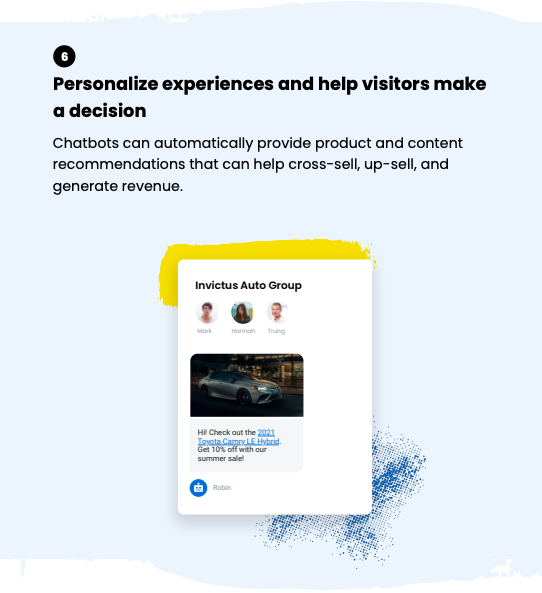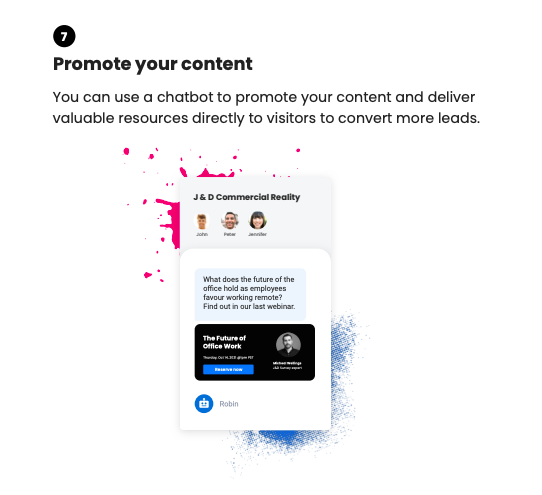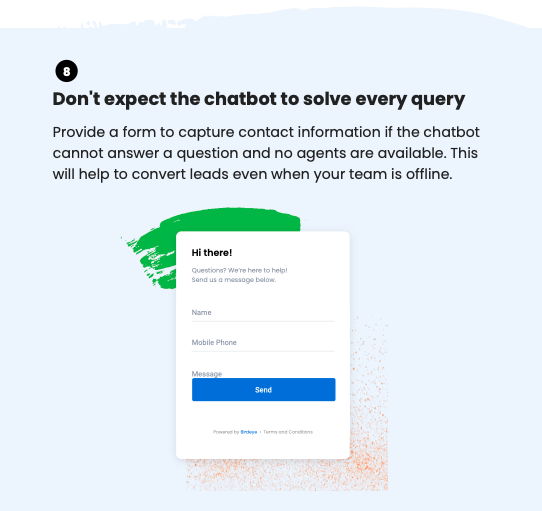 Choosing the right chatbot for your business
Even though it might sound overwhelming, picking chatbot software doesn't have to be difficult. You'll just need to make sure of a few things before finding the one that'll benefit your business the most.
First, pick a software that can seamlessly integrate with your website and any other software you already use. In order to maximize the effectiveness of your chatbot, it should work well with the systems you've already established.
Also, make sure the software is customizable. For example, you might need a website chat that can support conversations across multiple locations or websites.
Next, be sure you can change the appearance of the chatbot widget to keep your branding consistent.
Finally, your chatbot should be able to display names and pictures of chat agents for a more personalized experience.
Get started with Robin: Birdeye's chatbot for converting leads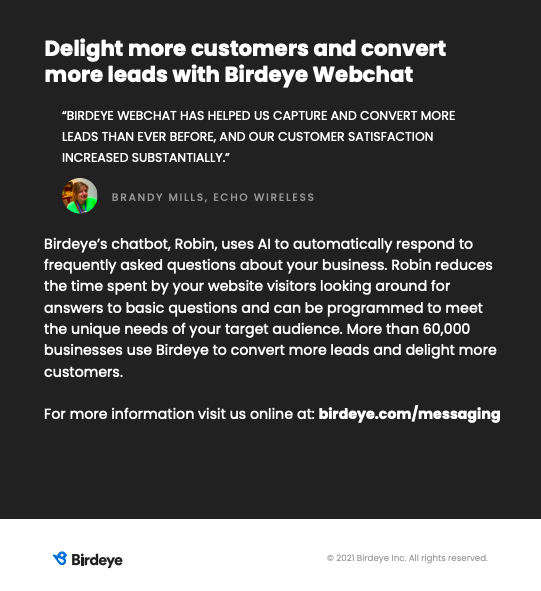 Generate leads 24/7 with Birdeye Webchat
Birdeye Webchat is extremely versatile and loaded with all the functionality that you need to manage interactions with your website visitors and convert them into paying customers. Make your customer's queries a top priority and deliver an exceptional customer experience. Over 100,000 businesses use Birdeye to generate more leads, delight more customers, and accelerate growth.

Originally published