We're thrilled, after a year of research and development, to finally introduce Birdeye Messaging. It combines several powerful messaging tools in one place – Livechat, Chatbot, Mass Texting, Receptionist, Custom Templates, and Internal Notes. It's a modern messaging platform built from the ground up with a single goal in mind — to help you sell more.
While reviews help new customers find you at the moment they begin their search, it is the interactions your business has with customers that convince them you really are deserving of their business.

Introducing Livechat and our Chatbot, "Robin"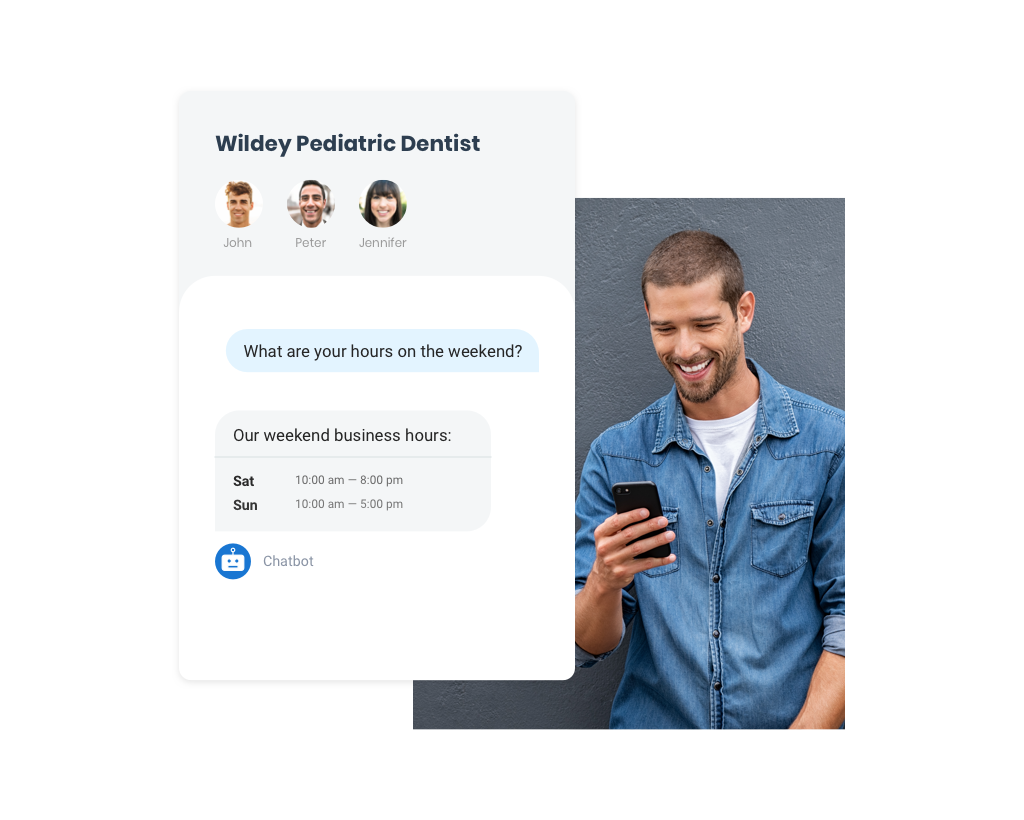 One of our customers in Dallas, TX area recently decided to add Webchat to her website because "it couldn't hurt". Now she says,
Turns out it's the best thing ever. My customers and new clients talk to me on my Webchat widget all the time. I'm never giving up my Webchat!
So how can we make something that good even better? We have a few ideas.
Livechat. Chat in real-time with customers while they are on your website. Whether it's your sales or customer service teams — or both — use Livechat to communicate with your website visitors while they are on your website. Answering questions and resolving customers' problems = happy customers and more sales for you.
Chatbot. Our chatbot, Robin, uses AI to automatically respond to frequently asked questions about your business. Robin reduces the time spent by your website visitors looking around for answers to basic questions. And also lets you focus your time on responding to more complex questions.
Webchat. If Robin can't handle a question or if you turn off Livechat, Webchat kicks in and lets your web visitors know you'll soon reply with a text. And for those of you who haven't used Webchat, it captures the visitor's name, phone number and a message to turn website visitors into leads.
Messaging is the centerpiece of our one-stop-shop for you to communicate with customers.  It is integrated with Webchat, Chatbot, Livechat, Facebook Messenger, Google Business Profile messaging, Instagram DM, text messages, and Receptionist.  You will also be able to initiate your mass text messaging campaigns from here itself. And we'll continue to integrate other innovative ways for you to interact with your customers — all from one single screen.
Message Templates. Create reusable text templates that save you time. Whether you're creating templates for your entire business or your own personal use, this is a major time saver. And now you can do it all from within the messaging platform.
Add Attachments. Yes, that includes emojis👍 and .gifs! But more practically, it includes pictures and PDFs.
Internal Notes. Add notes for yourself or other team members in line with the customer conversation. And no, notes will not be visible to customers — they're just for you and your team.
Team Collaboration. After you add a note to a conversation (and even if you don't add a note), assign messages within your team for better team collaboration and get the best answer for the customer, easier & faster. Once a message is assigned, the assignee will see it in "My open messages" as a task item for them to take care of.
Speaking of open messages, we have updated the labels in the right column to help you better classify your messages based on your workflow.
"All" : This is where all the messages your company has received will be located.
"Open messages" are for the messages your team is still working on — you don't feel they are resolved so you want to leave them open.
"My open messages" are for messages assigned to you that are not yet resolved.
When messages are resolved, click on "Close" and they will be removed from your view. And of course, they are still viewable in "All" or if you search for them.
Mass Text Messaging = Promotional Text Messaging!
Many of you have asked for this, and we're happy to introduce Mass Text Messaging which you will be able to access through Campaigns. Easily send text messages to hundreds of customers at once.
Never Miss a Customer Message with Chrome Notifications
According to the Harvard Business Review, a quick response is everything. You're 10x more likely to connect with a prospect if you respond with the first 5 minutes. Birdeye makes it easy for you to never miss a customer message. Now, you can choose to get notifications on Google Chrome so you'll know instantly when a customer reaches out.


And One More Thing… Say Hello to "Receptionist"
With Receptionist, you can say goodbye to phone tag with customers. It integrates with your business telephone line, transcribes voicemails, and adds them to your messaging dashboard. Then, using Chatbot, it can recognize and respond to frequent questions. And if Chatbot can't respond, you simply reply through the inbox at your convenience.
Birdeye – The Experience Marketing Platform for Local Businesses
There's a reason Birdeye consistently wins awards from organizations like G2 and the American Business Awards. Birdeye's intuitive, comprehensive platform gives local businesses everything they need to deliver the best customer experience. Whether it's helping businesses engage customers through digital interactions, gleaning insights from reviews and surveys to improve your overall business performance, or promoting their customer reviews so the next customer can find them — Birdeye is the experience marketing platform of choice for local businesses.

Originally published