Balancing corporate consistency and local authenticity with Birdeye Social
Company Snapshot
Founded in 2016, Valley Veterinary Care is a large and growing group of veterinary hospitals and wellness clinics with 24 locations across Texas, Colorado, and California. They prioritize family pet care with passion and purpose while committing to genuine respect through ever-changing environments. Valley Veterinary Care's daily operations are guided by these commitments as they continue to provide outstanding service for their local communities.
"Our customers think of their vet as the other family doctors. They stick with us for multiple generations and the lifetime of their pet. So our social posts really need to reflect those connections. When things look like they were generated by a corporate entity, it just doesn't feel as authentic.."



Meghan S. Bingham, CVPM
Senior Operations Manager, Valley Veterinary Care
Background
Valley Veterinary Care prides themselves on their dedication to local communities and personalized pet care. Each location maintains a unique personality and an authentic local presence, which is highly valued by both the company and their patients. Given the diverse locations within their organization, Valley Veterinary Care has established separate social media profiles for each of their 24 locations, totaling 75 unique social media accounts across Facebook, Instagram, and Twitter. This approach ensures that their content is tailored to the specific needs and preferences of each local audience. Valley Veterinary Care's social media management and its successful utilization of AI-driven features provided by Birdeye Social are highlighted in this case study.
Balancing corporate consistency with local authenticity
Managing social media across 24 locations can be a daunting task, especially while ensuring consistency and quality in content. Valley Veterinary Care wanted a centralized approach, but there was a concern that content might appear too corporate and lose its local touch. They searched for a new strategy that allowed their audience to feel a genuine, personalized connection online without tedious processes.
With the help of Birdeye Social, Valley Veterinary Care can now seamlessly share compelling, informative, and relevant content that resonates with a broader audience while preserving the unique charm and character of each location. Birdeye Social gives Valley Veterinary Care tools like the content calendar, personalized tokens, and location-based reporting to thrive in a modern market.
Additionally, Birdeye has helped Valley Veterinary Care develop a user-generated approach to content through QR codes, encouraging employees and patients to share content. This provides Valley Veterinary Care with a steady flow of authentic and engaging content that helps them further maintain their delicate social balance.
"It's so important for each of our practices to share their own personalities so they can keep that authentic local presence. Birdeye Social allows us to post across locations while still connecting with our communities. We can post in bulk while keeping the voice of the practice without the tediousness of posting individually to each account."
Meghan S. Bingham, CVPM
Senior Operations Manager, Valley Veterinary Care
The implementation of Birdeye Social brought about several significant benefits for Valley Veterinary Care:
Streamlined social media management that significantly reduces time and effort

Increased engagement across social media platforms and steady growth in the number of followers

AI-generated content that appeals to a broad audience on a local level

Consistency in messaging while still preserving the unique local identity of each practice

A better approach to monitor social engagement and reputation
Crafting captivating content with BIrdAI
In addition to managing local content, Valley Veterinary Care also wanted to keep content fresh and engaging— which was a challenge for their large network of practices. The Valley Veterinary Care marketing team needed to find unique ideas and topics that resonate with different communities while preventing them from scrolling.
Crafting compelling social posts is no longer a challenge, thanks to Birdeye Social's AI-powered content generator. Valley Veterinary Care began using Birdeye's AI-driven Social features to create, edit, and enhance social media content. This not only helped in content generation but also maintained authenticity. These tools proved to be a game changer in simplifying content creation, generating hashtags, and finding suitable images.
Birdeye Social tailors to your industry and customer base by turning simple prompts into captivating posts. In just minutes, you can access a curated gallery featuring both AI-generated and contextually relevant stock images. And whether you need to tweak the tone, extend or shorten your posts, or polish grammar and spelling, BirdAI has you covered.
"BirdAI has added even more value to Social. Having fresh content helps us with creating organic and relevant posts. Our team is able to combine pictures from the practice with AI-generated verbiage to avoid repeat content. This has been such a great addition for our marketing team."
Meghan S. Bingham, CVPM
Senior Operations Manager, Valley Veterinary Care
Expanding reputation through Social
At Valley Veterinary Care, maintaining a well-earned reputation across all of their locations is a source of immense pride. They recognized the significance of effectively sharing these accomplishments on their social media platforms- providing another channel to showcase the exceptional patient care they extend to their valued communities.
Birdeye Social gave them yet another seamless solution that empowers the marketing team to effortlessly transform glowing reviews into compelling social media posts. With user-friendly templates at their fingertips, they can convert a 5-star review into a fresh, engaging post with just a few clicks.—keeping their followers informed and expanding the reach of their reputation.
Better Reporting for Better Engagement
The Valley Veterinary Care team experimented with various types of content, including educational posts, testimonials, and personal stories. By analyzing engagement levels, they could identify what resonated most with their audience.
Birdeye Social offers a single dashboard solution for multi-location reporting. Stay on top of your social presence, seamlessly engage with followers, and watch your online influence grow.
"We are growing, so it is important to keep track of what's working. The Birdeye dashboard really helps us measure engagement throughout different types of posts to figure out where to spend money and what resonates with our audience."
Meghan S. Bingham, CVPM
Senior Operations Manager, Valley Veterinary Care
AI-powered social software for multi-location businesses
Valley Veterinary Care's approach to social media management, combining centralized control, user-generated content, and AI-driven tools, has allowed them to manage social media across 24 locations effectively. By maintaining a balance between consistency and local authenticity, they have seen substantial growth in engagement and reputation. Contact us and start optimizing your social media presence while ensuring local relevance and authenticity!
Schedule a demo today, call 1-800-561-3357 ext 1, or send an email to sales@birdeye.com.
"With the help of Birdeye, we've posted more social media posts in Q1 of 2023 than all of the posts that we did in 2022. This is a direct result of our team's hard work but it just wouldn't ene possible without the platform."
Meghan S. Bingham, CVPM
Senior Operations Manager, Valley Veterinary Care
Birdeye: The Obvious Choice
Winning over 400 awards for 10 quarters in a row, Birdeye is the most-awarded and highest-rated customer experience software for businesses of all sizes.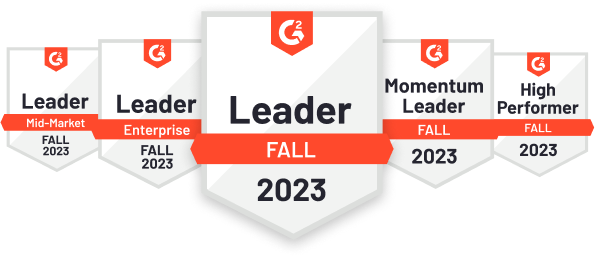 2,793 reviews

534 reviews