Managing your work schedules can be challenging, whether your workforce works remotely, in the field, or within the confines of a single office. And the more variables you throw into the mix, like team size and locations, the harder it gets to stay organized with schedules.
Fortunately, as the challenges facing workplaces continue to change, so too do the improvements in modern work scheduling technology. In this blog, we explore how you can find the best work scheduling app for your business.
Benefits of a work schedule app
You could be a brand-new startup or a legacy brand with 20 years of business success and still need a better way to track scheduling. Today's apps and solutions are capable of doing the heavy lifting when it comes to calendar management.
Adopting a work schedule app for your business can help:
Save time and money while ensuring your team stays on top of deadlines.
Improve scheduling efficiency.
Improve communication and lead to enhanced collaboration.
Reduce overtime costs.
Improve work culture and employee satisfaction, particularly by having a work-specific messaging application.
Enhance employee reliability and productivity with clock-in and clock-out features on their mobile devices
Have more accurate payroll by exporting employee time data seamlessly.
What to look for in a work schedule app
As it happens with most apps, there are a lot of options in the market when it comes to work schedule apps. So, when you look for the best work scheduling app, we highly recommend the following features
Design and features that are user-friendly and reliable
Customization options
Allow for management and shift assessment features
Provide the ability to track and update payroll
Includes functional and user-friendly communication features for staff and customers
Is Versatile, in providing access on mobile, desktops and other devices
Has robust reporting and analytics capabilities
Best employee scheduling apps
Now that you know the advantages of having a great employee schedule app, you must be ready to start browsing the app solutions out there.
To help guide your app-hunting efforts, we've compiled a list of the top seven employee scheduling apps.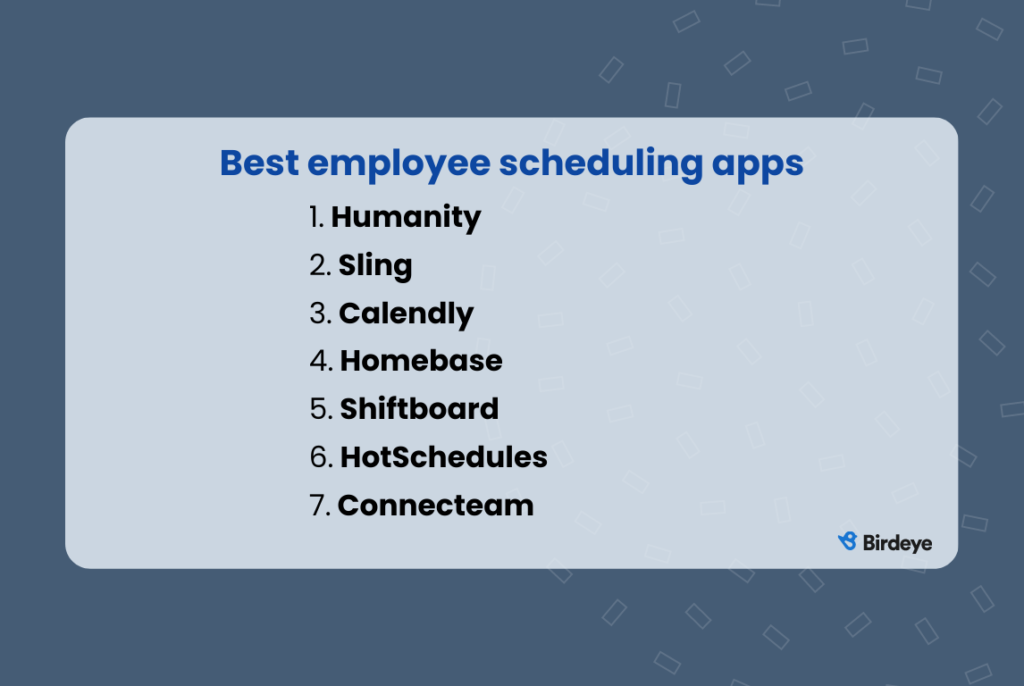 Humanity
Humanity is a shift-scheduling tool to consider. It's flexible, easy to use, and has broad applicability, making it a great option for a variety of business models.
Humanity's features include a dashboard for managing your scheduling easily. It also offers shift planning, time clock, leaves, training, staff, payroll, and access to reports.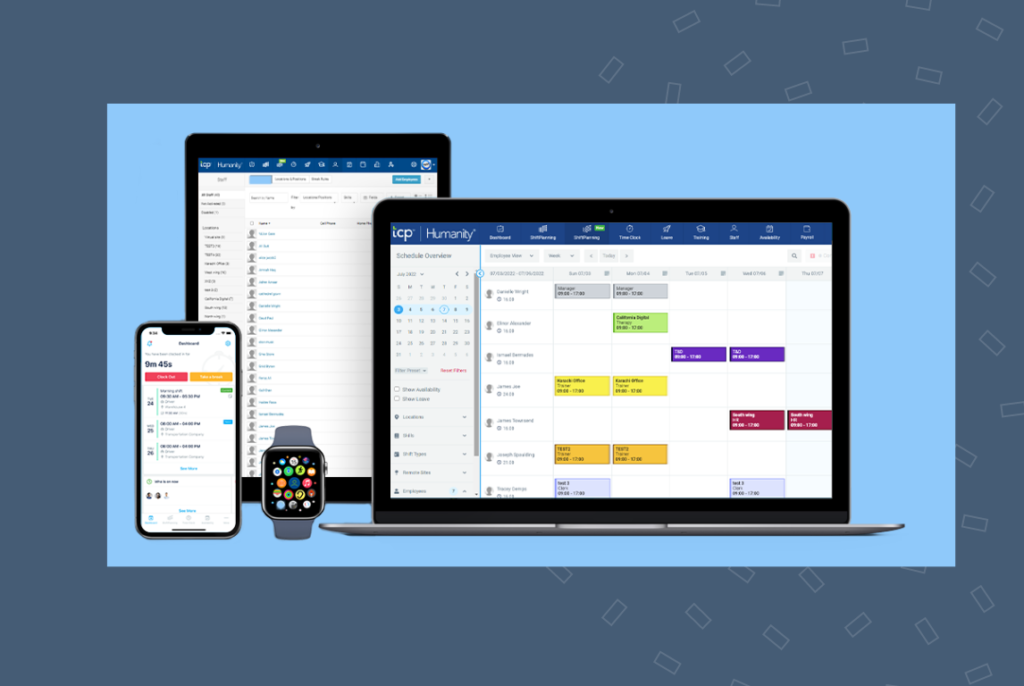 Humanity's basic plan starts at $3 per user per month with a $80 per month minimum.
Sling
Sling is another popular employee schedule app with great options for streamlining your business' scheduling processes. Its free plan allows you to organize an unlimited amount of schedules, which is vital for growing companies. Sling also provides schedule templates and allows employees to swap and pick up shifts with ease.
Top features additionally include automated scheduling to save you time and overhead costs. It also allows you to track work hours, payroll data, total costs, and paid time off.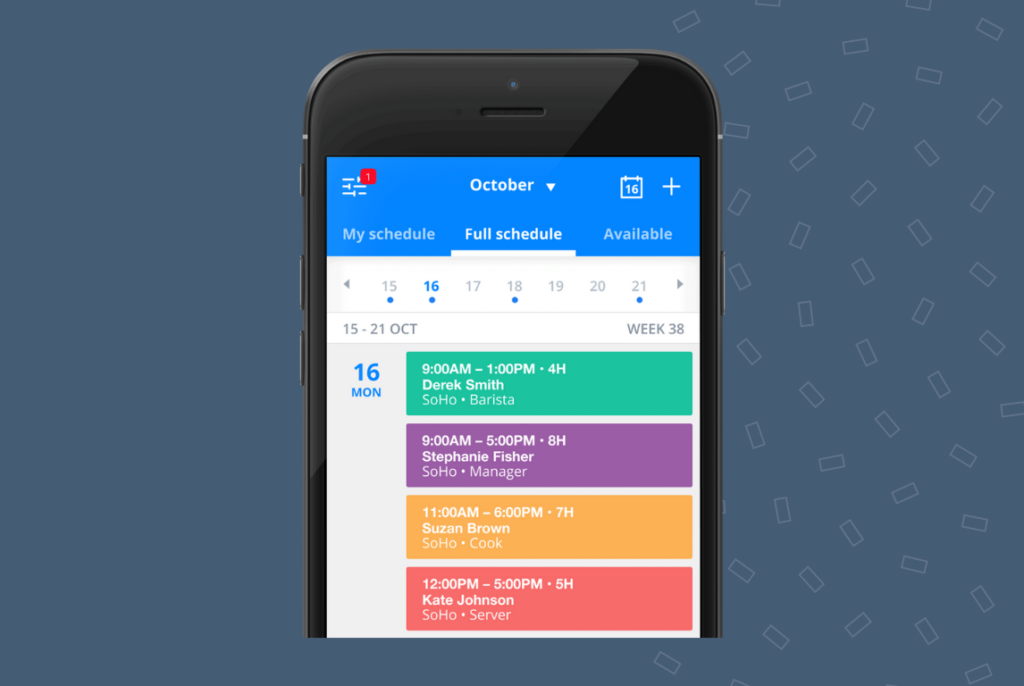 The platform offers various pricing options, including a free version, a premium version for $1.70 per user monthly, or the recommended business version for $3.40 per user monthly.
Calendly
Calendly is a popular and in-demand scheduling app that allows businesses to schedule internal and external appointments. It's both a great employee schedule app and a client-facing scheduler. Calendly is an ideal solution for monitoring schedules and assignments across all employees. It's effective for sending regular reminders, too.
This work schedule app automatically accounts for different time zones, so you don't have to manually adjust.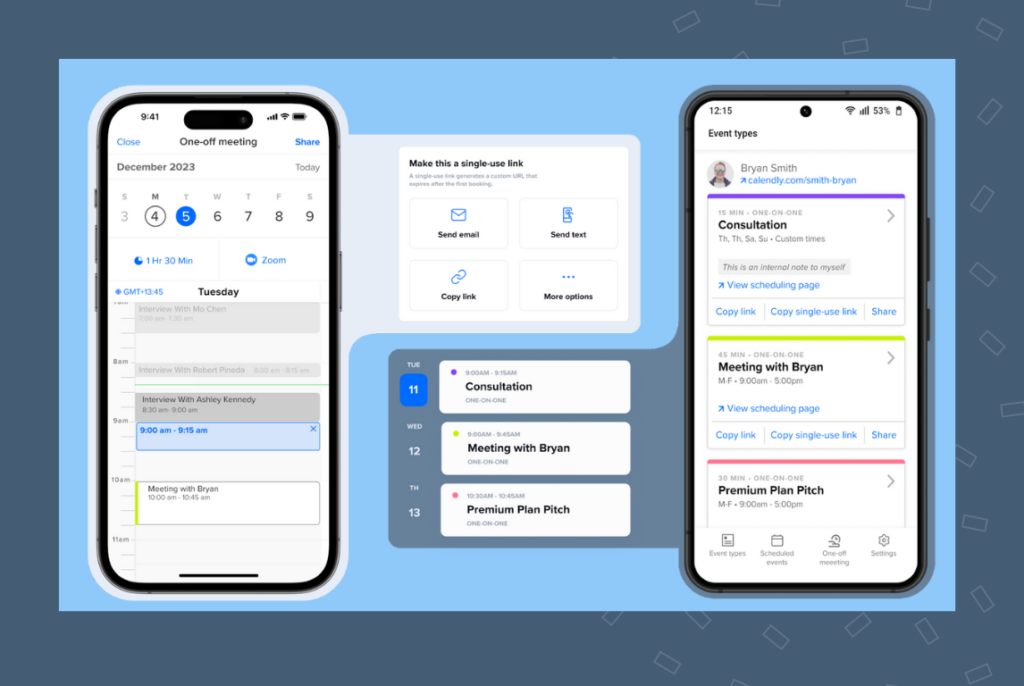 Calendly is ideal for businesses where work schedules typically rely on client appointments, such as real estate and salons.
Pricing: Calendly has a basic plan that is free. But other plans' pricing cost range from $8.00 to $16.00 per seat monthly. For the enterprise plan with additional sales features, you can talk to their sales team.
Homebase
Homebase is primarily a work-hour tracking employee schedule app. It essentially turns your employee's phone, tablet, or computer into a time clock that can track work hours and schedule hours as required. It can then transfer that data very seamlessly into payroll.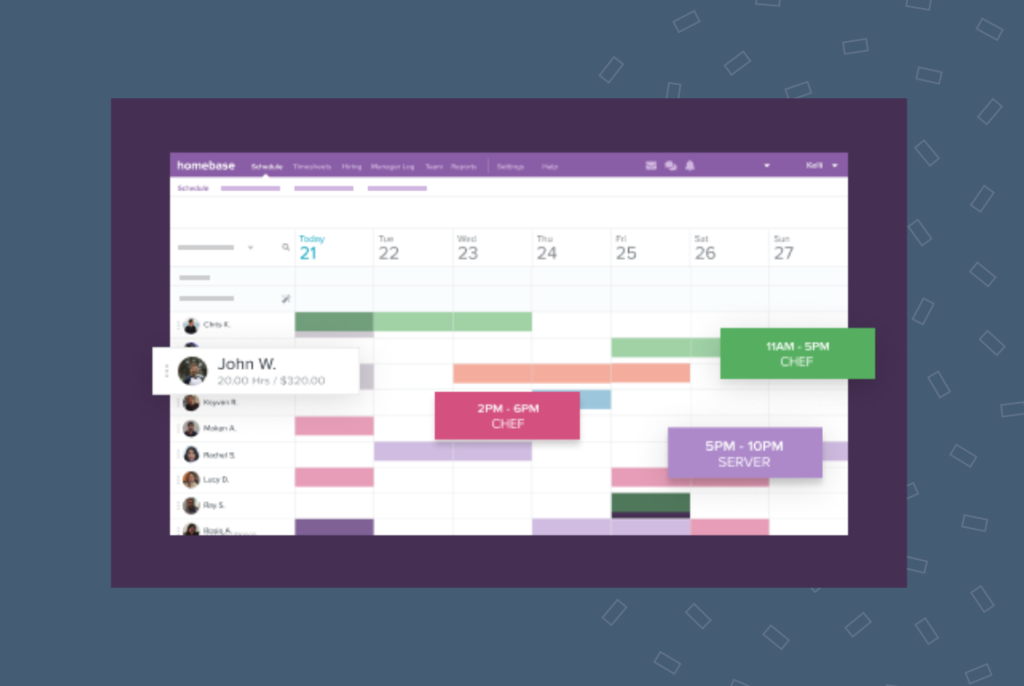 Homebase is easy to use and tends to be popular with the hospitality industry, including hotels, restaurants, and even hospitals.
Plans include Basic (free,) Essentials ($20.00 per month,) Plus ($48.00 per month,) and All in One ($80.00 per month.)
Shiftboard ScheduleFlex
Shiftboard is an all-encompassing online employee scheduling software. Through the Shiftboard's dashboard, you'll be able to access the following tools: People, Teams, Calendars, Opportunities, and Who's On.
Shiftboard allows you to shift and filter out certain information, so you are only considering what needs scheduling at that very point in time. It also allows you to sort your calendar based on not just availability and location, but also applicable skills.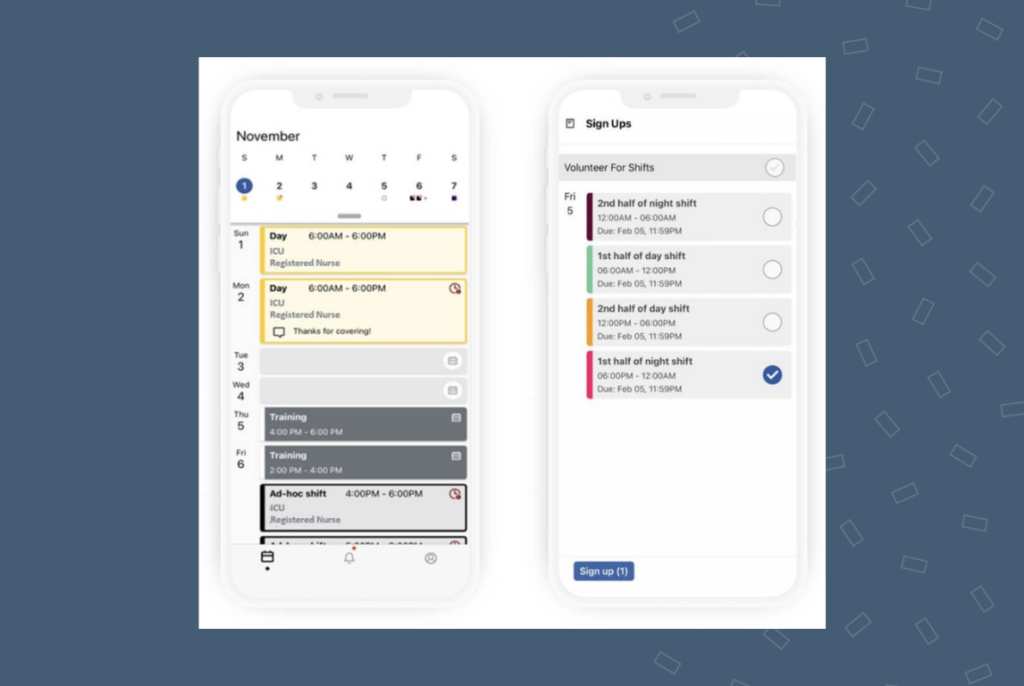 Minimum subscription fees apply, but there are discounts available for nonprofit organizations. It is best to connect with the Shiftboard team to get a quote.
HotSchedules
One of the best work scheduling apps out there is HotSchedules, another app well-suited to businesses working in the hospitality space. With HotSchedules, employees can submit their availability, and businesses can schedule employees at all locations while keeping on top of labor expenses.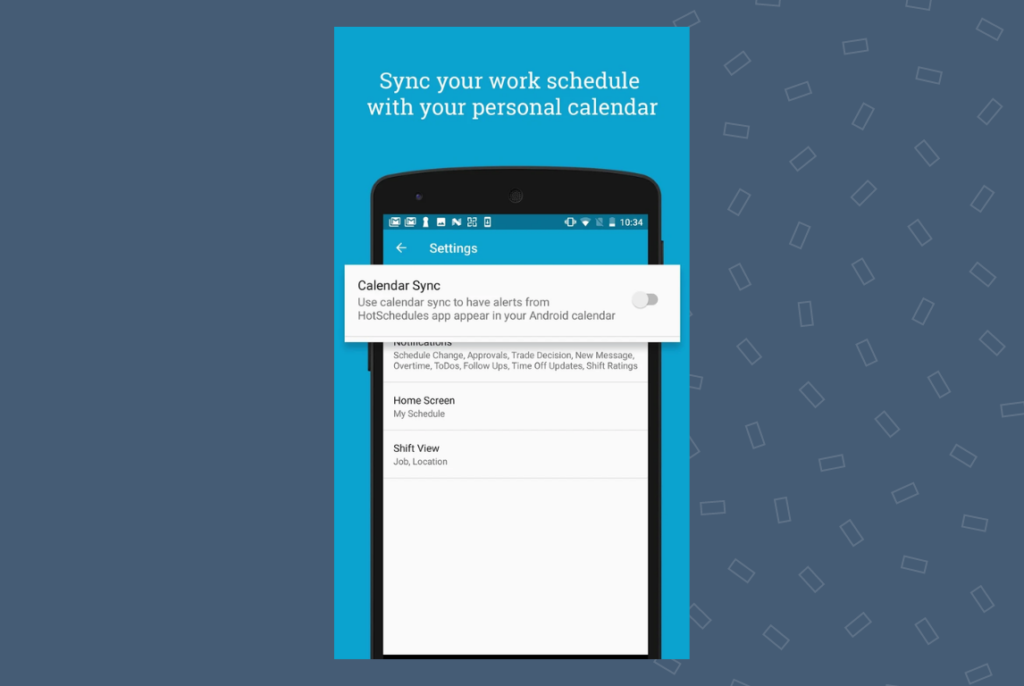 Shift alterations can be made quickly, and schedules can easily be replicated, making scheduling a breeze. HotSchedules offers a 14-day free trial. The pricing varies according to the numbers of users you need onboarded, so it is best to connect to the team.
Connecteam
Connecteam is another popular choice among team scheduling apps, particularly useful for businesses with remote-working employees.
This is one of the best work scheduling apps out there, as it provides a dashboard where all of your staff's information is stored in one place. From here, you can communicate with any worker on your schedule in seconds or less.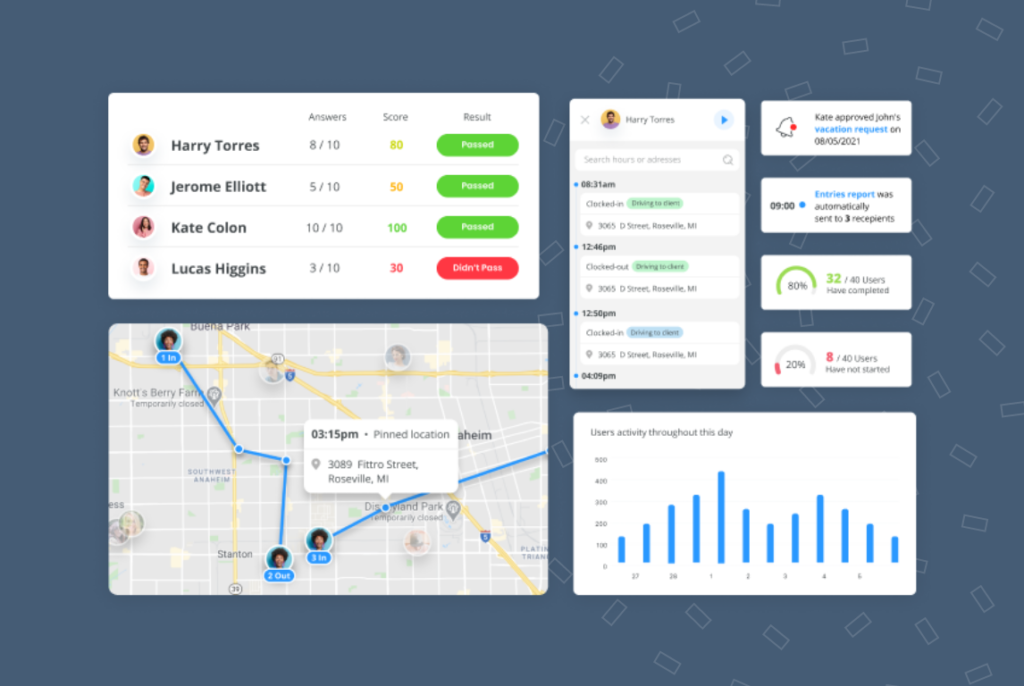 With Connecteam, you can schedule shifts, send automatic reminders, and obtain an overview of your employees' tasks so you can ensure maximum productivity.
There are several packages to choose from including, Small Business (free,) Basic ($29.00 monthly for up to 30 users,) Advanced ($49.00 monthly for up to 30 users,) and Expert ($99.00 monthly for up to 30 users.)
Free work schedule apps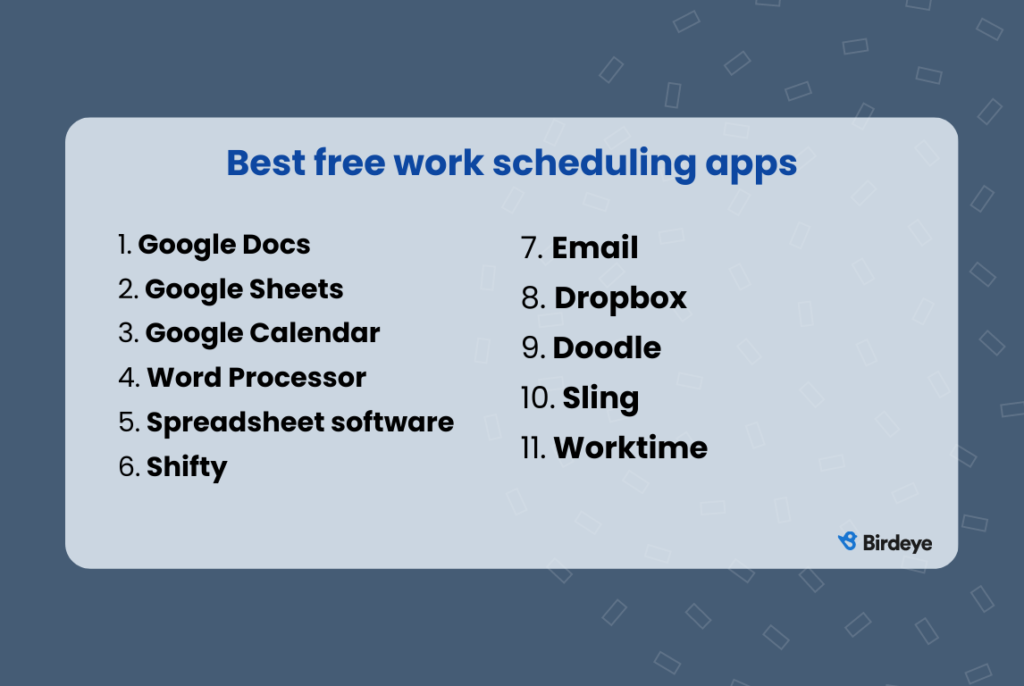 If you're not inclined to pay for your employee scheduling app There are some free work scheduling apps that you can use.
Here's our carefully curated list of the best free employee scheduling apps.
Google Docs
Google Docs is more than just a basic word-processing app. It is loaded with features, including free scheduling templates. For example, you can find cleaning schedule templates, project schedule templates, and even monthly schedule templates.
Google Docs allows employees from anywhere to access the schedule, record time-ins, time-outs, mark their absence, and so on. The managers can also access it at any time for reporting.
Google Sheets
Google Sheets also packs your scheduling arsenal with a number of ready-to-use templates. And many are available to use and customize as many times as you like for free.
One of the fan-favorite benefits of using Google Sheets is its compatibility with other apps, like Zapier and Google Calendar. Moreover, its ability to be shared and synced easily with other integrations is a home run for many businesses.
Google Calendar
Google Calendar allows you to schedule appointments and send invites with a fairly simple platform, too. And Google Calendar lets clients and customers book appointments with you directly, so you can stay on top of your schedule.
You can have employees block work timings on the calendar to make reporting easy as well.
Word Processor
Using a word-processing app for scheduling is likely to require more work than the apps mentioned above. And will likely be less flexible when it comes to updating and sharing the finished schedules with your staff. However, it can be helpful for some and worth a look as you explore your various app options.
Word Processors work best for an in-office setup where you would want to keep the schedule rigid and locked, and not have anyone access to edit it.
Spreadsheet Software
While mainly used for data storage and analysis, spreadsheets can still be used as a useful scheduling tool, which you can edit and customize as required.
A downside to relying on mere spreadsheet software is it will likely involve more time for you to create and customize your scheduling by hand and will also require a separate step for the schedules to be distributed.
Shifty
Shifty is another free work scheduling app which is primarily used for organizing staff on shift work.
Through Shifty, you can differentiate between day and night shifts and stay on top of your earnings, breaks, and payroll. It also provides notifications to staff before their shift starts.
Email
Depending on the email domain you are already using, you may be able to create and maintain schedules already. For example, Gmail provides scheduling options by linking you straight to your Google Calendar.
Dropbox
Dropbox has many capabilities, one of which is to act as an all-in-one online task management tool. With Dropbox, you can manage work lists, share files, assign tasks and due dates, and track your deadlines.
Doodle
Doodle is a free scheduling app that allows you to customize your own calendar quickly and easily. With Doodle, you can connect your scheduler to any calendar software, including those using Outlook or Google. It's most known for its efficiency, especially for sending quick polls and scheduling one-on-one meetings.
Sling
Sling's free option comes with basic scheduling capabilities such as shift scheduling, the capacity to approve and deny time off requests, and fill shifts in your calendar as required.
Sling's capabilities suit restaurants, gyms, and fitness centers.
Worktime
Worktime is concerned primarily with scheduling and keeping an eye on work time. With this app, your employees can update their shifts and view the entire schedule all in one glance. With Worktime's hours calculator, users can easily calculate the hours worked and, therefore, the wages earned.
FAQs about work scheduling apps
Is there a free app for shift work schedule?
There are quite a few free apps for managing shift work scheduling. Some of the most commonly-known and free shift work schedule apps include Shifty, Sling, and Worktime.
How do I make an employee work schedule free?
We definitely recommend considering ways to streamline your scheduling as much as possible. This includes the free work schedule apps available, as referred to in this article.
How do I add a work schedule to Google Calendar?
Use your Google Account to access Google Calendar. From there, you can click onto Settings, and under "General," you can enter the working hours and location to select the days you plan to be available.
Revolutionize your workplace with online employee scheduling software
In today's ever-changing work environments, staying organized and managing time effectively are integral pieces of your business' success. A work schedule app can help you streamline your workflow, improve productivity, meet deadlines, and improve communication with employees. Keep these scheduling app solutions on your radar and start implementing the best-fit apps for your company.

Originally published