The digital marketing landscape continues to evolve, with new trends emerging almost daily. While this means businesses face unique challenges, businesses that adapt to this environment with effective digital marketing strategies reap the rewards. Conversely, businesses who struggle to keep up in the current climate will be at a significant disadvantage.
Knowing which of the various digital marketing tools to choose in 2023 and beyond will be crucial. And that's a tall order since experts say there are roughly over 9,900 marketing tools available in 2023. But it's how you'll retain your customer base and outperform your competition.
To help you get ahead, we've put together a list of the 17 best digital marketing tools to obtain the reach you're looking for in 2023.
Top digital marketing tools
Birdeye
Birdeye's all-in-one digital marketing platform is a proven enterprise-grade tool to help your business scale faster. Generate reviews, manage your social media accounts, monitor online conversations, manage business listings, and send referral requests, within this user-friendly dashboard.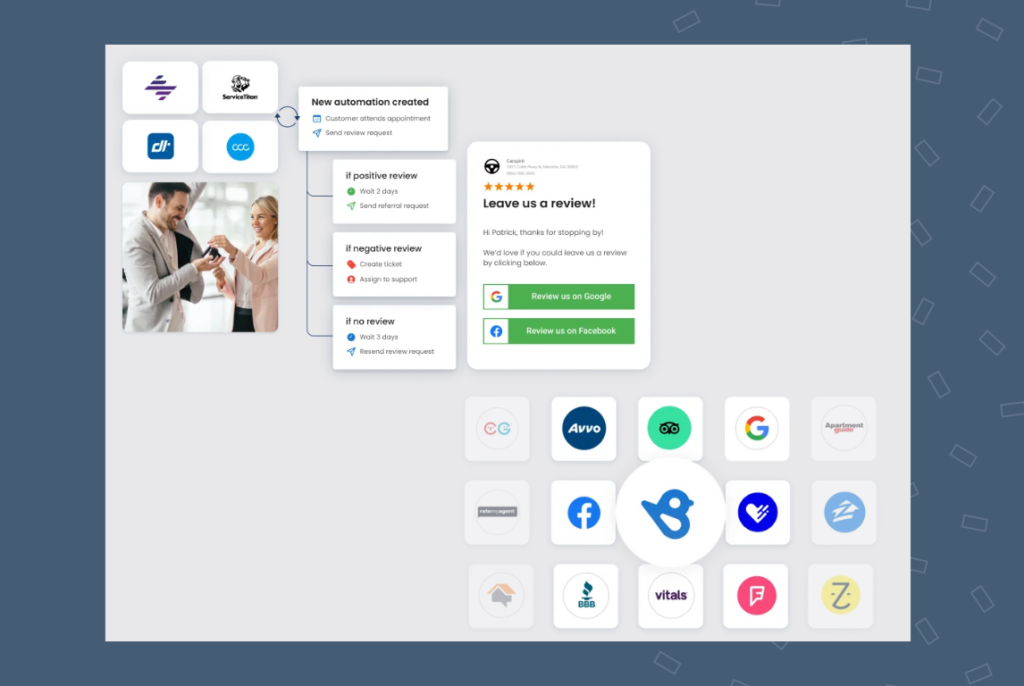 Birdeye is trusted by over 100,000 businesses to boost marketing and manage reviews. Birdeye solutions also help marketers with social media management, inbox management, appointment management, and reporting capabilities. Our solutions also provide digital marketing tools for payments and webchat functions.
Price: While Birdeye offers a free trial, prices for our services can range from $299 per month.*
Canva
Canva is a digital marketing tool that helps marketers create designs. Its secret is its drag-and-drop design platform, making it incredibly easy for non-creatives to use it just like the design-savvy. And its library, full of ready-made templates and images, allows businesses to create videos with outstanding effects in no time.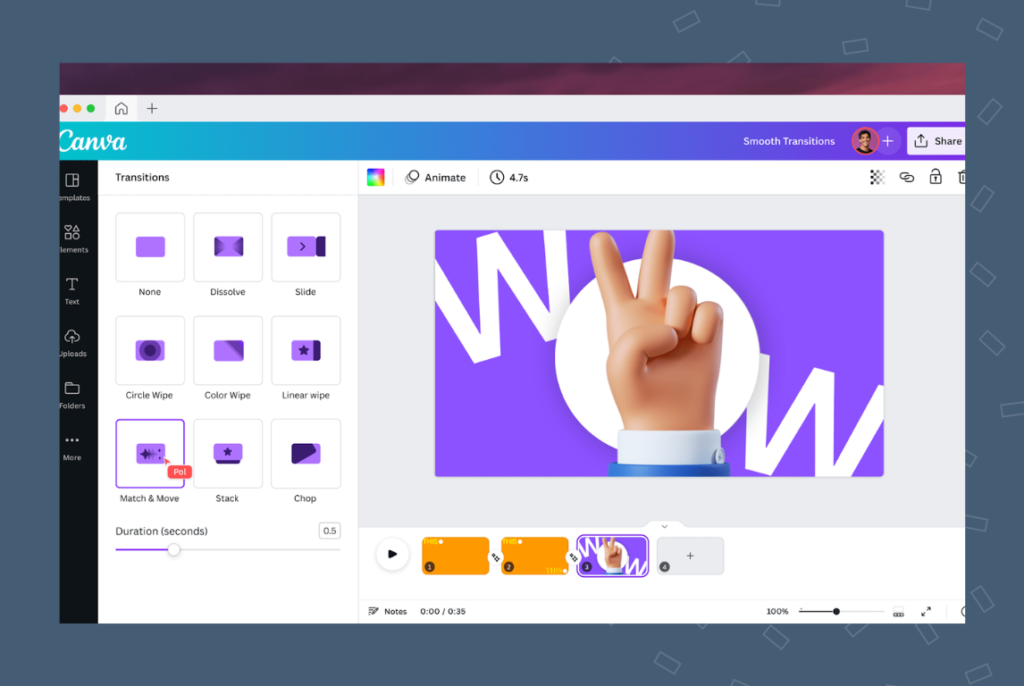 With the increased use of short-form videos, a digital marketing tool that assists in the creation of video content like Canva is a must-have.
Price: The standard version of Canva is free. Canva Pro memberships start at $119.99 per year.*
Ahrefs
It's no secret that Ahrefs is one of the most in-demand digital marketing tools out there right now. Ahrefs is an all-in-one SEO digital marketing platform that lets you find the keywords your customers are searching and assess keyword volume and difficulty. You can also track keyword rankings and see who is linking to your competition and through which sites and pages.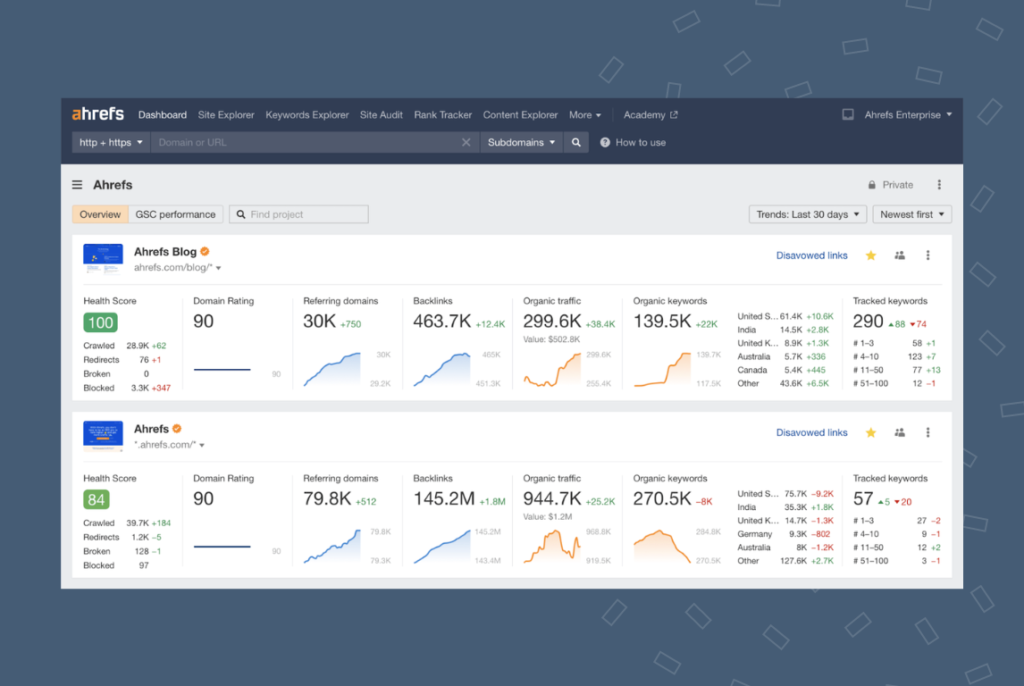 Ahrefs' other unique features include traffic potential, search engine results pages (SERP) results, and technical SEO audits for your site, to name a few.
Ahrefs also provides several online resources, and customer support that provides timely responses to queries.
Price: Ahrefs' basic SEO tools are free, and paid plans can start at $99 per month.*
Clearscope
Clearscope's highly-rated digital marketing solution aims to make content production easier. It achieves this by providing recommendations for topics and SEO-focused keywords for your blog posts based on high search volume data. Clearscope can be used by small and big businesses to create content briefs and optimizes content before it goes out..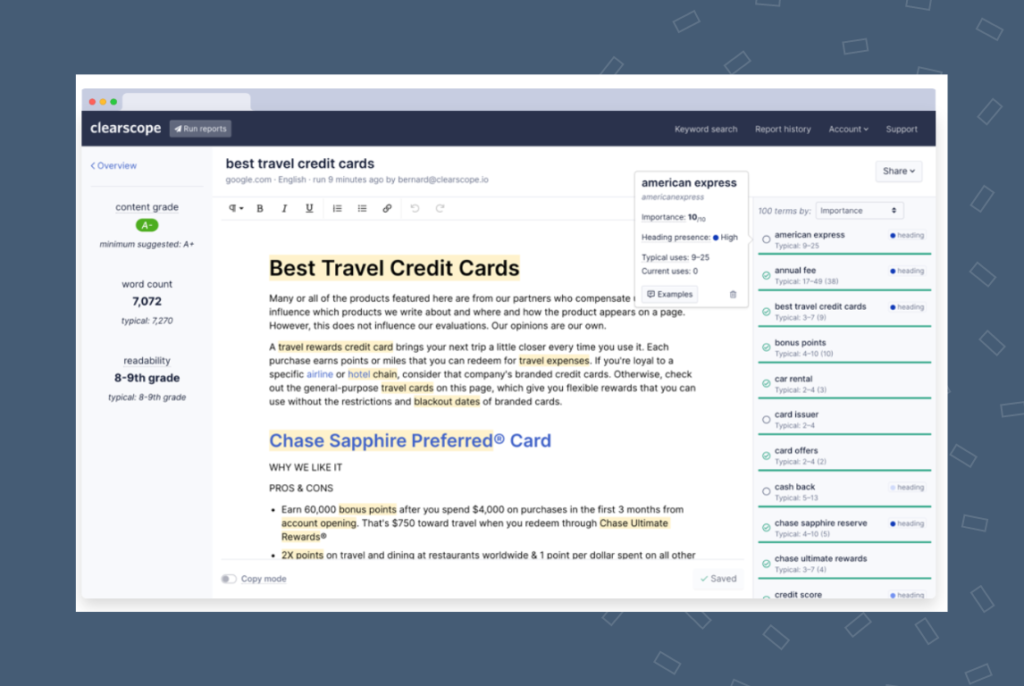 Clearscope can also help your business identify parent topics and a topic map to expand your content and keyword footprint.
Price: Clearscope plans at $170 per month, although it is possible to request a demo. *
Yoast
Similar to Clearscope, Yoast focuses on helping your business find the keywords needed to optimize your content for search engines such as Google. Yoast is essentially a WordPress SEO plugin tool that will help your website increase its search engine rankings.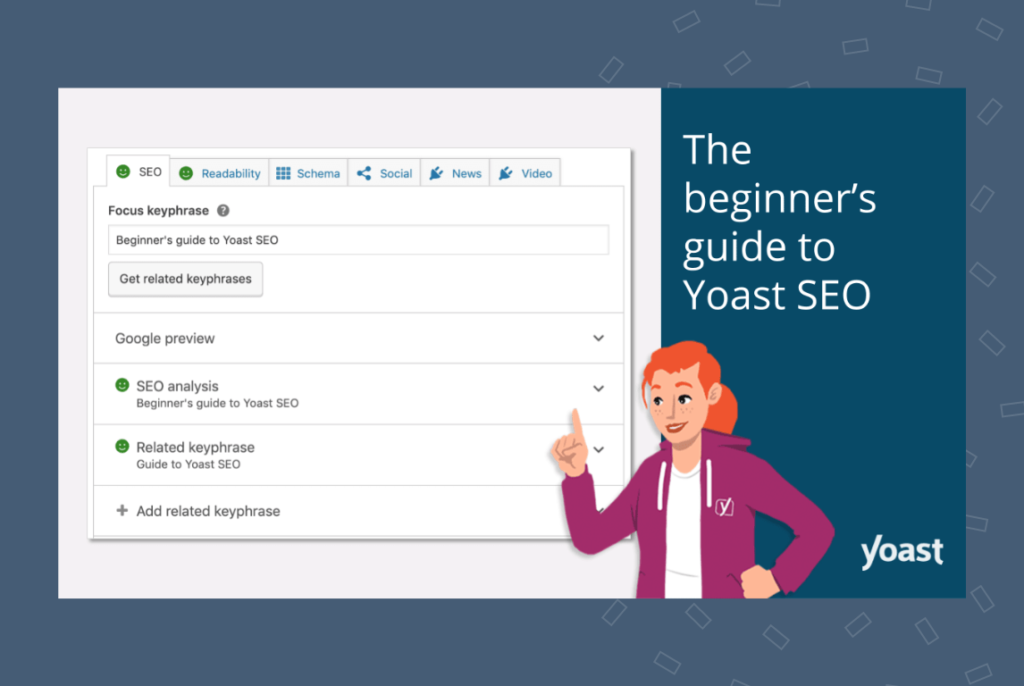 Yoast also analyzes content to optimize performance, assess keyword density, and boost readability, to name a few.
Price: You can obtain the Yoast plugin for your WordPress site for free. And there are paid premium options priced based on the number of sites you intend to monitor.*
Convertkit
The effectiveness of email marketing continues to be challenging for businesses. However, email communication is still the go-to means of customer engagement.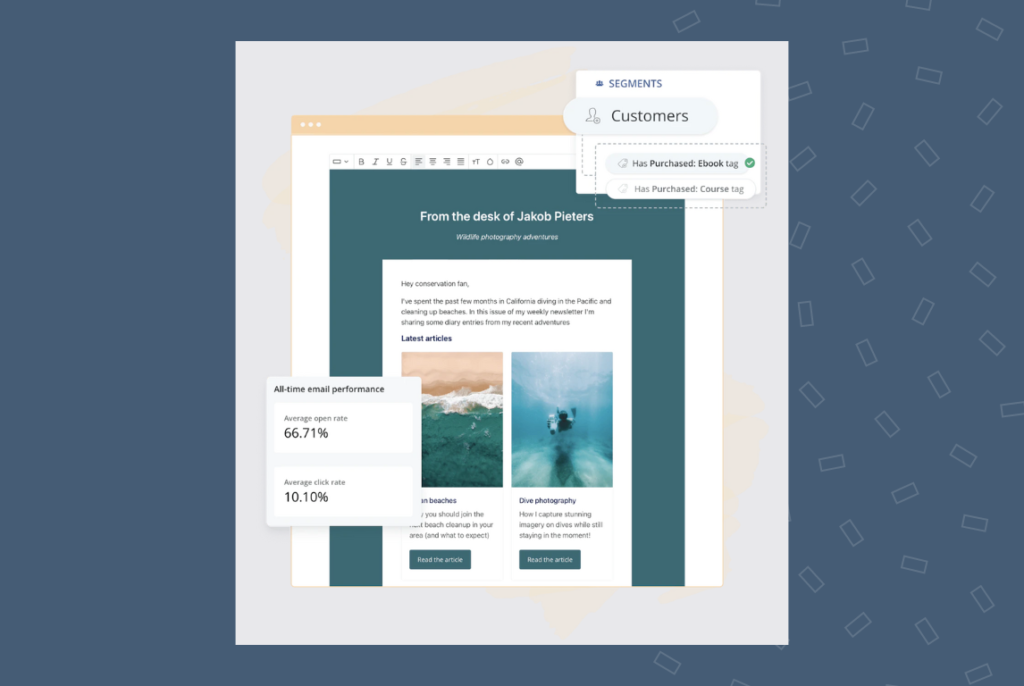 ConvertKit is one of the top digital marketing tools which focuses mainly on your email communications. This is done by providing multi-step email journeys to increase the rate of your email openings and conversions. It also offers 'landing pages,' e-commerce listing support, templates, automation and integrations with some of the biggest names in e-commerce.
Price: ConvertKit offers a free trial, and pricing starts at $15 per month.*
Google Analytics
Google Analytics sets the benchmark for all digital marketing tools to help businesses understand their website performance metrics.. It also helps businesses predict audience's behavior, including but not limited to the customer attrition rate in a particular period.
Google Analytics is compatible with other e-commerce platforms, such as Shopify. In fact, almost every report can be transferred into an e-commerce version to help you track your income.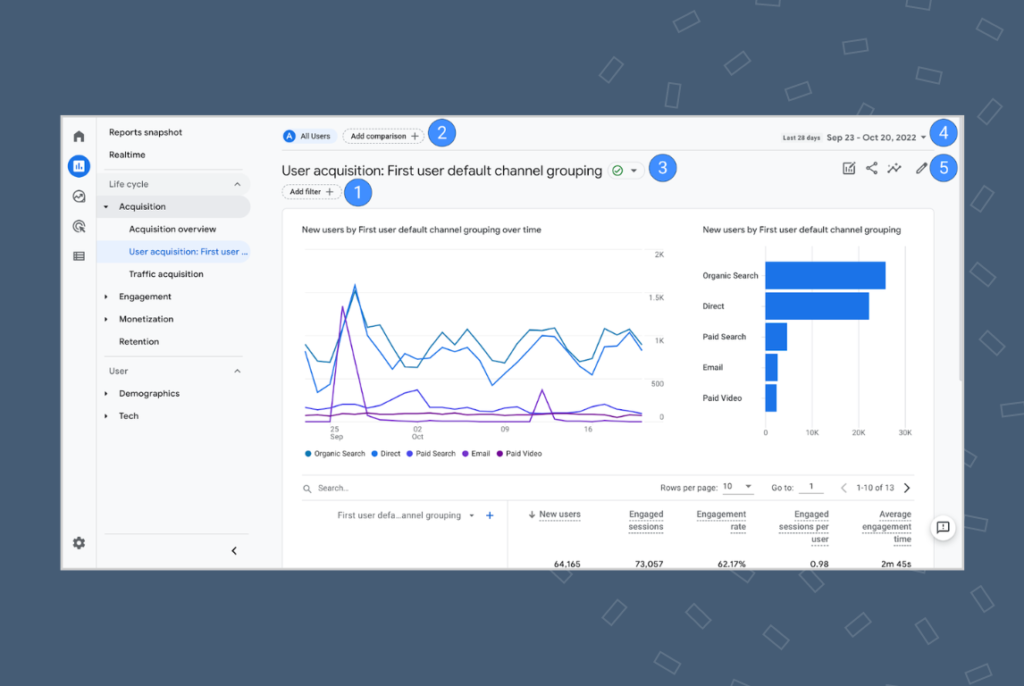 The platform allows you to collect and visualize detailed insights about your online traffic and conversion rates. It shows you who is coming to your website, how long visitors stay on each page, and how they found you.
Price: Google Analytics is free, although there is a paid version, Google Analytics 360 (GA 360), priced at $12,500* per month. The paid version increases the hit limit (a hit being any interaction on your website which can be analyzed by Google) from 10 million to 1 billion. It also provides up-to-date data, support/training, integration with other tools such as Google Ads, and a campaign manager to direct your digital campaign.
Visme
Visme is another highly-recommended and incredibly valuable design tool for business use. They majorly focus on infographics and presentations. And even those marketers with no prior design experience should be able to use Visme's professionally-styled templates.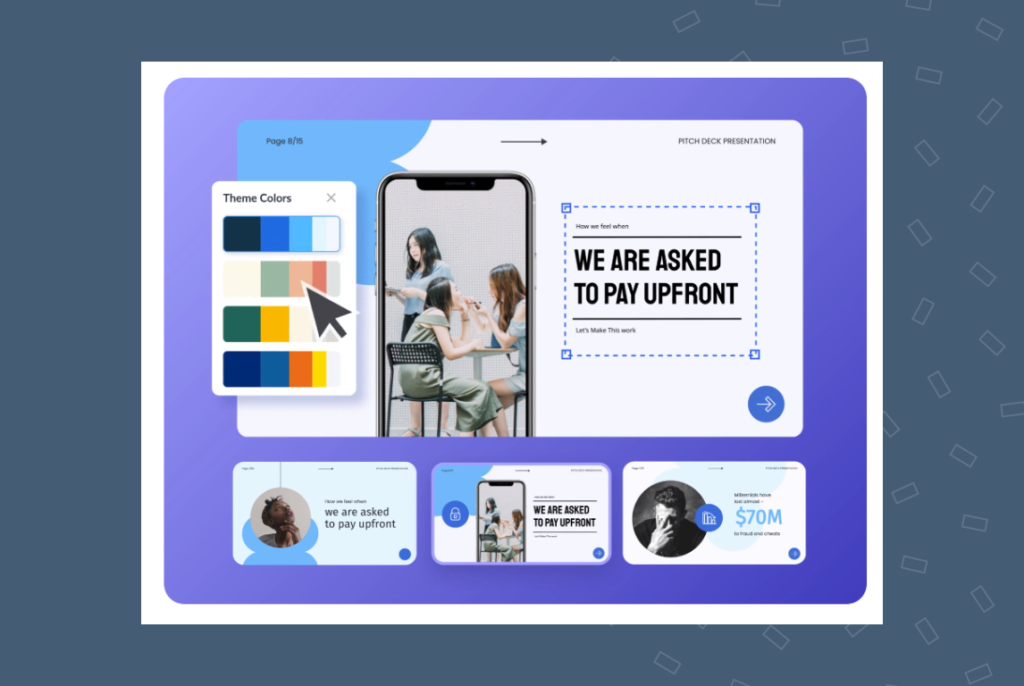 This digital marketing tool provides a user-friendly platform to film high-quality videos. Its services suit a business that frequently publishes digital content with design elements to other platforms.
Price: With Visme, you have a free option and a paid premium option that starts at $12.25 per month.*
Slack
Slack is a cloud-based messaging digital marketing tool with over 10 million daily users worldwide. It is one of the top digital marketing tools that enable teams to communicate internally and externally, with over 1500 integrations, including Zoom and Google Docs.
This tool's unique features allow users to customize the look, integrate with hundreds of applications, and video call. Slack supports plain text, stickers and GIFs, and is easy to use and quick to set up.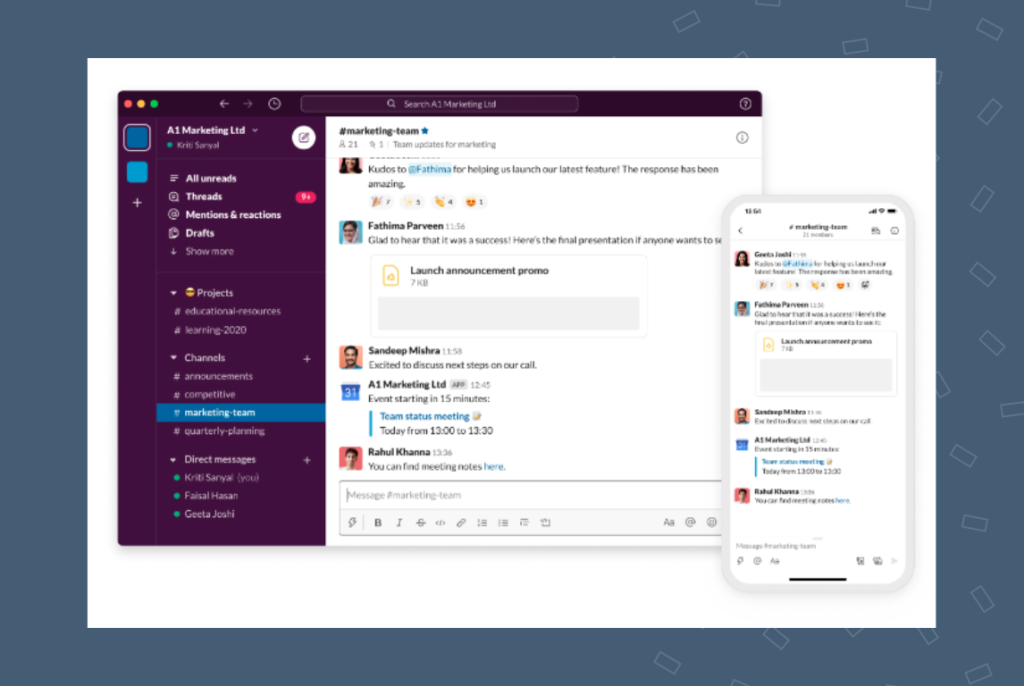 Additionally, Slack provides businesses with an AMA ("ask me anything") feature, which gives your employees a safe space to express themselves.
Price: Slack's pricing options start at $7.25* per month per active user.
Lumar (formerly known as DeepCrawl)
Lumar is a digital marketing platform that enables you to gather insightful and impactful metrics about your marketing engagement. This tool can help you identify technical issues, including broken links and duplicate content. You can also assess your content to ensure your blogs and links rank highly on search engine results, and track the overall performance with Lumar.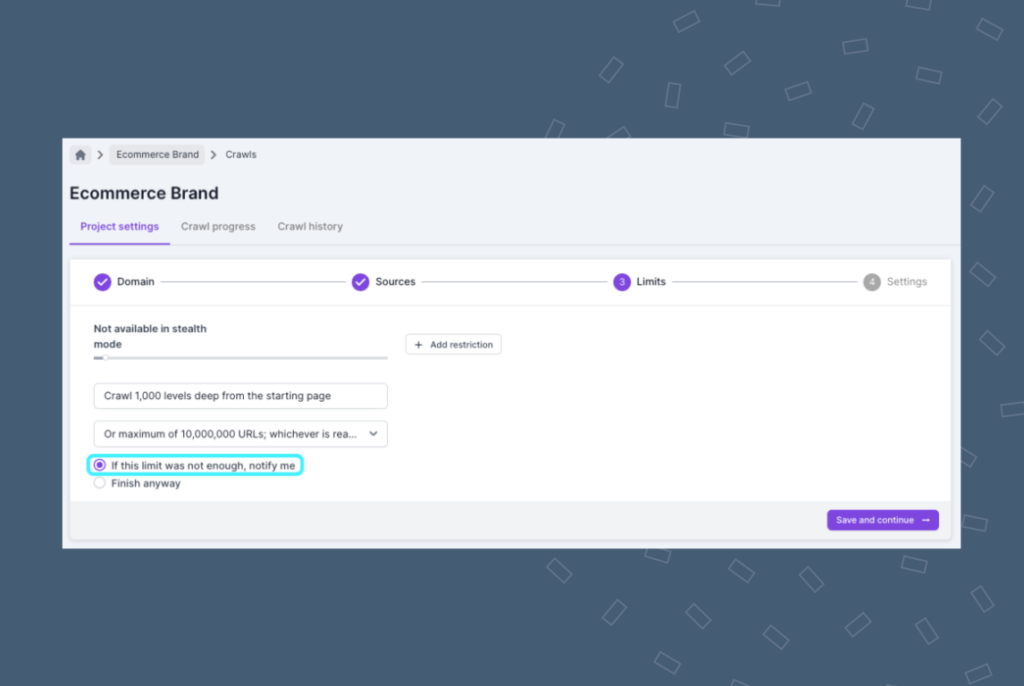 This is one of the digital marketing tools that acts as a sort of command center to measure your website's performance – all in one place. With Lumar, there's no need to download a whole number of different spreadsheets as it tracks trends over time and allows users to easily compare metrics in one go.
Pricing: You can get in touch with the team to understand pricing according to your needs.
SendGrid
SendGrid is a digital marketing tool that supports businesses in reaching their consumer base primarily through email campaigns. If you've ever received an email update from a well-known company such as Airbnb or Spotify, it's likely this email has been sent to you through SendGrid.
SendGrid enables businesses to send a high-volume email campaign with significant ease and high rates of delivery. It does this by allowing you to test your promotional emails, review for broken links and spam, test your contact list for inactive or invalid emails and provides you with a dedicated IP address to avoid your reputation being compromised.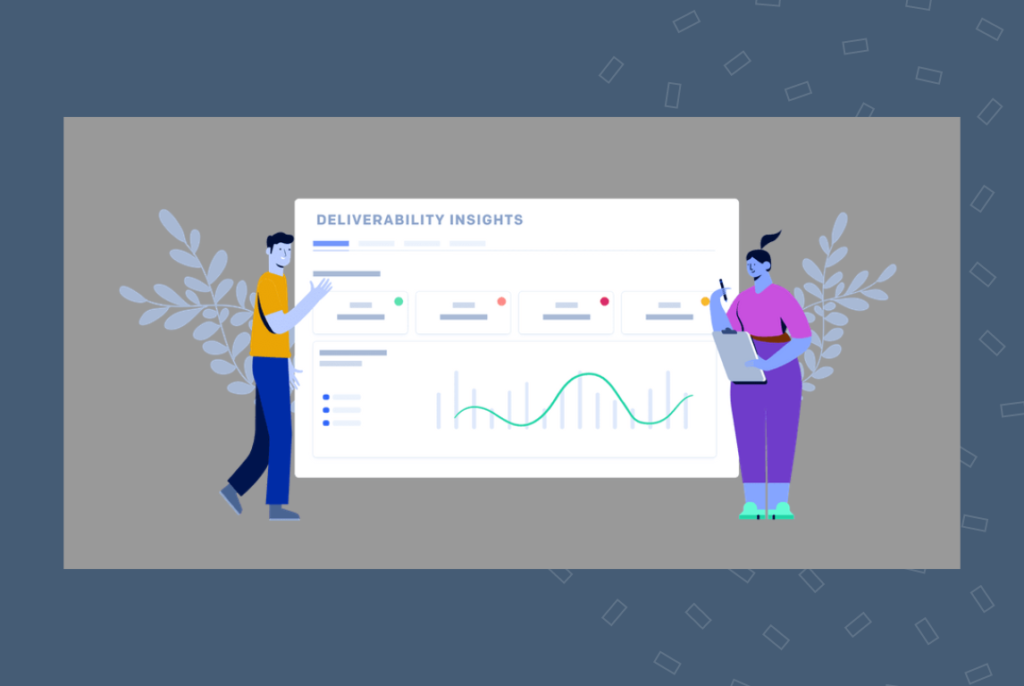 SendGrid allows you to obtain reports to monitor the performance of your email campaigns via metrics like email opens, email clicks, and spam reports.
Price: SendGrid has a free option or a number of pricing options ranging from $19.95 per month.*
Loom
Loom is a video communications tool that specializes in allowing your business to visually connect with others without having to schedule face-to-face calls.
With Loom, a user can screen-record and capture customized videos with several views. You can create personalized content through this platform to build stronger relationships with your customers, demonstrate products, and create one-on-one tutorials. Loom's unique tools allow you to deliver effective video content with closed captions.
Loom allows you to edit, view and upload your video all in one platform without the need for other third-party storage apps if you wish to upload to another platform such as YouTube. The tool also provides unique video analytics including viewer insights, engagement insights and the rates of interaction, including comments.
Loom can be integrated with Chrome as an extension, as well as other applications such as Gmail, Slack and Zoom Import.
Price: Loom has a free user option, while business accounts can expect to pay $12.5 per month.*
Hotjar
Hotjar is a widely-used heat-mapping and behavior analytics tool which gives your business crucial real-time insight into consumer interaction with your website and other apps. This digital marketing tool documents your site visitors' paths to your website, along with which pages they spend the most time during their visits.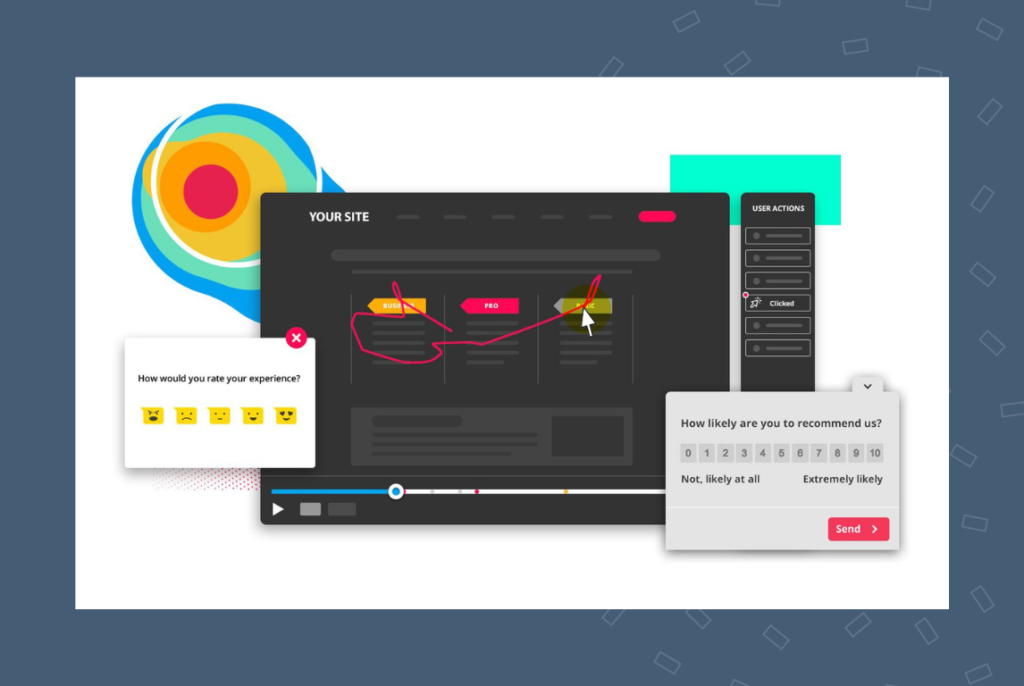 While other tools, such as Google Analytics provide you with an immense amount of data, Hotjar allows you to look at the numbers and understand why your audience behaves the way it does and identify patterns. Hotjar does this is by providing a complete overview of the user experience with specific feedback, including on-page surveys.
Price: Hotjar is free to use. However, it comes with paid subscription options starting at $32 per month, which give you an increase in daily sessions, custom-built integrations and greater support.*
Linktree
Some apps and social media sites only allow users to include one link to each bio. Linktree is one of the best digital marketing tools for building comprehensive bios and adding links to your social media channels.
Linktree allows you to create your own bio link, which takes the user to anything you want, including but not limited to your website, social media, or other forums. Just with the free version, users can create a page with an unlimited number of links, including social icons, custom text, and even music.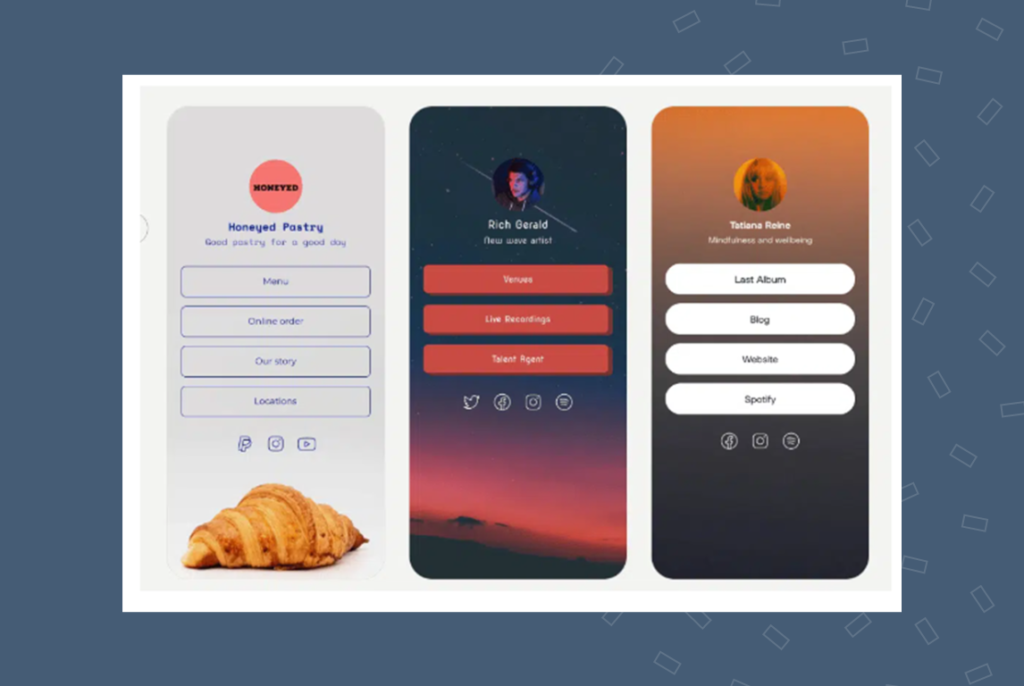 Linktree allows you to access the last 28 days' worth of analytics for your page, collect payments and donations. It also offers users enhanced visual customization, including themes, video backgrounds, buttons and fonts.
Price: Linktree has a free plan with limited features, but there are paid plans starting at $5 per month for more options.*
Crazy Egg
Crazy Egg is yet another handy analytics tool great for monitoring individual pages from your website. You can see which pages users have clicked on, along with which sections of the page they linger on the most.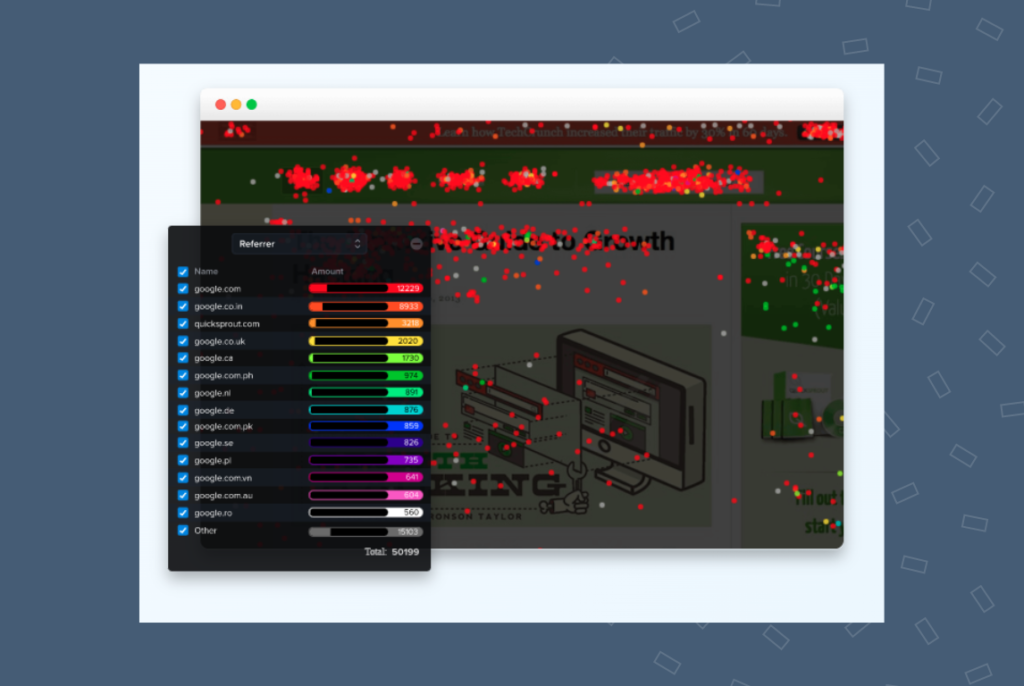 Crazy Egg's unique features include identifying areas of your website which perform poorly, overlaying heatmaps on top of existing web pages, providing context to visitor data beyond mere clicks and analyzing the performance of your content, including your call-to-actions, for example.
Price: Crazy Egg's prices range from a free option to paid plans starting at $29.*
Moosend
Moosend is an affordable all-in-one email marketing and marketing automation solution.
The tool's distinct features include professional-looking landing pages that are customized to reflect your brand. Moosend also provides you with updated reports so you can understand your metrics in real-time and provides easy-to-read reporting and analytics, including behavioral analysis of your users.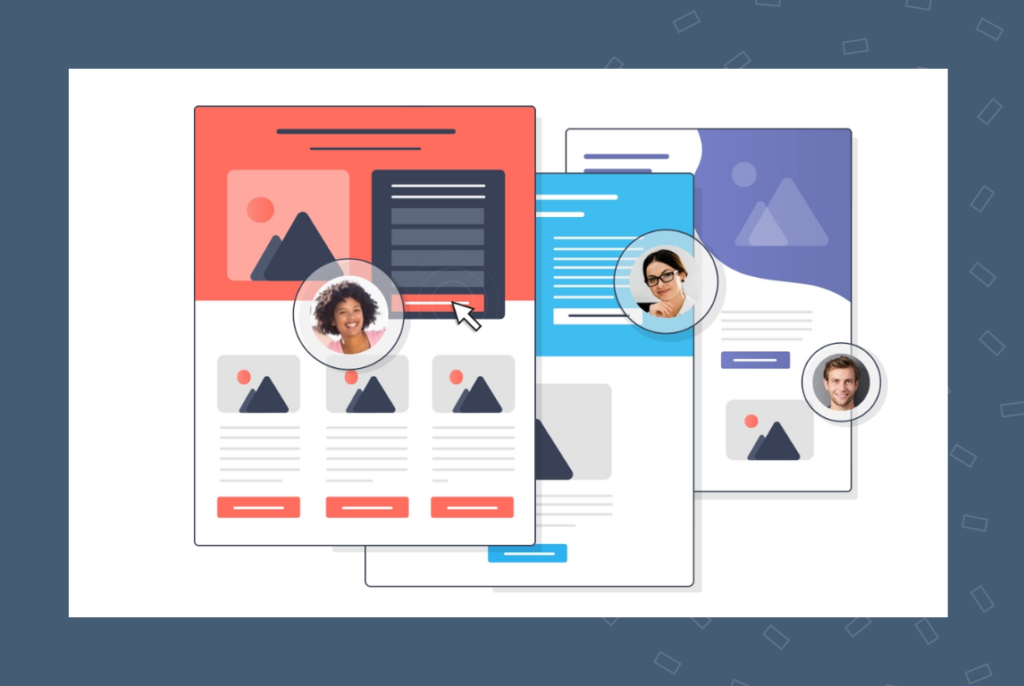 Price: Moosend's has a free trial option (with unlimited emails), a $9 monthly Pro plan, and a more customized enterprise option.*
Salesforce
Salesforce is a digital marketing tool with a solution to unite marketing, sales, commerce, service, and IT teams using one integrated Customer Relationship Management (CRM) platform. This tool is best suited to large or scaling businesses in need of customization.
Through Salesforce, you get in-depth knowledge of your customer's history, their interests, and even their peeves. It does this by providing you with access to data regarding your customers' interaction history, activity timeline, as well as other insights such as an outline of the various stages of a particular sale. With this data, you can also compare the activity timeline against your competitors.
Price: Salesforce has a free trial option in the beginning. Then you must pick from their range of pricing options, including those with a $25 per user fee, $100 monthly for the CRM, and more.*
*Pricing information mentioned is as at the time of publication. Subject to change by the concerned. Please refer to official sources for confirmation.
FAQs about digital marketing tools
What tools do digital marketers use?
Digital marketers use several tools, including plenty of the many listed here, such as Birdeye, Salesforce, Loom, Google Analytics, etc.
What are the 5 methods used in digital marketing?
The top five digital marketing methods used most often today are SEO, social media marketing, content marketing, email marketing, and paid search advertising.
What is an example of a digital tool?
A common example of a digital tool is Google Analytics, which is free and widely used by businesses to track website and online traffic.
What is a digital tool vs platform?
A digital tool is one solution, while a platform is a suite of services. For example, your Gmail account is used for email as a tool. Your G-Suite is a platform that offers other tools, like docs, spreadsheets, and drives.
What are some examples of digital marketing?
Digital marketing generally refers to marketing strategies used on digital devices. Some common examples of digital marketing include paid social ads, social media posts, or email campaigns.
Ace digital marketing with Birdeye
With some 9,900 digital marketing tools in the current market to choose from, we have done our best to hone in on the top digital-marketing tools. With this list you should be able to determine the right tools to be used by you in the specific business context you happen to be working with, whether it be a desire to increase email marketing, video marketing, or both.
While it is a lot of information to digest, nevertheless those businesses who do their best to keep up with the ever-changing digital landscape will be able to retain and grow their audience while competing against their competition.
And that's where we can help.
Birdeye can help your business grow as a customer-centric organization with our range of services, right from listing management, social media management, payments, appointment scheduling, and more.
Watch a free demo to know more and start your journey with us today.

Originally published