Why do 41 million job seekers research companies for Glassdoor reviews every month? To find the perfect job. How do you find the perfect candidate? Meet them where they are, and look good.
The perfect candidate is not just qualified–they are informed. That's why 93% of job seekers today want to be thorough and informed about every aspect of a company before accepting an offer (Software Advice). To save money and time in the hiring process, businesses should only consider these informed candidates. An informed candidate is someone who is thoroughly researched and actively engaged with your company. Meaning he or she would be a great fit for hire, get onboarded much faster, and be a very productive employee.

What You Need to Know About Brand Reputation
When considering a role at your company, the informed candidate starts with an online search. The results of this search immediately impact the candidate's next steps. Candidates want to get a feel for not just your company vision, but your online reputation management as well. Just as customers choose a business largely based on customer feedback, employees choose a company based on experiences from other employees. Your brand reputation is determined by all of this feedback, along with your search engine ranking — if prospective candidates can't find you online, they won't want to work for you.
Without enough information available for job-seekers, companies often receive an overwhelmingly high volume of resumes. Consequently, many will be from unqualified candidates who know little to nothing about the company. Even those that appear qualified on paper may not live up to their claims when brought on-site for an interview. Similarly, the all-star candidate who ends up getting hired may leave after 6 months because the company's culture didn't match the description on their website.
So it's not just about having information available–that information needs to be accurate, comprehensive, and authentic. The best way to do that? Get lots of reviews from employees in all departments. The sharpest candidates want to know what it's really like to work for you, so if you don't have employee testimonials, candidates will turn to a company that does. A steady flow of new reviews not only provides helpful information to candidates; it also boosts your search engine ranking, putting your company profile in front of even more candidates. It's now wonder that an active Glassdoor profile doubles the likelihood of making a hire (Glassdoor).
What Do Job Seekers Look for in Glassdoor Reviews?
Obviously ratings are a big one: one third of job seekers would only consider a company with a three star rating or higher. But what are those ratings based on?
Glassdoor reviews let users rank companies based on the following criteria:
Culture and value
Work/life balance
Senior management
Compensation and benefits
Career opportunities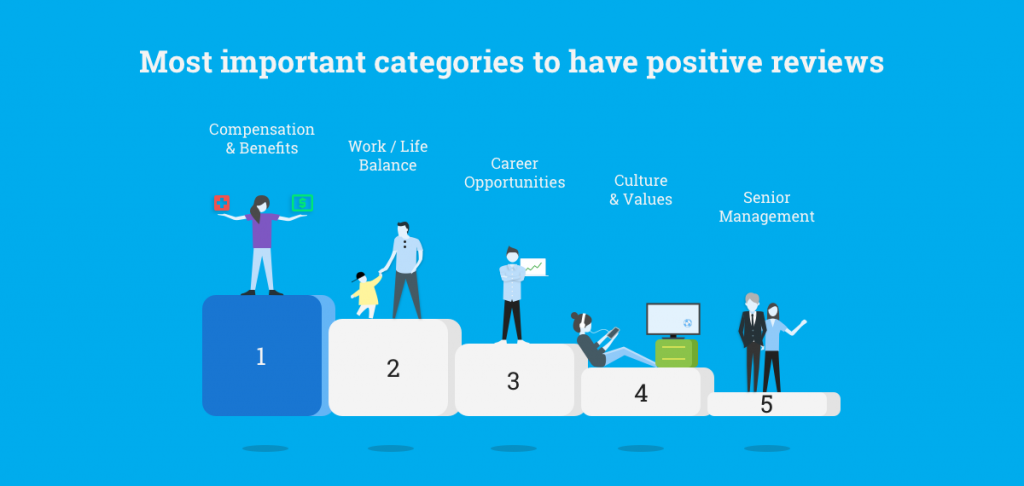 Studies reveal that prospective employees think high ratings of a company's compensation and benefits are most important. Conversely, low ratings for these same two categories are enough to steer most candidates away from a role.
High ratings aren't all that matters, however. Job seekers want to know that the opinions expressed by past or existing employees are still relevant: reviews less than 6 months old have the greatest impact on company perception. Tools like Birdeye make it easy to collect new reviews from employees via automated texts and emails sent at critical moments like onboarding, annual reviews, and exit interviews.
Great employee reviews let you hire great employees. Great employees make your company look good, and bring in more great employees who will stay longer and be more productive.
Originally published