Healthcare has taken center stage in recent years and medical businesses with a marketing plan recognize the important role patient reviews play in accelerating growth. In fact, nearly 85% of healthcare practitioners say they proactively check online reviews.
Patients want a provider with a proven track record of success, and when searching for one, they trust reviews from other patients most. Online reviews are social proof of a healthcare provider's expertise and quality, and give prospective patients a contextual idea of what kind of experience they can expect with a given provider.
Because of the pressing need and powerful influence of reviews, many healthcare businesses have opted to invest in review automation. These organizations have seen incredible growth since adopting a streamlined approach to online review management. 
Collecting patient reviews
Before we jump into the benefits of review automation, let's take some time to talk about how a healthcare practice can start to collect patient reviews. It's easier than you think and can be done in a lost-cost way so that it doesn't hurt your budget.
Ask for patient reviews – The easiest and most direct way to get reviews is to simply ask for them. At the end of an appointment, you can let your patients know that you would appreciate it if they left a review on your Google business page or other platforms.
Simple access – Make it easy for patients to leave reviews by including review links on your website or providing QR codes in the receptionist area that patients can scan with their phones. You can also include a review link in all your patient communication like email follow-ups, appointment reminder texts, and social media messages.
Respond to reviews promptly – Acknowledge your patients when they leave you feedback sooner rather than later. A quick thank you can go a long way toward building that relationship with your patients. It's also a clear signal to review websites that you are actively monitoring your reviews which can help with search engine ranking.
Don't ignore negative reviews – By responding to all negative reviews, potential patients see that you value the input and are proactively trying to improve the experience with your practice. Responding to less-than-flattering reviews is a great opportunity to turn a negative into a positive.
Third-party services – There are many software and services that allow doctors to collect reviews from their patients in an automated way. Taking advantage of these platforms can make the process easier for both you and your patients.
With this in mind, we've created an infographic that expands on some of the key benefits of review automation, the unique tools review automation provides, and examples of real healthcare businesses that have saved time and accelerated growth with review automation.
Reviews build trust with consumers. Therefore it's crucial to ensure your practice proactively manages patient reviews to ensure you have a strong online reputation. However, there are some unique challenges healthcare providers face when managing patient reviews.
Automation removes each of these roadblocks and enables your business to improve the patient experience, get more client appointments, and vastly improve your online reputation.
However, you can't begin to grow your patient reviews without first expanding your presence across relevant review listing sites. The list below ranks the top review sites where patients post reviews for their healthcare providers based on data from Alexa.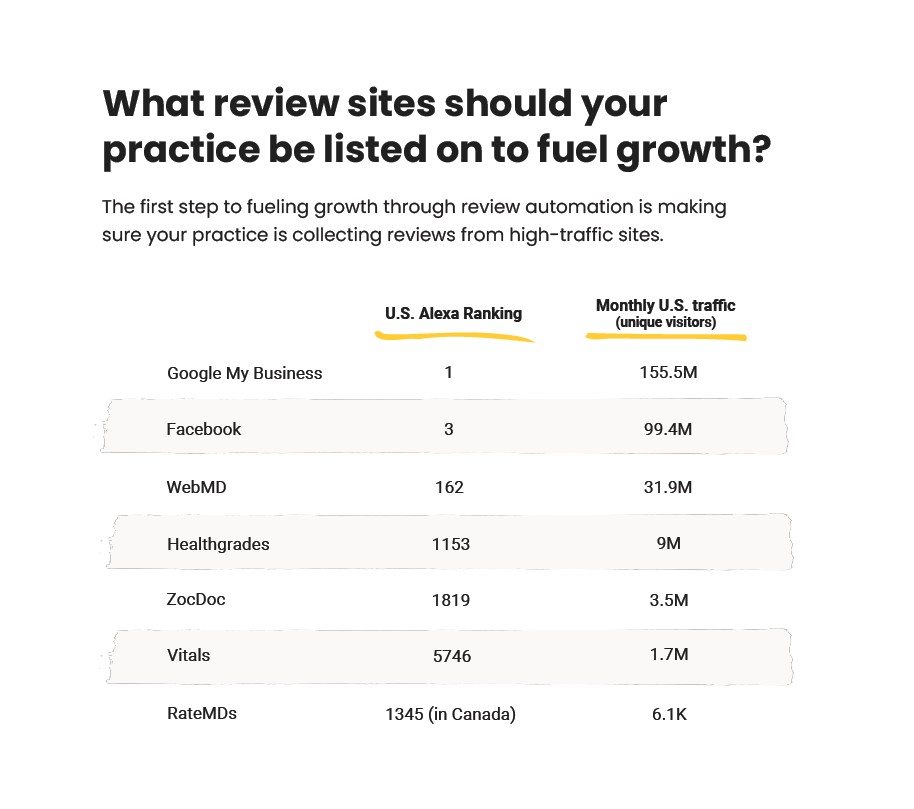 Once your practice is listed on relevant review sites, you're ready to leverage review automation to get more reviews and manage them seamlessly. When choosing the right platform it's important to ensure it comes equipped with the right tools to help you easily get more reviews, manage communication, centralize your channels, and get actionable insights.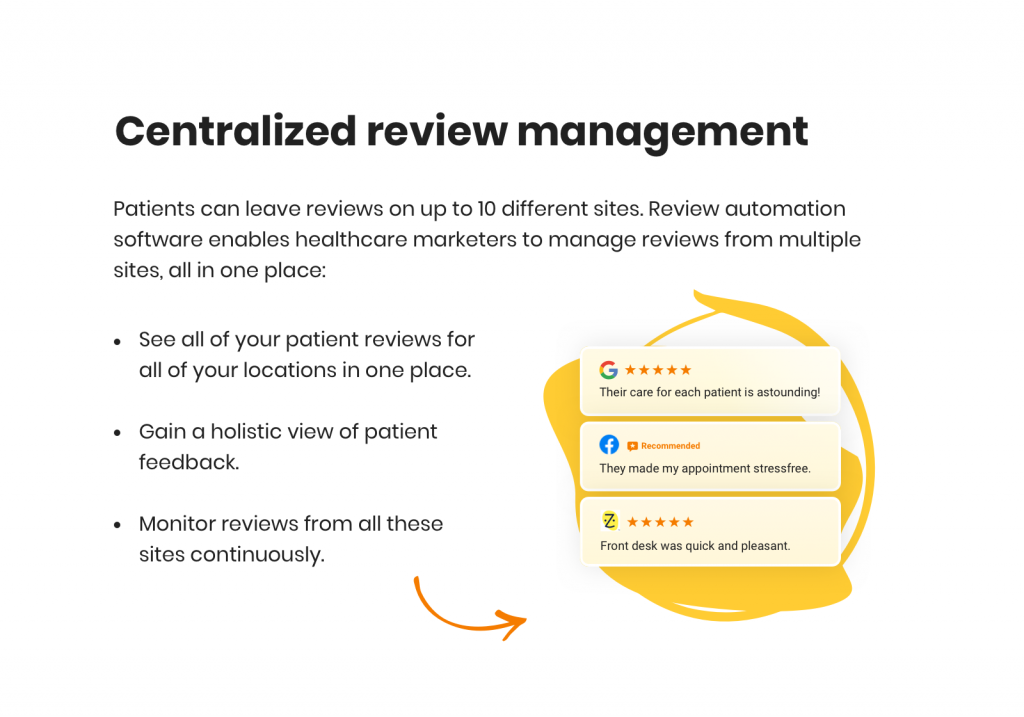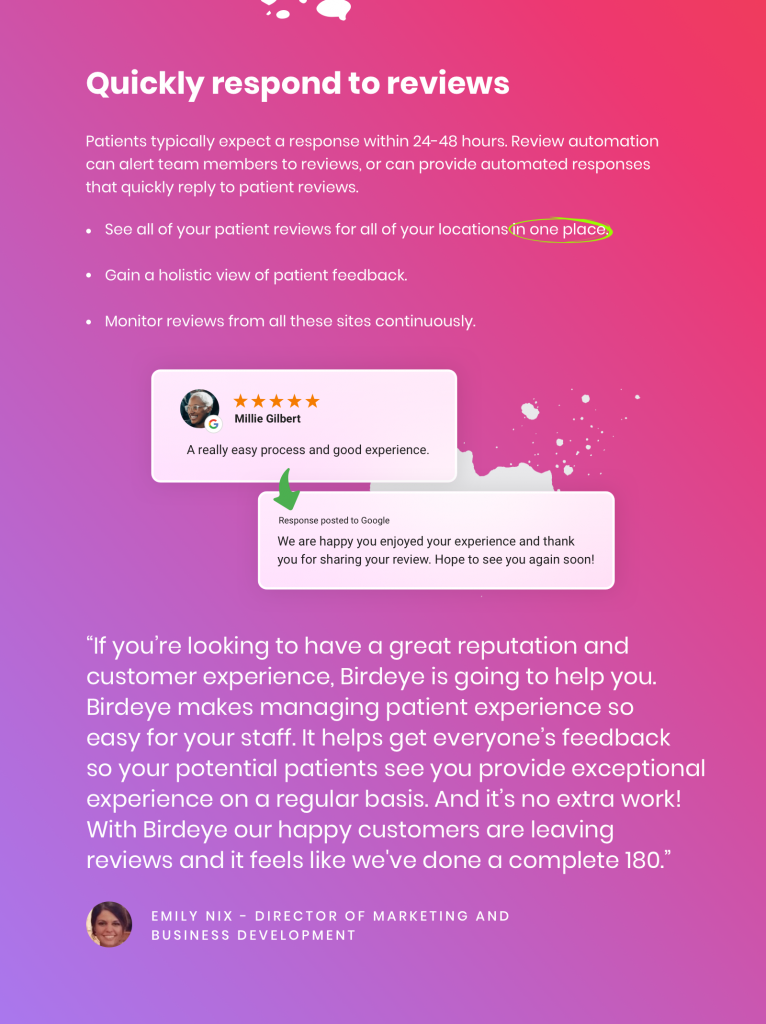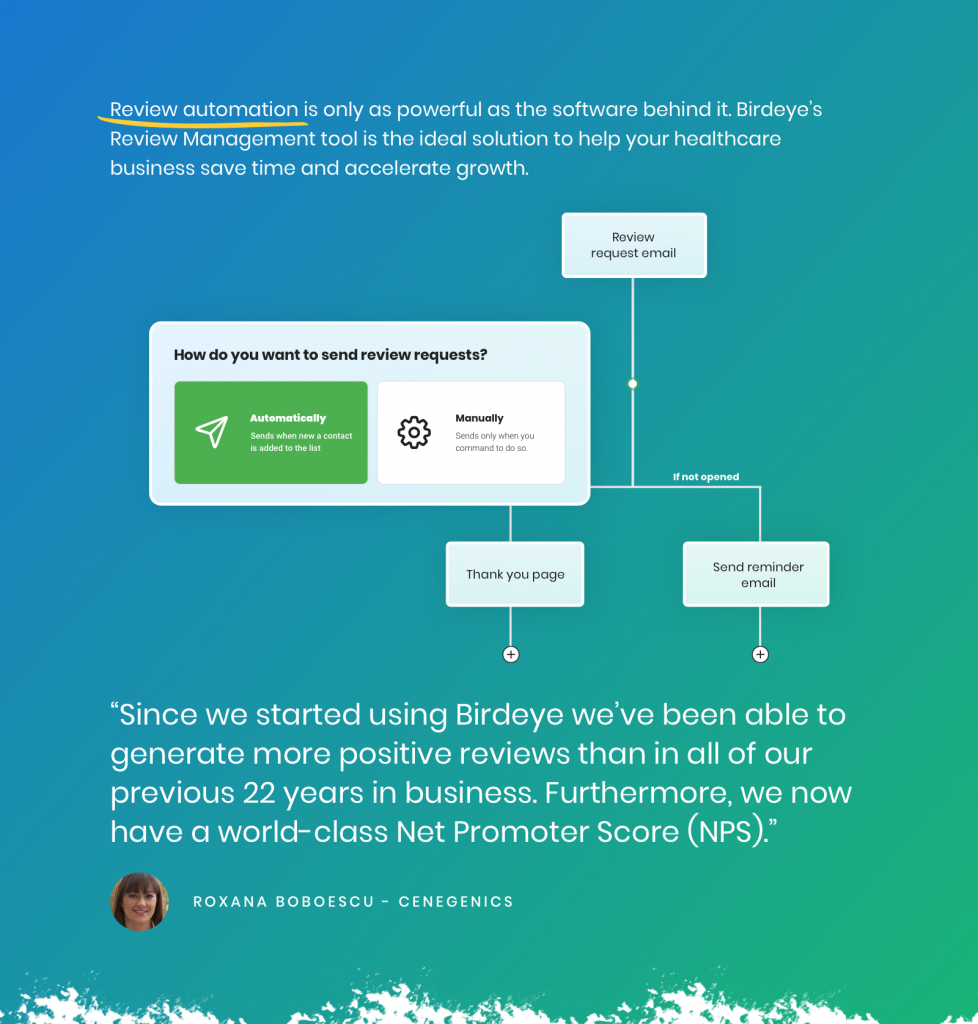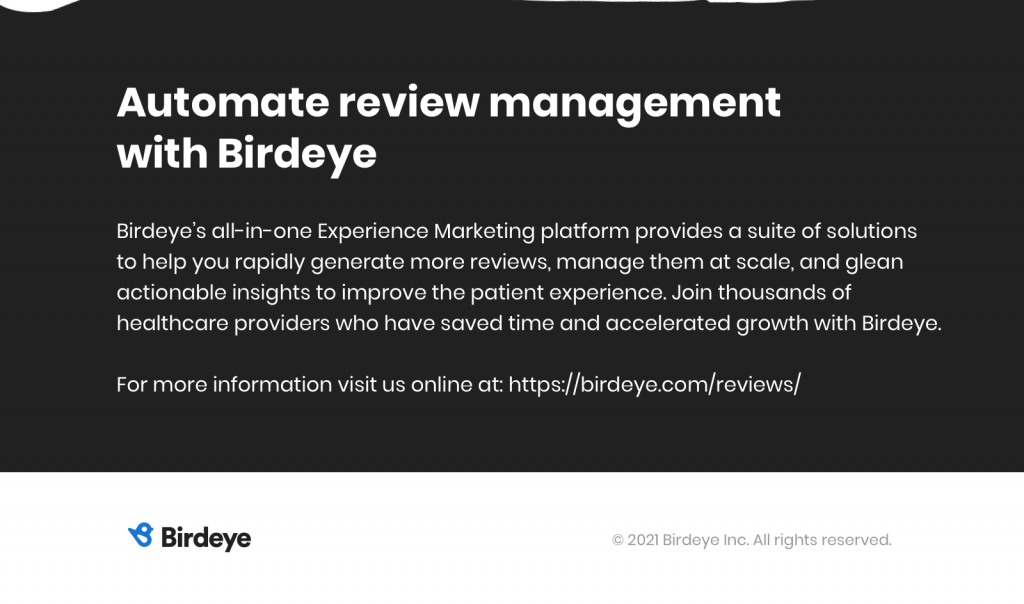 More tips on selecting the right review automation tool
When it comes to automation software, there is no one-size-fits-all solution. The right software for your business will depend on a number of factors, including the size of your company, the nature of your work, and your budget. With so many options on the market, it can be difficult to know where to start. Here are a few tips to help you select the right automation software for your business:
Define your goals – What do you hope to achieve with review automation? Do you want to boost efficiency, improve customer service, or maybe reduce costs? Once you know what you want to accomplish, you can narrow down your options.
Compare features – Not all automation software is created equal. Make sure to compare features and prices before making a decision. For example, maybe you want software that comes with pre-built response templates or the ability to set and send automatic review requests after each patient visit.
Read product reviews – When researching automation software, be sure to read reviews from both customers and experts. This will give you a better idea of what each platform can offer and help you make an informed decision.
Get feedback – Along the same lines, reach out to other business owners that are already using automation software and get their feedback on different products.
Customer support – Good customer service is key to resolving any issues that may arise with your software. Be sure to get a clear understanding if a product has a capable customer support team, their availability, and if they offer onboarding sessions when you are getting started.
Free trials – Many software companies offer free trials of their products. This is a great way to test out a product before making a purchase.
Review automation can certainly help you attract new patients as well as free up time so you can focus on providing more quality patient care. For more information, check out our article on scaling your business with automation tools.
Provide better care with Birdeye Reviews automation
If you'd like to learn how Birdeye can help you save time and accelerate growth with review aIf you'd like to learn how Birdeye can help you save time and accelerate growth with review automation schedule a discovery call with one of our representatives or you watch our free demo at your convenience.

Originally published