Customer experience and satisfaction are critical in insurance, but many in the industry are still in the early adoption stage of digital transformation. Additionally, customer expectations are at an all-time high. People expect fast, personalized service wherever and whenever they need it, and in order to compete, insurers need to offer the best, most seamless experiences possible across technologies, apps, communications, and customer service.
Insurance customers are looking for great experiences, but many insurers are missing the mark:
A whopping 71% of insurance customers are not satisfied with their current providers
Only 16% of customers said they would definitely buy more products from their current insurance provider
An IBM study found that 42% of customers don't fully trust their insurer
On the front line of customer experience in insurance are your customer service representatives and agents. Delivering exceptional experience boils down to their ability to understand customer needs, provide reassurance throughout the process, be available to address questions, provide transparency at each step and efficiently navigate customers through the entire process.
This creates a clear opportunity for insurers to separate themselves from the competition by delighting customers with fantastic experiences. So how can your insurance company seize this opportunity to create better outcomes?
In this post, you'll learn how to improve the customer experience in insurance, turn customers into brand ambassadors, and build your corporate brand.

Understand your customers to deliver memorable experiences
Customer experience is now a competitive differentiator for most insurance businesses, so much so that 85% of insurers are deploying CX initiatives throughout the customer journey. Delighting customers is all about building customer happiness, which then translates to higher conversions, more opportunities, and efficient growth.
To do that effectively, you'll want to leverage technology with AI-powered customer sentiment analysis that combines feedback and sentiment from every channel into a single Experience Score™, giving you both a high-level view of your overall performance, as well as in-depth looks at exactly where you can improve.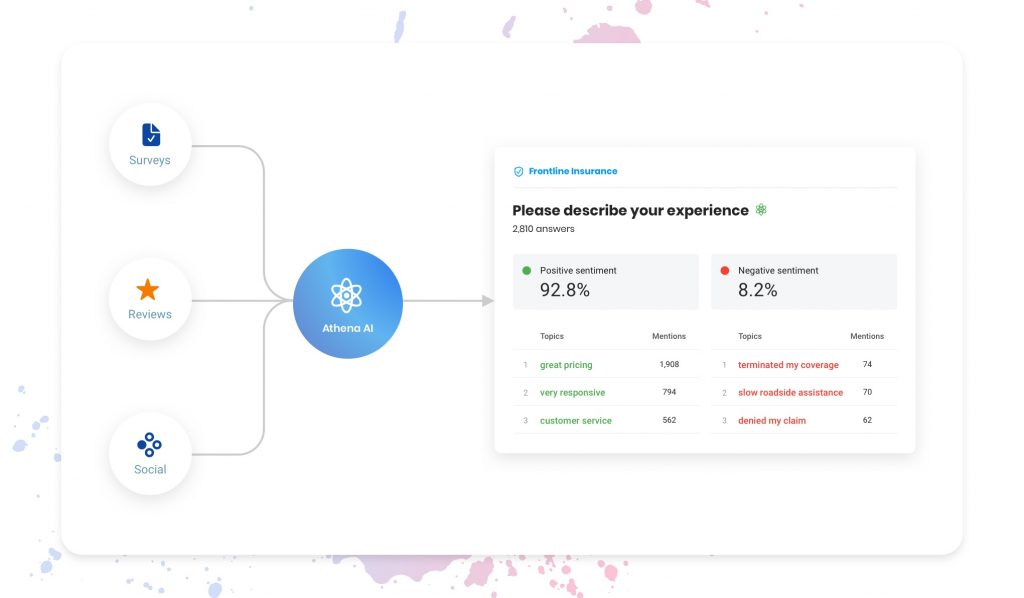 Key phrases copy: great pricing, very responsive, customer service, terminated my coverage, slow roadside assistance, denied my claim
According to a study from IBM, insurers using this type of technology report an average NPS of 33.5, rising more as sentiment analysis is used, up to an average NPS of 41.6 for the insurers in the strongest use bracket.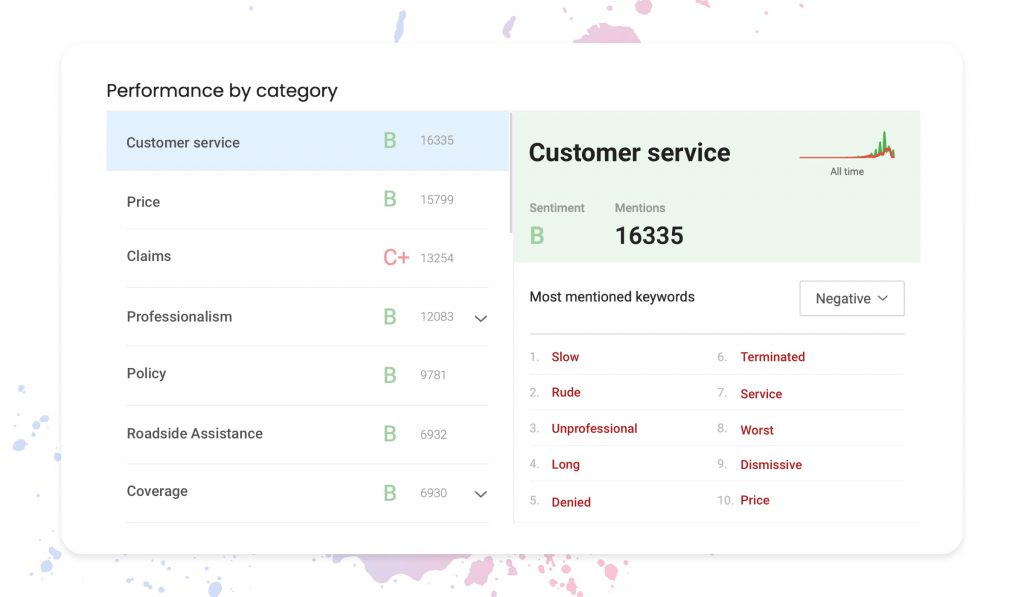 With all this data at your fingertips, it's then far easier to fix and optimize broken experiences, ensuring your next lead becomes your next customer.
Centralized customer interactions
Customers expect consistent, high-quality experiences no matter which channels they choose to interact with your business. 75% of consumers expect consistent experiences across multiple channels (web, mobile, in-person, social), with 73% likely to switch brands if they don't get it. Yet, 21% of insurance customers say that providers do not tailor their customer experiences at all.
Experience Marketing for insurers centralizes online customer interactions and better aligns with customers' engagement needs and improves cost efficiency over traditional channels such as phone and mail.

Managing multi-channel customer interactions
In order to effectively manage customer interactions that delight your customers, you need to evaluate the following core areas:
1. Interactions across multiple channels
Today's digital customers interact with insurers through various channels like phone, email, social, webchat, messaging, etc. at their convenience. Even if they swap between channels, they view their conversations across these mediums as one single interaction. For customers, your brand is a single entity, and changing the mode of communication should not result in losing the context of previous interactions. Thus, your business needs to be present across all relevant channels and should be able to manage interactions in a seamless, omnichannel manner.
2. Maintaining cross-functional data synchronization
Be it Sales, Underwriting, or Customer Service, the way businesses manage their customer interactions across departments holds the key to retaining and increasing your customer base. Consumers typically interact with different departments as they navigate the buyer's journey. It is your responsibility to ensure that all the information regarding their queries and feedback is visible to respective teams in a cohesive manner. Ensuring data transparency gives better insights to help relevant teams deliver personalized service and identify upselling and cross-selling opportunities.
3. Empowering your team to deliver better interactions
Managing multiple inboxes has become a harrowing task for even the most robust teams. Toggling between multiple channels hampers productivity and deteriorates the quality of customer interactions. Your team should be equipped with the right tools that reduce the complexity to access customer interactions and deliver better customer experiences.
Experience Marketing software centralizes all of these channels into one Unified Inbox, enabling your team to craft the perfect response for every customer interaction; centralize customer communications, and engage teams across the company to consistently deliver a winning customer experience.
As more consumers engage on digital channels, personalized interactions are paramount to providing high-quality customer experiences. Centralizing customer interactions breaks down internal data silos and allows your customer-facing teams and agents to create consistent personalized experiences at every touchpoint.
Increased automation
Better up-selling and cross-selling opportunities
Seamlessly audit all present and past customer conversations
Optimize customer service
Quickly identify and resolve customer issues
Amplify growth by highlighting social proof
Other than price, the number one factor for consumers when choosing an insurer is reputation. Few people want to spend their hard-earned money on an insurer they know nothing about. That's part of the reason why 82% of consumers read online reviews before making a purchase. Reviews can either attract new customers or send them searching for a competitor.
That's why it's important to regularly generate new reviews and manage them as they scale.
Here is how you can make the reviews collection process easier for your business:
Make the process as easy as possible – Provide customers with a simple review process that is as straightforward as possible. Include the appropriate link within the review request so that your customers don't need to do anything more than click and respond.
Automate review requests – Automate your review requests to increase response rates. With an automated system, you can send timely review requests at scale without overwhelming your staff.
The more reviews your company, and agents, gets the more reviews your team has to manage. It's important to monitor your reviews so you can respond to them accordingly and have the best picture possible of your customer experience. Experience Marketing software can help you streamline this process by:
Sending automatic review requests right after a customer interaction.
Tracking your reviews over time and identifying trends to know what your business is doing well and where you need to improve.
Helping you get notified when you receive negative reviews so that you can respond quickly.
Regularly requesting and responding to reviews means your business will be able to show positive, recent reviews that prove to consumers that your business delivers a superior experience.
Automate to remove friction for your team and customers
Leveraging automation to streamline and scale the entire process enables your business to grow on autopilot. By creating custom workflows, event-based triggers, and even opting into managed services for features like mass texting, you're giving time back to your teams to do what they do best.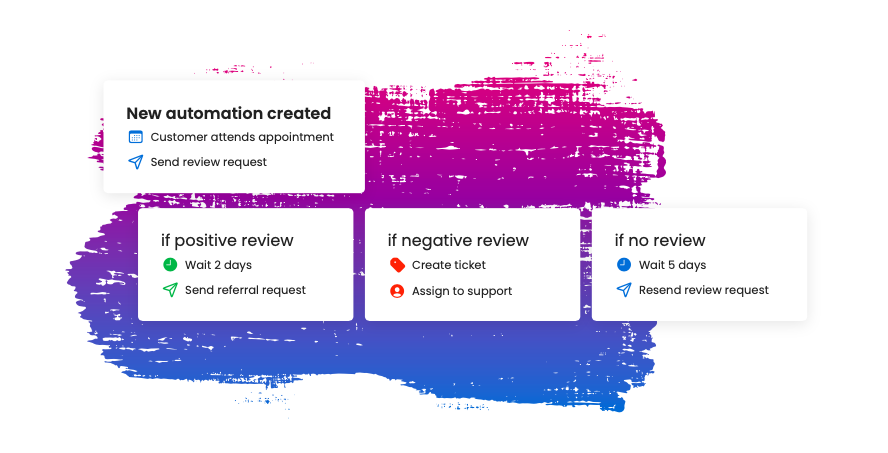 Multi-location insurers, and agents, who can successfully implement automation achieve hyper-efficient and infinitely scalable acquisition — eliminating the need for the traditional and costly marketing funnel.
Bridge the gap between customer-centricity and ROI
When these concepts are combined, you'll get more people in the door, create better experiences, and boost loyalty – turning customer delight into revenue.
Experience Marketing is the bridge between customer-centricity and ROI. It highlights the good work you're doing by letting people know you're actively listening, continuously adapting the customer journey to their needs, and delivering high-quality experiences.
For more details, check out the complete customer experience (CX) guide.
Birdeye can help you get started with experience marketing
Over 60,000 businesses of all sizes use our platform to delight, amplify, and automate. For an even more comprehensive guide on how Birdeye can help your insurance company get started with Experience Marketing, just click the banner below.

Originally published