Your company's mission statement is a key driver of its growth.
An effectively crafted mission statement can give your employees purpose, drive decisions, and avoid decision-making missteps.
In this article, we'll share 15 inspiring mission statements and learn how to write a mission statement that resonates with you and your customers.
What is a mission statement?
A mission statement is any action-based declaration outlining the reason your company does what it does. A good mission statement provides your company with tangible, real-world purpose and benefits.
Mission statements serve as the guiding light for companies to grow, build, and lead from the front. They also are excellent tools for employee engagement and loyalty, which in turn, boosts productivity.
Birdeye – all-in-one platform
Automate Reviews, Ratings, Listings & Reputation Management with Birdeye.
How to write a mission statement for small businesses? 
The best mission statements are usually one or two sentences, and they direct the company to a higher-level goal beyond boosting profits. Your mission statement will be a compass for the strategic and daily decisions within your company.
When you write a mission statement, consider
the impact you want to have on your customers, your employees, your community, and your business decisions, past and future.
how those business decisions intersect with your company's goals.
Mission statement vs. vision statement
A mission statement defines what your company is doing today, right now. Alternatively, a good vision statement is a forward-thinking proclamation that defines where the company is going.
Your mission statement defines who you are now. Your vision statement defines how "who you are now" will get you to where you want to be.
For comparison, consider the common, personal goal of getting into shape. Your mission statement would be something like, "to be a health-conscious person in everything from what I eat to the activities I pursue." Your vision would be something like "to be among the healthiest adults in every metric of strength and well-being."
15 inspiring mission statement examples
Are you looking for inspiration to write a well-intentioned mission statement for your business? Look no further. We've collected some of the best mission statement examples from top companies for your reference.
Each mission statement will demonstrate how these top organizations have articulated the principles that guide their missions towards success.
Apple
Mission statement: "Bringing the best user experience to its customers through its innovative hardware, software, and services."
Ever since the release of the iPod in 2001, Apple has been redefining the role of electronics in our lives. Apple's ingenious product line embodies its commitment to introducing revolutionary solutions. And its mission statement captures Apple's pledge to prioritize user experience and innovation. Both qualities, today, are synonymous with Apple's brand image.
Tesla
Mission statement: "To accelerate the advent of sustainable transport by bringing compelling mass market electric cars to market as soon as possible."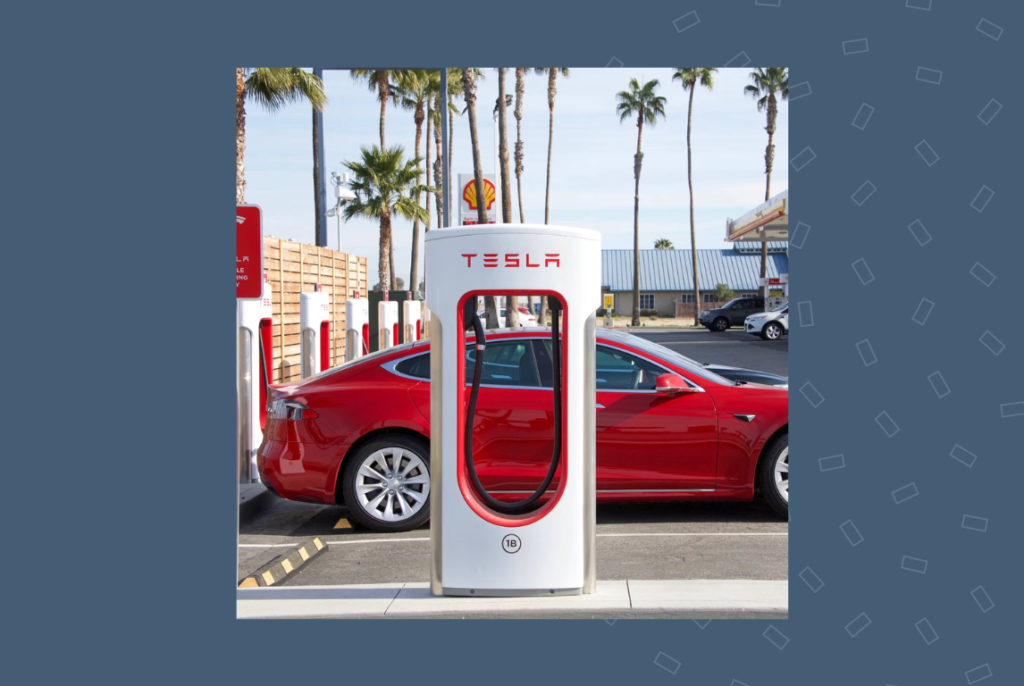 Founded in 2003, Tesla brought electric vehicles to consumers' consciousness long before climate change dominated the headlines. Tesla's mission statement describes its primary focus – electric car production and electric car consumer adoption. Both priorities are evident in Tesla's role in electric vehicle introduction and auto industry innovation.
Adidas
Mission statement: "To be the best sports brand in the world."
Adidas' simple mission statement has carried it from revolutionary football boots in 1949 to a multi-billion dollar corporation in 2021. While the company faces steep competition in the sports industry, it continues to be one of the most widely recognized brands worldwide. And that is possible because of the singular focus the mission statement brings to the company.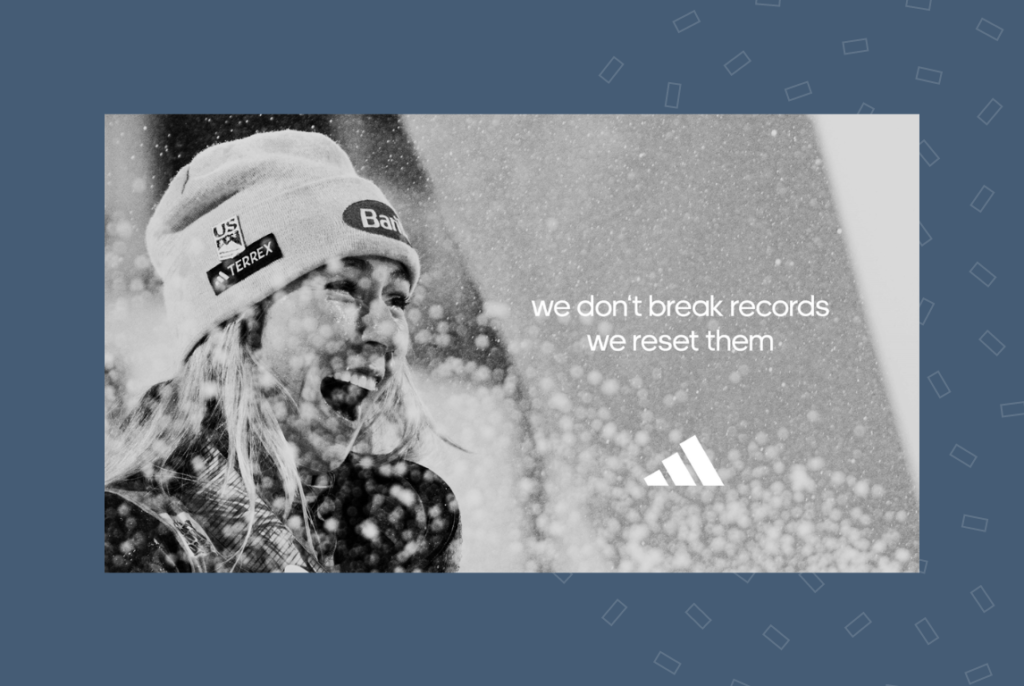 From apparel to equipment, Adidas reaches every corner of the athleisure industry with products, team sponsorships, and young athletics support initiatives.
Meta (Facebook)
Mission statement: "To give people the power to build community and bring the world closer together."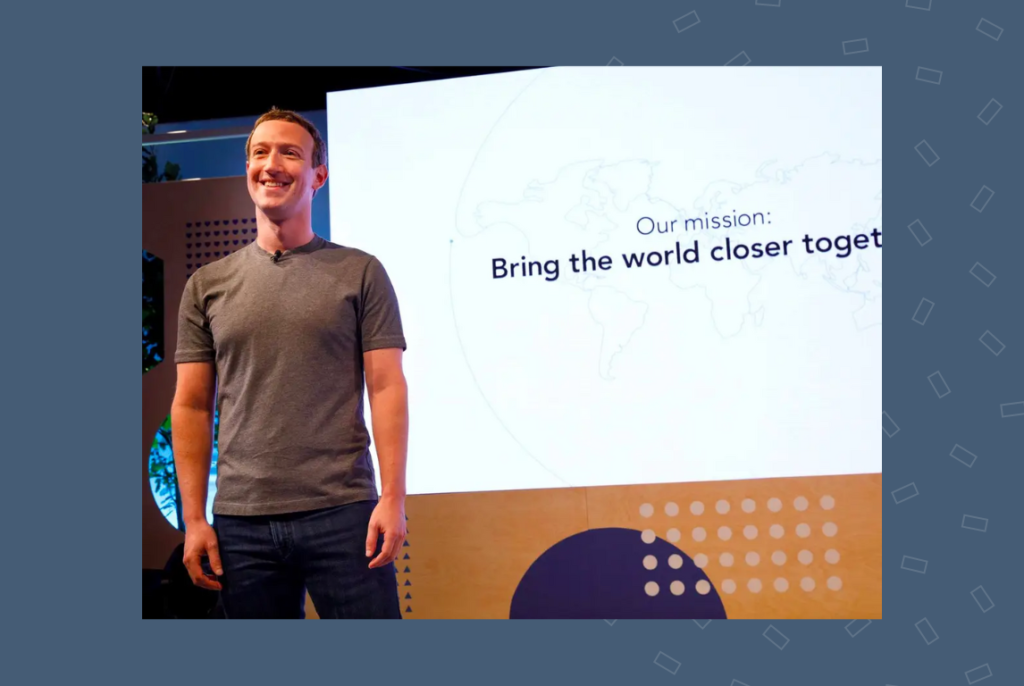 Meta's mission statement is so distinctive we can easily recognize it as belonging to the social media giant. Facebook began as a community for college students. And its mission describes just how it facilitated growth to now include worldwide community connection. Digital tools and enhancements to the platform continue to "bring the world closer together" in a real way, connecting people and brands that wouldn't otherwise be able to engage.
Amazon
Mission statement: "To be Earth's most customer-centric company."
Shipping to over 100 countries, we can see that Amazon's mission statement provides the corporation with clear direction. The eCommerce platform continues to be innovative in connecting buyers and sellers in a customer-centric way.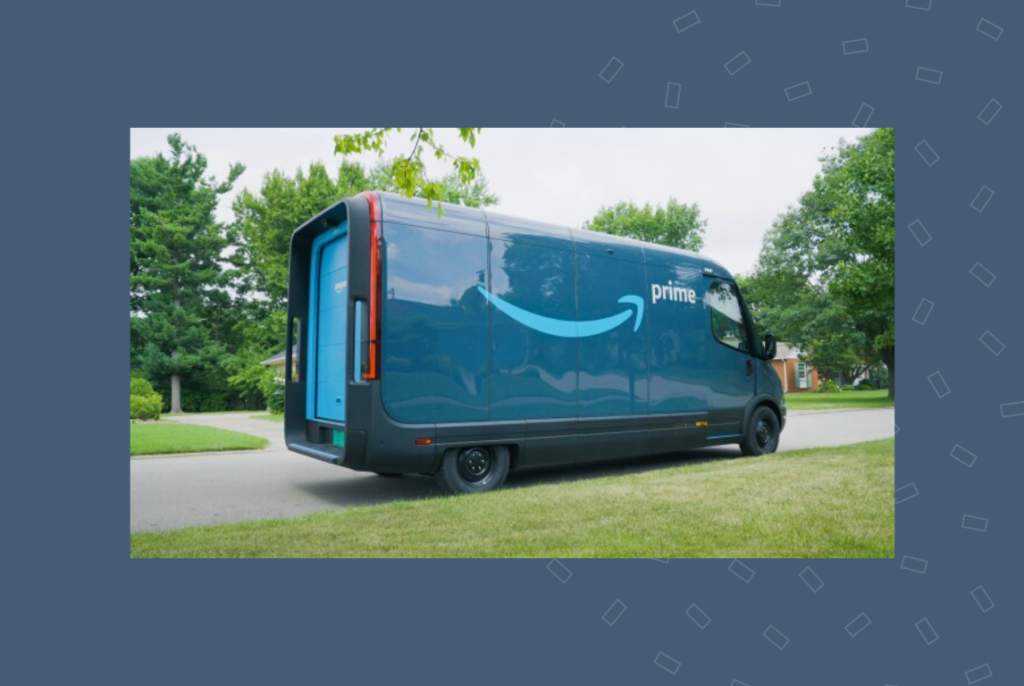 With services like Amazon Prime, providing same and next-day delivery, to the company's full suite of other services, including video streaming, Amazon strives to make consumers' lives easier, simpler, and more rewarding by streamlining the process with which customers consume goods and services.
Monday
Mission statement: "To democratize the power of software so organizations can easily build software applications and work management tools that fit their needs."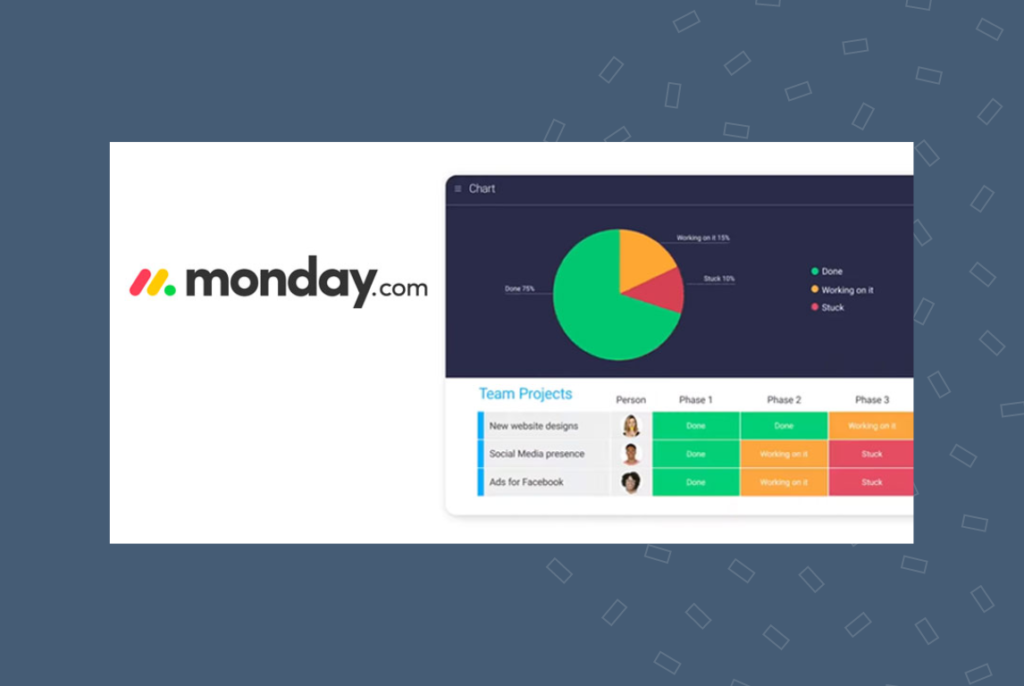 Monday.com provides all the tools a company may require to manage workflows and projects from beginning to end. Its comprehensive approach to software services is a direct result of its good mission statement.
The company continues to dominate with its signature line of customizable features and tools in one easy-to-use workspace. And as its mission statement says, it puts the power of customization into the hands of every client it serves.
Coca-Cola
Mission statement: "Satisfy our beverage consumers with excellence."
Easily the most recognizable beverage company, Coca-Cola offers a wide range of beverages, from teas to vitamin water. You can see from their mission statement they are more committed to their customers than they are to limiting themselves to just their well-known soft drink.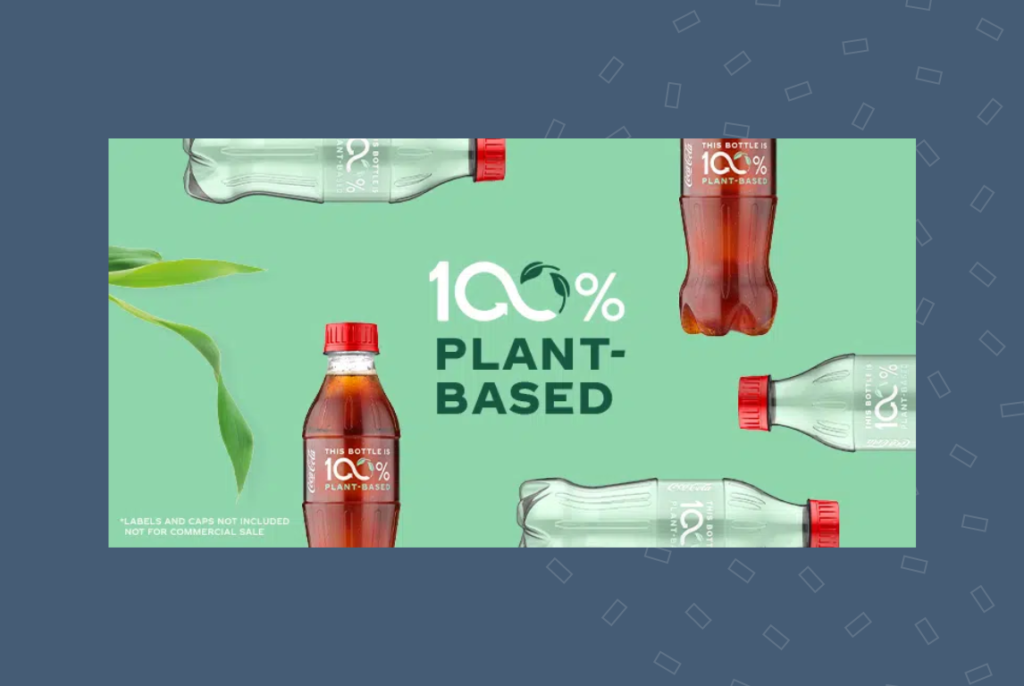 Coca-Cola puts its customer-centric mission statement into action with sustainability and social justice initiatives. Whether it's partnering with Bill Nye to promote recycling or doubling its investment in minority-owned businesses, Coca-Cola's initiatives focus on people before their product, just like its mission statement.
Dropbox
Mission statement: "To unleash the world's creative energy by designing a more enlightened way of working."
Dropbox recognized a limiting aspect of the internet early on. Files are difficult to manage, organize, and send across organizations.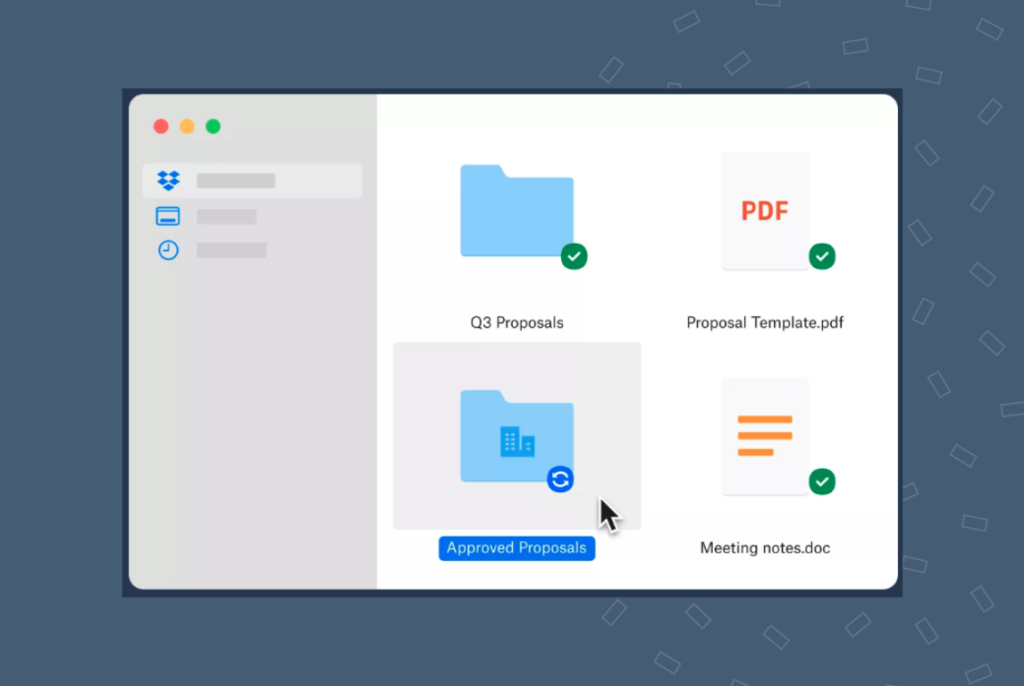 You can see how their mission statement embodies their product offerings. Thousands of companies and individuals rely on Dropbox for digital management and sharing across a variety of projects. It continues to be the "delightful" way creatives share creations.
IKEA
Mission statement: "To create a better life for the many people."
Simple and succinct, IKEA has used its mission statement effectively to show they want to be consumers' go-to source for affordable, fashionable, and durable furniture.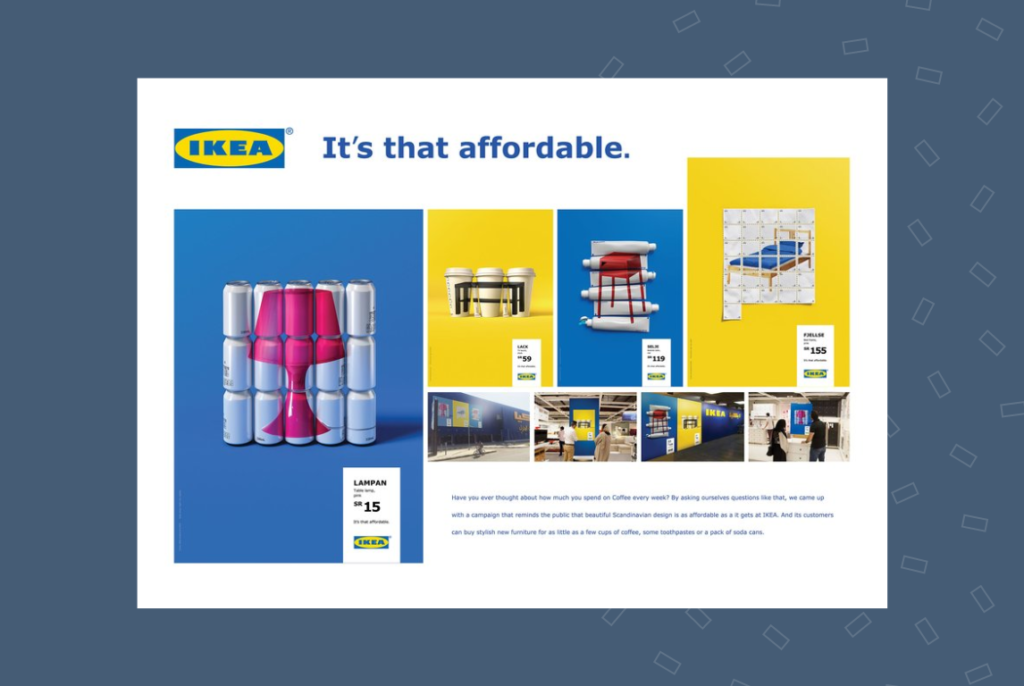 And "life is better" for consumers who can enjoy quality furnishings affordably. The brand redefined how people bought furnishings with innovative store layouts and the do-it-yourself approach to assembly. It continues to be the leader in its stylish-meets–economical space, demonstrating its mission statement.
Deloitte
Mission statement: "To help our clients and our people excel."
Deloitte provides market insights through its consulting and analytics operations. And their mission statement clearly expresses the reason for what they do. With auditing, consulting, and advisory services, Deloitte's offerings are all about helping their clients excel.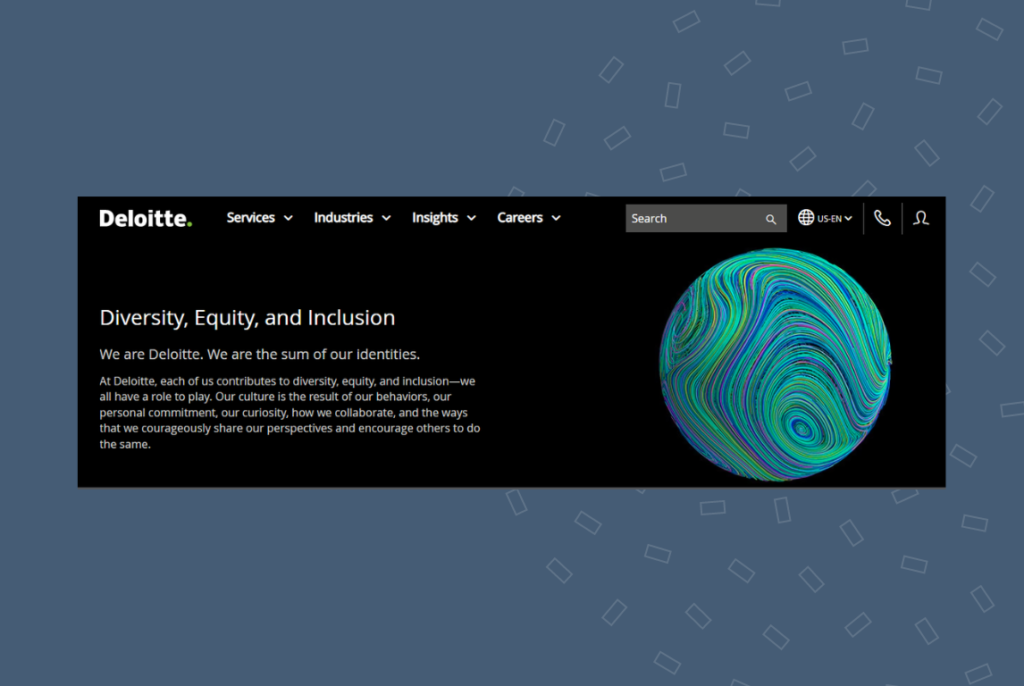 The company provides a full suite of services at every level of "clients excelling," including consulting services for business, analytics services for company leaders, and operational management solutions. Any client needing a partner or solution for next-level results can find it with Deloitte, and within Deloitte's mission statement.
Nike
Mission statement: "To bring inspiration and innovation to every athlete* in the world.
*If you have a body, you are an athlete."
Nike's mission statement is both informative and inspiring. Its mission statement not only informs about the company's product offerings, like hands-free sneakers, but also its marketing campaigns.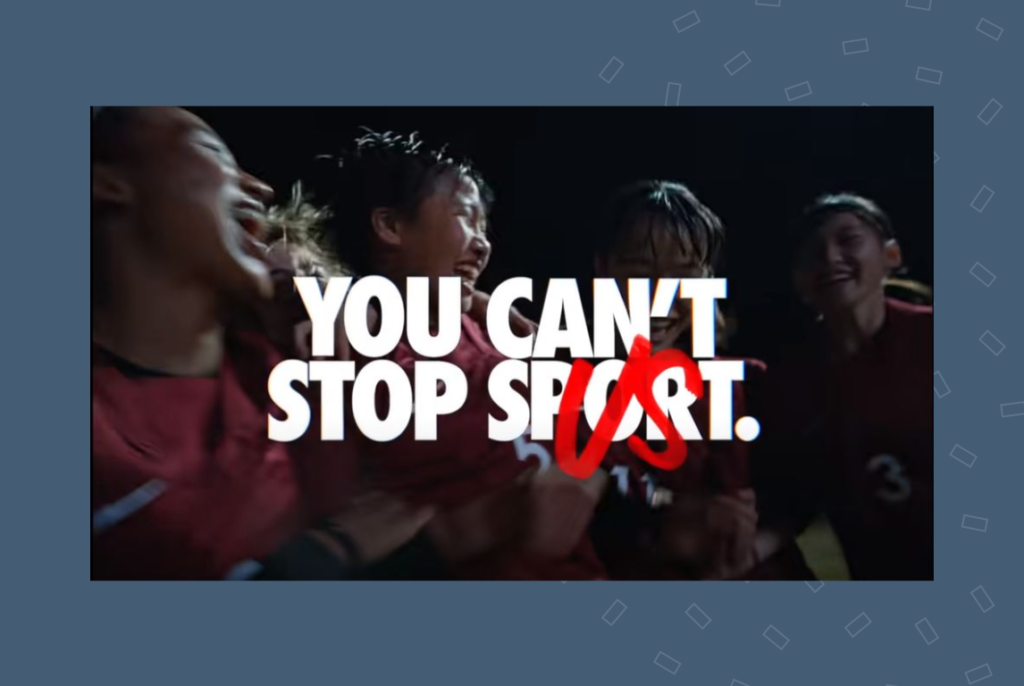 Its "You Can't Stop Us" campaign is just the latest of its social media ads to go viral.
Nike may be in the business of athletics, but it's not limiting itself to any one kind of athlete. They follow their mission statement as it tells them to find the "athlete in anyone."
Google
Mission statement: "To organize the world's information and make it universally accessible and useful."
Here's another mission statement example we could easily match with its company's public perception. Compare Google's mission statement with its closest competitor, Bing, whose mission is "to help you search less and do more." The inspiration and ambition of Google's mission statement is one of the reasons the search engine enjoys 85% of the market share.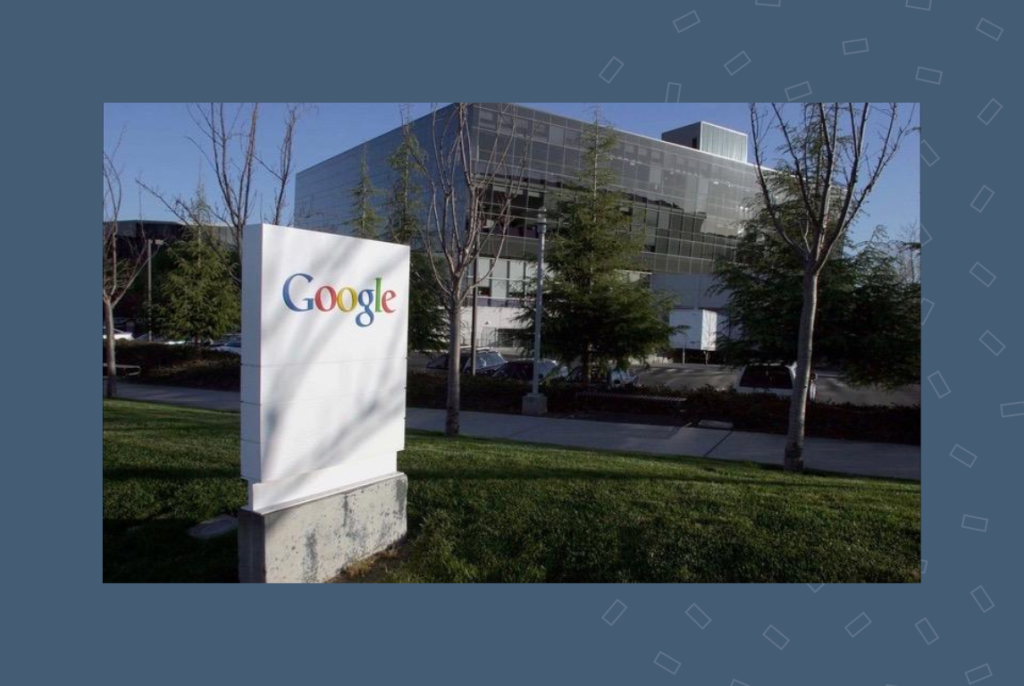 Google continues to expand beyond the search engine capabilities. It also offers robust solutions for individuals and businesses that each make it "universally accessible" for users.
Forbes
Mission statement: To be "the global champion of free-market enterprise and entrepreneurial capitalism."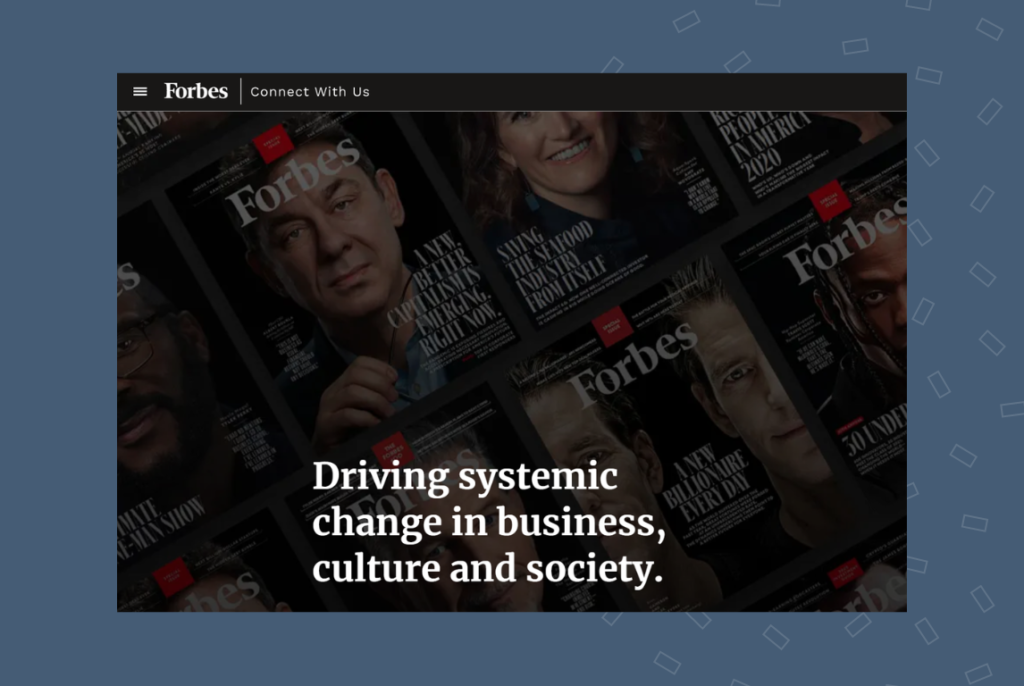 Forbes is a great mission statement example because it's a brand that has transformed from a print publication to world-renowned, go-to news and advice resource for entrepreneurs, businesses, and industry leaders.
As a "global champion", Forbes constantly innovates and steers clear of traditional media strategies and routinely shares actionable and relevant information. If it's business-related, Forbes has a library of resources to offer. Forbes' commitment to educating its audience of business professionals is how it "champions" capitalism.
Starbucks
Mission statement: "With every cup, with every conversation, with every community — we nurture the limitless possibilities of human connection."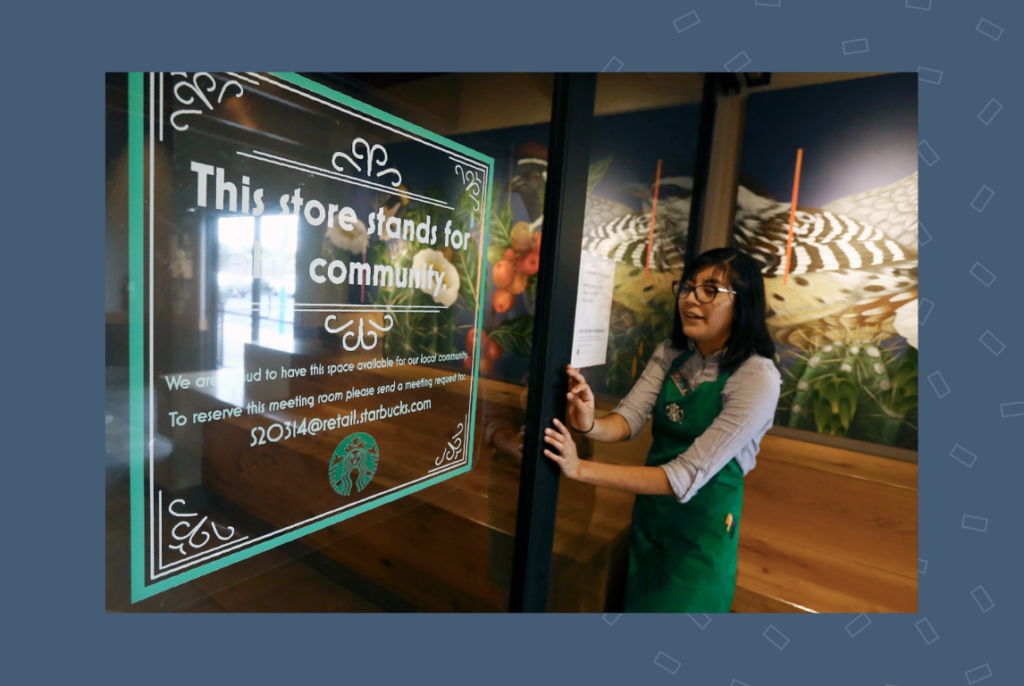 Starbucks' new mission statement shows the value they are guided by every day in their organization. The company has changed its mission statement over the years to adapt to the changing times.
As the world evolves, Starbucks recognizes that their role in the industry is much bigger than that of a beverage provider. In addition to maintaining its top spot as the premium coffee retailer, the company continues to appeal to the values of its loyal customers with community-centric initiatives.
Canva
Mission statement: "To empower everyone in the world to design anything and publish anywhere."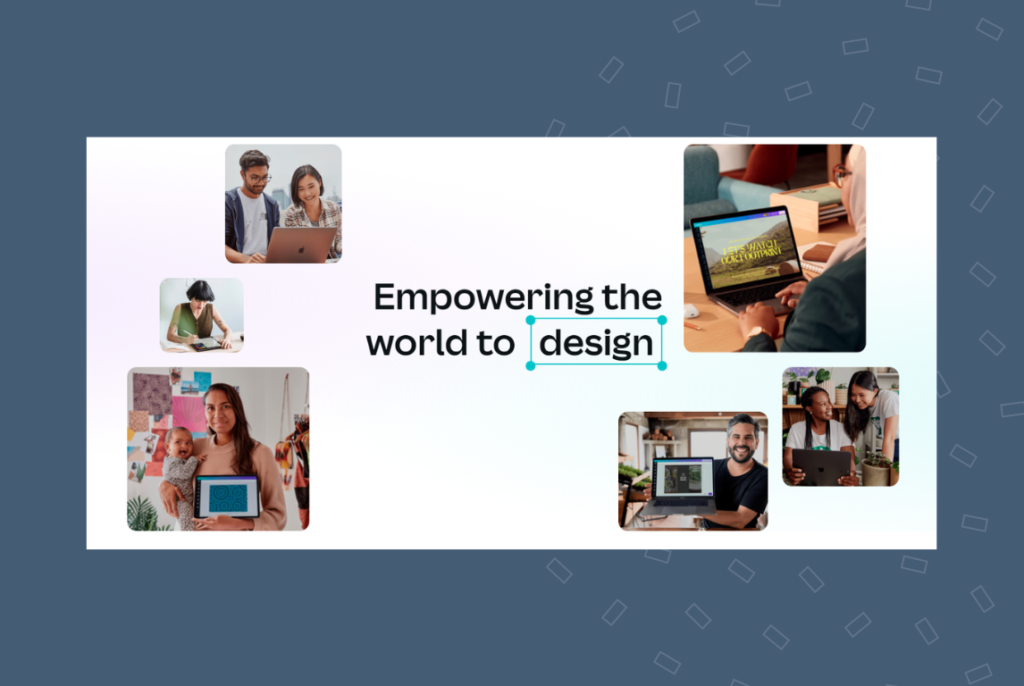 Canva's mission statement is an excellent example of being customer-centered. The brand constantly prioritizes bringing value to their customers in the form of easy-to-use tools and tutorials. Canva isn't just for creatives, either. It strives to be the best tool for anyone in need of high-quality design and publishing tools.
Best vision statement examples
Every mission statement needs a good vision statement to make it complete. Here are a few vision statement examples for your company's inspiration.
Remember, your vision statement is a statement of the future your company is working to achieve. So, be insightful, aspirational, and visionary.
Walmart
Vision statement: "We aim to build a better world — helping people live better and renew the planet while building thriving, resilient communities."
Walmart's vision statement is an excellent example of imagining the impact your business will have on the world. With a clear picture of your company's influence, you create an effective roadmap.
American Express
Vision statement: "Provide the world's best customer experience every day."
American Express understands that customers have dozens of options for their credit card needs. Their vision explains how they hope to distinguish themselves from their competitors well into the future.
Toyota
Vision statement: "Toyota will lead the future mobility society, enriching lives around the world with the safest and most responsible ways of moving people. Through our commitment to quality, ceaseless innovation, and respect for the planet, we strive to exceed expectations and be rewarded with a smile. We will meet challenging goals by engaging the talent and passion of people who believe there is always a better way."
Toyota's comprehensive and good vision statement demonstrates the company's commitment to its values. It imagines itself being at the forefront of every innovation that leads and improves a "mobile society."
P&G
Vision statement: "We will provide branded products and services of superior quality and value that improve the lives of the world's consumers, now and for generations to come."
Procter & Gamble's vision statement outlines how it will improve its consumers' lives "for generations to come" by focusing on quality and value. Judging by its revenue of almost $20 million in the fourth quarter of 2022, it seems customers agree P&G is delivering on its promise.
FAQs about mission statement examples
What are the 3 parts of a good mission statement? 
The three core parts of a mission statement are the purpose, vision, and values.
What is McDonald's mission statement?
McDonald's official mission statement is "to make delicious, feel-good moments easy for everyone."
How do you write a strong mission statement?
You write a strong mission statement by describing the positive impact your company must have  on your customers, employees, and the community.
What is a good mission statement?
Good mission statements are action-based declarations of who you are that will serve as a compass for decisions throughout the company.
Examples of mission statement for small business
If you're looking for examples of mission statements to inspire your business, we have a few curated for your ready reference:
Deliver quality and convenience for our customers by providing top-notch products and ensure all our customer needs are met effortlessly.
Empower our customers to follow a sustainable lifestyle by providing conscious choices with eco-friendly products and building a sustainability culture that creates lasting impacts on the environment.
With a commitment to innovation, safety, and sustainability, we aim to Revolutionize the automotive industry by delivering cutting-edge service with technologies that redefine transportation.
Caring for health & wellness, one patient at a time: we aim to provide excellence in healthcare by prioritizing our patients and committing to personalized care and community engagement.
Service beyond excellence: Our mission is to equip our customers with the best home services with our commitment to customer service, technical excellence, and quality.
Conclusion
Running a business requires clarity and direction. Your team needs an easily referenced roadmap that will guide them in their everyday decisions. As you develop a strategic outlook, you'll need a compass that ensures your company will remain on course. These mission statement examples can help inspire you to create all of the above.
Remember that your mission and vision statements will only be effective if you use them. Display your statements prominently for customers and staff to see them. Finally, make sure every decision you make is aligned with your mission and vision statements.

Originally published