Using a Gmail or Hotmail email address can make you look unprofessional. It can negatively impact your credibility as a business, too. But the truth is many business owners don't know what a professional email address is supposed to look like, nor how to create one.
If you're ready to give your company's professionalism a boost, keep reading. These professional email address format tips are easy to incorporate.
What is a professional email address?
For starters, it's one you use exclusively for business purposes. Personal email addresses are commonplace for staying in touch with loved ones, receiving sought-after newsletters, and staying tuned with your favorite brands. A professional email separates everyday communication and is dedicated only to communicating with colleagues, customers, vendors, and partners.
A professional email uses a custom domain name. And there's a professional email address format to follow. For example, if your website address is www.domain.com, your email address should look something like this: name@domain.com. This type of address not only helps establish your business as a real entity but also makes you look more professional.
Steps for how to create a professional email address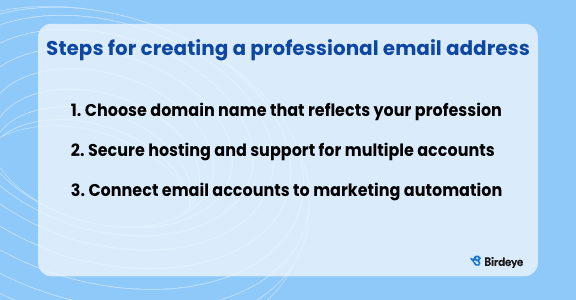 1. Choose a domain name that reflects your profession
If you have a domain name and haven't registered it with a provider, what are you waiting for? There's a chance someone else can claim it which will have an impact on your email as well as your relationship with customers.
Your domain name should say something about what you do. This can help anyone receiving your emails identify your business' general purpose. Most web hosting companies let you register domain names onsite.
2. Use an email provider that offers secure hosting and support for multiple accounts
With cyber-attacks becoming increasingly frequent, choosing an email host with robust security features to protect sensitive company data is crucial. Additionally, hosting multiple accounts is essential when working with a team or collaborating with clients. A trustworthy email provider should offer top-notch support and account management tools to ensure seamless communication. Opting for an email host that offers these features may increase productivity and give business owners peace of mind knowing that their digital assets are safe and secure.
3. Connect your email accounts to your marketing automation software
The exact steps for linking your email address to your marketing automation software will vary depending on the software you're using. However, connecting your email to your automation software ensures that emails go out based on triggers – like when a customer makes a purchase or signs up for a newsletter.
These types of automated campaigns help keep the conversation going with customers and personalize their experience with your brand. Not only does this help you build relationships with customers, but it also saves time by cutting out the manual process of creating and sending emails one by one.
Tips for creating a professional email address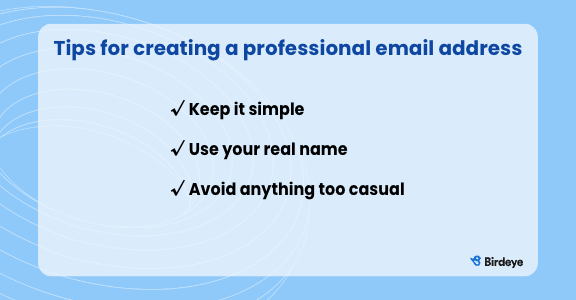 Keep it simple
Email addresses with numerals and dashes can be discouraging. People either don't remember them, or they mistype them. Professional email accounts with clean and easy-to-type characters matter.
In terms of top-level domains, .com is always the best. Many businesses also do well with .net, .org, .co, .ly, and others. But it can be harder, given that most people are used to .com domains.
If your chosen domain is not available as a .com, or if it's too expensive, you can try adding terms like "hq," "online," or "business" at the end of the domain name, assuming it won't confuse your audience.
Also, try to avoid clashing with other businesses, especially those in the same industry, with similar domain names. Double-check that you're not registering a domain that won't easily be mistaken for another business or a competitor.
Use your real name
Businesses sometimes like to dream up creative email addresses, whether it's admin, no-reply, ninja@AcmeVenturesGlobal.com, or otherwise. They sometimes forget that customers like to be able to interact with actual humans using email addresses from which they can expect a response. For example, jessica@AcmeVenturesGlobal.com is far more personable and professional than creative alternatives.
While tempting, avoid using nicknames. Many companies, especially those in creative industries, will be tempted to use their nicknames in their email addresses. Unfortunately, misspellings can occur, and if your prospects or customers don't type it in correctly, they may not be able to connect with you at all.
Avoid anything too casual
I know we all have our favorite email addresses for personal purposes. Mine happens to have a reference to my favorite sports team in it. But it's important to keep things professional when it comes to business. That means avoiding the use of casual email addresses for any important correspondence.
You don't want to be taken less seriously because your email address is something like "partyanimal@email.com." Instead, opt for a simple and straightforward email address that includes your name or your company's name. This will give off a more professional vibe and make others take you seriously in the business world.
Manage Conversations from a Single Inbox
Want to see the impact of Birdeye on your business? Watch the Free Demo Now.
Professional email address examples
There are many combinations that can work. Get inspired by these professional email address ideas and follow these formats:
1. [firstname].[lastname]@yourcompany.com 
• Formal and easy to read.

2. [firstname]_[lastname]@yourcompany.com
• Less common but easy to read.

3. [firstinitial][lastname]@yourcompany.com
• Professional, but it can get lengthy and confusing.

4. [firstname]@yourcompany.com
• Short and sweet. It could, however, get confusing in larger organizations where there is multiple staff with the same name.

5. [lastname]@yourcompany.com
• Good for smaller teams.

6. [firstinitial][middleinitial][lastname]@yourcompany.com
• Professional, but it can get lengthy and confusing.

7. [firstname][department]@yourcompany.com
• Helps keep things organized but may need to be updated frequently.

8. [firstname][title]@yourcompany.com
• This format can also help keep things organized, but inevitably it will need to be updated now and again.

Public email address examples
Public-facing email addresses are important. You want to be able to answer questions, point customers in the right direction, and even close sales.
Here are several examples of public email addresses worth creating. Remember, you need someone to check these email inboxes weekly, if not daily, and respond to relevant messages.
• support@yourcompany.com
• webmaster@yourcompany.com
• sales@yourcompany.com
• hr@yourcompany.com
• contact@yourcompany.com
• info@yourcompany.com
• career@yourcompany.com

FAQs about professional email addresses
What is a good professional email address?
A good professional email address includes your name or your company's name. For example, gene.richards@AcmeVenturesGlobal.com. This works because it's clear who you're emailing and at what company.
Is Gmail a professional email address?
No, Gmail is not considered a professional email address. Although it's widely used, many companies require their staff and employees to use an official company email address that typically has a custom domain.
What is an example of a professional email?
An example of a professional email address might be something like firstname.lastname@companyname.com (johnsmith@example.com.) Professional emails are made up of the user's name, followed by the domain of the company they work for, or their own domain if they are self-employed.
Connect with customers on Birdeye Messaging
Businesses connect with their customers on multiple channels. Whether it's email, social media, text, or webchat, keeping the conversation going is vital to a relationship. With Birdeye Messaging, you can bring all those channels together into one inbox. Click the banner below to watch a free demo.
Originally published