Procurement and sales often have a tumultuous relationship. They are used to being on opposing sides of the table. That's often because their goals differ by 180° the moment they enter the negotiation room. Furthermore, sales teams tend to be more agile and have tight deadlines coupled with aggressive quotas. On the other hand, procurement teams work more systematically and make more thorough analyses before committing to anything throughout the negotiation process.
Due to this, there is no shortage of sales advice online that elaborates on how to navigate negotiating with procurement. Yet oftentimes, this type of sales advice does not have input from the perspective of the procurement team, creating a disconnect. This is especially true in large enterprise transactions. However, the truth is that vendor sales and procurement need to work with each other to create value for their organizations.
To better understand how enterprise sales teams can build a harmonious relationship with procurement that benefits all stakeholders, we sat down with Elizabeth Skipor, Senior Category Manager at Aspen Dental. Here are some key highlights from our interview.
To kick things off, can you tell us a bit about Aspen Dental?
Aspen Dental is a 904-location dental practice headquartered in DeWitt, New York. We provide a wide range of general dentistry and denture-related services and offer patient-friendly programs and services, onsite labs, and extended hours across 38 states.

Can you explain how your role fits into the proposal process?
Sure, the core responsibility of my role is to support my internal stakeholders (ADMI Marketing and L&D) by providing them information to make knowledgeable decisions. This can be through RFPs, business reviews, contracts, and proposal reviews. I'm essentially a risk mitigator negotiating deals on behalf of my stakeholders and company to mirror our goals and exponential growth. We aim to get the best deal, value, and quality, without compromising quality, while staying compliant throughout the process.
Keep in mind that getting the best deal doesn't always mean getting the best price. Measuring success for each negotiation varies depending on the circumstances and our goal for going to market. For example, we may want higher quality and would be willing to pay higher than market value to get that quality. At other times we may have a tighter budget, and therefore getting the best price will be prioritized.
You mentioned that perceived value varies. Are there any specific attributes you look for when evaluating suppliers?
So if we want to go to market, we identify the key players. Then we write our scope of work proposal. I would run that process on behalf of my stakeholders to make sure I get the correct pricing and information. This allows our team to make an informed and knowledgeable decision. Of course, pricing is a crucial attribute as we have to remain within budget.
Beyond that, we do chemistry checks. We're very keen on strategic partnerships and working together with our vendors. Any procurement and supply chain manager ideally wants to establish a true partnership with their vendors. In this sense, both sides are on the same team, with procurement being the quarterback for vendor sales and vice versa.
Is there anything enterprise sales teams should avoid when negotiating with procurement?
I think one thing sales should avoid in order to build a better relationship between procurement and sales is being overly pushy when trying to get a contract signed. Especially if they're aware that the procurement team is operating very thin. For sales, it may be tempting to do everything possible to close the deal before the end of the quarter or financial year. But, you can very quickly lose buy-in by overwhelming procurement with a barrage of phone calls and emails.
It's important to remember that procurement is not dealing with one vendor, but multiple vendors. Our goal is to do an objective evaluation of the capabilities of all vendors involved. To that end, we aim to ensure that all vendors get the same set of information. This process helps to remove bias during the decision-making stage.
Again, this is where transparent communication comes into play to create better outcomes. Sales should seize the opportunity to understand our requirements and needs better. This will provide a deeper understanding of our operating environment and what is required to increase the likelihood of closing the deal.
A common roadblock to building a better relationship between procurement and sales is completely opposing goals. How can enterprise sales teams navigate that dynamic?
Great question. The fundamental dynamics, in my opinion, for building a mutually beneficial relationship between procurement and sales are honesty and finding middle ground. It's not about using strong-arm tactics or being overly pushy. Sales teams can share their initial proposal then leave room for honest conversation. This allows both parties to identify mutually beneficial opportunities.
For example, as our business adds more locations, there's an opportunity for the vendor to get more business. If they provide us with a higher tier volume discount, it will be easier to close a deal which creates a win/win situation for both organizations. On the other hand, the vendor can let us know there's a discount if we sign the contract before the end of the quarter. I can then let our stakeholders know there's value in closing the deal quickly. This creates a mutually beneficial outcome. Honesty and transparency are essential to creating this type of mutually beneficial relationship between procurement and sales – I can't emphasize this enough.
Both sides know the reality of this type of negotiation. We're not going to pay full price. You're not going to take my initial offer. We can meet in the middle and establish terms that benefit all stakeholders.
How do you measure the success of partnering with a supplier?
So I would do that with our stakeholders. I would examine the contract, identify the KPI's we established before execution, then measure the performance of the KPI's we set. Additionally, I consider if we've mitigated risk. That is crucial in dental due to HIPAA compliance.
When working with suppliers, I need to know what happens when there is a breach? What happens when intellectual property is not treated correctly? I need to make sure I get business associate agreements because patient health data cannot be accessed. So when we measure success, it's a combination of growth and mitigating as much risk as possible.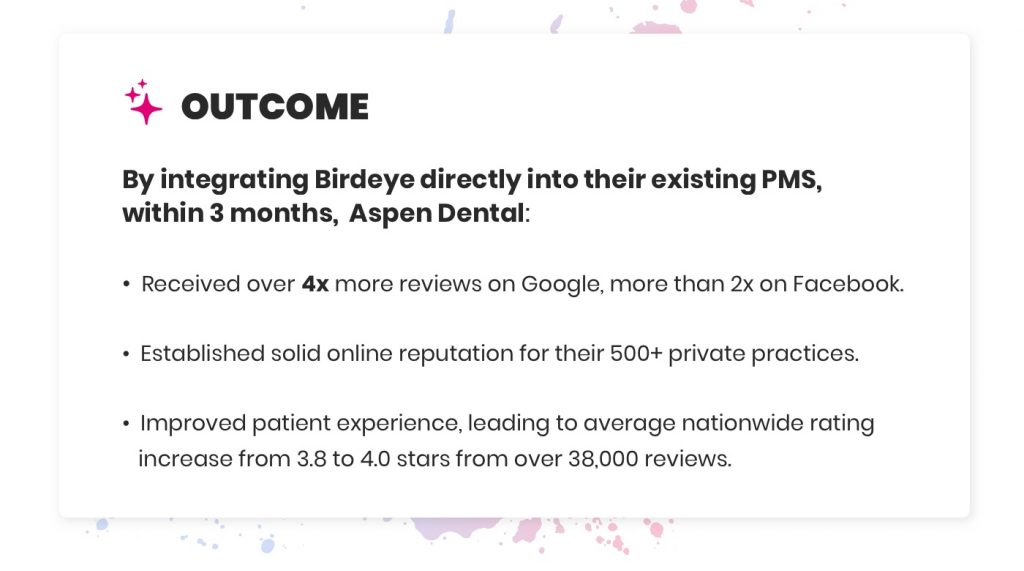 What are some key attributes that have made your experience working with Birdeye successful?
From my perspective, I genuinely feel that Birdeye is dedicated to our success rather than focusing on monetary value. When we work with a supplier, what matters is how do you partner with us? Are you honest? Are you transparent? A lot of vendors promise to deliver on these attributes but fail to do so when it counts.
Our partnership with Birdeye is so strong because we are honest with each other. There's consistent communication. The team at Birdeye takes the time to understand our goals, needs, and constraints. Developing that level of trust and understanding gives me confidence that Birdeye genuinely prioritizes our best interests.
For example, after renewing, we were also interested in Birdeye's referral marketing software. The team at Birdeye let us know that we could get a discount if we signed before the end of the month. That helped me organize my team to identify what information we'll need to make a decision in time. It made the entire process very quick, smooth and painless, while also benefiting all stakeholders. 
Leverage a true partnership with Birdeye to grow your referral business
Looking to get started with a partner that will help you grow your referral business? Try Birdeye. Aspen Dental and 100,000 other businesses use Birdeye's comprehensive all-in-one platform to collect referrals and reviews, connect with customers through messaging and webchat at every touchpoint, send smart surveys, and much more. There's no other platform on the market that can handle all of your needs in one easy-to-use platform.
Originally published