As a business owner, you already know communication is key to maintaining a successful operation. Whether you're chatting with employees, customers, or vendors, it's important to have a clear and concise communication method. That's where team chat comes in. In this article, we'll dive into why businesses need team communication software to run efficiently. Plus, how to select the right team chat software for your business.
What is team chat?
Team chat is an instant messaging software for businesses. Employees can use team chat to easily collaborate and have real-time conversations. Team chat is popular with businesses because it allows for quick and short replies between employees wherever they are in the world.
How businesses can benefit from team chat
There are a number of ways that businesses can benefit from team chat. Here is a list of the top benefits:
Improves communication between employees
Team chat apps let employees engage with each other both on a professional and personal level. Having chat apps for work is especially important for remote teams that can't interact face-to-face in the office. Team chat software also usually comes with a variety of features that can be beneficial to businesses, like file sharing, video conferencing, and task management.
Increases productivity
A platform that provides a quick and easy way for employees to communicate with each other can help increase productivity and efficiency. McKinsey & Company estimates that online collaboration tools (like team communication apps) increased productivity by up to 30%
Improves efficiency
Employees can have quick conversations using team chat to ask questions or send updates. This instant internal communication reduces the number of meetings and emails sent between employees, saving valuable time for both the sender and the recipient.
Keeps track of conversations and projects
Many team chat software programs come with features like task management and conversation threads that help businesses stay on top of projects.
How to use a team communication app effectively
Now that we've talked about some of the reasons why businesses need team chat, let's talk about how to use it effectively. One of the most important things to do is to create dedicated channels for different topics. This will help keep conversations organized and on track. For example, you might have a channel for announcements, a channel for questions, and a channel for general discussion.
Examples of using a team communication app for work
There are many ways that businesses use team chat software. Here are a few examples:
Employees can use team chat to have quick conversations about projects they are working on together.
Managers can use team chat to check in with employees and give them updates on projects or company news.
Customer service representatives can use team chat to provide support to customers in real time.
Businesses can use team chat to hold video conferences with employees located in different places and time zones.
Marketing teams can use team chat to brainstorm ideas or discuss campaigns they are working on.
Team chat use cases across industries
Let's look at some team chat examples across several industries.
Healthcare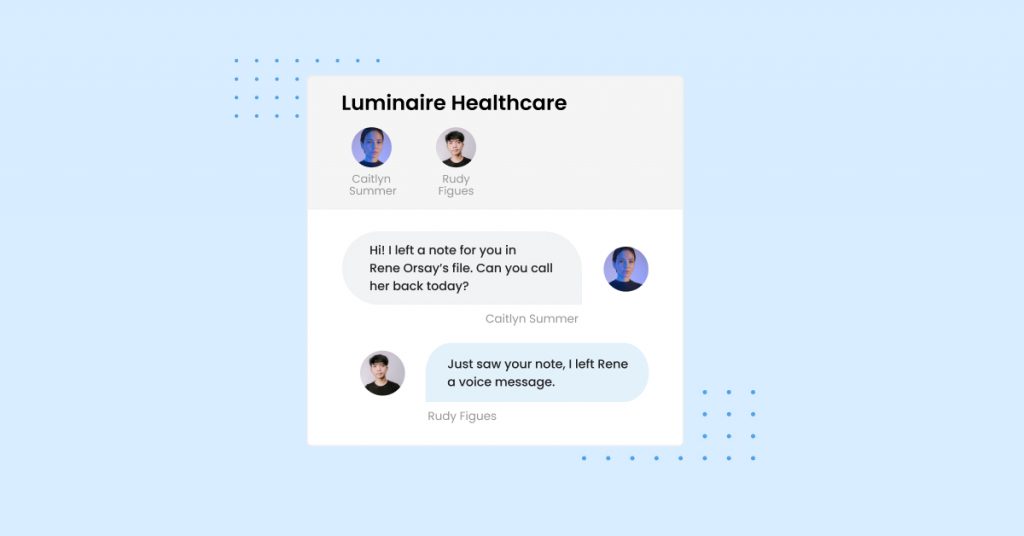 Healthcare workers often work rotating shifts, which can sometimes lead to miscommunication. With team communication apps, staff members on one shift can quickly transfer information to those on the next shift. Conversation threads let you see previous interactions, information, and files, so you and your staff can stay organized and accountable.
Home Services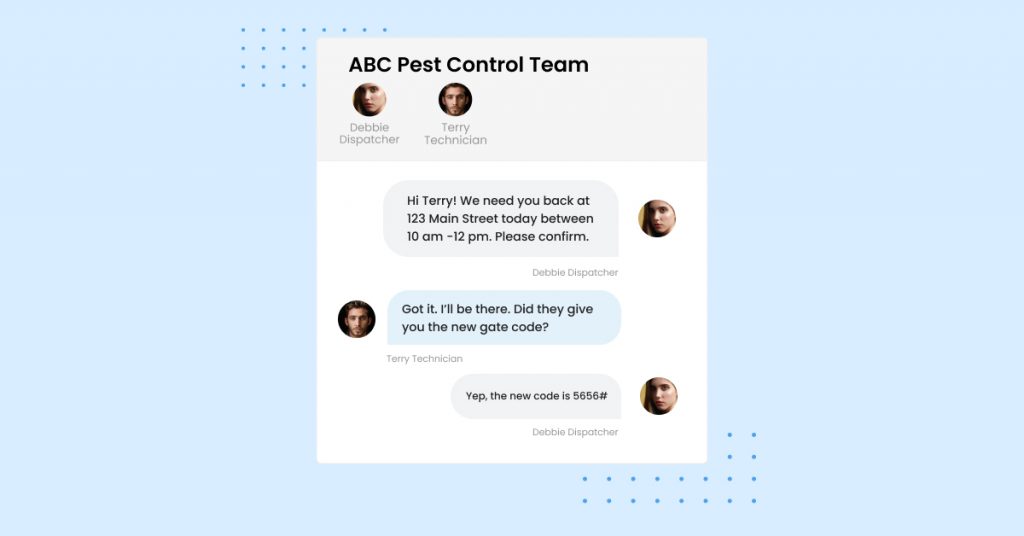 Home service professionals can use a team communication app to check technician availability and assign jobs. They can also track technician arrival times, job status, and payments. Plus, technicians can easily connect with the main office to resolve any customer issues faster.
Legal services
Whether in the office or working remotely, team chat software can make internal communication instantaneous and seamless. Law firms can quickly and efficiently update paralegals and attorneys on events, client meetings, and appointments.
Real estate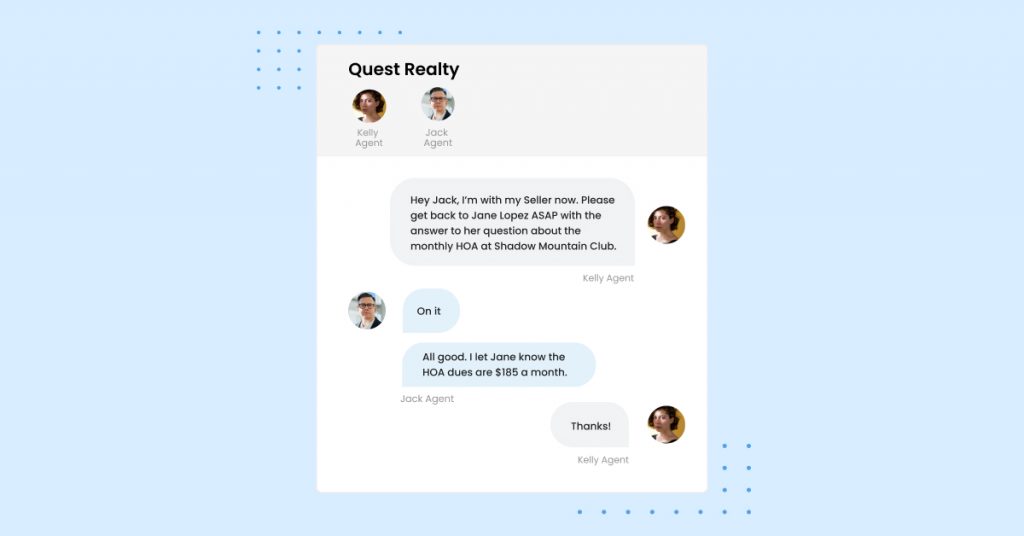 A team communication app can be very helpful for real estate agents and property managers who rarely spend the day sitting at a desk. You can share important information with all your agents or property managers on the go. Team chat apps can also help provide a great customer experience by having other colleagues answer prospective clients' questions when the real estate agent or property manager is unavailable.
Retail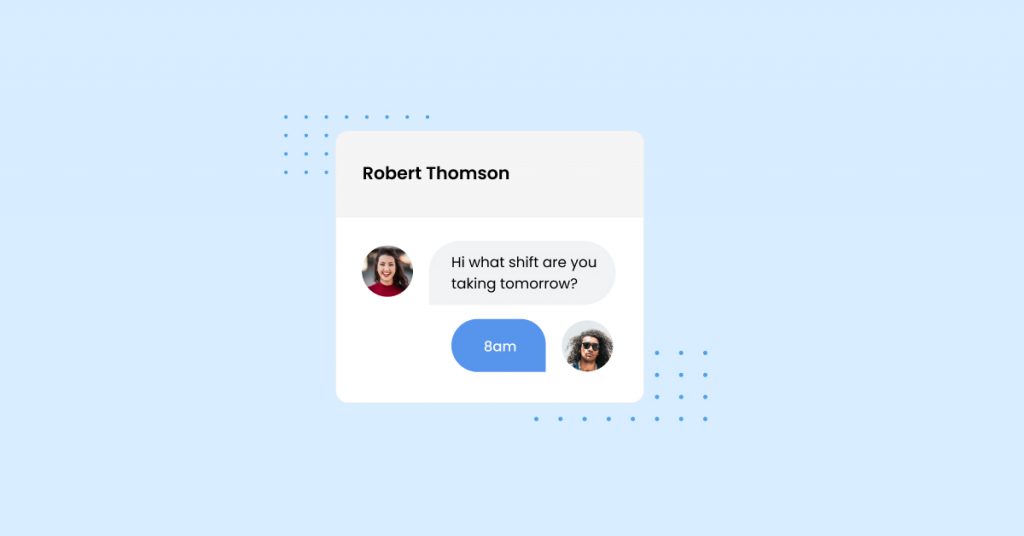 Team chat comes in handy for the retail industry too. Employees can use it to check the product availability with other store locations quickly, send updates about shift changes, and announce incentives to motivate teams.
7 popular team chat apps for work
1. Birdeye
Birdeye is an all-in-one reputation and customer experience platform for local businesses and brands. And Birdeye Messaging is an instant messaging platform built to manage every stage of the customer journey. As a result, the Team Chat feature within Birdeye Messaging is not a point solution, but rather part of an end-to-end platform.
The Team Chat feature makes it easy to chat with teammates, collaborate in groups, and connect with customers all from one inbox. Key Features include one on one instant messaging, team messaging, file sharing, and archiving for message and file storage. Team Chat is available on both web and mobile, so staff can be in touch anytime and anywhere. Plus, Birdeye has 3,000+ out-of-the-box integrations making it easy to integrate with your existing customer relationship management (CRM) tools.
2. Discord
Initially developed as a communication tool for online gaming, Discord is an instant messaging social platform where users can communicate with voice calls, video calls, text messaging, media, and files in private chats or as part of communities called servers. Discord runs on Windows, macOS, Android, iOS, iPad, Linux, and web browsers. However, it lacks integrations with other business applications compared to popular chat apps.
3. Google Chat
Originally Google Hangouts, Google Chat is a communication app developed by Google specifically for businesses. With Google Chat, a team can collaborate in Google Workspace (GoogleDocs, GoogleSheets, and GoogleSlides). Colleagues can quickly and easily schedule meetings with one click, create documents, and share files.
4. Microsoft Teams
Microsoft Teams is a team communication platform developed by Microsoft and is part of the Microsoft 365 product suite. Microsoft Teams is ideal for Microsoft 365 users because it offers workplace collaboration via chat, video conferencing, file sharing, and storage and application integrations.
5. RingCentral
RingCentral is a cloud-based business phone system that provides team messaging, conference, and phone calls. You can access the app from anywhere and on any device (PC, smartphone, tablet, desk phone). The API integrates with over 2,000 business software applications and tools, like Google, Microsoft, Salesforce, and Hubspot.
6. Slack
Slack is a messaging app that was specifically designed for the office, allowing for efficient communication between coworkers. Colleagues can instantly message each other and share files, audio, and video. It also has screen-sharing capabilities. Slack is now owned by Salesforce and offers many third-party integrations that allow teams to use other work tools while using Slack. Slack is available on desktop for Mac, Windows, and on mobile for Android and iOS.
7. Workplace
Workplace is a business communication platform developed by Facebook (now called Meta) that combines chat, video, groups, and a company's intranet with the business tools they are already using. Workplace is based on the same technology as Facebook, and it is easy to use on any device.
Selecting the right team chat software for your business
Today, business owners need to use team chat software in order to have productive and efficient communication with their employees. By using a team chat app, employees can easily and quickly communicate with each other about projects, tasks, and ideas. Additionally, team chat software can help employees feel more connected to their team and the company as a whole.
As you can see, there are many different team chat software options available in the market today. Choosing the right one for your business can be tricky. There are a few key features you should always look for, including the ability to:
Have one on one chats with teammates
Create groups
Send documents and images to your team
Keep business communication encrypted
Work on both desktop and mobile
Have your chats stored on a secure cloud computing platform, like Amazon Web Services (AWS)
Achieve more as a team with Birdeye
Birdeye Messaging's Team Chat feature lets you connect one on one with your team or in groups, give support teams access to internal experts, and assign customer conversations to the right team member for faster responses and a smoother workflow—all in one place. And since it's part of the Birdeye platform, you get enterprise-size power in a local business package.
While we're on the topic of messaging, click on the banner below to learn about nine unique ways you can grow your business with text messaging.

Originally published