Managing finances is an essential aspect of operating a successful small business. With many small business accounting software options available today, selecting the perfect one for your needs can be overwhelming. That's why we aim to make this decision-making process easier and more efficient.
We'll dive into why accounting software is a game-changer and share insider tips for choosing the best accounting software for small business models like yours. You'll get the full scoop on each, with details like what makes them shine, who they're perfect for, the good, the bad, and the costs involved.
Embark on this informative journey with us, and let's find the perfect accounting software to boost your business's financial management and growth.
Accounting software for small business
Small business owners often face numerous challenges, including limited resources, tight budgets, and fierce competition. To stay ahead, it's essential to understand the importance of efficient financial management and the various accounting software options available. By familiarizing yourself with these options, you can make informed decisions that have a lasting positive impact on your business.
Why do you need accounting software?
There are several benefits for any small business to adopt accounting software. Here are just a few.
Time-saving: Manually handling bookkeeping tasks is time-consuming and leaves room for human error. By using bookkeeping systems, you can automate data entry, invoicing, and payroll processes, allowing you to focus on other aspects of your business.
Improved accuracy: Accounting software for bookkeepers reduces the chances of mistakes, ensuring that your financial records are accurate and reliable. This helps you make informed decisions and prevents potential issues with tax authorities.
Real-time financial overview: With accounting software, you can have a real-time snapshot of your financial situation, making it easier to track cash flow, monitor expenses, and stay on top of your business's financial health.
Better tax compliance: Keep the tax authorities off your back with accounting software that automatically calculates taxes and generates the necessary reports. No more stressing over tax filing season.
Scalability: As your company grows, so do your accounting needs. Small business accounting software is designed to grow with you, offering advanced features without breaking the bank.
How to choose the best accounting software for your business?
As an owner of a small business, it's vital to understand that time is money, and managing your finances effectively is paramount to your success. Accounting software saves you valuable time, improves accuracy, offers real-time financial insights, ensures tax compliance, and scales with your growing business.
In this section, we'll delve into the factors you should consider when choosing the perfect accounting software to match your unique needs, such as:
Ease of use
Integration capabilities
Cloud-based versus desktop options
Pricing
Customer support
Security and more
By understanding your specific requirements, you can select a solution that streamlines your processes and eliminates manual tasks, boosting your productivity and empowering you to concentrate on what really matters – growing your business
Ease of use
Look for user-friendly and easy-to-navigate accounting software , especially if you don't have a strong accounting background. The best financial software for small business models like yours should have a clean interface, intuitive navigation, and helpful guidance for new users.
Integration and compatibility
Ensure that your small business accounting and payroll software integrates seamlessly with your CRM, payment processors, or eCommerce platforms. This will allow you to streamline your processes and eliminate the need for manual data entry.
Cloud-based vs. desktop software
Cloud-based software offers several advantages, including remote access, automatic updates, and secure data storage. However, desktop software might be better for your business if you prefer to keep your data on-premise or have limited internet access.
Pricing
Keep your budget in check by finding accounting software with tiered pricing. This lets you snag the features you need without splurging on the ones you don't. Watch out for extra fees, though.
Customer support
Choose software from a company that has your back with top-notch customer support via phone, email, and live chat. You never know when you'll need a helping hand.
Security
Your financial data is precious. So pick an accounting software that prioritizes security, uses encryption, and secures servers to keep your information safe from prying eyes.
Reviews
Do your homework and read reviews from other small business owners who have tried the software you're considering. This can give you the inside scoop on the software's performance, usability, and customer support.
There you have it. Selecting the right accounting software for your small business is a critical decision that can significantly impact your financial management, efficiency, and overall success.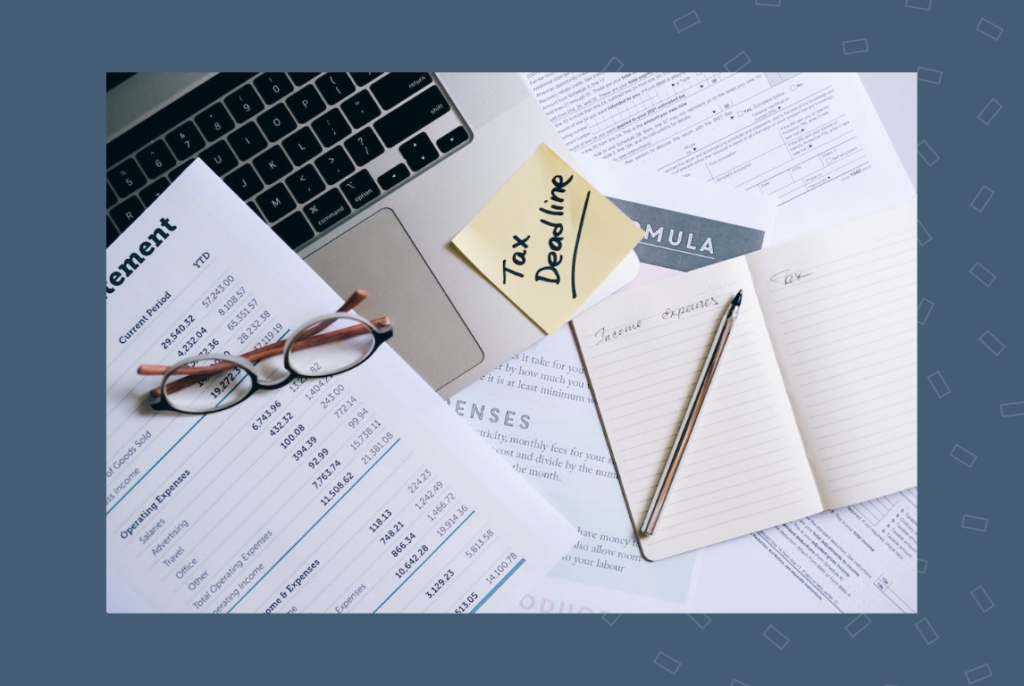 Best small business accounting software for 2023
Below are some of the best small business accounting softwares that will revolutionize the way you manage your financial data. Don't miss out on these top choices that will help you save time, reduce errors, and make informed decisions for your business's success.
1. Xero – Best for growing businesses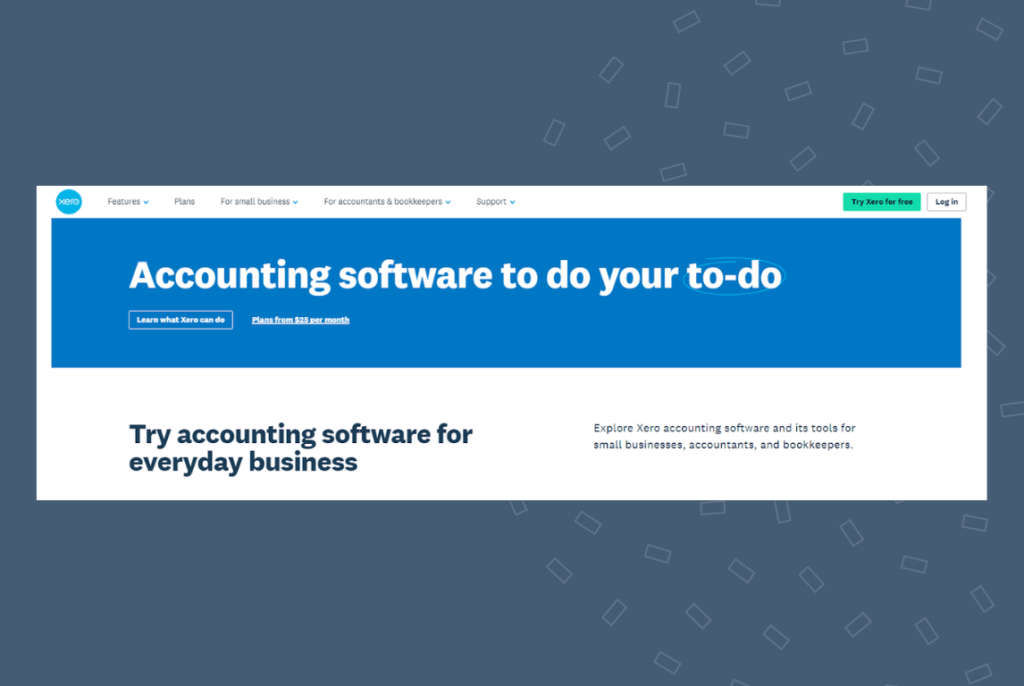 Overview: Xero is an innovative cloud-based accounting software perfect for small businesses. It offers a user-friendly interface, seamless integrations, and powerful reporting tools. Xero simplifies accounting tasks, giving entrepreneurs more time to focus on growing their businesses.
Pros: Xero provides unlimited users, a robust ecosystem of third-party integrations, and the ability to manage multiple currencies.
Cons: A lack of built-in inventory management and limited phone support.
Pricing: Plans start at $12 per month, making them affordable for small businesses. Xero covers a wide array of accounting tasks such as payroll (through integration with Gusto,) expense tracking, billing and invoicing, sales tax calculation, and much more. With unlimited users for all plans, you can invite your team members to collaborate and manage your finances efficiently.
Our final verdict
Xero is an affordable, user-friendly, and feature-rich accounting solution that can change the way you manage your business finances.
2. FreshBooks – Best accounting software for customer support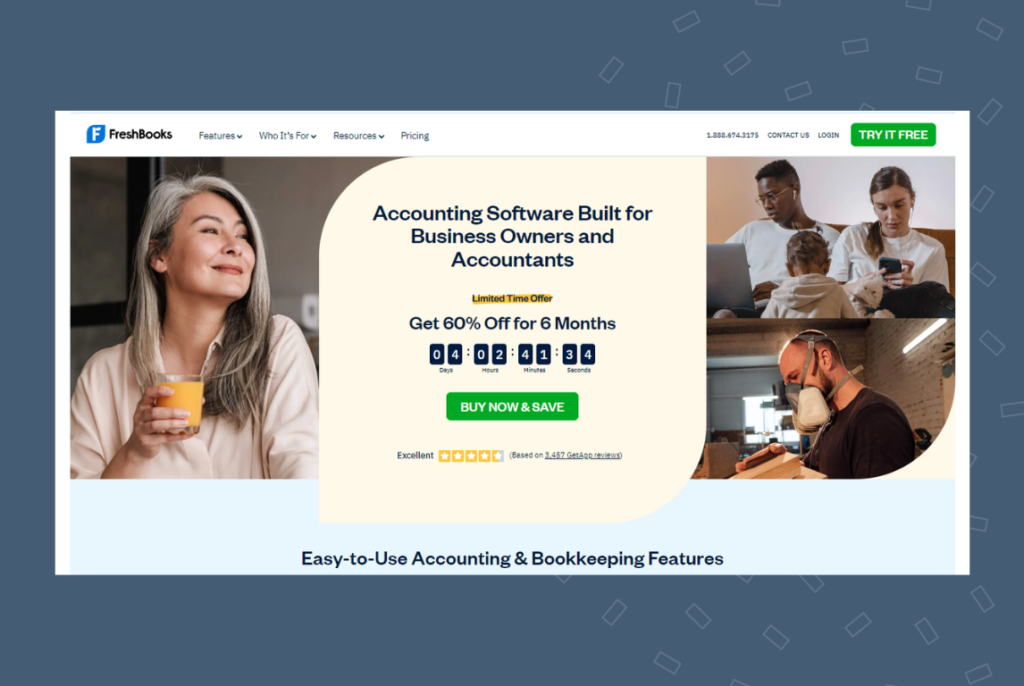 Overview: This all-in-one small business accounting software brings efficiencies in your business with customizable invoicing, time tracking, and expense management. For example, the software will automatically balance credit and debit values and seamlessly import financial information from various sources.
We chose FreshBooks because it boasts a sleek interface that even non-accountants can navigate with ease.
Pros: Its excellent customer support, mobile app functionality, and project management tools are just the icing on the cake.
Cons: There are limited clients on lower-tier plans and no built-in payroll services.
Pricing: The pricing starts from $4.50 for the lite plan.
Our final verdict
Freshbooks is the ultimate choice for freelancers and small businesses craving an easy-to-use invoicing and expense-tracking solution.
3. Zoho Books – Best mobile accounting software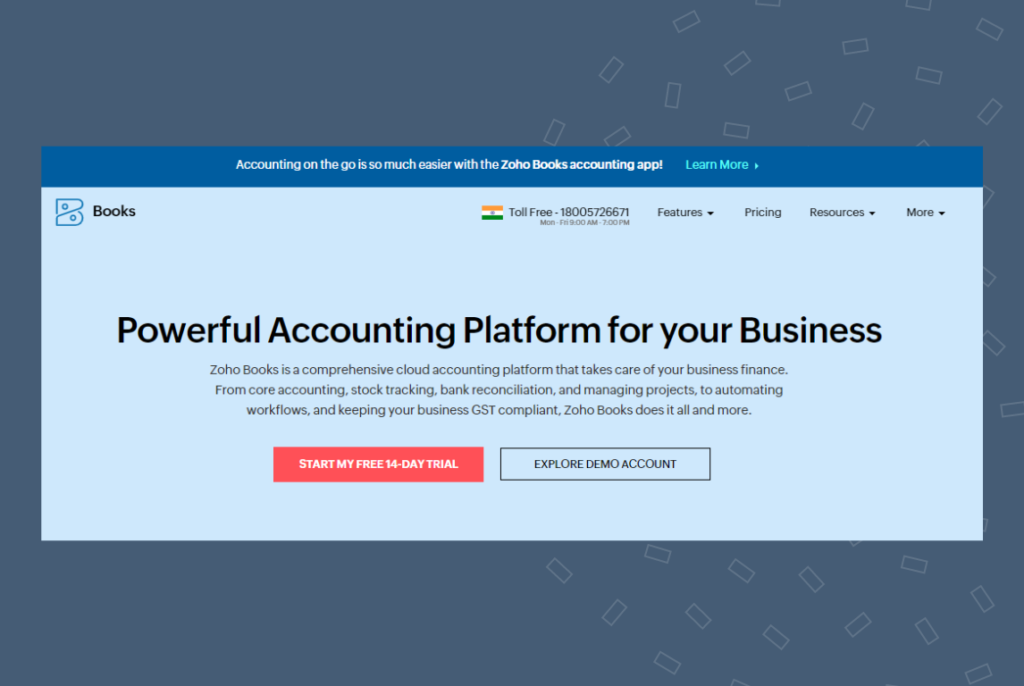 Overview: Zoho Books is an online accounting software known for its user-friendly interface and advanced features. We selected Zoho Books because of its robust financial management tools, including inventory tracking and automated bank feeds.
Pros: Its affordable pricing, strong inventory management features, and scalability are clear advantages.
Cons: Limited number of users on lower-tier plans and fewer third-party integrations compared to competitors.
Pricing: Premium plans begin at a modest $15 monthly. .
Our final verdict:
Zoho Books is a superb choice for small businesses needing a scalable solution with robust inventory management.
4. Quickbooks – Best overall accounting software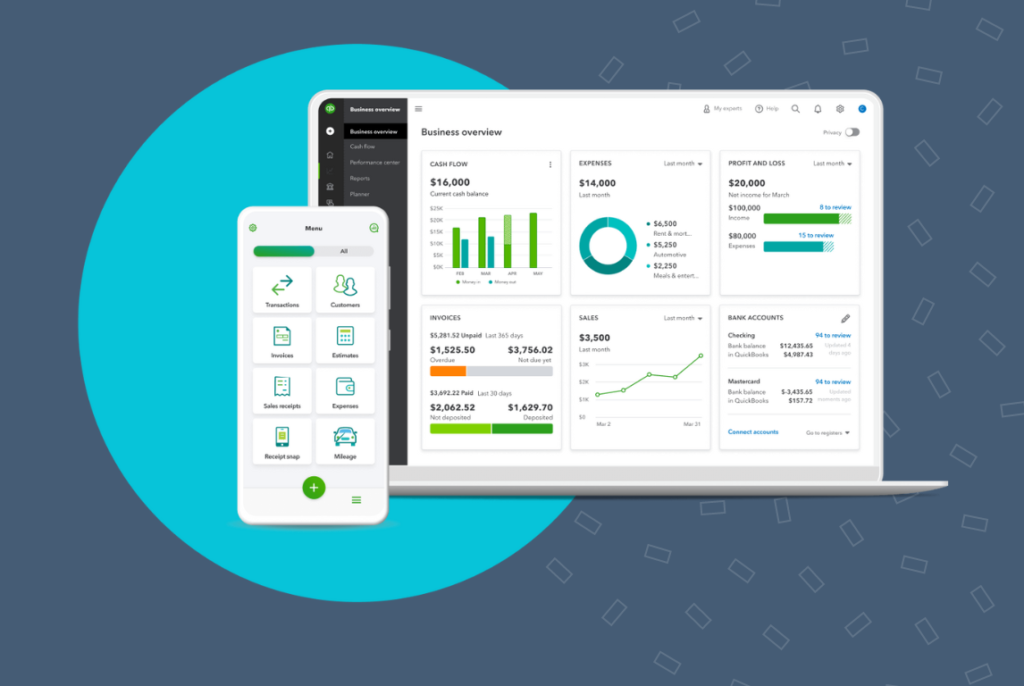 Overview: Quickbooks is a popular name in the world of business accounting software. With comprehensive features like payroll, invoicing, and tax support, it's no wonder Quickbooks is the go-to solution for solopreneurs and growing companies alike.
Pros: Quickbooks boasts impressive reporting capabilities, a vast library of integrations, and unrivaled tax support.
Cons: The software comes with a steep learning curve.
Pricing: Plans start at $15 per month.
Our final verdict:
Quickbooks is the ultimate solution for small businesses seeking advanced accounting and tax support to dominate their market.
5. Wave – Best free accounting software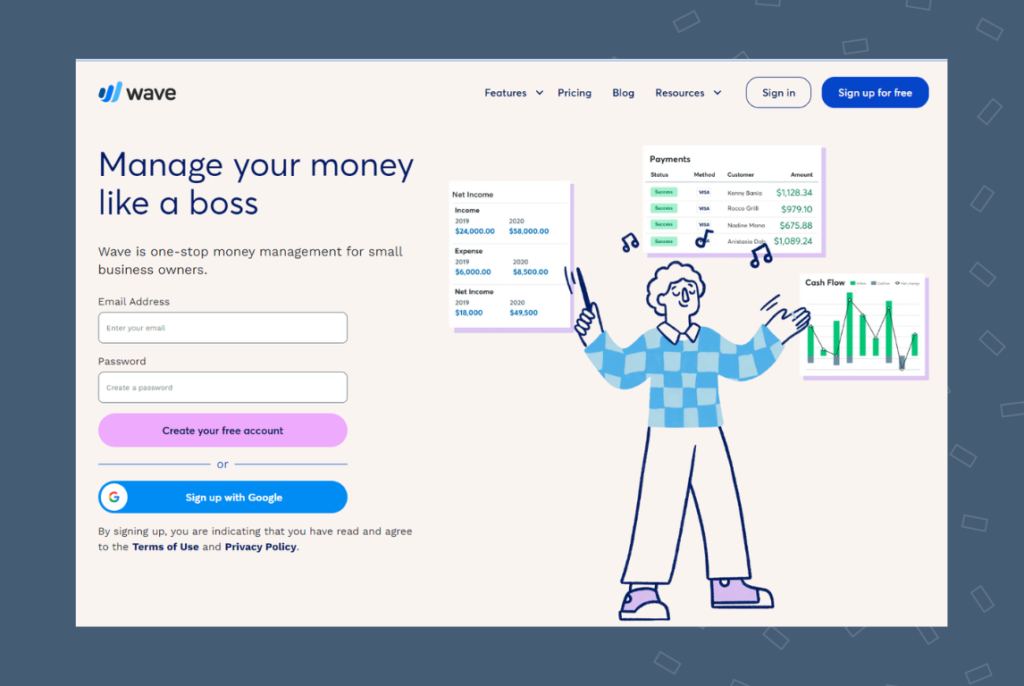 Overview: Wave is a free, user-friendly accounting software designed specifically for small businesses and freelancers. We selected Wave for its affordability and ease of use, making it an excellent choice for businesses with limited budgets or accounting experience.
Pros: Wave is free, offers unlimited invoicing and expense tracking, and supports multiple currencies. It also includes receipt scanning and easy bank reconciliation.
Cons: Wave lacks advanced inventory management, and payroll services are only available at an additional cost.
Pricing: Wave is free, although there are additional payroll and payment processing fees. .
Our Final Verdict
Wave is a fantastic choice for cost-conscious small businesses and freelancers who need essential accounting features without breaking the bank.
6. Sage 50Cloud – Best customizable accounting software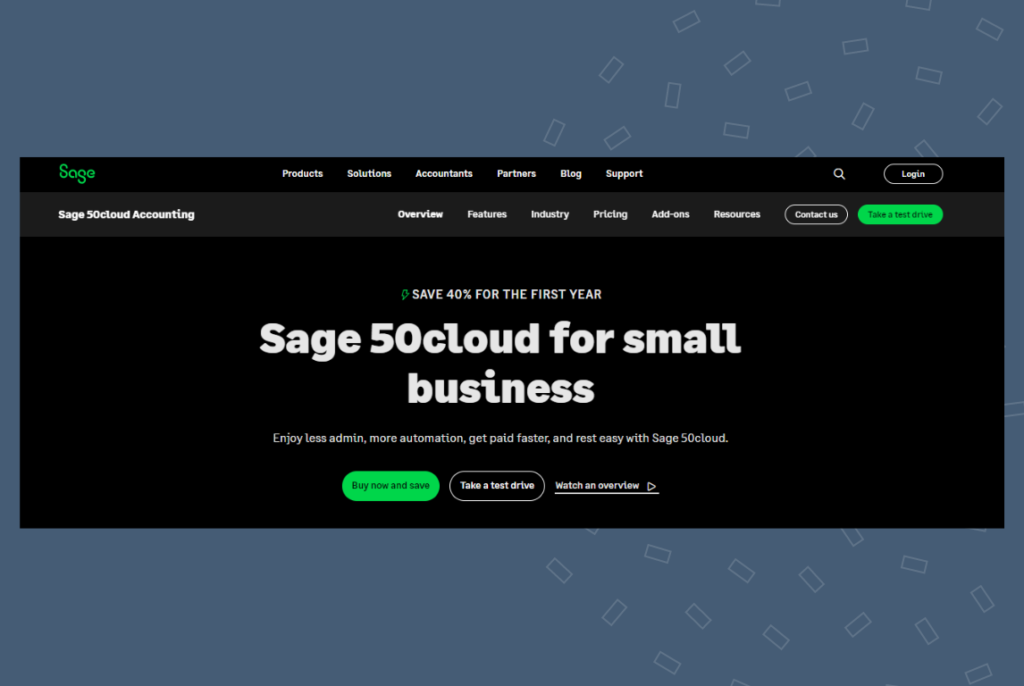 Overview: Sage 50Cloud is like the Swiss Army Knife of bookkeeping software for small business models. It combines the familiarity of desktop software with the convenience of the cloud. We love it for its comprehensive features and seamless integration with Microsoft Office 365.
Pros: Robust inventory management, project accounting, custom reporting, multi-user access, and bank-level security are key advantages.
Cons: New users might face a steeper learning curve, and the software can be a bit pricey for smaller operations.
Pricing: Plans begin at $346/year.
Our Final Verdict
Sage 50Cloud is pricey but can be your go-to for a complete accounting solution that combines the best of both worlds: desktop software and cloud access.
7. OneUp – Best inventory management accounting software
Overview: OneUp is a sleek, AI-driven online accounting software for small business entities that want to streamline and automate their accounting processes. OneUp becomes a genius at understanding your accounting by examining details like bank account transactions. Then, it'll give you a friendly nudge to approve its suggested reconciliations with a simple swipe on your smartphone.
Pros: Automatic bank reconciliation, inventory management, CRM features, multi-user access, and support for multiple currencies are attractive features.
Cons: Limited integrations with third-party apps and no built-in payroll features tend to be the top concerns.
Pricing: Plans start at a wallet-friendly $9/month.
Our final verdict
OneUp is the accounting superhero for small businesses wanting an AI-driven, time-saving accounting system for small business applications with core features that pack a punch.
8. NetSuite ERP – Best for rapidly growing businesses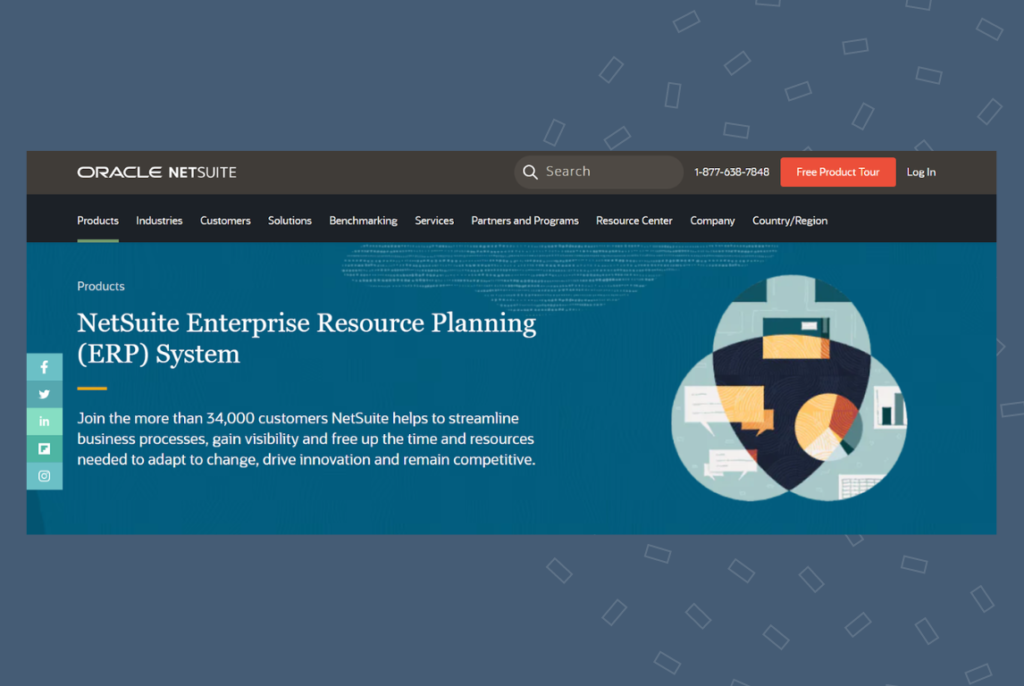 Overview: NetSuite ERP is a comprehensive, cloud-based accounting software suitable for small to medium-sized businesses seeking an all-in-one solution. We selected it for its scalability and extensive feature set, making it ideal for growing businesses and those needing advanced functionality.
Pros: NetSuite ERP offers advanced financial management, inventory control, and customizable reporting. It also includes CRM, e-commerce, and project management tools.
Pricing: Pricing is customized based on business size and requirements. The software can be complex and pricey for smaller businesses.
Our final verdict
NetSuite ERP is a powerful, scalable accounting solution for businesses seeking an all-in-one platform with extensive features and customization options.
Frequently asked questions about small business accounting software
Do I need accounting software for my small business?
While not mandatory, accounting software is highly recommended for small businesses as it simplifies financial management, improves accuracy, and saves time. It helps in tracking expenses, generating invoices, and managing taxes, among other tasks.
Can I use Excel for bookkeeping?
You can use Excel for bookkeeping as it provides basic functionality for organizing and calculating financial data. It is especially suitable for small businesses with relatively simple financial transactions. 
What type of accounting do small businesses need?
Small businesses need accrual-based accounting, which records financial transactions when they are incurred rather than when cash changes hands. This method provides a more accurate picture of a company's financial health.
Does a small business need an accountant or a bookkeeper?
A small business may benefit from both an accountant and a bookkeeper, depending on its specific needs and complexity. A bookkeeper is in charge of recording daily financial transactions, maintaining accurate records, and managing accounts payable and receivable.
Conclusion
Selecting the perfect small business accounting system is a critical step in streamlining your financial management and ensuring the success of your business. Remember, it's all about finding the small business accounting software that vibes with your unique needs.
Of course, you'll want to consider whether you're a cloud-based or desktop person, check the price tag (hey, we're all about saving money here,) and make sure you'll get the support you need when things get tricky.
Each business accounting software listed in this article caters to different needs and budgets, ensuring you find the perfect fit for your business.
So what are you waiting for? Dive in, do your research, and test-drive the solutions that make sense for your business. Remember, the right accounting software is like that secret ingredient in grandma's famous chocolate chip cookies – it just makes everything better.
Choose wisely, and watch your small business thrive.

Originally published