In the rapidly evolving marketplace of today, running a small business can be an uphill battle due to the multitude of tasks and responsibilities required for success. Small business owners must navigate complex challenges ranging from customer acquisition to human resource management and financial oversight, leaving them with an overwhelming amount of responsibilities to manage alone.
This is especially true for small businesses that manage more than one location in a lean setup and needs assistance/guidance in making sure that everything runs smoothly.
In such cases, small business consulting services can help businesses streamline their operations, reduce the workload, and improve overall efficiency.
In this article, we'll explore the world of small business consulting and how you can become a successful small business consultant to help business owners get the most out of their business.
What is small business consulting?
Small business consulting is an advisory service that helps businesses achieve their goals and streamline operations in a specific area of the business. This focus area can be sales, finance, marketing, HR, and niche operations.
These consultants use their expertise to advise business owners on strategy, problem-solving, and developing skills in addition to spotting problems, bringing a unique perspective to the businesses and assisting in achieving goals.
If a business owner is overwhelmed by daily operations, it can hinder growth and efficient management of multiple locations. Small business consultants can provide assistance in such cases.
Bottom line: Small business consulting services can help businesses expand, generate higher revenue, explore new strategies, and give them a competitive edge in the market.
Role of a small business consultant
So what exactly does a small business consultant do?
A successful small business consultant can be an expert in a particular field of business or a generalized expert on the many facets of a business to improve profitability and enhance efficiency in the business.
Some common responsibilities of a small business consultant include:
Analyzing business practices, identifying weaknesses, and recommending solutions.
Conduct customer and market research to evaluate the feasibility of a new product or service. They leverage their in-depth industry expertise to advise clients on strategies for improving company performance.
Assisting in the development of a business plan, marketing strategy, and public relations campaign.
Finding unique methods for reducing costs and maximizing revenue.
Developing reports and performance analytics for management review.
Benefits of a small business consultant
Why must anyone hire a small business consultant? For a small business especially, hiring a small business consultant is an additional expense. It is important to know the benefits small business consultants bring to the table before making a decision.
Some of the most common benefits of hiring a small business consultant or working with a small business management consulting partner include:
Business development and planning
Whether it is a startup or an established business, reaching the next level of growth requires planning. A reputable small business consultant can help choose the business model that would work best for your business goals.
They ensure the model the business chooses aligns with your customer needs/ expectations, market opportunities, and competitor analysis data. Qualified consultants successfully assist in building a business plan that enhances efficiency and improves profitability.

Winning business strategies
Devising new strategies and implementing as per the original plan are essential components of any small business' success. Small business consultants can serve as brand strategists that help map out a solid business growth journey and recommend tailor-made campaigns/strategies to achieve those objectives.

Sales and marketing
A business can tap into the expertise of a small business strategy consultant marketing to create an effective marketing plan that incorporates emerging digital marketing techniques, including SEO, content marketing, social media marketing, and influencer marketing. These professionals come with experience, expertise, and training and can help choose the right platforms, tools, and tactics for attracting and converting the target audience.
Talent acquisition and human resource
The right workforce is mission-critical for the success of any small business. However, as competition for skilled workforce hits up, talent acquisition becomes more complex. Partnering with a HR small business consultant with existing industry connections and access to talent referrals can help you hire the right people and manage them well too.
An HR small business consultant also handles emerging issues, including how to correctly address diversity, inclusion, and new workplace policies such as remote work and freelance talent policies.
Financials and accounting
For many entrepreneurs, small business accounting is a complex aspect of running an enterprise. A business consultant can bring efficiency in complex accounting issues and point out where to rethink spending, invest more, maximize profit, and minimize losses, if any.
They also provide assistance in tax planning, setting up investments, and creating an emergency fund. Working with an accounting or financial consultant is also a great way to reduce and mitigate compliance risks.
IT and data security
Information and data security management is a critical area of your small business management. Today cybercrime costs SMEs over $2.2 million a year. Extensive online and remote work demands may put a business at risk of data breaches.
A small business consultant specializing in IT and data security can assist in securing your IT ecosystem. It's essential that a business safeguards not only the company data, but also the privacy and data of its customers. This can help them avoid potential fines, penalties, and lawsuits related to security breaches.
Troubleshooting
Small businesses frequently encounter fluctuating patterns of highs and lows. Although certain weeks or months may yield record-breaking results, there may be distressing indicators such as declining sales or cash flow issues, or an inability to expand at the desired rate. Identifying the underlying cause of these problems can be challenging.
A qualified small business consultant can help by reviewing the company's past and present sales/ operational records and determining the company's overall position. This helps businesses get ahead and course correct, saving a lot of time, resources, and money.
Who needs small business consulting services?
Small business operations are often challenging and identifying problems can be difficult when you are entrenched in day-to-day tasks. Small business consultants can provide a fresh perspective and are essential for identifying issues that may have gone unnoticed.
The following are some of the signs that a business needs the help of a reputable business consultant or business consultant agency:
Slow or declining sales, revenues, or profitability.
Rapid growth that involves new markets or launching of new products.
Demotivated workforce and high staff turnovers.
Inefficiencies in systems, processes, and decision making.
Slow to adapt to emerging trends and innovative technology impacting the industry.
An inability to get authentic team feedback.
An inability to achieve goals repeatedly.
Lack of in-house resources to implement new projects.
Important business development skills for business success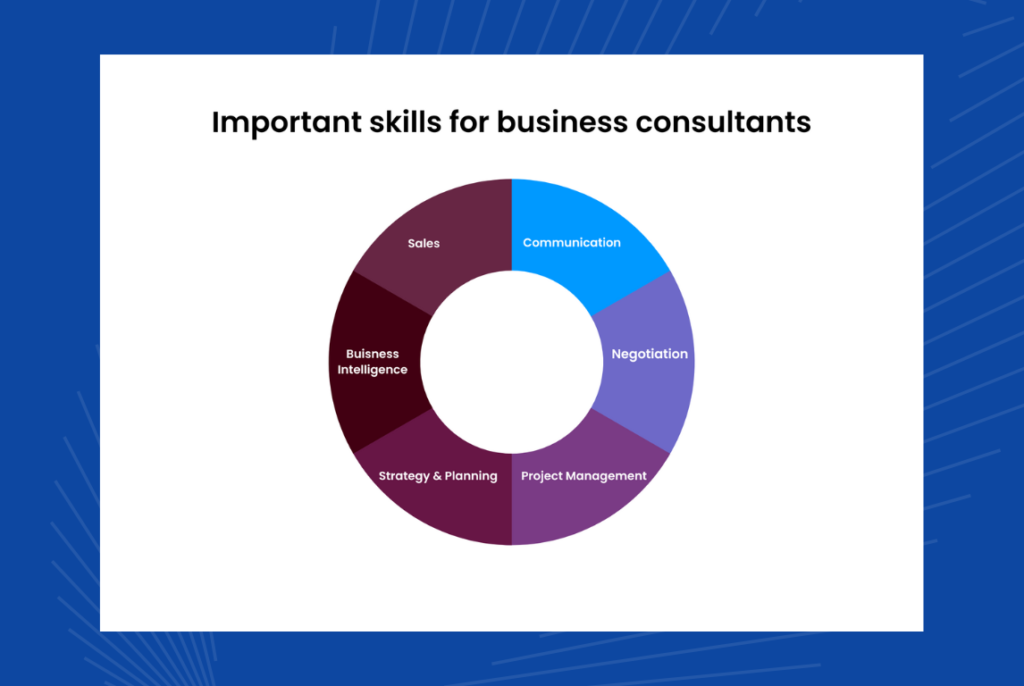 A small business consultant must possess critical business development skills to identify opportunities and grow client businesses. The following are critical business development skills for business success in a small business consultant:
Communication skills
Communication is an integral business development skill that consultants need to connect with clients, stakeholders, and vendors. As small business consultants, it is often their responsibility to communicate issues, solutions, roadblocks, and more to all the parties concerned. It is important that they have good written communication skills, command over the spoken language, and are able to listen empathetically to resolve clients' needs and concerns.
Negotiation skills
A smart business consultant must master the art of being diplomatic. They should know when to compromise and when to take a firm stand to arrive at mutual agreements with clients and other stakeholders. Effective negotiation skills are necessary to achieve favorable outcomes that benefit a business.
Project management skills
Reputable business consultants are great project managers. Project management skills help them set targets, plan projects, manage projects, create budgets, and find ways to mitigate risks. They should be able to lead and inspire a team to realize goals.
Strategy & planning skills
A business consultant should possess strategic thinking skills to put a company ahead of competitors. These skills involve assessing current strategies and finding innovative ways to improve them. Strategy allows a business to leverage competitive advantages and avoid common industry pitfalls.
The consultant should have the capacity to plan ahead, prepare strategies and conjure ideas that help businesses cope with changing environments, overcome problems that lie ahead and maximize available opportunities.
Business intelligence skills
Business intelligence is all about collecting market insights. A good business consultant should have the skills to research business needs, market trends, and consumer preference. They should be able to perform market analysis to determine the company's current position and understand its competitive advantage over its peers.
A business intelligence analyst helps collect and analyze data on market share to assist in the decision making process. Important business intelligence skills also include data analysis, modeling and communication.
Sales skills
Business consultants should possess excellent sales skills that help them nurture relationships with prospects and qualify leads. Sales drives any company's growth, making it an important skill for small business consultants.
Key sales skills that consultants should possess include effective communication, product expertise, customer service, sales demoing, negotiation skills and prospecting skills.
Small business consultant vs. small business coach
Although both business coaches and consultants are focused on solving problems in a business, they employ different approaches. A business consultant uses a specialized hands-on approach to offer specific solutions for the business itself. Conversely, a coach takes an approach that molds a business owner as a leader or professional. Coaching focuses on the personnel, while consulting services focus on the business.
The following are the key differences between small business consultants and coaches:
A coach empowers teams to solve problems, while a consultant solves the problems for the team.
Coaches address personal issues that impact decision-making, such as fear or limited self-confidence, while a consultant helps with problems that are directly related to the business.
A consultant works with a team for a limited time on a specific project, while a coach works with an individual or group for a longer time.
In summary, business coaches teach the person they are working with to accomplish tasks independently. On the other hand, a consultant often accomplishes tasks and makes decisions on behalf of the business owner.
Common small business consulting services
Small business consulting is a wide field. Small business consultants can specialize in any field that interests them and can make a real difference to the business. It is important for businesses to hire the right specialist for consulting to optimize their business operations.
Some common types of small business consulting services available are:
1. Marketing
Marketing consultants help businesses spot and maximize their strengths to enhance brand awareness and visibility in the marketplace. The consultant deals with all aspects of marketing, branding design, lead generation, paid marketing, and social media marketing strategy.
Small business marketing consulting services are popular partnerships currently for companies. Market consultants also conduct market research to determine the marketing opportunities available to you. They can identify the most profitable marketing channels for your business to pursue and advise on improving conversion and customer acquisitions.
2. Business management
Management consultants work with business leaders to identify challenges, analyze information, and develop solutions. They are responsible for helping clients solve management issues such as staffing issues, business development, product development, maximize growth, and boost business performance. These consultants provide objective advice that helps a business realize its goals.
3. Public relations
Public relations (PR) small business consultants offer a wide range of services to help small businesses improve their reputation and maintain a positive public image. They develop and execute PR strategies, distribute press releases, coordinate media interviews, build relationships with key stakeholders, monitor online reputation, plan events, and manage social media accounts.
Working closely with the business owner or marketing consultant, PR consultants help small businesses cultivate important relationships and improve their reputation, keeping the public informed about the business' interests and promoting its activities through various means.
4. Accounting
A small business consultant specializing in accounting can help you maintain efficient and accurate accounting practices. They handle all aspects of your accounting, from tax preparation, financial statements, and technical compliance to back-office accounting services. Accounting consultants may also provide an in-depth financial information analysis to guide business decision-making.
5. Finance
Financial consultants examine your business finances to determine its financial health. They can help with investment decisions, including the most effective ways to handle your business assets and debts. Financial consultants may also have further specializations like tax planning, investment opportunities, and mergers, etc
6. Human resources
Human resource consultants can assist you with various HR functions. These consultants can help streamline daily HR tasks such as recruiting retraining employees, managing payroll, undertaking administrative tasks, and managing employee performance.
7. Design
Another common consulting service is a design consultancy. These professionals are experts in digital creativity, designing a wide range of branding and marketing assets, including websites, landing pages, infographics, logos, email campaigns, and more for a small business.
How to become a small business consultant
The following are a few steps for becoming a successful small business consultant:
1. Secure a relevant qualification
The first step to becoming a business consultant is to secure relevant qualifications. The primary qualification for this career is a bachelor's degree and several years of experience. Some common degrees that business consultants secure are:
Marketing: A bachelor's degree in marketing allows you to consult small businesses on their marketing strategies and outcomes.

Business management: Earning a bachelor's degree in business management exposes you to the knowledge of today's business world. You can use the knowledge to help clients meet their revenue and other business goals. If you want to specialize in management consulting, this is the right degree for you.

Accounting: An accounting degree equips you on all aspects of accounting services, from budgeting, taxation to risk assessment. You can use these skills to help small businesses make sound financial decisions.

Finance: A bachelor's degree in finance teaches effective money management tactics, including how to secure funding for small businesses, how to manage the funding, and how to invest the profits, etc.
2. Apply for license and certifications
Different states require different certifications before they provide a license to small business consultants. Before you start your business, determine whether you need certification to work as a consultant. Here are some typical licenses popular among small business consultants:
Consulting certifications: Get a small business consulting certification from a trade organization. The certification helps prove to potential clients that you have expertise in the services they seek.

Business development certification: You may also earn a certification in business development to show your clients you have in-depth knowledge regarding business processes and development.
3. Work with a senior for hands-on experience
It is important for small business consultants to specialize in specific areas of business processes. It helps them find clients faster and help small businesses effectively.
To gain expertise in your field of specialization, work with senior consultants to gain the hands-on experience you need to become a successful consultant for small businesses. This exposes you to the reality of the business world and also learn practical solutions to the problems a small business consultant may face.
4. Understand pricing
You also need to consider how much you will charge clients for your services. You can price your services per project, hourly, or on a retainer business. Research competition within your niche to determine their rates. Don't charge rates way above or below those charged by your competitors offering similar services.
An overly low pricing strategy can diminish profit margins, while a too high pricing strategy can deter customers. The ideal pricing for a service and product should consider production costs, revenue goals, product features, competitors' prices, economic trends, and consumer demand.
5. Begin networking
Cultivating professional relationships with other consultants, small business owners, and stakeholders in your industry can help you find consulting jobs. Network online or attend industry-specific events, including workshops, seminars, and conferences, to make new connections with potential clients and other consultants.
6. Market your services
A cohesive and powerful marketing plan helps you attract the right customers and grow your business. This involves understanding modern marketing techniques, including content marketing, social media, email marketing, referrals, sponsorship of events, loyalty programs, and promotions. Some specific marketing techniques to consider include:
Content marketing: High-quality content is crucial to developing credibility. Content marketing may include blogs, case studies, and podcasts to showcase records of personal learning and success.
Video marketing: Video marketing is one of, if not the, most effective marketing techniques. A recent study revealed 94% of brands that used video marketing to market or explain their products increased user understanding of their product or service.
How to start a small business consulting firm
The market for small business consulting is incredibly lucrative and rewarding. In 2023 the market size of the US management consulting industry is valued at $329.8bn. If you are an expert in the field, whether it is HR, IT, sales, marketing or finances, you can have a great career as small business consultants.
Starting a small business consulting firm is an excellent way to take the next step and boost your business growth.
However, starting your own advisory firm requires careful planning and sound strategies.
To help you get started, here are the steps to start a small business consulting firm:
1. Choose a niche
When starting a small business consulting company, you need to choose the service you are planning to provide to small businesses. As there are several types of business consulting, and you need to choose a specialty before registering your firm.
You can also choose to be a generalist small business consulting firm but make sure you have the right team for it.
2. Define the scope of services
Once you have determined your niche, start by defining the scope of the service you want to offer. Within the niche you choose, you can choose a subtopic such as digital marketing within the marketing field. Defining the scope of services brings transparency into the process and keeps everyone on the same page.
The goal is to provide advice and assistance that reasonably falls within your knowledge and expertise. You should also choose whether you want to take short-term or long-term clients.
3. Register the firm
Before you can start doing business, you must register your consulting firm. Depending on your state's legal requirements, you can register your service as a sole proprietorship or an LLC.
If you plan to grow your business into a multi-facet corporation, register it as an LLC to make tax preparation easy. If you are starting your consulting firm as a side hustle, register it as a sole proprietorship to reduce any liabilities. Be sure to check if there are any other legal requirements for starting a business in your state.
4. Market research
A thorough market research helps you understand your company's viability before starting the business.
Some of the things to include in your market research are:
Competition research
Market trends
Pricing trends
Consumer preferences
Popular marketing strategies
Once you gain these insights, you can make better decisions for your business.
5. Design a business plan
Documenting a business plan for your firm is an absolute necessity before you proceed. A business plan helps you understand your strengths, weaknesses, and opportunities while proving your efficiency and viability to potential investors.
Make sure that your business plan clearly details who you are, the services you offer, your future plans, your unique service proposition (USP), the financial health of your firm, and other crucial elements that define your firm.
6. Hire relevant teams
As your business expands, you will likely need help to handle day-to-day operations. Hiring the right plan is crucial to success. When you begin recruiting, research the candidates you intend to recruit and analyze if they would fit into your company's culture, ethics, and environment. Wrong hires can cost your firm a lot of time and money.
7. Commence marketing and PR
Now that your firm is registered and your team is ready for your business, it is time to find clients. Marketing helps you build a client base, nurture relationships, and generate. Getting consulting clients means generating conversations that nurture lasting relationships with the right prospects. To effectively market your consulting service:
Use LinkedIn: LinkedIn is a perfect social networking platform to search for clients and offer work. Having an optimized LinkedIn profile helps give credibility to prospects looking for consulting services. Publishing articles on LinkedIn is a great way to further establish your professional identity as a thought leader by expressing opinions and sharing experiences, expertise, and ideas. Share and recommend current and interesting articles in your specialty and use paid ads to reach your target audiences.
Place social media ads: Online advertising is highly targeted, making it a great digital marketing strategy to acquire clients. Social media advertising specifically can help you reach a targeted group of audience that engages with your content to convert them as clients. Social media allows you to boost your top-performing content and use those in ads for a greater conversation rate.
Launch an email newsletter: Studies estimate that 77% of marketers using email marketing have seen an increase in email engagement over the past year. Apart from building an exclusive community, newsletters help generate leads, spread brand awareness and nurture long-term relationships, and secure contact information to create a list of contacts.
Host events: Live events help business consultants attract the kind of people they want to do business with and network. Getting quality face time with potential clients is invaluable. You can also develop Use webinars or host online meetups to bring people together over the internet and boost an interest in your business. and exchange helpful information.
8. Employ lead-generation techniques
Getting the word out about your business consulting services is one thing. You'll also need to develop lead-generation strategies that inspire your target clients to take action. These lead generation techniques may vary depending on your market and budget.
There are four key pillars of an effective lead-generation strategy:
Lead awareness: This involves making prospects aware of your brand by targeting high-quality audiences. The campaigns you launch can help net prospects and reel them into your brand funnel.
Lead education: Lead education involves informing your prospects about your offering and how it can help them solve their needs. Use various strategies to educate your prospects, including social media, email, and direct campaigns.
Lead sampling: Research your prospects and their needs to determine whether you can provide value. Sample your prospects based on their likelihood of becoming a customer. This stage helps you focus your resources on quality leads that can convert to paying customers.
Lead conversion: Lead conversion is turning prospective customers into buying customers. This process includes everything from sales tactics to marketing strategies.
Common lead generation techniques include
9. Analyze execution vs. plan to grow sustainably
Starting your small business consulting firm requires strategic planning to develop a roadmap for executing long-term success and sustainable growth over time.
The methods and messaging you leverage to initiate your consultancy will be different from those you use to maintain growth. Review your company plans through a lens of both startup and scaling:
Startup: As a startup, you'll focus on growth in more linear terms. You might add more capital, more people, and more technology to increase your revenue.
Scaling: Alternatively to growth, you'll then want to consider sustainably scaling your business over time. This involves increasing your revenue without compromising additional resources to do so.
To grow efficiently, it is important you analyze the workings of your consulting firm constantly and look for ways to streamline business development, business operations, marketing strategies, and growth strategies. While it is important to reinvest in your business, it must not come at the cost of sustainable growth.
Frequently asked questions about small business consulting
How much do small business consultants charge?
Small business consulting services range from $45 to $150 per hour nationwide. On average small business consultants charge $75 per hour.
How to be a small business consultant?
To be a small business consultant, one must earn a relevant bachelor's degree, get the appropriate licenses and certifications, gain experience, and network to acquire clients.
What do small business consultants do?
Small business consultants are experts who offer advice on ways to improve current processes and provide recommendations to improve business efficiency, performance and profitability.
Is small business consulting profitable?
Small business consulting is a highly profitable venture with few risks and limited expenses. You can charge up to $150 per hour for providing your expertise to other business owners.
Can I hire someone to manage my business?
If you are overwhelmed with the daily activities of your business, hiring a business manager or a business consultant is a worthy investment. They can free up your time and help you grow your business. 
How to find a small business consultant?
First, start by identifying your needs so you can focus your search on the right consultants who offer the relevant service for your business. Then you can find them by:
-Posting on LinkedIn about your requirements
-Asking for referrals from colleagues
-Exploring consulting marketplaces
Conclusion
In conclusion, small business consulting is an invaluable resource for businesses looking to start a new project, grow their existing projects, or optimize their overall operations. With the guidance and expertise of a qualified consultant, small business owners can gain valuable insights into their operations, identify areas for improvement, and develop strategies for long-term success.
Irrespective of the area of the business that needs attention, a qualified small business consultant can help navigate the challenges and achieve the designated goals.

Originally published