We've just released our first annual "Best Business Awards 2019 – Law Firms." The top ten law firms have been selected in over 100 major American cities such as New York, Houston, San Diego, Chicago, Miami, and Dallas.

To determine the winners, we looked at the data of over 30,000 law firms across Google, Facebook, and over 150 review sites. The algorithm we used to find winning practices was based on factors such as overall star rating, review quantity, and review recency.

While we may have set the criteria and compiled the lists, the final decision was actually made by hundreds of thousands of local clients. The winning law firms were the ones who did a superior job delighting each one of their clients and earning the most, highest-rated reviews.
Check out this year's "Best Lawyers" across America.
What Set the Winning Law Firms Apart?
None of these winning firms won the "Best Lawyer" award by accident. These practices won because they followed simple habits that made customers both want to come to their business and want to leave great reviews.

We've found that these practices almost always do the following five things correctly. We've identified these as the 5 pillars for any small business to succeed.

These 5 pillars don't just apply to law firms. Every type of business can learn from these winning practices and adapt some of their habits in order to drive growth and get new customers.
The Five Pillars of Small Business Success
The Best Businesses Have Lots of Customer Reviews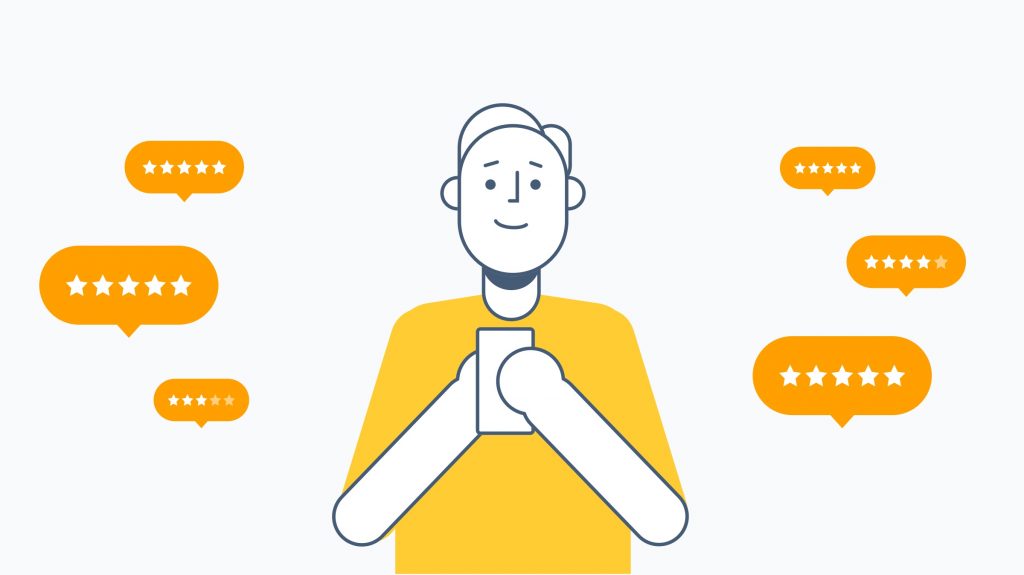 The more reviews that you have, the more trustworthy your business looks to customers. Customers are more likely to trust a business with lots of reviews that are coming in constantly than a business with 2 reviews from years ago. After all, a lot can change for a business in a short time span. A review from a long time ago might not reflect current realities.

If your business doesn't have customer reviews right now, don't worry. To acquire more reviews, all you have to do is ask. Asking customers for reviews helps your business look more trustworthy to customers and search engines.

While you can ask customers for reviews in person, this might not always lead to the results you want. Quite frankly, even a happy customer might not want to go to the trouble of finding your business manually.

Instead, you can send review requests. Sending a review request via text or email to customers that allows them to directly write a review on your business's page will make the process easy for customers. All they have to do is click the link and leave the review.

While manually sending review requests is tough, there's a way to make the process easier. Birdeye allows businesses to send automated review requests via text and email to customers. These requests include links where customers just have to click a button to leave a review on major sites like Google or Facebook, or one of the other 150+ sites that we integrate with.
The Best Businesses are Easy to Find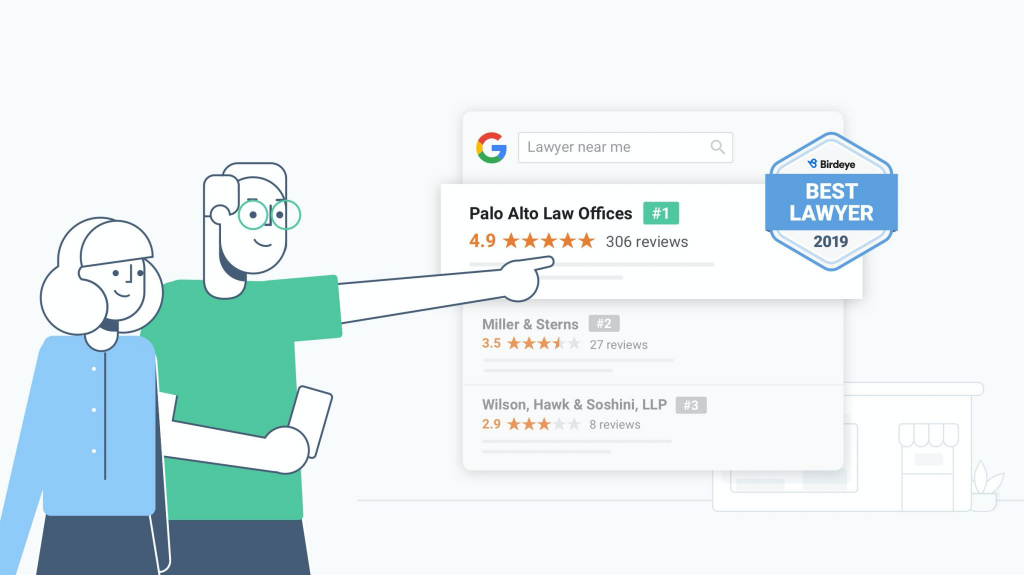 The best businesses can be easily discovered by potential customers. Customers can go online, do a Google search, and easily find important details such as the business's address, phone number and hours of operation.

Do a quick Google search for your business. If you aren't able to see the important details we just mentioned right away, chances are that you haven't claimed and updated your Google My Business profile.

Your Google My Business profile shows up on the right side of the screen when you do a Google search for your business. By simply claiming your profile, you can make sure to update your business's information and help get more customers through the door. In fact, just this simple addition of a few bits of information greatly helps your business rank higher: Google My Business information is the #1 factor Google uses in determining search ranking.

Of course, Google My Business isn't the only place where listings for your business appear. There are dozens of sites where your business may have listings and it's important to keep track of all of them.

Plus, inaccurate listings can hurt your business on search. Even having different street abbreviations on different listings could be seen as inconsistent information by Google's algorithm. Google doesn't know which of the listings is correct, and because Google doesn't want to show inaccurate information, it will rank your page later in search results. That, in turn, makes it harder for customers to find your business.

Want to see how accurate your business's listings are across the Internet?
Check out this free listing scan. 

The Best Businesses Rank Higher on Google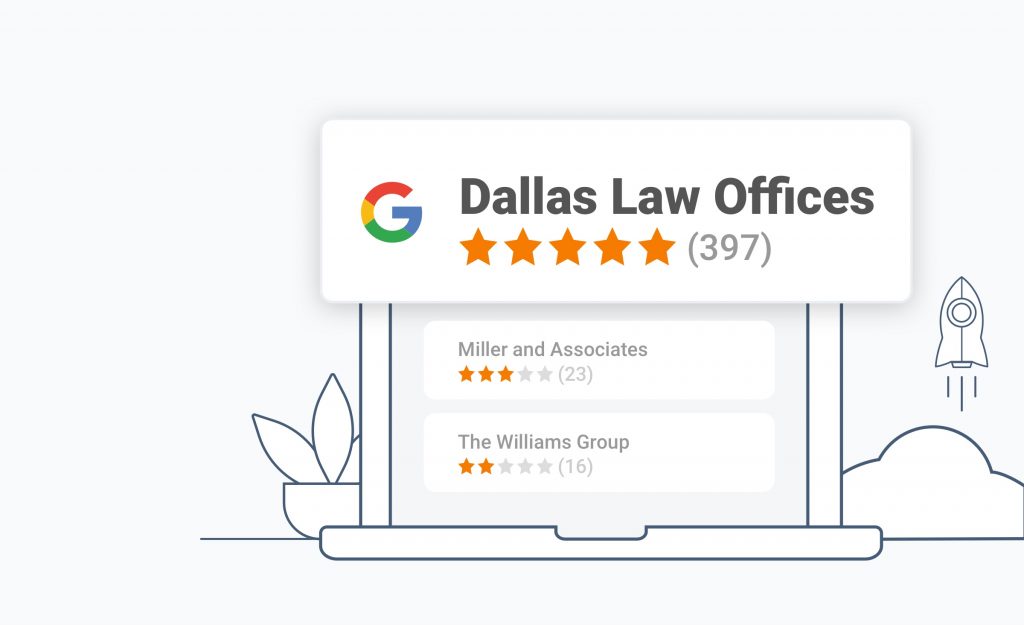 Remember, for any search query you type into Google, the search engine aims to give you the best results. Meaning, when customers type in a search query like "car dealerships near me", Google aims to give them car dealerships that are considered to be the best in the area.


According to Moz, reviews are the Google algorithm's third-largest factor in determining local search ranking. Here are three of the factors that Google takes into account when determining search ranking.
It's important to get reviews on different sites. Though having lots of reviews on Google is great, it's also good to have reviews on review sites specific to your industry.

We'll say it again: it's important to make sure you're getting lots of customer reviews. Remember, what helps your business with customers also helps your business with search engines. Lots of reviews show that you have lots of customers frequenting your business.

It's important to keep getting new reviews from your customers. Remember how we said customers think reviews that have been written more than three months ago aren't relevant anymore? Search engines are the same way. Recent reviews are more likely to reflect the current state of your business.
The Best Businesses Engage with their Customers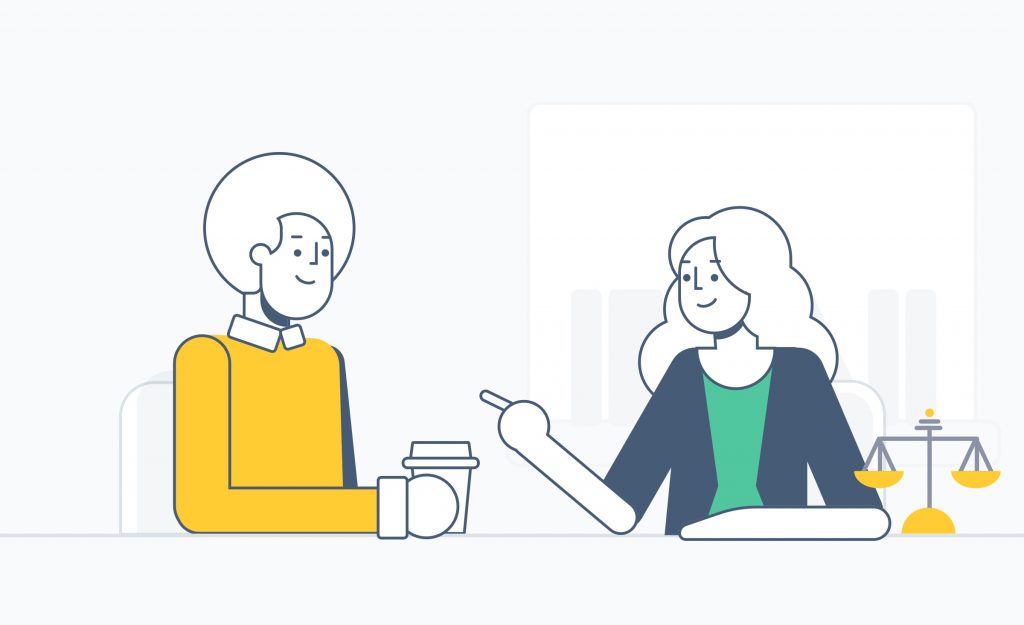 Customers often post about your business by commenting on reviews or posting on social media. Though responding to reviews is often overlooked, it can have a big impact on your customers.

Lots of potential customers are paying close attention to how businesses are responding to customer reviews. Why? Because if you stay on top of every customer review, it shows that you care sincerely about each one of your customers.


When you respond to reviews, potential customers can see how much your business cares for each individual customer. Responding to positive reviews is a great opportunity to thank customers. And, responding to negative reviews is a great opportunity to apologize and address bad customer's experience.

Responding to customer reviews can be difficult, especially when you consider that there are hundreds of review platforms on the Internet. Imagine you had reviews from all over the Internet into one place. It would make your job 10 times easier. Well, that's exactly what Birdeye does. With Birdeye, you can monitor reviews across the Internet and respond to them all within a single dashboard. Birdeye provides businesses with default response templates so they can efficiently deal with customer feedback.

The Best Businesses Listen to their Customers to Make Improvements
Even the best businesses get negative reviews every now and then, just like any other business. What separates these best businesses from the rest of the pack is how they choose to respond to customer complaints.

When a customer complains about a negative experience, best businesses make changes so that the same thing will not happen again. It's all about listening closely to figure out what customers actually want.

Taking the time to listen to your customers is a worthwhile investment. According to SuperOffice, 86% of customers are willing to pay more for a better customer experience.

With the Birdeye dashboard, you don't have to listen to reviews and social media posts manually. Birdeye allows businesses to track customer comments from over 150 review sites and gives insights through our Natural Language Processing engine, Athena. It's easier than ever for businesses to know when customers mention them online.
Be the Best Business with Birdeye
Be the best business with Birdeye. Our all-in-one dashboard gives businesses all the tools they need in order to stay on top of customer feedback. Top brands like BMW and Blaze Pizza use Birdeye to get new reviews, monitor and respond to reviews from over 150 sites in a single dashboard, be found online, fix your listings, and receive actionable insights.

Watch a demo to find out why more than 100,000 businesses use Birdeye to drive growth and get new customers.

Originally published