"Your brand name is only as good as your reputation." – Richard Branson
Think about some of the great brands that you know and trust. Whether it's Nike, Coca-Cola, or Apple, customers all over the world know that these companies have a reputation for quality. But you don't need to spend millions of dollars on Super Bowl ads to get a great reputation and grow your business. Instead, you can practice reputation marketing.
Related: For a comprehensive list of tips on how to generate more leads with Google My Business, check out this audio guide. It covers everything you need to know in less than 20 minutes.
Frequently asked questions about reputation marketing
What is reputation marketing?
Reputation marketing is the process of proactively shaping a positive perception of your business to attract more customers and grow your business. Reputation marketing includes collecting and responding to reviews, posting on social media, and encouraging customer referrals. 
Why reputation marketing matters
Right now, there's a crisis in marketing. While marketing is meant to be helpful content that helps customers make more educated purchase decisions, the average person seems to regard every ad they see with suspicion. Studies show that 96% of customers believe that advertisers and marketers do not practice their work with integrity.
Instead of trying to fight against this massive negative perception, marketers need to find ways to build credibility with potential customers. This is where reputation marketing comes in.
Reputation marketing leverages social proof and customer opinion to help form a positive impression of your brand. Not everyone may believe the messaging on a billboard that businesses pay tens of thousands of dollars for. Opinions and views of customers in the form of reviews, on the other hand, can present a more compelling argument to a prospect.
5 pillars to success for reputation marketing
Here are 5 key ingredients of a reputation marketing program that your business can not do without.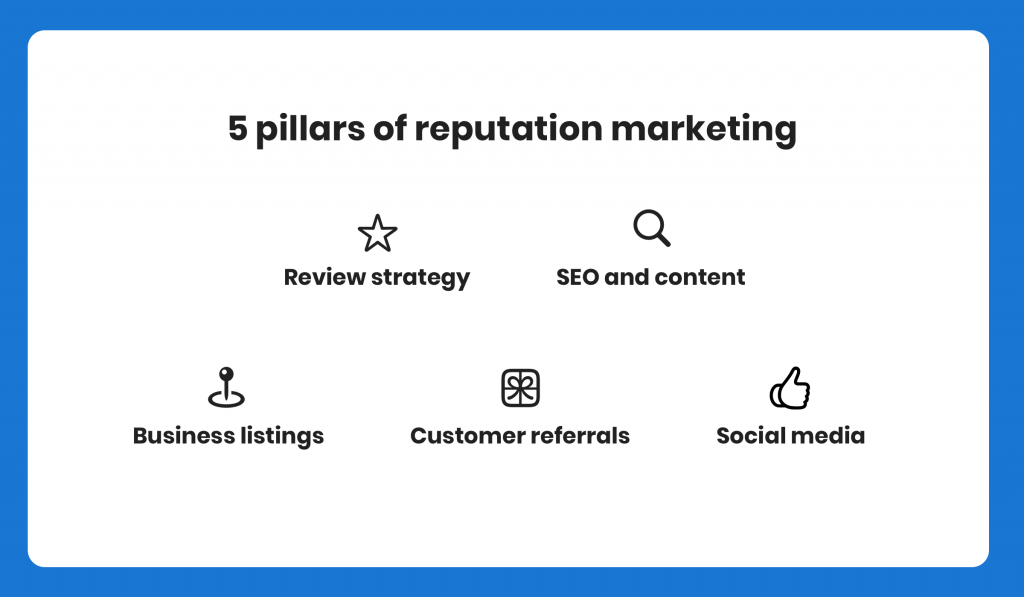 1. Review strategy
One important component of your reputation is what customers are saying about you on prominent review sites. Here are a couple of tips for managing your online reviews.
Proactively take control of your reputation
When customers do a search for your business online, one of the first things they'll see is your star rating and reviews on Google. But there is a problem. The customers who are most likely to post reviews online are those who feel that they've had negative experiences. As a result, potential customers often see the opinions of your unhappy customers first.
Luckily, there is a way around this problem. Take control of your online reputation by sending review requests to your customers via email and text. This will enable your business to collect more balanced feedback.
We recommend that you send these review requests on the same day when the customer makes a purchase. The longer you wait, the less your customers will remember the interaction, and the less likely they are to leave a review.
Have a plan for responding to damage
No matter what efforts you take to improve your customer experience, you will always have a subset of angry customers. Don't just ignore them. While there's always an angry minority that can't be satisfied no matter what, most customers who leave bad reviews or negative social media comments are raising their hands and looking for help.
Instead, create a game plan to actively engage with them. First, make sure that your team has a process in place to respond to reviews and social media comments in a timely manner so customers can see that you are dedicated to fantastic service. We recommend responding to reviews within 48 hours.
Next, make sure that your team knows how to handle negative feedback. The best way to manage negative reviews is by apologizing for the inconvenience, offer a resolution right away, and take the conversation offline by providing the reviewer with the best way to contact your business. This shows third-parties that your team is serious about dealing with complaints while preventing a drawn-out back-and-forth in public view.
2. SEO and content
Ultimately, a big part of your reputation is what comes up when customers do a Google search for your business. So type in your business's name into a search bar and take note of what you see. Are all of the results describing your brand positively? If so, you should make an effort to keep it this way.
To make sure that customers searching for your business see your best side, invest in creating great content. This could be blogs, podcasts, or even videos. Share tips that will help your customer base and highlight testimonials. This will help to drown out any negative voices.
In addition, optimize your business website for search engines. Keep broken links and images to a minimum and make sure that every one of your web pages has an enticing meta title and meta description. Taking these steps will make it more likely that potential customers will discover your business on search.
3. Keep your business listings up-to-date
Ensure your business listings are accurate and up-to-date everywhere they appear on the web, from review sites to social channels to business directories. This helps your business rank higher in search results and makes it easier for customers to get in contact with your business.
Make sure all of your listings across the Internet have accurate information. While it's tempting just to do this on big sites like Google, and Facebook, remember that many customers use industry-specific sites to discover your business. Find specific listing sites in your niche and make sure your information is consistent across all of them.
4. Enable brand advocates
One of the best ways to grow your business is to get your current happy customers to refer your business to friends and family. Studies show that customers are 90% more likely to buy from a brand that's been recommended by a friend.
But getting customers referrals isn't as easy as it sounds. Though your business may have happy customers, many of them won't actively take steps to tell family and friends about you because they're just busy with other things.
One way to enable brand advocates to talk about your business is by designing a customer referral program and making the process easy. Businesses typically also provide incentives like gift cards and discounts to customers who give referrals. This can help customers get the extra motivation they need to spread the word.

5. Leverage social media
Testimonials from customers are valuable marketing materials. So they shouldn't just stay on review sites. Instead, share them with your followers on platforms like Facebook, Twitter, and LinkedIn.
Since these reviews are already posted publicly, you don't need to ask for permission to post them. You don't need to have an elaborate caption either. Simply link to the review, keep your caption short, and let the customer's words speak for themselves.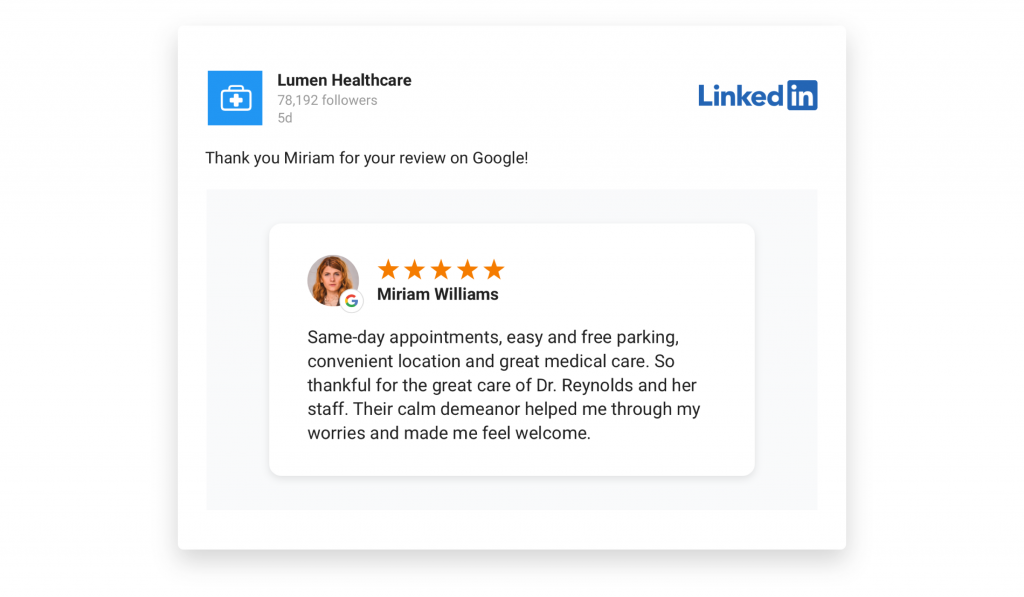 How reputation marketing software can help
Businesses should take the time to research reputation marketing software solutions that can help them be found in search results and be chosen by potential customers. Here are a few of the benefits of reputation marketing software.
Reputation marketing software boosts SEO and online presence
A reputation marketing software can help businesses automate the process of sending review requests. Instead of sending review requests manually, the right software can help you send requests via text and email.
Reputation marketing software helps you get customer referrals
A reputation marketing software helps your business get more customer referrals. Businesses can easily keep track of referral requests and don't have to worry about missing incentive payments.
Reputation marketing software automatically leverages social proof
While glowing reviews are a great way to display social proof, it can be hard to keep track of reviews across the Internet. Instead, you can automatically share positive reviews on sites like Facebook, Twitter, and LinkedIn.
Market your reputation with Birdeye
Birdeye is an all-in-one Experience Marketing platform that can handle your marketing and operations needs. Whether you're looking to collect more reviews, get customers to refer your business, share reviews on social media, connect with customers through email and texting, or improve customer experience through surveys and review insights, Birdeye has got you covered.

This blog post is part of our Online Reputation Management Guide:




        


Online Reputation Management





Originally published