PALO ALTO, CALIF. (PRWEB) APRIL 16, 2018
DrChrono Partners with Birdeye to Help Healthcare Practices Grow
Birdeye and DrChrono integration enables healthcare practices to automatically get new reviews to attract new patients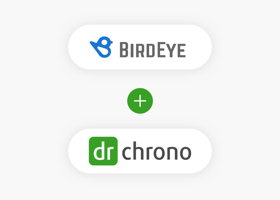 DrChrono partners with Birdeye
Leading patient experience platform Birdeye today announced its partnership with DrChrono, the company enabling the medical practice of the future. With this new integration, DrChrono's medical practice customers will be able to automatically send review requests to patients after an appointment.
The healthcare industry is becoming increasingly competitive. According to Becker's Hospital Review, nearly 80 percent of people across demographics now rely on online reviews and physician ratings when choosing a new doctor. Before this integration, physicians using DrChrono would have to manually encourage patients to write reviews. At a busy medical practice, where healthcare providers are tending to patients, this crucial part of the business can be easily forgotten or overlooked.
With the Birdeye integration, doctors can now automatically send review requests to their patients when an appointment is marked as completed in DrChrono. Connected to the DrChrono platform, Birdeye automatically sends customizable review requests via email or SMS based on the preferences set within the Birdeye dashboard. Doctors can customize the timing, branding and content of review requests to get new reviews and improve ratings on sites like Google, Facebook and Vitals without adding any extra work to their day. Birdeye is fully HIPAA compliant so patient privacy is safeguarded throughout the review collection process.
"We're thrilled to partner with DrChrono to help doctors improve online visibility and build patient trust," said David Tulkin, Director of Business Development at Birdeye. "We share DrChrono's mission to help healthcare providers boost patient loyalty and grow their practice automatically so they can stay focused on providing top quality patient care."
"Medical practices are increasingly relying on online reviews to better engage with patients and drive new patient sign-ups," said Daniel Kivatinos, COO and Co-Founder of DrChrono. "Our customers are tech savvy practices that use mobile devices for patient documentation and to keep their practices running smoothly; having our EHR integrated with an online reputation management platform will ensure they stay on top of customer feedback and provide the best care possible."
We're thrilled to partner with DrChrono to help doctors improve online visibility and build patient trust.
About DrChrono
DrChrono brings the medical practice of the future to reality by enabling physicians to be the best they can be. The company built the first iPad and iPhone EHR, and its EHR and medical billing platform is the most flexible and intuitive on the market, managing all aspects of patient intake, clinical charting, billing, and revenue cycle management. The platform is cloud-based, mobile-driven, standards-supported, fully compliant, and highly awarded. The DrChrono EHR includes customizable medical forms, e-prescribing, access to labs, robust scheduling tools, real-time patient eligibility checks, patient portal and more. The healthcare App Directory offers a multitude of apps that a practice can select from to bundle in and a medical API for healthcare app developers. For more information about DrChrono, visit http://www.drchrono.com
About Birdeye
Birdeye is a SaaS platform that reimagines the way customer feedback is used to acquire and retain connected customers by closing the loop between reputation marketing and customer experience. Birdeye enables businesses to get new reviews and captures existing customer sentiment from review sites, social media, Net Promoter Scores, and support cases in real-time. Birdeye converts all feedback into actionable insights so businesses can engage in every step of the customer journey, establish a positive online presence, and benchmark performance across locations and against competitors. The Birdeye platform is trusted by 25,000+ businesses and prominent F1000 enterprises. Birdeye was founded in 2012 by Google, Yahoo, Amazon alumni and backed by Silicon Valley who's who including Trinity Ventures, Salesforce founder Marc Benioff and Yahoo co-founder Jerry Yang. Learn more at Birdeye.com.