Company Snapshot
Since its establishment 16 years ago, Boise Mountain Eyecare has been providing high-quality services and products to all their patients. Every staff member is committed to ensuring the comfort and satisfaction of each and every patient.
The struggle for online visibility
The team at Boise Mountain Eyecare understood the important role that patient feedback played in their endeavor to provide outstanding patient service. However, their low volume of Google and Facebook reviews was damaging their online reputation and taking a toll on their practice.
"Birdeye has greatly increased the amount of reviews we receive from our patients. Our Google reviews have gone through the roof. We have hundreds of more Google reviews than other eye care practices simply because of Birdeye."
Dr. Todd Stebel
Owner of Boise Mountain Eyecare

"We had our reviews on another platform as well as our website but were looking to increase our Google and Facebook reviews," said Dr. Todd Stebel, owner of Boise Mountain Eyecare. "We were also trying to enhance our presence on the web to improve our visibility to potential patients. We want potential new patients to know how great our customer service is according to current satisfied customers."
The company tried several solutions to improve their online presence, but to no avail.
"We even went so far as to hire a company to make us more visible on internet searches," said Dr. Stebel."This company didn't work for us and was extremely expensive. We hired another company for helping us get more reviews, but the reviews only ended up on our company website. We really needed more Google reviews to rank well in Google search results."
High-volume review generation on top review sites
Since 72% of patients say that online reviews help them trust a local healthcare practice, the first step towards getting new patients was generating new reviews on high-traffic sites like Google and Facebook. Boise Mountain Eyecare used Birdeye to automate SMS and email review requests. They used 2567 email templates and 1937 SMS templates to drive targeted, high-impact campaigns and reach every patient at the right moment with the right message.
Local search dominance
By mixing and matching different review generation and review sharing requests, Boise Mountain Eyecare managed to increase their Google reviews by 2488% and their Facebook reviews by 142% from 2016 to 2017. This brought their overall review count 150x above the industry average.
The continuous surge of reviews moved Boise Mountain Eyecare to the top of local search results. Now, when a potential patient searches "eyecare in Boise", Dr. Stebel's practice is featured prominently with an overall 4.9-star rating and more than 3x more reviews than its competitors in Google's local pack.
Birdeye: The Obvious Choice
Winning over 400 awards for 10 quarters in a row, Birdeye is the most-awarded and highest-rated customer experience software for businesses of all sizes.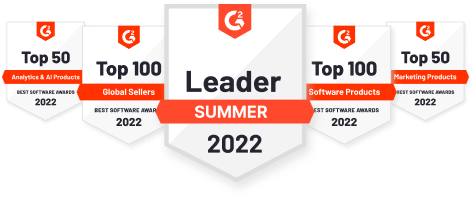 2,179 reviews

1,587 reviews

423 reviews