Company Snapshot
Coastal Ridge Real Estate is a property management company with approximately 20,000+ conventional apartment units and student housing beds across the country.
This property management company needed to gain a competitive edge online, and to do so would require significantly more reviews from current residents. To acquire new residents, Coastal Ridge would also need to act on these reviews to improve resident experience and earn higher ratings. Using Birdeye to engage with residents in real-time and access deep feedback insights, in less than one year, Coastal Ridge generated 7x more Google reviews and 2x more Facebook reviews, improving their average nationwide rating from 3.5 to 4.1.
Challenge
Ranking below competitors in relevant online search results
Inability to address feedback promptly and resolve resident issues
Solution
SMS review requests sent to each resident via customized monthly drip campaigns.
All customers encouraged to leave feedback.
Outcome
In one year with Birdeye, Coastal Ridge:
Increased nationwide rating from 3.5 to 4.1
Generated 7x more Google reviews, 2x more Facebook reviews
Improved customer service/experience score from B+ to A
Collect high volume of feedback to boost resident satisfaction
In the intensely competitive residential services market, Coastal Ridge Real Estate needed to get more reviews across their 32 nationwide properties to demonstrate how many customers were already happy with their service. Coastal Ridge sought a way to generate new reviews while staying engaged with all feedback in real-time in order to resolve issues immediately.
Real-time resident engagement accelerates issue resolution
With Birdeye, Coastal Ridge sends real-time SMS review requests to each resident immediately after an interaction. Real-time alerts notify appropriate staff of incoming new reviews, enabling quick issue resolution and preventing problems from escalating.
Higher ratings from hundreds of new reviews
In Less than one year with Birdeye, Coastal Ridge generated 7x more Google reviews and 2x more Facebook reviews, boosting their nationwide rating from 3.5 to 4.1. With an easy, convenient way to leave feedback, more residents were willing to do so. Dedicated responses to resident issues created positive experiences out of initial frustrations. Happy resident voices were heard , informing home seekers, and boosting resident acquisition. This surge in satisfaction was further illustrated by Birdeye's Natural Language Processing (NLP) insight: Coastal Ridge's sentiment score for Customer Service/Experience increased from B+ to A as a result of their customer-centric initiatives.
Driving Growth with Birdeye
With Birdeye, Coastal Ridge is getting more reviews, more visibility, and more clients. There's a reason why more than 50,000 businesses choose Birdeye to manage online reputation.
Birdeye: The Obvious Choice
Winning over 400 awards for 10 quarters in a row, Birdeye is the most-awarded and highest-rated customer experience software for businesses of all sizes.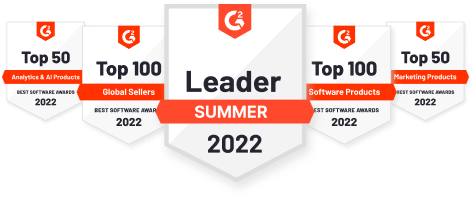 2,179 reviews

1,587 reviews

423 reviews