Company Snapshot
RP Law Group is a law firm that concentrates on workers' compensation and work injuries. The firm has been serving the Riverside area since 2003.
Lacking abundant social proof of legal expertise
Clients in need of legal assistance want to work with someone they know they can trust. To determine the credibility of an attorney, they turn increasingly to online reviews, specifically on sites like Google, Facebook and Avvo.
"I started as a one-man show with a few very basic workers' compensation cases," said Raj Patel. Business was steady, but clients were not sharing feedback online, making it difficult for prospects to find RP Law Group in relevant online search results. Those that managed to find him only had a few old reviews to look at, and this was not enough to convince them to work with Patel.
"People come in because of reviews. I've had 5x more business in 3 years due to Birdeye."

Raj Patel
Attorney and Owner of RP Law Group
Although Patel knew how critical reviews were for growing his practice, he simply did not have the time to follow up with every client at the right moment and ask them for a review. Patel began searching for a way to automate the review request process. He tried many review generation vendors before finding Birdeye.
"Since I've started using Birdeye, I've had nothing but success," said Patel.
Easy, automatic review requests
The Birdeye platform allowed Patel to ask every client for a review via customized emails -- without adding any extra work to his busy day.

"After I settle a case, I ask the client for their email," said Patel. When he enters a client's email into Birdeye, an automated review request is triggered. The request sends the client directly to Google where they can quickly and easily write a review.
Since the process of leaving a review was so quick and easy, more than half of Patel's review request emails (58%) converted into
Google reviews.
Since online reviews are the most powerful advertisement, Birdeye allowed Patel to auto-promote his reviews from all sites to RP Law Group's Facebook and Twitter pages to reach a wider audience.
More authentic client reviews, more clients
Patel's automated review management efforts paid off: in his first year, he increased his review volume by 42x and earned a 4.8 average star rating. After 2 years with Birdeye, he had increased his Google review count by more than 13x, Facebook review count by 8x, and overall review count by 5x. He also significantly boosted review count on attorney-specific sites like Lawyers.com and Avvo.
Not only did all of these reviews improve RP Law Group's overall online visibility, they also provided rich insight into his client experience, helping both Patel and prospects get a deeper understanding of how clients feel about his services.
"I tell people, 'Be honest'," said Patel. "These reviews are not for me, they're for people to understand how complex the legal system is."
The combination of a fresh stream of new reviews on multiple high-authority sites, Birdeye microsite, and review promotion on social media gave RP Law Group a significant boost in search results, earning him the top spot in Google's Local Pack when prospects search for employment attorneys in Riverside. Since Patel's clients are so thorough in their praise, prospective clients get a clear understanding of exactly why they should trust RP Law Group with their case.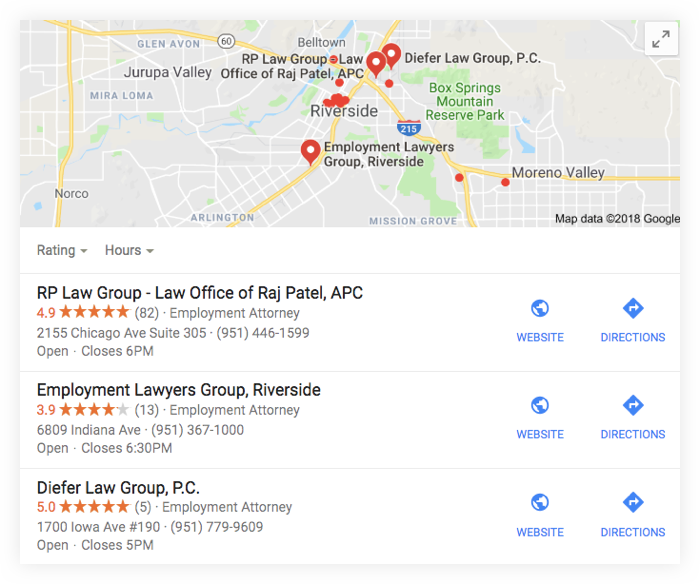 It's no wonder that collecting 5x more reviews earned Patel 5x more clients year-over-year. Thanks to authentic client voices, when prospects search for legal assistance, RP Law Group stands out as the clear winner.
Birdeye: The Obvious Choice
Winning over 400 awards for 10 quarters in a row, Birdeye is the most-awarded and highest-rated customer experience software for businesses of all sizes.

2,699 reviews

521 reviews