Missing out on new clients every day
After a year using Birdeye's review platform, SkinSpaMed had generated nearly 30% more reviews and earned a 4.6 average rating, boosting them to the top of search results and driving more visitors to their website. To make sure these visitors found answers to any questions standing between them and their first appointments, SkinSpaMed added Birdeye Webchat to their website.
"Why wouldn't we communicate with our potential clients and consumers where they are — on their phones?" said Jason Hartline, a marketing consultant who partners with Birdeye to manage SkinSpaMed's online reputation.
"We've doubled our monthly new client appointments, all thanks to Webchat. The ability to reach out to each website visitor and answer questions wherever I am, at any time of day is a total game-changer."

Jason Hartline
Marketing Consultant for SkinSpaMed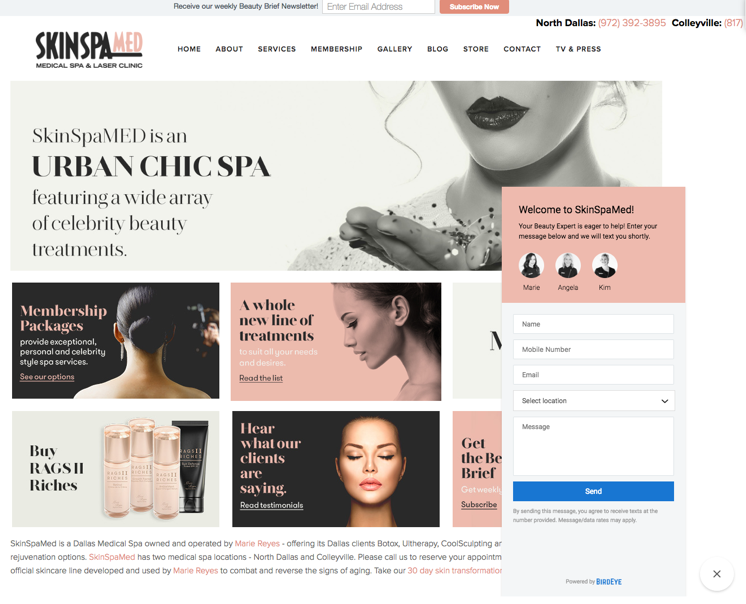 Providing the right information at the right time
"The chats began pouring in, mostly from prospective clients needing information before booking their first appointment.
We get questions about everything from pricing, to what to expect, to general 'What does this mean?', 'Can you help me to diagnose what I'm looking at?'," said Hartline. "I get multiple chat requests a day, even over the weekend — we get them all the time."
Website visitors provide their phone number along with their question, then Hartline texts them back from the Birdeye mobile app. This way, Hartline doesn't need to monitor his computer screen for messages, and website visitors can get information on-the-go.
Birdeye stores all contacts from Webchat in Messenger, a unified inbox where Hartline can manage all his customer conversations and initiate new ones. Some Webchats didn't lead to new appointments immediately, so Hartline used Birdeye's SMS campaigns to send relevant promotion announcements to prospects who needed a little nudge.
"It worked as data capture in general so if a potential client didn't immediately jump into it I still fed their information into the funnel to hopefully turn them into clients later on," said Hartline. "If someone messaged us but didn't become a client right away I would take their info and put them into a specific campaign."
Hartline didn't only reach out to prospective customers. He also wanted to make sure existing customers kept coming back.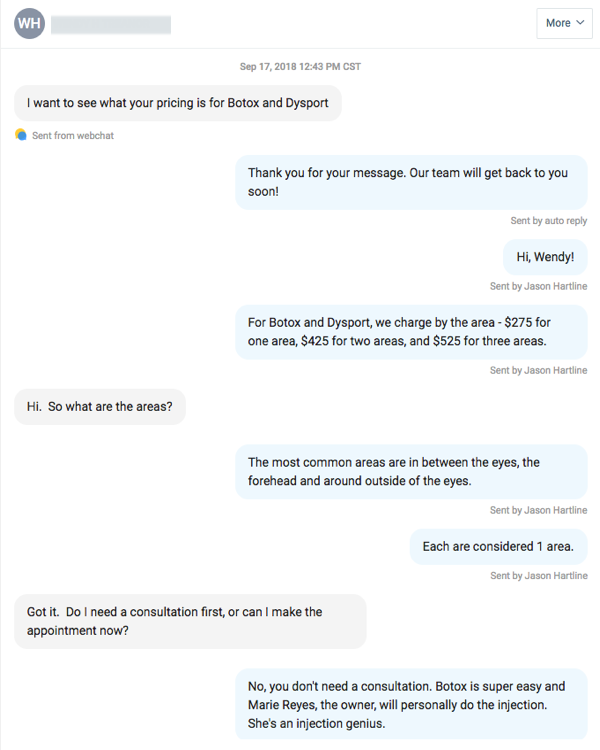 "I use it as a tool to upsell as well, to say 'You just got this, don't forget you need this and this,' ," Hartline said.

With Messenger, Hartline could easily answer questions about promotions, then follow up after the service with a review request in the same text conversation. This helped the review request come across as genuine and relevant rather than a marketing blast, making customers more enthusiastic about leaving a review.

Meanwhile, Hartline continued using Birdeye to automatically send every client a review after an appointment. The steady flow of new reviews kept SkinSpaMed at the top of Google's local pack, drawing more visitors to their website.
New reviews, more website traffic, new clients: a continuous cycle
In their first month with Webchat, 86% of incoming chats converted into booked appointments, and 81% of those appointments were with new clients. Both Colleyville and Dallas received substantially more new clients month-over-month as a direct result of Webchat.
"We more than doubled our new clients for two straight months after implementing Webchat, and we doubled our booked appointments," said Hartline.
SkinSpaMed's success with Webchat was accelerated by their review generation efforts. As new reviews came in, SkinSpaMed began ranking higher in search results, driving more traffic to their website. As visitors arrived, Webchat allowed SkinSpaMed to engage immediately and seal the deal. In the months since launching Webchat, both SkinSpaMed locations have continued to book appointments and sign up new clients at a faster rate than ever.
Birdeye: The Obvious Choice
Winning over 400 awards for 10 quarters in a row, Birdeye is the most-awarded and highest-rated customer experience software for businesses of all sizes.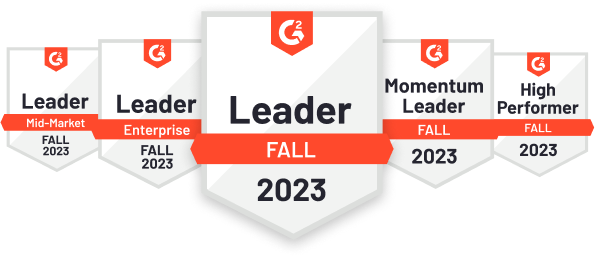 2,790 reviews

532 reviews