Company Snapshot
With a 100-year legacy of innovation backed by industry experts, Zodiac has established itself as a leading global manufacturer of pool and spa products under the leading brand names of Jandy® Pro Series, Polaris®, Zodiac®, Cover-Pools®, iAqualink™, and Nature2.
With a 100-year legacy of innovation backed by industry experts, Zodiac has established itself as a leading global manufacturer of pool and spa products under the leading brand names of Jandy® Pro Series, Polaris®, Zodiac®, Cover-Pools®, iAqualink™, and Nature2.

In their drive to deliver a perfect pool experience to their customers, Zodiac has always focused on creating the most technologically-advanced, energy-efficient, and user-driven products. They also successfully developed a call center that elevated their customers' experiences beyond prior industry standards. As online reviews became more prominent, Zodiac saw an opportunity to channel their unrivaled customer service onto the digital landscape.
"Birdeye has revolutionized the way we engage customers and promote positive user-generated content online. This partnership has optimized the review generation process at the most critical touchpoints in the customer journey. Consumer feedback analytics now drive innovation and improvements in our organization. "

Briana Nunez
Reputation Management Administrator,
Zodiac Pool Systems, LLC
Amplifying the voice of the customer
As an industry-leading pool supply brand, Zodiac realized in order to maintain its spot at the top and stand out in a hyper-competitive market, it would need to improve its online review volume and ratings. Today 85% of the customers make a purchase after reading online reviews and compare products. To give prospects enough information during the decision-making process, Zodiac needed a way to share real experiences from satisfied customers.
Zodiac knew that the customers are the real market drivers. The company also aims to constantly improve product quality, and knew that customer feedback would provide valuable insights required to help Zodiac make focused improvements to keep delivering world-class products. However, with 300+ products and sub-brands, it was difficult for Zodiac to manually ask customers for reviews. This led to the search for a way to automate the review generation process. That's how Birdeye came into the picture.
Enhancing online reputation from every angle
The company had a decent number of reviews on sites like Amazon and Ebay, but they were missing a solid presence on many other prominent review sites.
To tackle all these opportunities, Zodiac used Birdeye's 360 degree online reputation management approach. This included review monitoring, review generation and review marketing.
Listening and responding for timely resolutions
Zodiac was able to monitor all their reviews from all third-party sites in one place, allowing them to respond directly and solve customer frustrations. Birdeye sends Zodiac alerts the instant they receive a new reviews, and lets the company view all their reviews in one comprehensive dashboard. In FY17, Zodiac was able to respond to 1900 reviews on time and resolve 400 customer issues.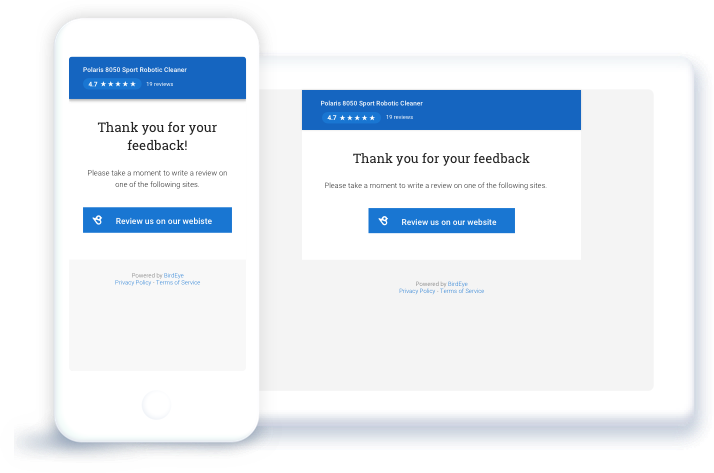 The first step at reputation repair was getting new reviews across multiple review sites. Zodiac utilized Birdeye's Review Generation feature to create customized feedback campaigns and then to integrate them with their existing email marketing strategy. Because they asked for customer feedback in a timely manner, they were able to generate substantially more reviews.
To ensure all their customer testimonials reached Zodiac's target audience, the company automatically promoted their reviews across the web. Birdeye built custom SEO-optimized microsites for all Zodiac products displaying their reviews from all sites. The fresh stream of new content from online reviews helps these sites rank high in relevant search results.
Birdeye's Business Insights and Competitor Analysis tools provided accessibility to data otherwise obscured and untapped online. Equipped with consumer data, Zodiac was able to identify opportunities for product development and quality improvements that directly met consumer needs. This data-driven advantage has kept their products on the cutting edge of the market ever since.
More reviews, more visibility, better products, happier customers
By routinely generating and monitoring online reviews and analyzing customer sentiment, Zodiac's well-targeted strategy hit the bull's-eye. They increased their overall review volume by 75%. Their dedicated effort to improve products and experiences based on feedback was reflected in higher ratings for more than 20 products.
Insights from Birdeye's Natural Language Processing (NLP) engine, Athena, revealed positive sentiment across key categories including overall performance, quality, design and online price. All these reviews helped Zodiac improve not only its products, but its operations, as well. The company used Birdeye's Employee Leaderboard to track internal rankings of individual employees based on reviews requested, reviews received, and ratings.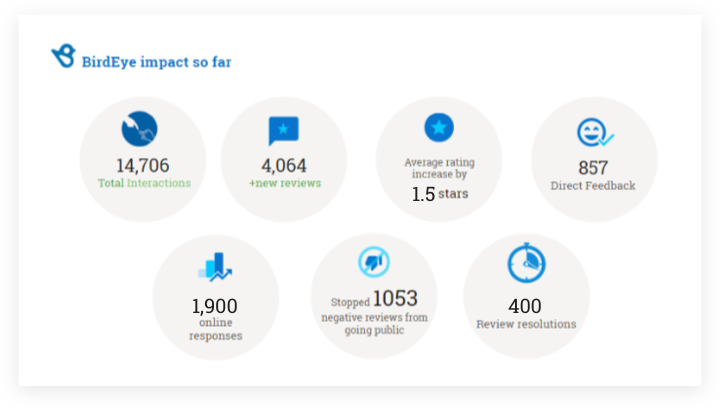 With Birdeye's 360-degree solution, Zodiac Pool Systems was able to achieve significant improvement in its manufacturing and customer service operations. Today, Zodiac's products are not only easily found online -- they have an impressive amount of authentic reviews to back them up. By improving its customer experience story and online reputation, Zodiac has established itself as a market leader that lives up to its promise of delivering a perfect pool experience to its customers.

"We are listening and taking action on what matters most to our customers," said Briana Nunez, Reputation Management Administrator at Zodiac Pool Systems. "As a result, we stand out as the unmatched customer experience leader in our industry."
Birdeye: The Obvious Choice
Winning over 400 awards for 10 quarters in a row, Birdeye is the most-awarded and highest-rated customer experience software for businesses of all sizes.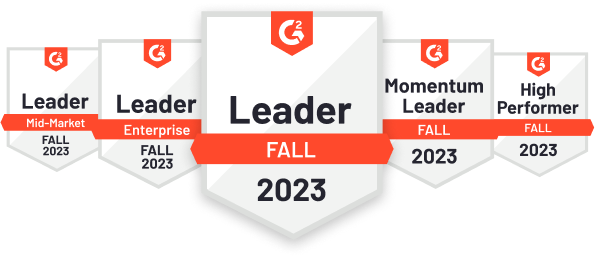 2,786 reviews

530 reviews