Free Guide
The complete guide to referral marketing
The most effective form of marketing is a personal recommendation from a friend or family member. But unfortunately, while most businesses have happy customers, they aren't getting recommendations. Here's how you can fix that.
In this guide, you'll learn:
Why referral marketing is important for any business

How you can start designing a referral program that converts

How to simplify and automate your referral process
Interested? Here's a Sneak Peek
Introduction
Trust for traditional marketing channels is lower than ever. But that doesn't mean businesses should give up their marketing efforts entirely. It just means they need to be smart about using channels that work better. There's one channel that works like no other: customer referral marketing.
Customer referral marketing leverages a simple insight: While customers might not trust your marketing team, they do trust the recommendations of their friends and family members. So let's talk about how you can get started with referral marketing.
Let's start things off with a couple of definitions.
What is customer referral marketing?
Customer referral marketing is when businesses enable and encourage customers to tell friends and family members about products and services.
What is a referral marketing program?
A referral marketing program is a systematic method of encouraging customers to refer a business to their friends and family members.
Why does referral marketing work?
Here are a few reasons why referral marketing is so effective in attracting new customers.
It's Effective
Nowadays, customers are trusting traditional marketing less and less. A recent study by Hubspot found that trust for marketers was at a stunning 0%.
While customers might not trust marketing departments, there is something they do trust: recommendations from people they know. After all, how many times have you checked out a restaurant or a new TV show after hearing a rave review from a friend?
It's Cheap
Unlike other forms of marketing, referral marketing doesn't require much spending on your part. After all, it doesn't cost money for a friend to tell a friend about a great business.
Plus, referrals spend more. According to the Harvard Business Review, you can expect 16% more profits from customers who have been referred by a friend or a family member.
It's Easy
If you're a small business owner, you might be wondering whether you have the time to do referral marketing with all the other important business matters that you have to attend to. Well, wonder no more. Referral marketing strategies can be implemented by businesses of all shapes and sizes.
Impact of referrals
Not sold on the importance of referrals? Here are a few numbers that might change your mind.
Customers are

4x

more likely to buy when they have a recommendation from a friend (Nielsen).

You can expect

16%

more profits from customers who have been referred to a business (HBR).

64%

of marketing executives said that word-of-mouth recommendations were the most effective form of marketing. However, only

6%

of executives say that they've mastered it (Forbes).
Download the guide for more insights.
Birdeye gets you real results that help you be chosen
Data is from over 100,000 Birdeye business customers
Birdeye: The Obvious Choice
Winning over 400 awards for 10 quarters in a row, Birdeye is the most-awarded and highest-rated customer experience software for businesses of all sizes.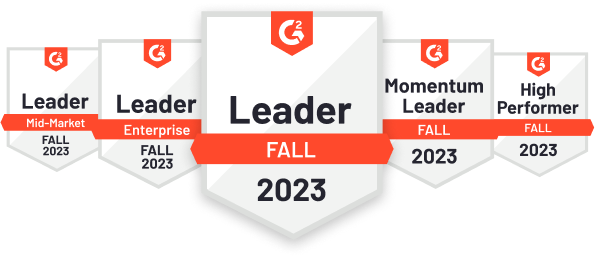 2,789 reviews

532 reviews