Free Guide
The ultimate guide to online reviews
The best ad campaigns in the world will not matter if the first thing customers see when they Google you is bad reviews. The solution: Get more reviews. Here's how you can start collecting reviews & improving your reputation today.
In this guide, you'll learn:
Get reviews on the sites you care about

Increase traffic and sales with online reviews

Get insights into customer experience
Interested? Here's a Sneak Peek
Summary
In today's world of digitally connected customers, traditional advertising messages are drowned out by customer voices, which travel further and faster through increasing avenues of communication. When deciding which product or service to purchase, customers consult the source they trust most: other customers.
93% of customers will read reviews of local businesses to determine its quality. Online reviews play a major role in the customer journey, influencing everything from initial online search results to last minute in-store evaluations.
To succeed in such a landscape, businesses must:
Develop a deep understanding of their customer's wants and needs
Address all customer issues immediately
Ensure happy customers' voices get heard
How? By harnessing the power of online reviews with a comprehensive online Experience Marketing platform.
The role of customer reviews in Experience Marketing
Before we dive into the role of customer reviews in your marketing strategy, it's important to first understand what Experience Marketing is all about.
Experience Marketing is an efficient, sustainable and scalable growth methodology for modern businesses. It focuses on creating customer happiness through great experiences, and then using happy customers to amplify brand messages and attract new leads.
Online reviews play a pivotal role in an effective Experience Marketing strategy. They let prospective customers know that your business delivers a superior experience, attracting new leads to fill your pipeline.
How do online reviews work?
Online reviews are a form of User Generated Content (UGC) that current or past customers can share on public sites such as Google and Facebook. These sites typically structure feedback as open-ended commentary alongside a rating from 1-5 stars.
After a customer posts a review for a business, it's tied to that business's profile and visible to the public. Any potential customers who visit that review site can see all the reviews posted for that business, both positive and negative. In most cases, reviews cannot be deleted by the business; they can only be removed by the review site itself if they violate the site's policies or if it is removed by the reviewer...
Download this guide for more expert advice on managing reviews
Birdeye gets you real results that help you be found
Data is from over 70,000 Birdeye business customers
Birdeye: The Obvious Choice
Winning over 400 awards for 10 quarters in a row, Birdeye is the most-awarded and highest-rated customer experience software for businesses of all sizes.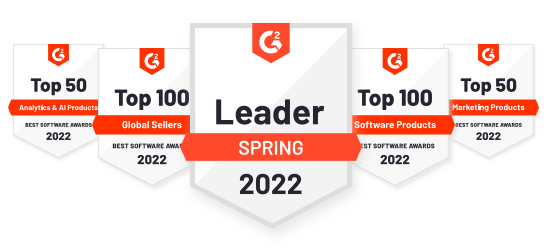 2,148 reviews

1,528 reviews

410 reviews