Free Webinar
Get more customers with your Google Business Profile
Your Google Business Profile is your digital storefront. It's the first thing people see when searching online for your product or service, so making a great first impression is crucial.
In the third installment of our Google webinar series, CEO and Sr. Search Strategist of Wiideman Consulting Group, Steve Wiideman, will show you how to optimize your Google Business Profile and make the best first impression online.
In this webinar, you'll hear:
Common mistakes companies make in their Google Business Profile

How to optimize your Business Profile to get more customers

Burning SEO questions answered by a leading SEO expert

And more
Who you'll hear from
Justin Meredith
Digital Marketing Evangelist
Birdeye
Steve Wiideman
CEO & Sr. Search Strategist
Wiideman Consulting
Interested? Here's a Sneak Peek
Get more customers with your Google Business Profile
Google can be a treasure trove of opportunities for your company. The possibilities are endless between SEO, Google reviews, and Google Business Profile. It all comes down to how well someone knows these features and how to leverage them to outperform your competitors. People can easily find businesses on Google and see how well their existing customers like them. A clear win-win.
Specifically for companies looking to increase their customer base, Google is much more than a search engine. Google Business Profile can help them post updates, generate reviews, and maintain accuracy in information from a single dashboard.
An updated Google Business Profile makes sure that potential customers can find all relevant information from a single verified source instead of clicking multiple links for it.
In this webinar, Birdeye discusses the untapped potential of Google Business Profile and how companies can leverage them to get even more customers. Steve Wiideman, a search expert and CEO of Wiideman Consulting, joins us.
Here is a snippet of what was discussed in the webinar.
[Sneak peek from the webinar]
Birdeye: First off, for those who aren't really quite sure what a Google Business Profile is, it's a free Business Listing Profile that Google gives you where you can add your business information like your name, your address, your phone number, and your description of services. When someone searches Google for a product or service near them, a section at the top of the results called a Local Pack will appear with a map showing where each location is and then a list next to it with the names, the ratings, and sometimes even an image of the product. So, Steve, what do you generally see regarding Google Business Profiles when you meet with new clients?
Steve Wiideman: As to what people are doing with their Google Business Profiles, it all depends on the type of client. For example, many smaller businesses are doing what they can to grind away to compete with the ever growing franchises that seem to appear everywhere. So I see many small businesses getting aggressive, sometimes too aggressive, like hiring multiple agencies to do the same thing, then stepping on each other's toes. In larger organizations, the challenge is scaling and having the time to manage multiple location listings. They often have one person in charge of hundreds of locations. So it really varies. But for the most part, I don't think enough companies realize the impact of maximizing everything they could be doing, analyzing traffic, and quantifying the results.
Birdeye: That's very interesting. But obviously, when someone looks up a product online in a near me search, or best product search, not every business shows up. So, how does Google prioritize which Google Business Profile it places at the top of the search results?
Steve Wiideman: There are four areas that Google definitely cares a lot about:
Accuracy of data

Landing pages

Links and mentions from noteworthy directories

Reputation
We will discuss each of these a little bit more for the audience.
For data accuracy, businesses must make sure that Google can validate all the information on your Google Business Profile. The information must match what you have on your website and social media handles. Make sure that you display consistent information across all your Business Profiles.
Next, companies must focus on the landing pages they're providing to Google, mainly for users to click on and know more about the offerings. For single-location businesses, we focus on these functions so that potential customers who don't want to click on directions or call, can be in the right place to navigate. For multi-location businesses, it is important to have a single page for everything they offer – all with unique content.
Third, find links and mentions on third-party websites that are notable to your industry and domain. This improves data visibility for your company. Focusing on general and industry-specific directories that drive traffic to your website is essential. Make sure they include your business by name and list the accurate address and contact information.
The last is reputation. Are people seeing just one-star reviews and not clicking on your listing, telling the search engines that maybe this listing isn't beneficial? Are there no new reviews coming up when somebody clicks on your listing? Seeing one-star reviews or a review from two months ago may make the potential customer doubt your existence and performance, leading them to find another service provider. So it's not just around the quality, but Google Business Profile success is also around the quantity and velocity of reviews.
Also, companies must treat their Google Business Profile as a living, breathing entity that has to be maintained to ensure visibility. Monitoring activity in the Google Map Pack may take a little time, but it will bring many benefits in the long run.
To learn more about how to optimize your Google Business Profile, watch the webinar.
Download now.
Birdeye: The Obvious Choice
Winning over 400 awards for 10 quarters in a row, Birdeye is the most-awarded and highest-rated customer experience software for businesses of all sizes.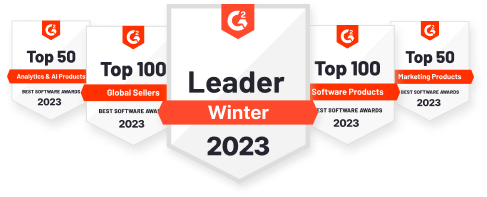 2,648 reviews

491 reviews