Free Webinar
Local Search Expert Series: SEO for multi-location businesses
Showing up on the first page of Google gets harder every day. And if your business has multiple locations, the challenge is even more difficult. That's why we've brought together two of the country's leading SEO experts to teach you everything you need to know to crack the top of page one.
Join us as we chat with experts Ben Fisher and Steve Wiideman for the second installment of our Local Search Expert Series to learn tips on optimizing your search ranking for all your business locations.
In this webinar, you'll hear:
Why it's getting more difficult to rank on Google

How to develop a multi-location SEO strategy

How to make all your locations rank higher in search results

And more
Who you'll hear from
Ben Fisher
Founder & Lead Consultant
Steady Demand
Justin Meredith
Digital Marketing Evangelist
Birdeye
Steve Wiideman
CEO & Sr. Search Strategist
Wiideman Consulting
Interested? Here's a Sneak Peek
Local SEO is challenging for any business even when there's just one location to rank for. You want to bring your business to the top of the local map pack so that customers know how to find you easily.
But the challenge becomes bigger when businesses have to understand how to rank in 1000+ locations, as is the case for many large corporations. Both product and service companies have to work with local SEO challenges to outrank their competitors in Google's Local Map Pack.
Birdeye sits down with SEO experts, Ben Fisher (Diamond Google Product Expert) and Steve Wiideman to understand what the unique local SEO challenges for multi-location businesses are and how they can overcome them with some real-life examples from our experts.
Excerpt from Webinar
Birdeye: Before we get into discussing SEO for multi-location businesses, let's begin with the difference between a single-location business vs. multiple location businesses. We would imagine that the additional locations bring in a big challenge of scaling. What is your take on that?
Steve Wiideman: Well, you would be absolutely right in saying that scaling is a huge challenge for enterprise and franchise brands. Usually single location businesses such as mom and pop stores have the ability to be active a lot more than these multi-location corporations.
A mom and pop store style business can stay late, constantly work on their SEO, create unique pages, upload new pictures, and most personalized content for their audience. But when it comes to these multi location corporate companies, they usually have a team of three or five people managing hundreds of locations. Which means, updating pages, content, and happenings for all those locations in a personalized manner is just not possible.
Multi-location corporations have to be extra creative in engaging with local offices to get localized content. They also need software solutions and automations that allow them to upload pictures, update details, and keep track of everything that happens in these locations. Google wants the content to be unique and that is a huge challenge when it comes to scaling your business online.
Another challenge is that the content on all the local landing pages has to be completely unique.
But it is possible. Let's take IHOP as an example. The company has managed to rank 87% of their locations on the first page for breakfast delivery. They did this by making local landing pages with unique content harvested over the course of about a year and a half. And it works really well.
We also did a study at Steady Demand. It's about local SEO study and tells us that if you could put hyperlocal content on our local pages, you'll have a 107% competitive advantage over the competition. Also, if you use custom location images instead of just the company logo, you'll have an 84% competitive advantage. If you add a link for directions to Google Maps, you can also add a 16% competitive advantage over other of our competitors.
While there are scaling challenges, the rewards are immense.
Birdeye: The scaling activities challenge feeds perfectly into this next topic of single-location versus multi-location SEO. In a single-location versus multi-location businesses conversation, what exactly are the differences, and how do you know what you need to do when it comes to each of these? Simply put, what's the difference between SEO strategy for single-location versus multi-location businesses?
Steve Wiideman: When you're a single location business, it's really easy to manage everything on your own, search engines, navigation engines, social locals, Google, Facebook, and review sites too. You can also use tools like Birdeye to instantly send review requests via text to streamline the process as well.
When you're multi-location, you've got to use platforms to manage all that business data a little more strictly because you can't keep going into these different profiles separately. Something as simple as adding categories can be a challenge to do if you are a 1,000+ location business. Then there are those landing pages we just talked about. You would need a small army of folks that can support that. Scaling review generation, responding to them, and keeping them all in line becomes a task too.
So while a single-location business can do a lot manually, multi-location businesses need a platform to manage it all.
Tune in to the webinar to learn more.
Download now.
Birdeye gets you real results that help you be found
Data is from over 100,000 Birdeye business customers
Birdeye: The Obvious Choice
Winning over 400 awards for 10 quarters in a row, Birdeye is the most-awarded and highest-rated customer experience software for businesses of all sizes.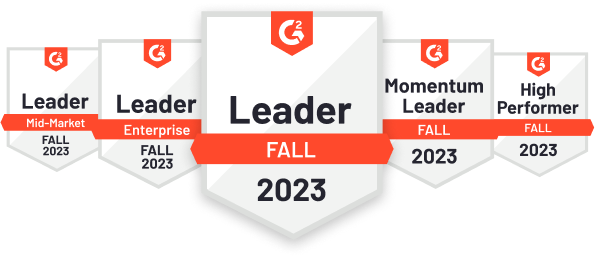 2,793 reviews

534 reviews