At the beginning of 2020, the pandemic set a massive digital shift in motion with an increase in the use of online reviews. In 2021, that trend accelerated, further cementing online reviews as an essential part of any business' online presence.
To get a full understanding of the latest review trends, Birdeye analyzed the review data of more than 100,000 businesses over 2021 in the 2022 state of online reviews report. In this article, we will walk through three of the most significant online review trends from this report that you need to know to stay ahead of your competition in 2022.
1. Massive increase in online reviews in 2021
2021 saw the most significant increase in online reviews to date, with a massive 10% increase compared to single-digit years in the past. For this reason, 2021 can truly be called "the year of reviews." A jump in online reviews this significant is an indication of the consumers' need to be heard by businesses in a marketplace that is increasingly getting digitally transformed and becoming more and more contactless.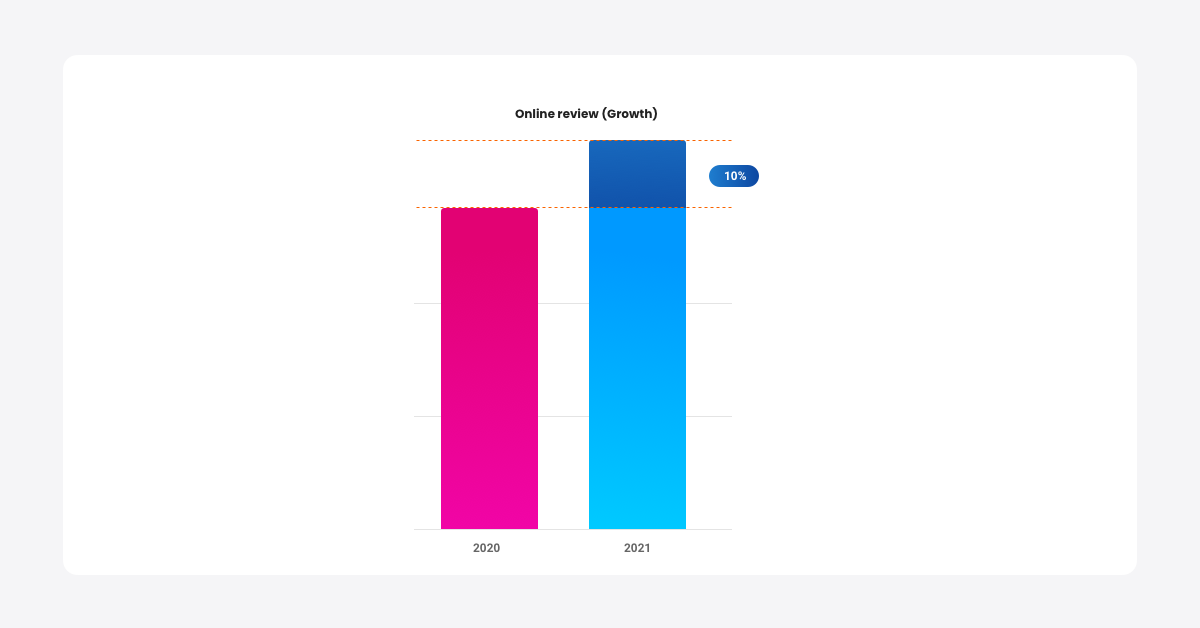 What does this insight mean for your business?
Over the course of the pandemic, everything shifted to a digital-first marketplace. As a result, customers found it easier and more convenient to do all of their research, interact with the business, ask questions and purchase online. This led consumers to be significantly more reliant on online reviews to make their decisions and voice their opinions of the products and services they purchase.
These review trends simply mean more reviews mean increased visibility and an improved online reputation management. That means if your competition is getting more reviews than you, they're outranking you and getting more customer attention. In order to compete, you have to capitalize on getting more reviews by sending review requests to your customers on a regular basis.
2. More businesses are requesting reviews proactively
In this study, businesses across all industries sent 15% more review requests in 2021 compared to the previous year. With 35% of consumers leaving reviews when asked at least half of the time, and 12% leaving reviews every time when asked, this simply means one thing: the more requests you send, the more reviews you'll get.
What does this insight mean for your business?
Online reviews are critical to rank higher on search engines and reach more potential customers. Therefore, you need to make review requests an essential part of your marketing strategy. Not only that, you need to request reviews from every customer you have the opportunity to do so.
Automating review requests is a scalable way to grow your online reviews. Automating review requests can allow you to reach each and every customer and ask them for a review at any critical transaction moment like a purchase or closing of a service ticket.
A reputation management platform like Birdeye can not only help you automate your requests, it can also give your customers the option to leave a review on their most preferred channels with links to review sites in your requests and request methods like text, email, and even social media.
3. Businesses are responding to reviews more than ever before
With a massive spike in the number of online reviews, businesses have been more cognizant of when and how to respond to their customer reviews than in any previous year. In fact, our review trends show that 41% of reviews were responded to in 2021 compared to just 28% in 2020.
What does this insight mean for your business?
Customers often respond positively to businesses that make them feel valued and heard. Whether thanking a customer for a positive review or correcting an issue after a negative review, a personalized review response can be an effective way to interact with customers. The study revealed that 63% of reviews were responded to manually by businesses.
Want more? Read the full Report
These are just a few interesting results from Birdeye's 2022 state of online reviews. Our full report is available here which will provide you with valuable insights from our analysis of the review data from 100,000+ businesses across multiple industries.

Originally published