Business recommendations have now moved online. From getting advice from friends and family, customers have collectively upgraded to asking the billion people on the internet about products. Online reviews have single-handedly changed the business world and made social proof one of brand-building's most critical elements.
Online reviews can be a valuable tool for businesses to build awareness, improve reputation, outperform competitors, and generate higher sales with the least investment. Reviews also show valuable social proof, create trust, and help you rank higher in search results.
Wondering how to leverage online customer reviews to boost your business's growth?
This blog post gives you a complete overview of online reviews with resources to help you maximize this feature.
Chapter 1: The importance of online reviews
We all know that online reviews are important. Everyone reads them, but if you are going to invest in acquiring and managing online reviews, it is good to know exactly how important online reviews are for a business.
Why online reviews matter
Online reviews affect your business's success by determining your search engine ranking, establishing your business's trust and social proof, and more. Learn why your business cannot miss out on getting more online reviews.
Online reviews help your business to be found
The more online reviews your business gets, the higher you rank for relevant search queries. Google likes to show the best results, and if you have a lot of reviews, Google will see that you're a trustworthy source. Reviews boost your search ranking and help your business to be found and chosen.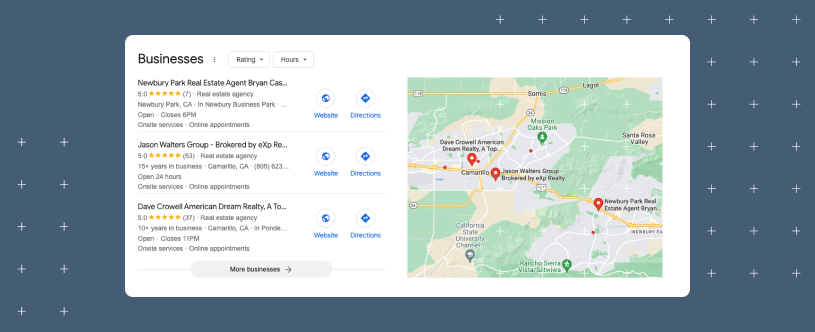 Online reviews demonstrate social proof
Few people want to spend their hard-earned money on a product they know nothing about. While many consumers will research the product features online, it is less powerful than customer reviews.
Reviews provide social proof to prospective customers because they are seen as honest insights into the customer experience. When people see many glowing online reviews, they trust that the product is worth the purchase, while negative reviews have the opposite effect. Moreover, 9 out of 10 people are hesitant to buy from a business if it doesn't have any reviews.
Online reviews set you apart from the competition
When a customer is close to deciding on a purchase, they usually run comparative searches between competing brands. This is a critical decision-making step, and businesses are constantly trying to find a way to outshine their competition.
One way to outshine your competitors is by building more detailed, recent, and positive reviews for your business. You can identify platforms that your competitors are listed on and then work on building a review volume there to compete against them directly.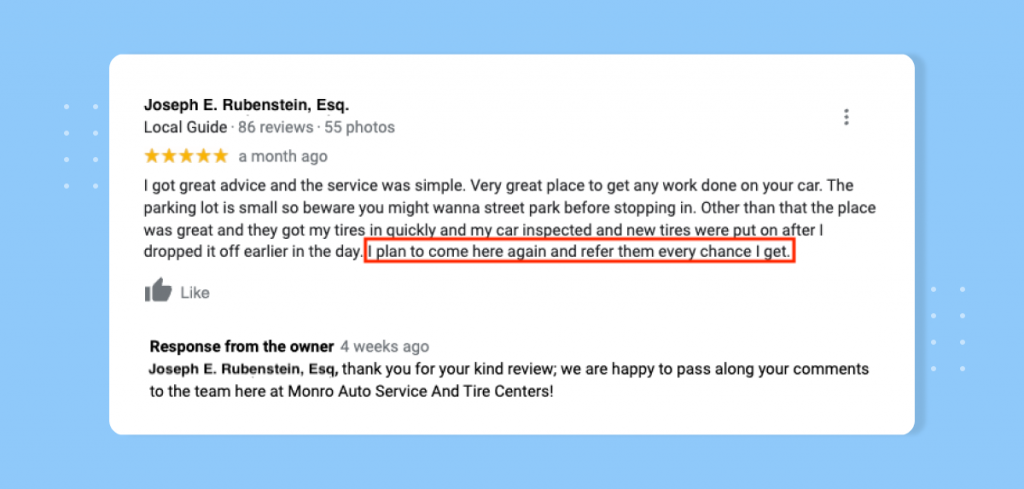 Influence purchase decisions
All that stands between your business and a competitor is a quick online search. Consumers often look up products and businesses before they select the right product to meet their needs. Online reviews have a massive impact on this process.
Consumers trust the opinion of other consumers. Customer reviews help your prospect customers to understand the benefits and unique selling points of your product/service. With many reviews sharing genuine customer experiences, it moves potential customers one step closer to purchasing from you.
The more reviews, the better. Studies show that 50 or more reviews per product can increase conversion rates by up to 4.6%.
Impact your bottom line
According to a Harvard Business School study, when a business's rating increases by a star, its revenue will increase by 5-9%. Reviews are replacing traditional forms of reputation-building tools and directly impact your business's revenue.
As more people discover your business, you can cater to a larger customer base and grow your brand. With a more robust online reputation, you can also increase your prices, target a more affluent audience, and launch more products/services without the fear of failure.
Impacts local SEO rankings
Countless studies have shown that businesses with a higher volume of recent, detailed, and original reviews rank higher in Google's local map pack results. So if you are a business working on boosting your SEO efforts, start by generating reviews today.
Customer reviews significantly affect a business ranking higher, especially regarding local searches. Local map ranking is essential for local and small businesses to be seen in their target locality and generate relevant leads from Google queries.
Often, the words customers mention in their reviews also act as keywords for relevant search queries, improving your chances of featuring in the top results.
Top 10 online review statistics
Numbers never lie, do they? Before we go any further, let's look at some of the most important online review statistics to demonstrate the state of customer reviews and how they impact your business growth.
What can we make of all of these statistics? Online reviews matter now more than ever. They are also not confined to just one platform or channel. Businesses must establish a strong presence across review and listing sites to build trust and rank higher on organic search queries.
The value of negative reviews
Encouraging every customer to leave a review online will create an invaluable hub of honest customer feedback. This hub is bound to include negative reviews, as not all customer experiences are the same, but don't let that worry you.
Negative online reviews are actually a valuable asset to your business. Here's why.
Learn from your mistakes. While everyone wants happy customers only to write reviews, there are benefits to receiving feedback from unhappy customers. Less-than-perfect reviews help you gauge what your business is doing right and the areas that need improvement. This helps you provide an improved experience to your customers in the future.
Customers don't trust perfectly rated businesses. Having a range of reviews is not only good for your business, but it's also good for building trust. Customers don't trust perfect online reviews because many businesses have indulged in dishonest review practices in the past.
Chapter 2: Getting started with online reviews
How to get more online reviews
While you know the value of online reviews, collecting them can be a struggle. The review request process can be stressful and exhausting, especially if you have a business spanning multiple locations and thousands of customer interactions.
Businesses need to develop an easy-to-use review collection process to be sustainable, scalable, and efficient as time goes on.
Here are a few ways to streamline your review generation process and ensure your business has a high volume of reviews on Google Business Profile and other customer review sites.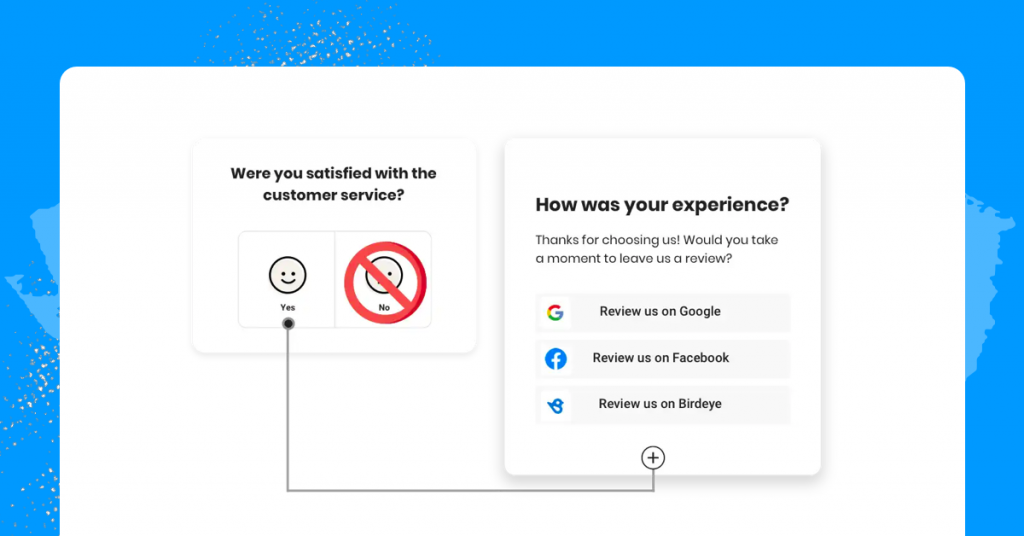 Automate review requests
Automation is the best choice for time-sensitive tasks. And when it comes to collecting reviews, striking while the iron is hot is essential. The longer you wait to ask a customer for reviews, the less likely they will remember the right experience or spend time writing one.
Related read: How to ask for a review with templates
Develop automated processes with built-in templates that can integrate with your CRM systems and send immediate review requests to your customers. This makes sure they get it as soon as the interaction is over and are more likely to leave a review.
Automating the review collection process reduces the strain on service teams and ensures everything runs smoothly.
Make the process as easy as possible
Always remember that your customers are doing you a favor when they leave a review online. They take time out of their busy schedule to help your business's reputation.
And the easier you can make this process for them, the better. Make sure that your review request templates have the following:
The correct link to leave the online review. It can be a Google review link or a link to any other review site.
A note on the process or a short video to help them familiarize themselves with the process.
Customer service contact information in case they need to contact you.
Respond to each review
It's important to make a practice of responding to your reviews, both positive and negative. Google has confirmed that responding to your reviews boosts your local SEO. In addition to enjoying a higher ranking in Google, responding to your reviews makes customers feel appreciated and heard, encouraging future customers to leave reviews as well.
Irrespective of the type of review, businesses must constantly respond to reviews.
If a customer leaves a positive review, thank them for their response. When a customer leaves a negative one, respond and try to find a solution to their problem.
How to get more online reviews
Many of us already know the value of online reviews, yet it can be a struggle to collect them. Manually requesting reviews from each customer can put unnecessary stress on your staff and be a drain on your resources. Even after all of that work, you may not see a high response rate. Here is how you can make the reviews collection process easier for your business and get more responses.
Automate review requests
When it comes to collecting reviews, you want to strike while the iron is hot. The longer you wait to ask a customer for feedback, the less likely they are to give it. Automate your review requests to increase the chances of response. With an automated system, you can send timely review requests without overwhelming your staff.
Make the process as easy as possible
At the end of the day, customers are doing you a favor when they leave a review online. They are taking time out of their busy schedule in order to help your business's reputation. Because of this, make sure the review process is as straightforward as possible. Include the appropriate link within the review request so that your customers don't need to do anything more than click and respond.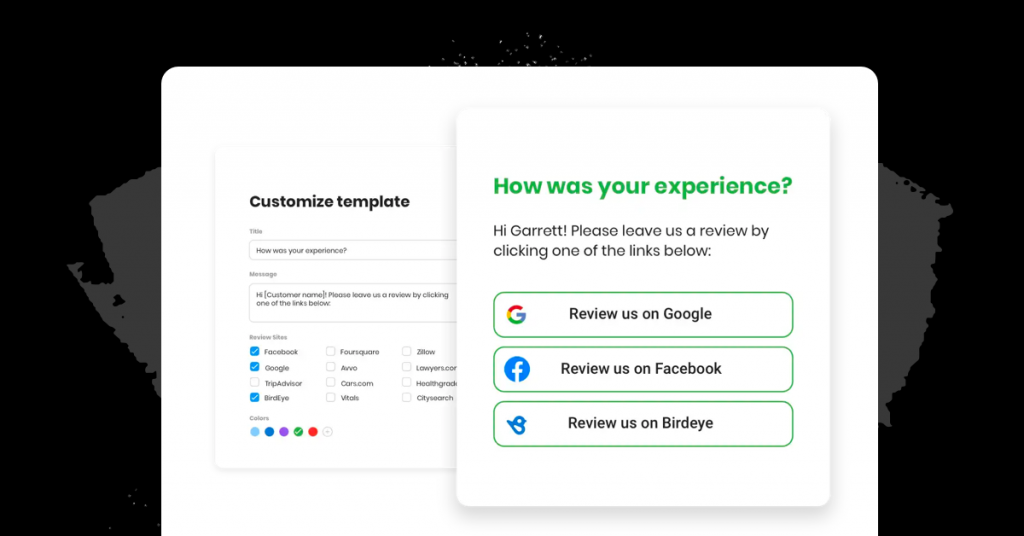 Respond to each review
It's important to make a practice of responding to your reviews, both positive and negative. Google has confirmed that responding to your reviews boosts your local SEO. In addition to enjoying a higher ranking in Google, responding to your reviews makes customers feel appreciated and heard, which encourages future customers to leave reviews as well. When a customer leaves a good review, thank them for their response. When a customer leaves a negative one, work with them to find a solution to their problem.
Important online review sites
There are many online review sites that your business can get new reviews on and be chosen by customers. The two main review sites that help with visibility are:
Google
As Google is quite popular, it only makes sense that it is also the most popular review site. Our research found that 67% of online reviews are written on Google. Take advantage of this by claiming your Google Business Profile and setting up Google reviews for your business.
Facebook
Facebook is the second-largest review platform. With 2.41 billion monthly active users, Facebook is an excellent way for your business to gain visibility. Facebook's wide reach makes it easier for your business to be discovered easily. Create a business page on Facebook and utilize this to start collecting more reviews for your business. (FYI, reviews on Facebook are now called 'Facebook recommendations.')


Apart from these generic sites, there are several vertical-specific sites businesses can invest their time and resources in. Some popular industries with niche-specific online review sites are the legal, contractors, healthcare, realtors, dentists, and automotive (car review sites) industries. Maintaining a presence on these business review sites can help you grow your business faster.
Chapter 3: Online review management
If you want to anchor your reputation and marketing to online reviews, your business also needs an online review management system. Online reviews must be a two-way communication street between your business and customers. Managing online reviews across the many business review sites can ensure you make the most of the reviews you get. 
Importance of online review management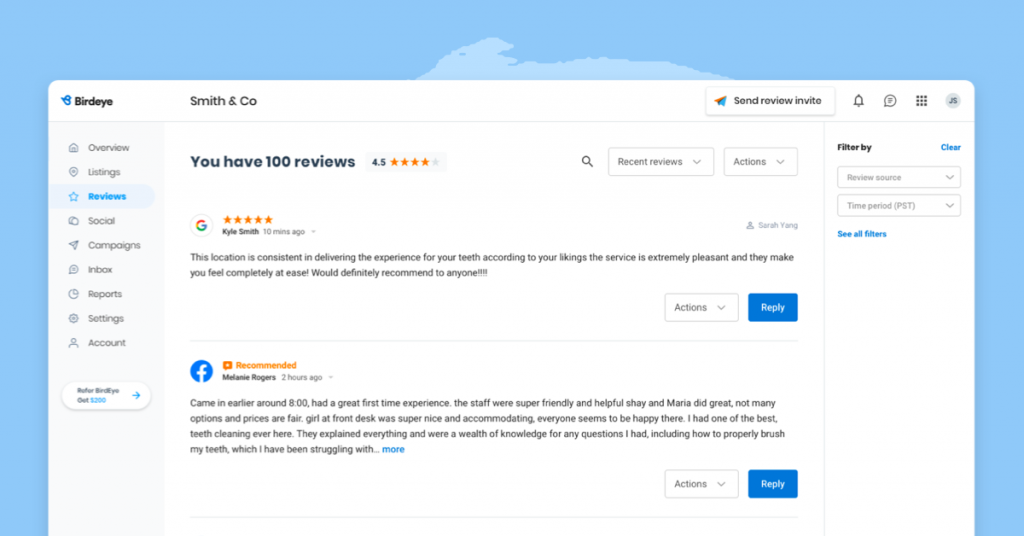 With an active review generation process, your business will face an increased volume of online reviews. You need to respond to these reviews, know what your customers are saying, and take steps, if any.
Businesses with a volume of reviews across multiple listings and multiple locations definitely need to monitor, respond, and manage those reviews as soon as they come in. With an online review management system like Birdeye, you can:
Spot positive online reviews faster, enabling you to respond to them, leverage them for marketing, and grow your business.
Understand if a customer has had a less-than-pleasant customer experience so that you can reach out to them and rectify the situation.
Generate automated review requests after every customer interaction
Track your reviews over time to identify trends, high-performing locations, popular employees, and recurring issues.
Respond to all customer reviews from a single dashboard across multiple online business review sites.
The right customer review management software will have all these qualities.
Leverage online reviews with online review management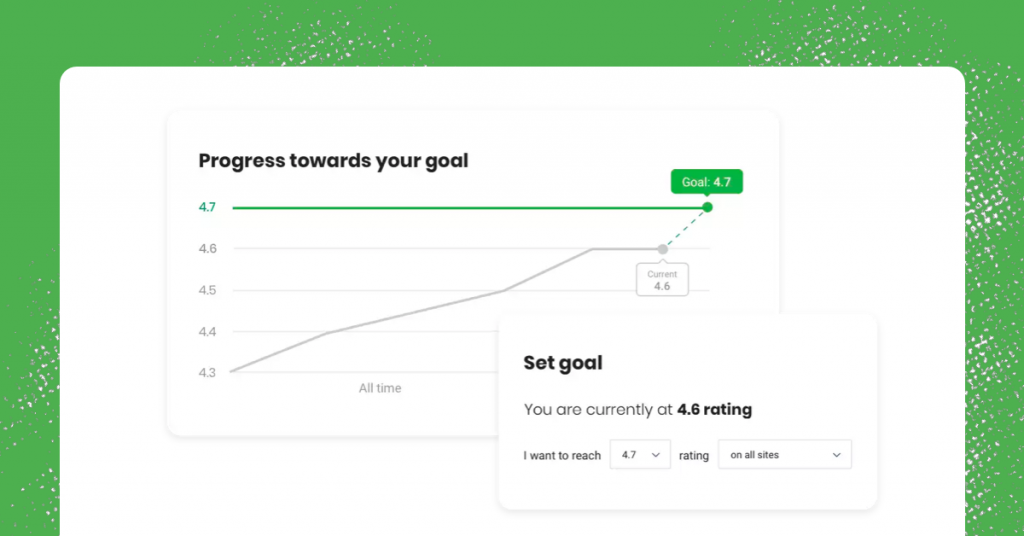 Online reviews can do much more than just build trust for your business in the market. With the right review management systems, online reviews can help you:
Improve online reputation: When customers look for your business online, they will likely visit review sites before your website. You can build a positive reputation for your business with an active presence on those sites. Even if the customer does not buy a product from you, they leave a good impression on your business.
Learn more about customer sentiment: Judging what customers think about you is always hard. Even if you run a customer survey, they may not be entirely truthful. Monitoring online reviews can give you a complete picture of your brand's perception and the places for improvement.
Supplement marketing aids with reviews: Reviews can be an influential asset in your marketing, PR, outreach, and collaboration campaigns. They can display your authority and positioning in the market to your partners better than any other collateral can.
Open a communication channel with customers: When you respond to positive or negative reviews, you can identify customers who can help you spread the word about your brand or the ones you need to discuss and resolve issues with.
Chapter 4: Responding to online reviews
Businesses that respond to reviews at least 25% of the time have an average of 35% more revenue. It is vital for businesses to handle negative and positive reviews so that they can present a professional image online.
How to respond to negative online reviews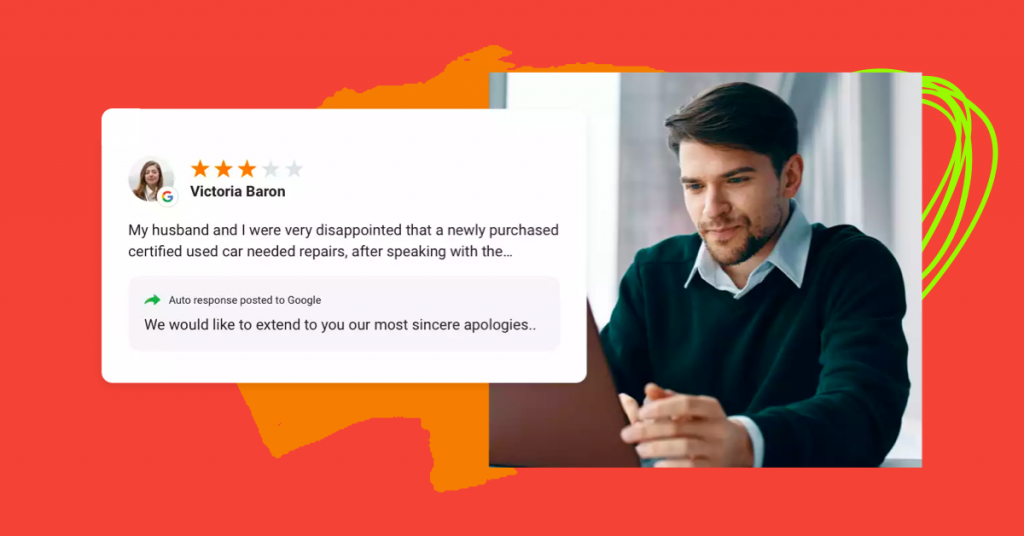 Many businesses want to know how to remove bad online reviews. No matter how fantastic your business is, you will get a negative review occasionally. Knowing how to respond to preserve your business's reputation is important when this happens.
Here are some tips and tricks to show you how to deal with negative reviews online.
Respond promptly
Customers expect a response to their complaint within 48 hours. The sooner you can respond to an unsatisfied customer, the better.
Don't panic
As we said earlier, negative feedback is sometimes good for your business. So, when you do get a bad review, don't panic. Take a deep breath and spring into action.
Apologize
Regardless of whether you agree with the customer's review, apologizing is important. Defending your business will come across poorly and escalate the situation further.
Take the conversation offline
Avoid having a back-and-forth on a public forum. Respond to the negative review publicly with an apology, then switch to a one-on-one conversation to speak with the unsatisfied customer.
Work with the unsatisfied customer to find a solution
Whether it's on the phone, over email, or through text, it's important to work with the customer to see if there is a way you can help their situation. When a customer is upset, they are usually frustrated and seek to be heard. Listen to their experience and offer whatever you can to help.
Ask them if they would like to change their review
If you and the customer could reach a solution, ask them if they are willing to edit their original review. Often, previously unsatisfied customers are happy to change their reviews when the problem has been solved.
How to respond to positive reviews
Positive reviews are a valuable asset to every organization. They help businesses build a strong online reputation and grow faster amidst all the competition. To make sure that customers continue leaving positive reviews, it is important to respond to them and appreciate their effort.
Prospective customers would also look for brands that monitor reviews and respond to them as it shows that the business cares about its customers and the feedback they receive.

Here are some steps you can follow when responding to a positive review:
Thank the customer for their time and feedback.
Tell the customer you hope to see them again soon. (If you're an eCommerce company, try saying: "We hope you decide to purchase from us again in the future!")
Through this simple response, you will build stronger brand loyalty, encourage future customers also to leave a review, and provide a better customer experience overall.
How to remove negative reviews
While you can't remove an online review simply for disagreeing with a customer's opinion, there are reasons why you may have to remove an online review:
The review is false
The review is spam
The review uses derogatory terms about your business.
In some situations, the reviews could be from people posing as customers, bots, or competitors. Regardless of the source and motivation, most review sites do not tolerate fake online reviews.
To remove a fake online review:
Start by flagging it. Almost every review site has the option to flag a fake review.
Connect with the review site. Explain the situation and request that the review be removed.
Respond publicly if the review still needs to be taken down. Stay professional, stick to the facts, and ensure that when a potential customer reads the review, they know the truth.
There is also the rare case that a customer left a poor rating out of user error. If a customer has left a bad review, but the commentary doesn't match it, contact that customer to know if they were satisfied with their experience. If they were, politely ask them to update their review to reflect it.
Frequently asked questions about online reviews
When is the best time to ask customers for an online review?
The best time to ask customers for a review is when they have just bought a product or concluded any transaction with the business.
Why is it important to improve your online reviews?
It is crucial to improve online reviews as they play a vital role in improving online reputation, local search rankings, customer trust, and sales volume for a business.
What influences consumers to write an online review?
Customers are willing to write an online review for a business when you ask them politely, make the process easy for them, and show that you care about their feedback genuinely.
How many reviews are enough?
There are no fixed numbers when it comes to online reviews. Businesses should work on acquiring as many online reviews as possible across review sites as higher the volume, the better your chances of appearing in local searches.
How to get more online reviews?
Businesses can increase their online review volume by requesting customers for reviews, motivating employees to generate customer reviews, and maintaining a strong presence across major review sites
Where do people find online reviews?
People usually find online reviews with a Google search on a business' Google Business Profile, niche-specific review sites, and aggregated review sites.
How Birdeye can help with online reviews?
Here at Birdeye, we know online reviews and can help with the tools you need to succeed in every stage of the review process. Whether you need help getting new reviews, managing reviews, or monitoring reviews, Birdeye has you covered. Our streamlined and simplified review management system will help your business deliver a fantastic customer experience and grow like never before.
Schedule a time to meet one of Birdeye's customer experience experts to get started with online reviews today!


Originally published