More than just a social media site, Twitter is also a powerful marketing tool. Twitter's real importance comes from the way that it can help attorneys establish a strong online presence. You can grow your following quickly with these 8 Twitter marketing tips that will help you develop a successful strategy.
Create an effective profile
One important part of a great Twitter profile is your introduction. This should include highlights of your expertise and relevant experience. Make sure you add links to your professional sites and social media pages like your Facebook account. This will help you grow both social media followings. There is a limited amount of space on Twitter, so you need to make your profile as interesting as possible, in as few words as possible. Overall, your Twitter profile should come across as professional, but not overly serious or complex.
Keep tweeting
In order to get noticed on Twitter, you must tweet often. People won't continue to follow an inactive account. Even after your profile has attracted followers, they will only keep following you if they keep seeing interesting tweets from your account. The idea is to tweet daily. A great way to keep up with this is to use a social media management tool like Birdeye. It's a great online solution that helps you manage your social media profile by scheduling your tweets and other posts.
This leaves you free to focus on producing and sharing interesting content with your followers. Using your own original content is what creates value for your followers. As the marketing saying goes, "content is king". The more interesting your content, the easier it is to grow your Twitter following. Good content and posts also lead to a better search engine ranking on sites like Google.
Interact with your followers
To use Twitter effectively for marketing, you need to reply anytime you get a notification that somebody new has followed you. Simply send them a friendly greeting or a thank you Tweet. It's a simple tactic, but it's guaranteed to make people feel good and make them more likely to follow you long-term. Interacting with your customers on social media can drive retention and help you attract new customers.
Retweet interesting items
The easiest way to tweet is to retweet things that you think clients would find interesting. You can introduce popular content from other sites or retweet relevant news. Your followers will start looking to you for updates in your field. Retweeting also allows you to promote related industries and information, which helps your followers trust your recommendations. Retweeting viral content can put your tweet in front of more eyes, including the original creator of the tweet, as well as anyone who has commented on it or retweets it after you.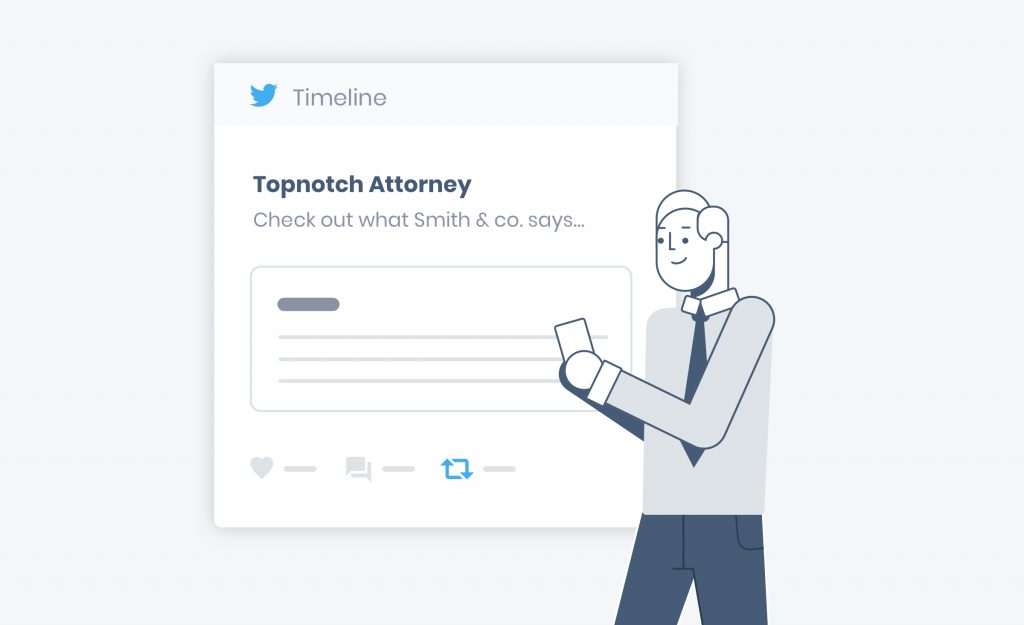 This twitter marketing tip is great for those who don't have the time to create original content. Sharing other people's content is as easy as finding popular or groundbreaking articles, blog posts, videos, or any other content that you come across on the web. For Twitter etiquette, be sure to credit the creator by mentioning their Twitter username.
A follow for a follow
You may think that just putting up your profile is enough to get followers. But every professional, even attorneys, need to follow other people to get followers. This Twitter practice is called "follow-for-follow". You need to follow people who are relevant to your industry or specialty. It's also a good idea to follow thought leaders so you can stay up to date on current trends in the legal industry. You can follow news sources that produce articles you might want to retweet for your followers. A good strategy for finding people to follow is to look at the followers of other popular accounts in your industry or area of law.
Use hashtags
Leveraging hashtags is one of the best Twitter marketing strategies. Using relevant hashtags makes you look like you're on top of the current trends in your industry. You can also engage with hashtag campaigns to get your tweets shared. By hashtagging your tweets, you can let new people outside your followers know your opinion about a particular trending topic. The reason you need to use hashtags is that they allow your followers to find your content using Twitter's search function for specific hashtags, like this:
Utilize analytics
Data is the key to understanding Twitter marketing. Analytics give you in-depth insight into the impact of your tweets and marketing effort. You can gauge the performance of your Twitter profile by looking at different statistics from your Twitter analytics. For example, you can use the number of new followers in a month, the number of retweets for a particular campaign or the number of mentions to gauge what is successful and what is not. You can also keep track of your most popular tweets and pieces of content. This allows you to optimize the number of clicks and impressions you get in the future by focusing on producing similarly effective content.
Be yourself
This is probably the most important Twitter marketing tip of all. People more readily follow accounts that are clearly made by a person and are not just a faceless self-promoter. Using automated messages too much will irritate followers if they don't the tweets as relevant. Remember, Twitter facilitates person-to-person interactions and can lay the foundation for rewarding professional relationships. Using Twitter in this way can help you build credibility for yourself and your brand.
The secret to growing your Twitter following is to engage and have real conversations with people on Twitter, as well as using a well thought out Twitter marketing strategy incorporating these tips. Looking for more help on how to manage your entire online presence, including your social media strategy? Learn Birdeye can help today!
Originally published