Ask any social media manager, and they'll tell you that the more active your social media profile is on any platform, the higher your chances of reaching your target customers.
Think about how Spotify suggests the perfect song that instantly cheers your mood or when Netflix suggests the next binge-worthy series – that's the power of AI at work.
Imagine an AI tool analyzing user preferences and crafting tailor-made content that resonates. That's AI in social media management redefining the rules of online marketing.
To simplify the jargon, in this blog, we'll help you know how, using an AI tool for social media, you can create more relatable content, streamline your workflow, and grow your engagement.
What is AI in social media management?
AI in social media management is like having a digital partner able to decode your audience's preferences and tailor your content strategy. It's a strategy beyond automation – it understands, predicts, and captivates your reader's interest.
AI transforms social media from a mere megaphone to a genuine conversation starter. 
Today, every like, share, and comment is more than just a statistic – it's a sign of true engagement. By analyzing patterns and predicting trends, it enables businesses to curate content that resonates, engages, and creates lasting connections.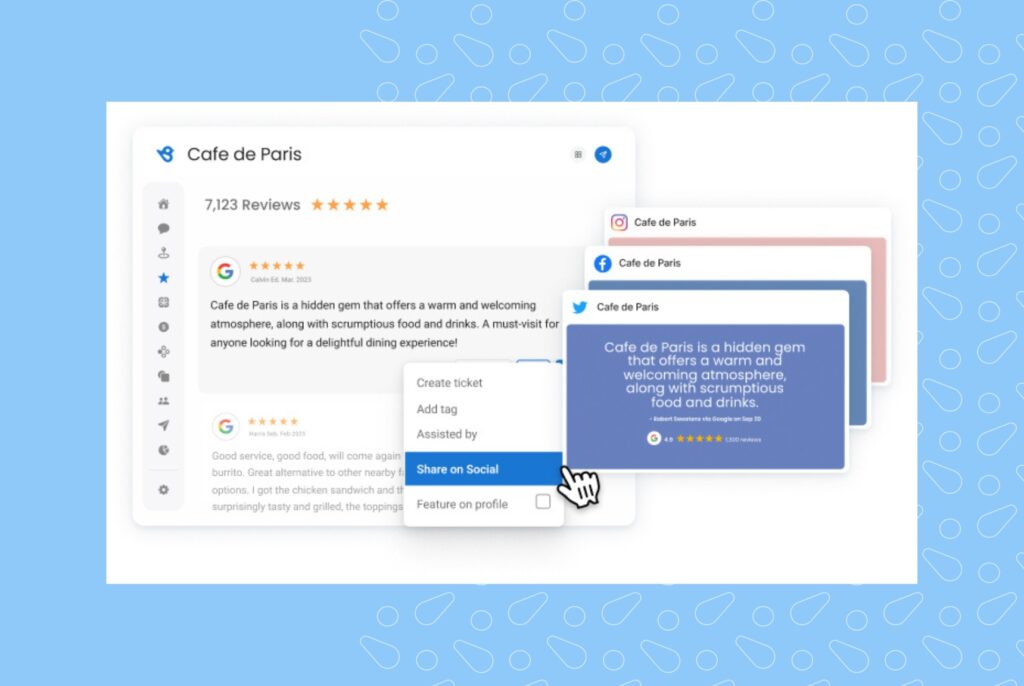 What's the use of social media AI tools in business?
Customers expect more than occasional "happy holidays" or "company news" posts. Those are generic and don't resonate with them. Today's customers need the brand to understand them.
What's the use of social media AI tools in business?
Customers expect more than occasional "happy holidays" or "company news" posts. Those are generic and don't resonate with them. Today's customers need the brand to understand them.
That's where social media AI tools come in. AI tools like Birdeye Social helps create and modify posts (with images and hashtags) relevant to the industry.
It doesn't just stop at gathering data; it interprets the tone behind every word, helping businesses understand customer sentiment and adjust their social media marketing strategies accordingly.
This proactive approach ensures a responsive, tailored, and engaged customer base.
Are there risks associated with AI-generated content?
Yes, there's a risk of spreading misinformation or producing inauthentic content if not carefully monitored. Always humanize your content before publishing. 

Challenges that AI tool solves to manage your social media
AI tools emerge as the ultimate problem solvers for your business's social media managers who struggle with:
Generating images
Information overload
Real-time monitoring
Personalization hurdles
Making the content error-free
Posting new content every day
Finding highly relevant hashtags
Ever-daunting challenge of scheduling on time
Making each post as engaging and relatable as possible
You don't need an army to make social media management work. Because AI is here to automate the most repetitive and tedious workflows so that you can devote your time and energy to more creative responsibilities. 

And when you have AI tools like Birdeye Social, challenges become opportunities that benefit your business to build more authority.
Manage Posts, Reputation, and Reporting across Locations
Want to see the impact of Birdeye on your business? Watch the Free Demo Now.
Benefits of using Birdeye Social powered by AI for social media management
Scale your social media for all locations with powerful tools to effortlessly create engaging social posts using AI, bulk publish across locations, engage with customers, and measure results – all from a single dashboard
BirdAI is the AI and NLP engine that powers the Birdeye platform and offers local businesses all the AI tools to create compelling social posts consistently and generate actionable responses to improve.
Say goodbye to your social media management challenges with BirdAI, which helps you publish social content on Facebook, Instagram, Google, Twitter, LinkedIn, and YouTube with ease.
AI-powered social media publishing & scheduling for multi-location businesses
Now, you can scale your social media for all locations with powerful AI tools for creating, personalizing, scheduling, and bulk publishing — all from a single dashboard.
You can also automatically personalize your posts with local content that can be shared across multiple accounts at once.
AI-powered content generator turning prompts into posts
Instantly create interesting long copy or short captions for social media posts, marketing taglines, and more that save time and manual resources.
You'll never see yourself facing a blank doc, spending hours Googling for inspiration when you:
Auto-create posts for holidays, special occasions, or industry-specific events.
Get access to the holiday calendar by country.

Simply select your desired occasion and let BirdAI suggest content that is relevant to your industry and business.

Complement posts with relevant, auto-suggested images.
Customize your brand-specific prompts to auto-create custom posts.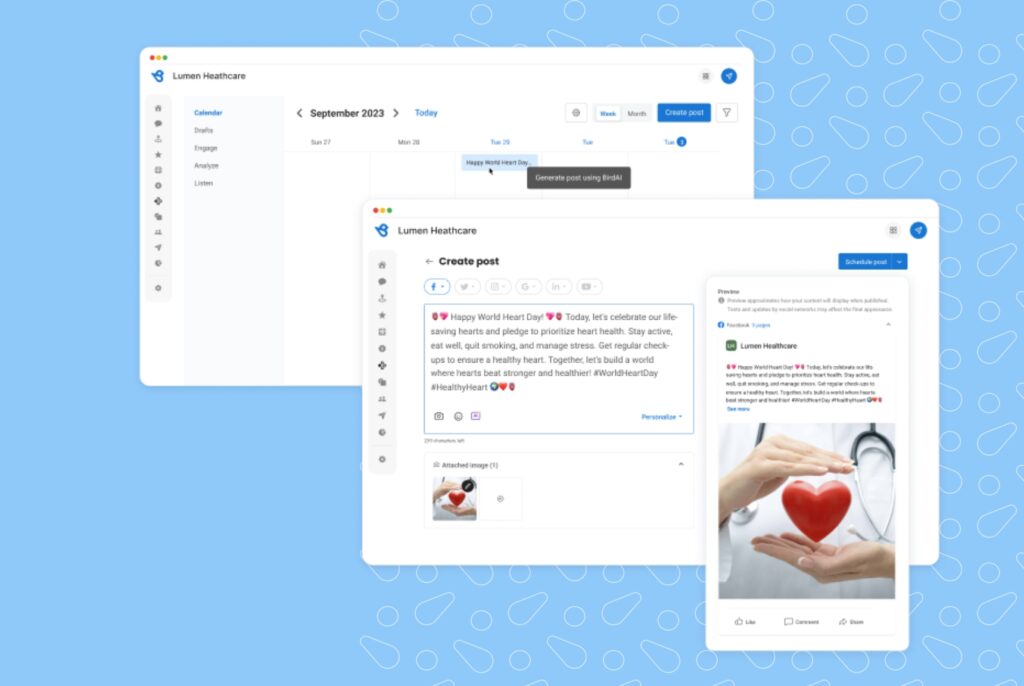 AI-writing assistant and copy editor
You don't have to juggle between tabs and tools to make sure your writing is grammatically correct, clear, and finely formatted. It is like your in-built personal copy editor that can help you:
Change the tone to be friendly, witty, professional, descriptive, and informative.
Make your content longer or shorter.
Fix any grammar mistakes (and save yourself from the embarrassment of not proofreading properly before your reader points it out).
Add and edit images without hassle
We all know how long it takes to find an image to post on your blog. You scour for hours to find "that one image," only to land on the one your competitor has already used!
Get rid of the generic stock images and manage your social media like a pro with auto-suggested images powered by BirdAI.
Use our built-in visual editor to customize your design with ease
Enter a prompt and let BirdAI create or suggest the right images with a few clicks.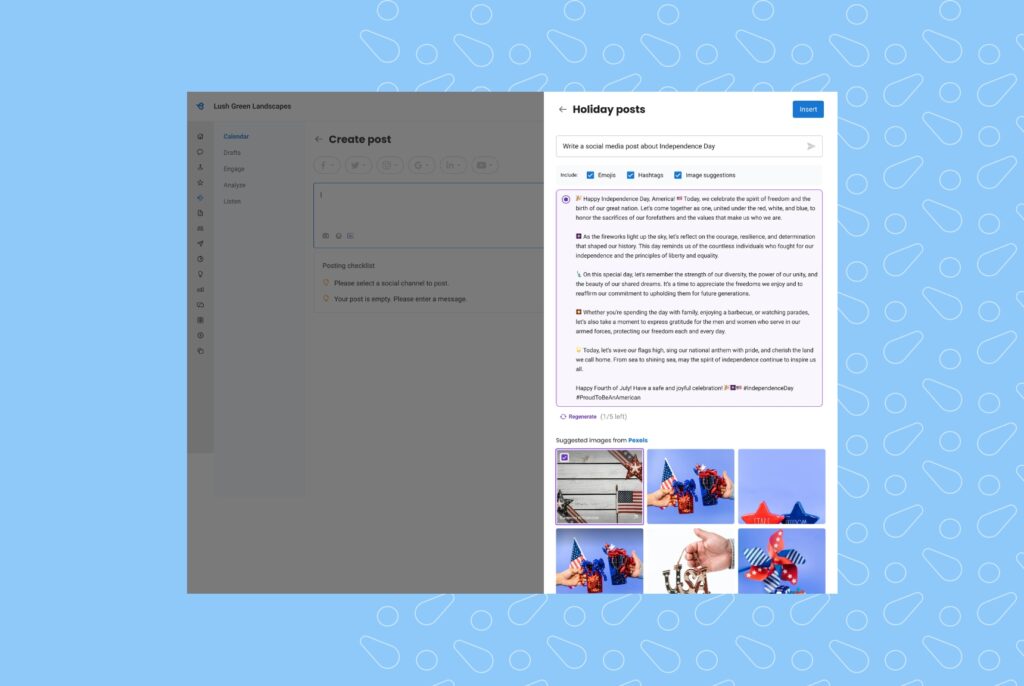 Access to wide range of templates
Simply drag and drop your designs and become a pro-creator with our free library of images and layouts optimized for every social platform.
Save time by using our predefined layouts built to suit your industry and customers.

Find relevant hashtags
Measuring the effectiveness of social media campaigns gets easier with hashtags, but finding highly relevant ones that have maximum engagement and will increase your social media reach is difficult.
It gets challenging to find context-specific hashtags all the time that resonate with audience sentiment.
BirdAI auto-generates hashtags to make tracking trends easier and optimize your marketing strategies for maximum results.
Social engagement
Monitor comments on your posts and respond from the dashboard. You even get real-time alerts on social activity whenever your brand is mentioned.
Get a high-level view of engagement in every platform
Stay updated and know how your followers engage with your social content across accounts and locations with custom streams and reports. View and respond to different social platforms from a single dashboard.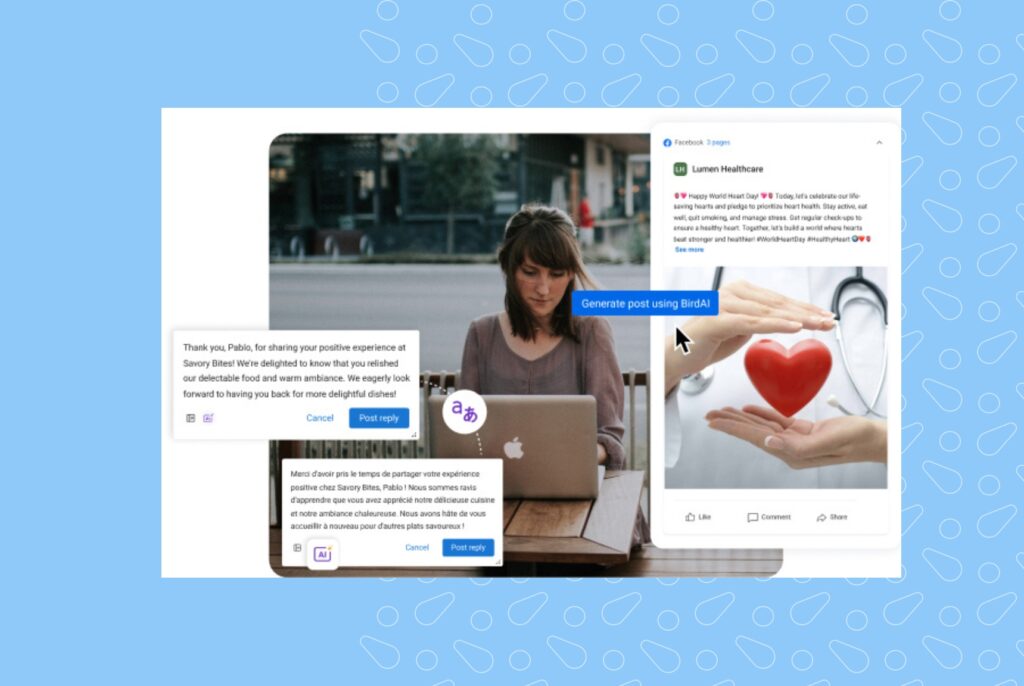 Get notified every time you're mentioned
Social listening is one of the greatest perks of social media management, but along with it comes the challenge of constantly staying on your toes. But with Social Alerts, you never miss a any update.
You can create custom alerts to notify you via email and the Birdeye dashboard whenever followers engage with your content.
Amplify your best reviews in a click
Generate buzz for your brand by turning your best reviews into social posts. You can even create rules to auto-share reviews to select corporate and local pages.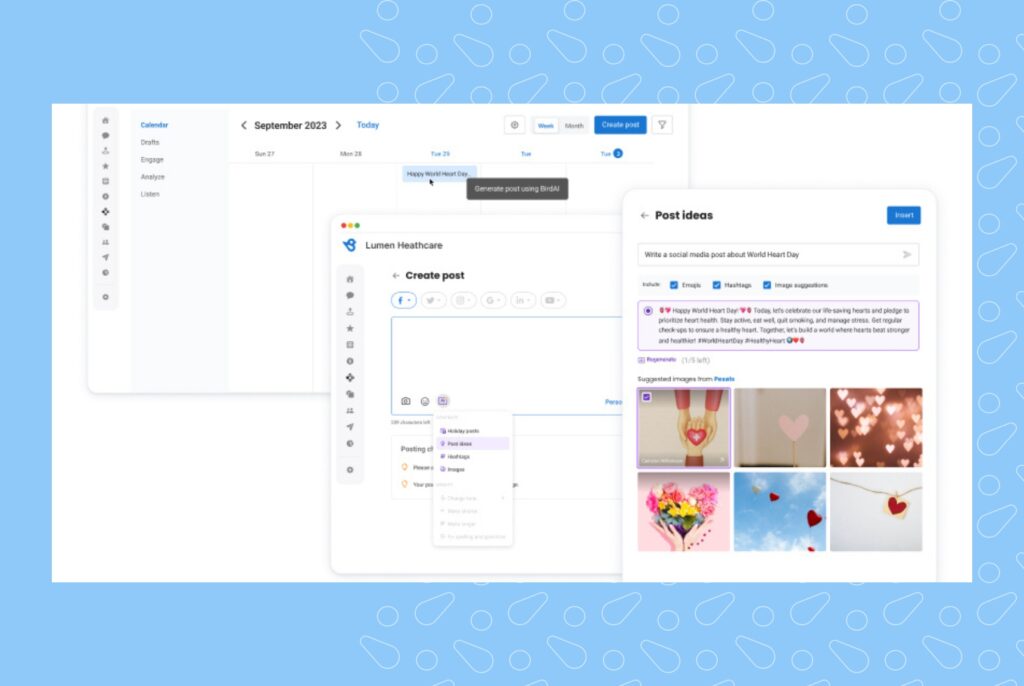 Social reporting and analytics
Scale your social media for all locations with powerful tools for measuring, understanding, and optimizing your social strategy from a single dashboard.
Measure social impressions, clicks, and engagement across locations and uncover insights to optimize your social strategy.
Track follower's growth, impressions, and trends of platforms and locations
Export and share top-performing social reports to up your performance
FAQs on AI in social media management
How can local businesses use AI for social media?
Local businesses can leverage AI to automate tasks, create personalized content, schedule, analyze trends and data, and provide insights for optimized strategies to enhance their social media presence and engagement.
Can AI manage my social media?
Yes, AI can manage social media by automating posting, analyzing data, and improving audience engagement. But it comes with its challenges, so always have a human review it. 
Grow your social media reach quickly with BirdAI
Now you know how AI is transforming how companies attract, delight, and convert their customers and create a memorable online reputation, it's time to integrate it into your business, too!
Contact us to make BirdAI a part of your success and make your social media engagement deliver favorable results consistently! 

Originally published